Last Updated on July 26, 2020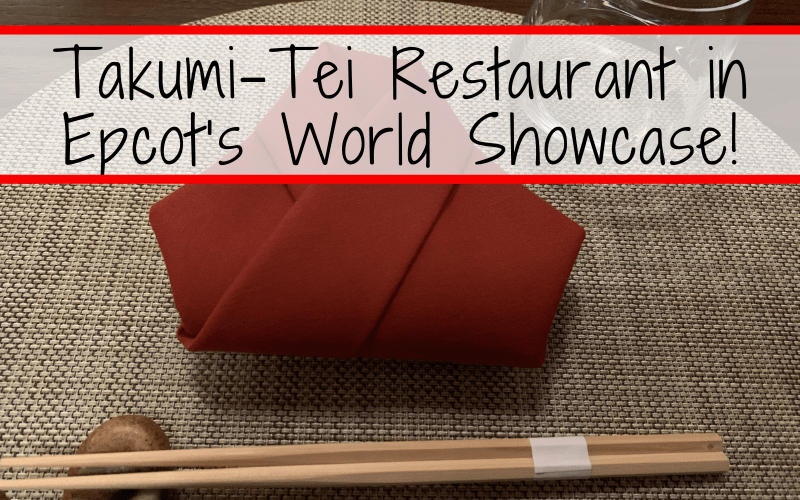 Only opening last month (July 2019), we were excited to hear that advanced dining reservations were available for the new signature restaurant in Epcot during our stay at Disney. Takumi-Tei Restaurant in Japan Pavilion at Epcot was going to be the date-night that we greatly needed and absolutely enjoyed.
This post may contain affiliate links.
To which I earn a small commission, at zero cost to you!
Find more info in our
Privacy Policy
.
Takumi-Tei: True Fine Dining at Walt Disney World
Takumi-Tei, which means "House of the Artisan," is a signature restaurant. The entire Takumi-Tei experience is focused on giving you a better understanding of Japanese culture, as explained to you by the Japanese cultural representatives.
Different Rooms
At Takumi-Tei, you'll dine in one of 5 rooms, each inspired by a natural element—water, wood, earth, stone or washi paper. Every area will feature beautiful, handcrafted works of art honoring the element that brought it to life.
We were assigned to the Wood room. This is the first room in the restaurant and the main alley for the other rooms within Takumi-Tei. What made each room different from the rest was their use of art to represent the various natural elements.

Table Setting
As you can see, place-settings all feature kimono-shaped red, folded napkins along with chopsticks placed on stone chopstick rests.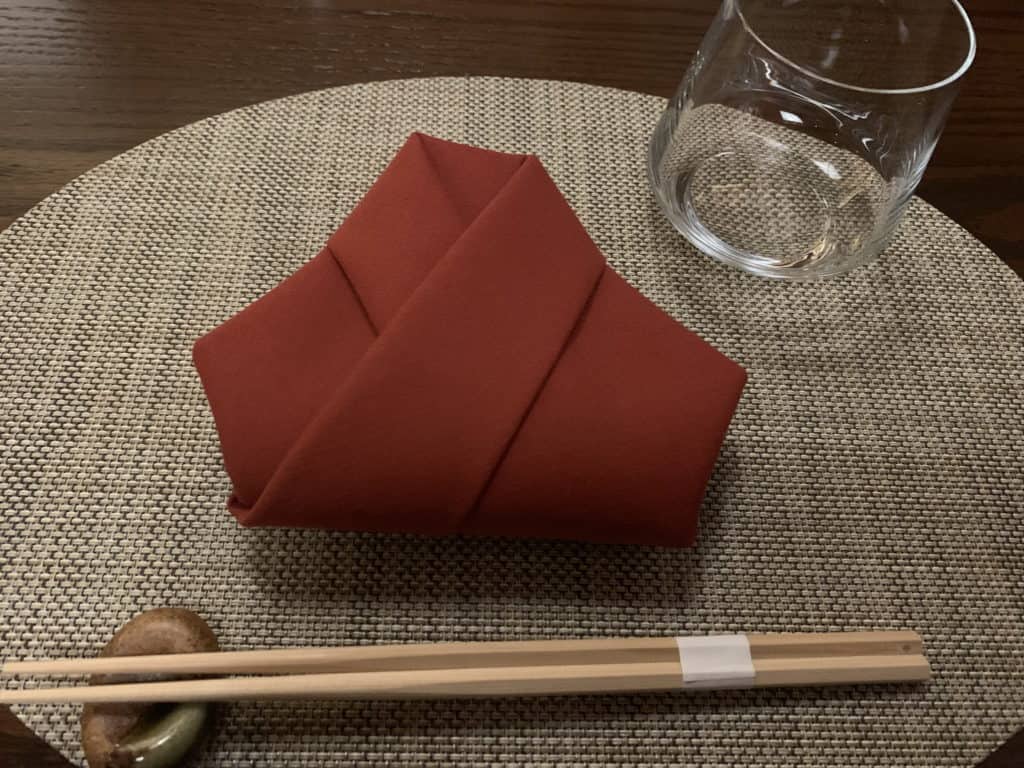 After watching us struggle, we were offered cutlery to finish our appetizer and enjoy our main course. I'm sure after some practice we would have become proficient in chopsticks.
Menu options
This menu includes Appetizers, Main Courses, Sashimi, Maki Sushi, Nigiri, and Desserts. In addition to the main menu, there is also an Omakase Tasting Menu ($130 per person) and an optional beverage pairing ($75 per person).
Takumi-Tei Must-Try Items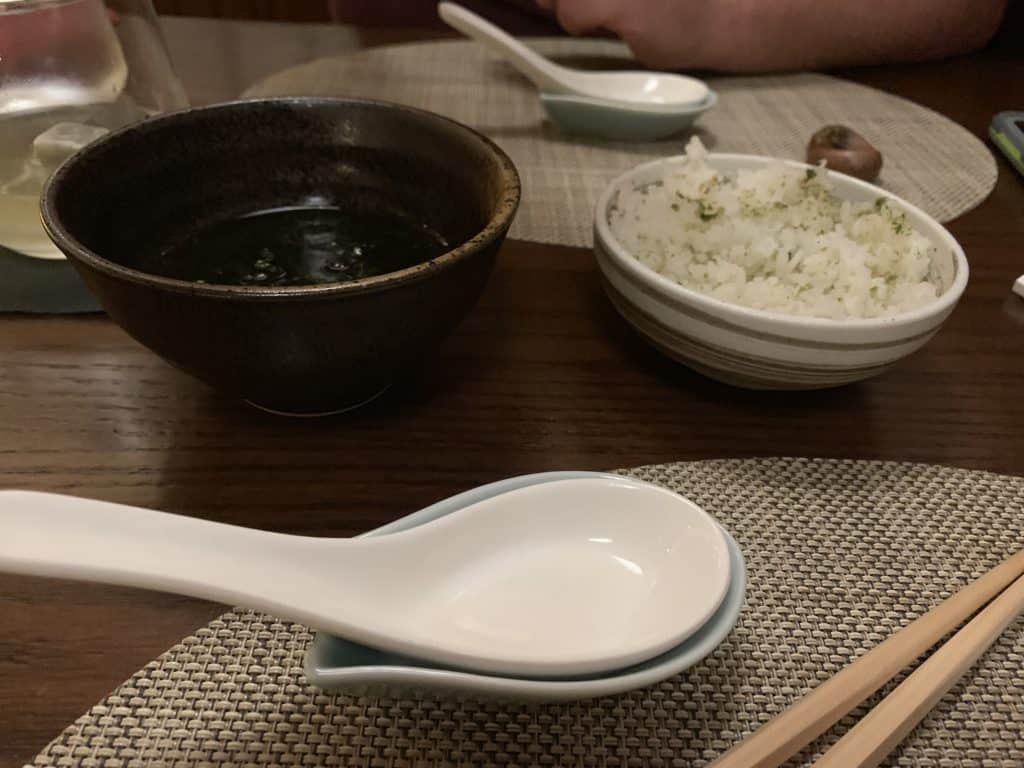 The rice was perfectly seasoned and the soup was surprisingly good. Our hostess served us a bowl with leaves and she poured the hot water to make the soup in front of us. It was definitely special to watch.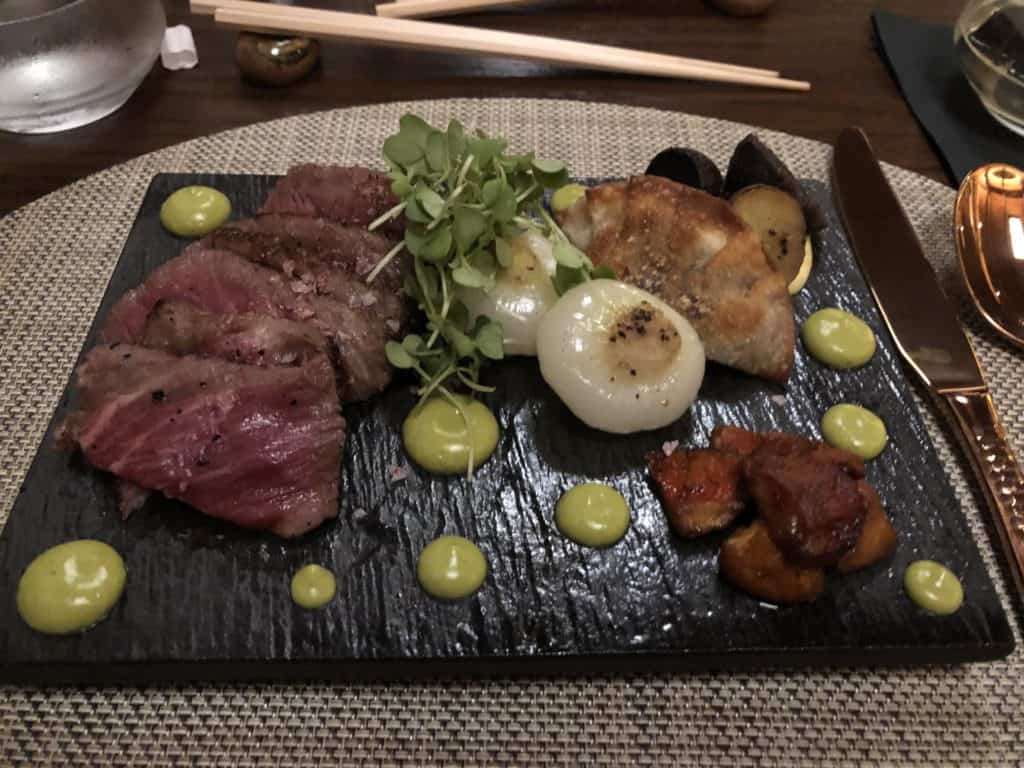 The Takumi Gyuniku, shown above, or artisan beef, shines the spotlight on a Japanese A-5 wagyu beef tenderloin with leek sauce, warishita, short rib gyoza, roast cippolini onion, curried potato, and seasonal mushroom.
This is said to be their most popular entree.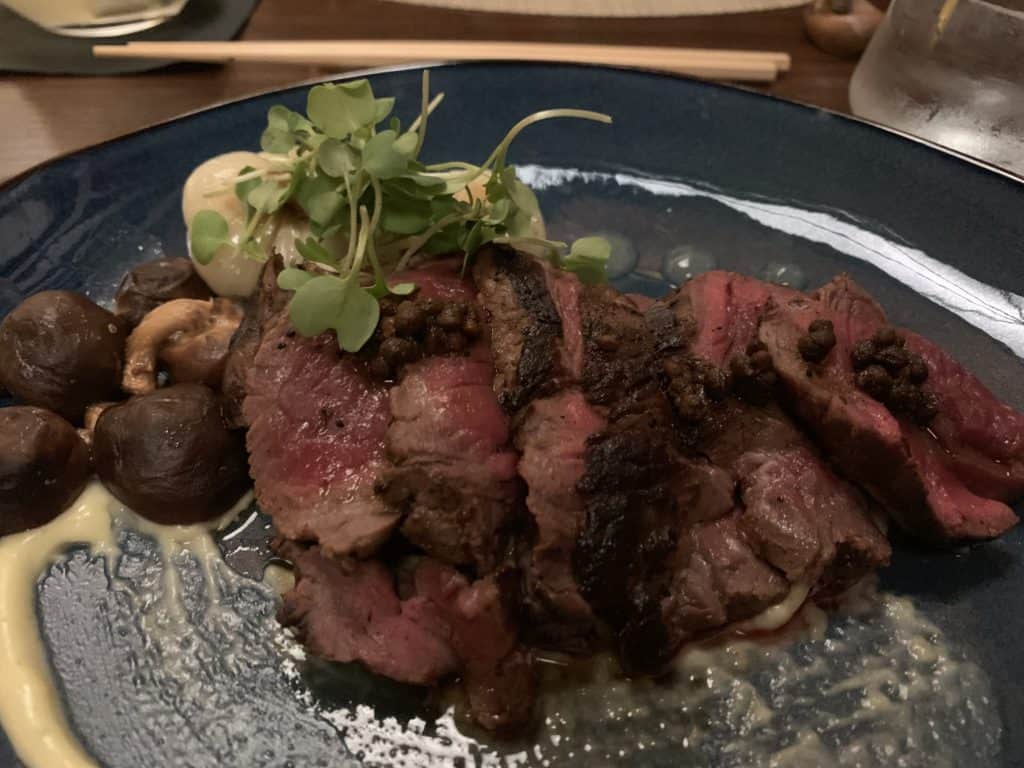 Although I am not a fan of mushrooms in general – I just can't seem to get over the texture – this dish was amazing. The mushrooms were prepared in a way that they were no longer "too soft".
Joto Yuzu Citrus Sake

Sakurajima – Kaiyo Japanese Whiskey Sour with Smoked Cherrywood
I had a traditional red wine with my meal but he decided to explore with some Citrus sake and Smoked Whiskey. I didn't try the whiskey but the sake was great – if I had to describe it, it would be like light alcoholic lemonade.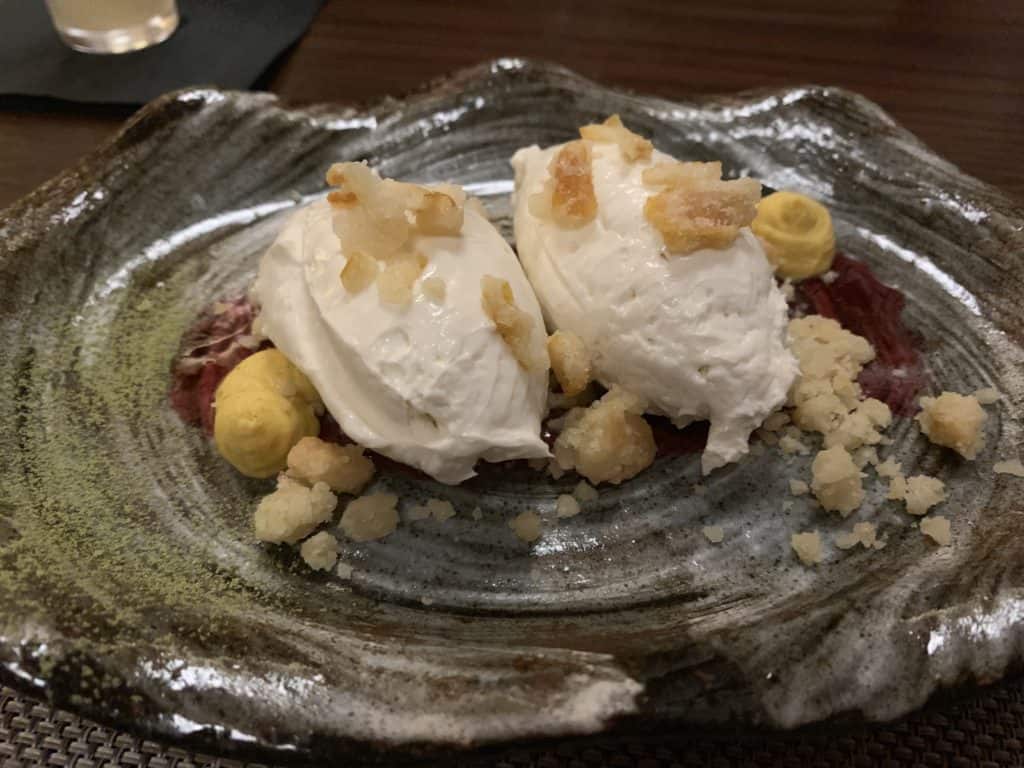 The Kumo (yuzu cheesecake, spiced kabocha, orange yuzu gel and blackberry sake) was incredible. I am lactose intolerant but choose to ignore that and order dairy products regardless. Kumo is not a dish that I should have ordered; it is very sweet, and heavy on the dairy, as a true cheesecake should.
I was able to indulge in a few bites before switching desserts with hubby for the sake of our vacation pleasure.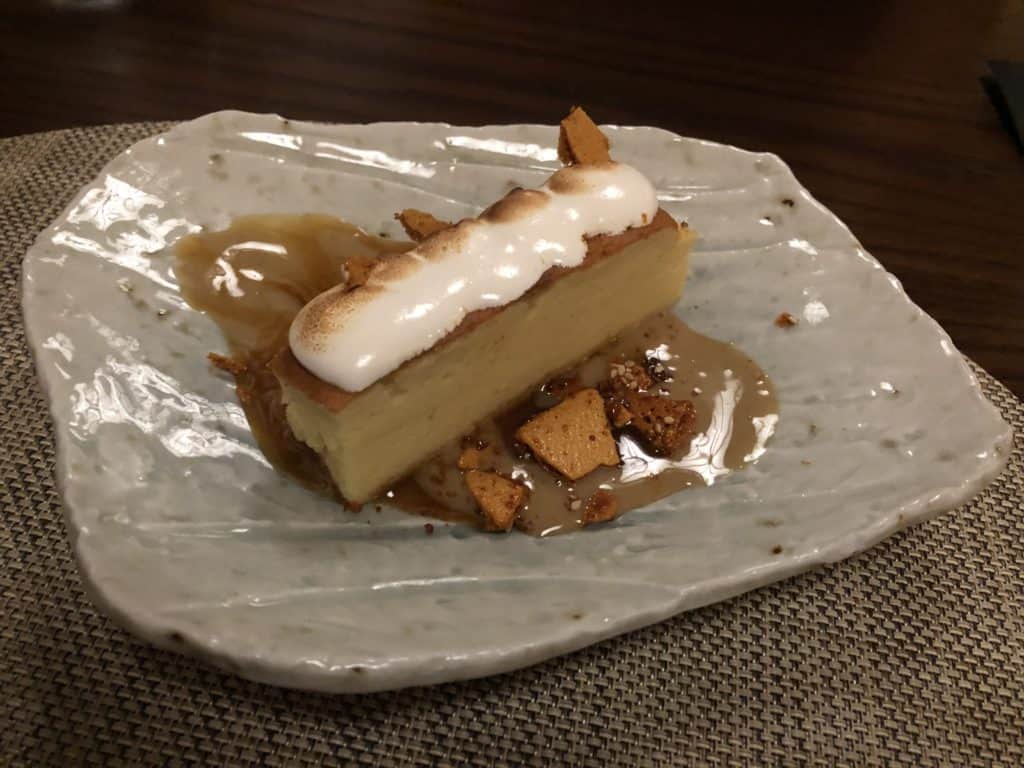 Takumi-Tei Dress Code
In order to preserve the atmosphere of this dining experience, Guests are asked to adhere to the dress code.
Men must wear khakis, slacks or dress shorts and collared shirts. Jeans may be worn if in good condition. Sport coats are optional.
Women must wear Capri pants, skirts, dresses or dress shorts. Jeans may be worn if in good condition.
Neither are permitted to wear tank tops, flip-flops, swimsuits, swimsuit cover-ups, hats for gentlemen, cut-offs, torn clothing and t-shirts with offensive language and/or graphics.
Adhering to the dress code while also enjoying ourselves at Epcot was a little complicated in terms of planning. We decided to pack a change of clothes and leave them in a locker near the front of Epcot. About 1 hour before our reservation, I made the trip back to the lockers via boat across the lake and switched my purchases for our clothes. We were able to change in Morocco pavilion and arrived in time for our 6 pm reservation.
If we had more time in the parks, I would have preferred to return to our resort to freshen up and change but that was not an option today.
Reservations
Advance reservations are highly recommended and can be made up to 180 days prior to your visit.
Takumi-Tei Restaurant Overview:
Location: Epcot's Japan Pavilion (Walt Disney World)
Type: High-End Steakhouse / Signature Dining Restaurant
Price: $$$$
Cuisine Type: Asian, Steak, Sushi, Seafood, Saki
Meals: Dinner only
Dress Code: Business Casual
(ADR) Advanced Dining Reservations: Yes
Disney Dining Plan: 2 Table Service Credits
Discounts:
Tables in Wonderland: 20%
WDW Annual Passholder: 10%
Disney Vacation Club: 10%
Disney Rewards VISA: TBD
Hours of Operation:
Takumi-Tei is only open for Dinner.