Last Updated on September 16, 2019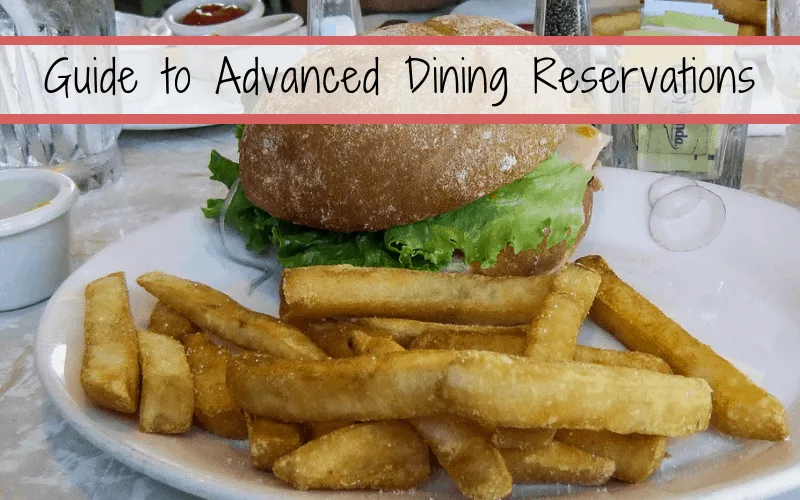 Disney offers a variety of dining options ranging from snack carts and counter service locations to fine dining experiences. The "table service" restaurants can be very popular and a table can be difficult to find during peak times.
What Are Disney's Advance Dining Reservations (ADRs)?
To have the best chance of getting the restaurant of your choice, one should always make reservations as soon as the 180 reservation window first becomes available. This is particularly important during peak vacation times, holidays, during Free Dining season, and lately, just about anytime.
It is frequently impossible to just "walk up" and eat at a full-service restaurant, even in low season! If you are planning to try some of Disney's excellent table-service restaurants and/or dinner shows while you are vacationing at Walt Disney World, it is important to make Disney World Advance Dining Reservations (formerly called Priority Seatings) online or by calling (407) WDW-DINE (939-3463).
When do I make my Advanced Dining Reservations?
Dining Reservations can be made for all of the Disney World Table Service Restaurants 180 days in advance. Guests staying at a Walt Disney World Resort can make all of their dining reservations for the length of their stay (up to 10 days in advance) at 180 days from their arrival date. You can make your dining reservations online or via your My Disney Experience app.
Check out our Walt Disney World Planning Date Calculator to find your customized dates for ADR, FP+ and anything else that is time sensitive at Walt Disney World.
Advanced Dining Reservation (ADR) Tips
Be flexible with your meal times. The most popular are between 12-2 pm and 6-8 pm. Less popular times tend to be easier to get
Be aware of special events at the restaurant of your choice – ie fireworks viewings or live music.
If you dine at California Grill, return later with today's receipt to catch the fireworks from the observation decks
Breakfast is cheaper than lunch, which is cheaper than dinner. Book the last reservation for the meal and enjoy less cost for the same menu. Also, you will find fewer crowds at the rides during peak dining times.
Be prepared to split large parties. There are only so many tables for 4+ people and they tend to book up quickly. If your request for a large table turns up empty, try asking for 2 tables at 4 people each. When checking-in, mention that you are together and they will try to seat you next to each other, or at least near enough. Have a plan in place of who will be sitting with whom if separation is the only choice.
The Advanced Dining Reservation system is not perfect. Asking for a table for 2 may come up with nothing, but for 3, there are many options available. Try for your desired number, then add bodies if you can't get a table.
Be persistent. If you can't book anything today, call back another day and try again.
There is a 10$/per person cancellation/no-show fee.
Kids under 3 need to be included in the reservation, even if they are not paying for their meal (Disney Dining Plan) or are packing a bag for the baby.
Just show up. You never know about no-shows, especially when it rains.
If you can't get reservations for California Grill during the firework viewing, don't worry. As long as you have dined that evening, you will be allowed to return and watch the fireworks from the restaurant's private viewing balcony on the fifteenth-floor of the Contemporary Resort. Simply show your receipt at the 2nd-floor podium to be allowed access.
How to Make Disney Dining Reservations
The act of making a dining reservation isn't that difficult. The ability to get ones desired restaurant at their requested time slot, there inlays the challenge.
We do have a guide to making Advanced Dining Reservations available, and it walks you through the steps of which restaurants accept dining plan, how the advanced dining reservation system works, and so on.
But the actual mechanics of it are fairly simple. You have 3 choices;
Call.
Call (407) WDW-DINE or (407) 939-3463. The Disney Reservation Center is available by phone from 7:00 AM to 11:00 PM Monday through Friday, and 7:00 AM to 8:00 PM on Saturday and Sunday.
Go Online
Guests are able to visit each restaurants landing page and search for availability.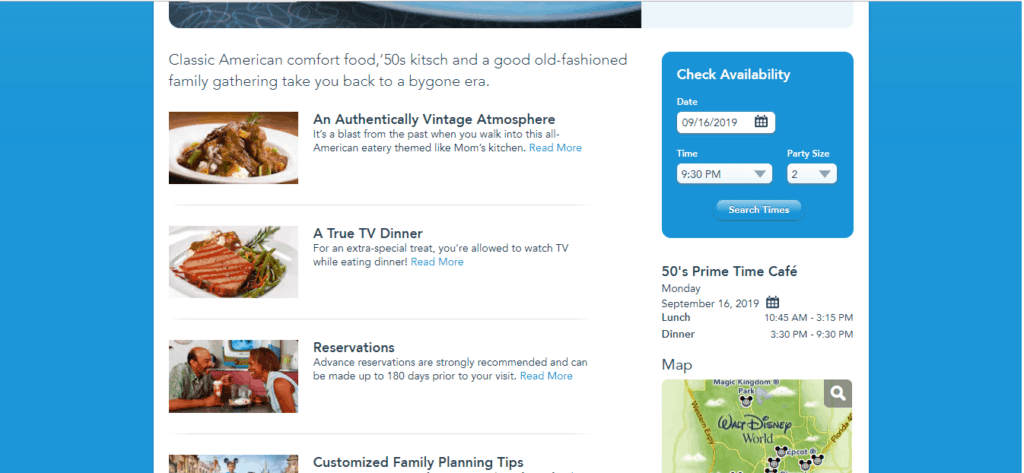 From here, guests will have the option of choosing the number of people in their party, date and general time they wish to have the reservation.
Guests will be directed to sign into their Disney Account in order to link the dining reservation to their resort reservation on MDE.
Book via My Disney Experience
Booking via your MDE app is the easiest way to make your Dining Reservations. Simply log in and press that little + at the bottom of the screen. You will be prompted to select how many members of your party, and a date.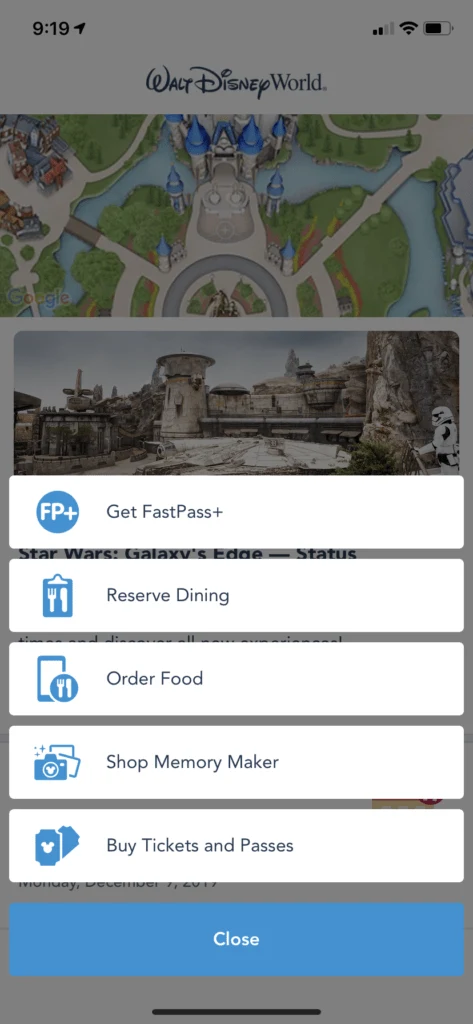 Your menu will then generate all the restaurants that have availability and the time slot you can choose from. This is much easier than going to each restaurant and seeing if they have an open reservation.
Restaurants That Require a Credit Card Guarantee or Prepayment
The following locations require full prepayment (think of it as a guarantee) in advance, using a credit card. Generally, if you don't cancel them by two days before the event, you don't get a refund. Check their cancellation terms carefully, as they can change any time.
You are, however, able to pay for a meal using Disney Dining credits, just let your server know before the start f the meal.
Cinderella's Royal Table
Hoop Dee Doo Revue
Spirit of Aloha Luau
Mickey's Backyard BBQ
Walt Disney World Restaurants that require Advanced Dining Reservations
Reservations are required for these locations — you will never get a walk-up table (or rarely enough that it's not worth counting on it):
Be Our Guest
Ohana
Chef Mickey's Buffet
Rose and Crown
California Grill
Crystal Palace
T-Rex
Cinderella's Royal Table
Victoria and Albert's
Hoop-Dee-Doo Musical Revue
Le Cellier
Coral Reef
50s Prime Time Cafe
Tusker House (breakfast)
Boma
Sci-Fi Dine-In Theater
Cape May Cape Beach Club Resort
Whispering Canyon (dinner)
Mickey's Backyard BBQ
Spirit of Aloha Luau
Also, during the Free Dining promotion, most table service dining locations will be fully booked up during regular meal times. It is critical to have reservations during that time period!
Reserving Independent Restaurants Directly
Not all restaurants on Disney property are actually run by Disney. All the table-service restaurants at Disney Springs and the Swan & Dolphin are independent, and there are a handful of others scattered around the parks. While all of them can take reservations via the Disney Dining system, many of them also accept reservations directly (or sometimes via OpenTable).
They may actually have availability even when Disney says they're sold out because they allocate a portion of their reservation slots to Disney and keep the rest for themselves.
Can't get a reservation at the restaurant you want?
Keep trying. People change and cancel dining reservations all the time, so something may open up. If you are staying on Disney property, call every day once you arrive, too.
You may be able to make same-day reservations by calling Dining Reservations from your hotel room (if you are staying at a Disney resort), asking the lobby concierge (again, only at a Disney resort) or by walking up to the podium of the restaurant right after it opens. Don't expect to get into any place that is really popular, however.
Don't want to make reservations?
There is a large number of restaurants that don't require advanced dining reservations. These restaurants can easily accommodate a family as a walk in, or same day reservation.
Tusker House lunch & dinner in Animal Kingdom
Yak & Yeti dinner in Animal Kingdom
Rainforest Cafe dinner in Animal Kingdom
Restaurant Marrakesh or Spice Road Table lunch & dinner in Epcot's Morocco
Nine Dragons lunch & dinner in Epcot's China
Tokyo Dining lunch & dinner in Epcot's Japan
Monsieur Paul dinner in Epcot's France
Teppan Edo lunch in Epcot's Japan
San Angel Inn lunch in Epcot's Mexico
Tutto Italia lunch in Epcot's Italy
Chefs de France lunch in Epcot's France
Restaurants in Disney Springs are usually not busy at lunch, because most people are in the theme parks. But, you will usually need reservations for dinner in Disney Springs.
Tip;
Try making a reservation with
OpenTable
if you can't find anything on the Disney Dining App.
Cancellation Policy
For all table service restaurant reservations, guests will have to provide a credit card guarantee. If the reservation needs to be cancelled but isn't done one day in advance [at most dining locations], a $10 per person charge will be made to the card. Reservations can be cancelled up to 11:59 p.m. the day before the reservation to avoid the charge.
To cancel, guests can call (407) WDW-CNCL, stop by any table service restaurant front desk, call (407) WDW-DINE, or use your My Disney Experience app. You may want to consider modifying your reservation to a different date as well. Reservations can also be made and cancelled online at DisneyWorld.com/Dining.
Some locations require pre-payment, such as Cinderella's Royal Table, Hoop-Dee-Doo Musical Revue, and the Spirit of Aloha Dinner Show. If these reservations aren't cancelled one day in advance, the full amount will be charged. Whenever you make a dining reservation, you want to be sure to read the cancellation policy for each restaurant as it can vary by location and is subject to change at any time.
Click here to read more about Disney Dining
Your Thoughts...
Please share your thoughts in the comments or reach out on social media...We would love to hear from you.
Follow Mouse Travel Matters for Disney Parks news, the latest info and park insights, follow MTM on Twitter, Facebook, and Instagram.
You May Also Like…