Last Updated on February 22, 2020
Look out Mickey Mouse. With attractions featuring Mickey Mouse, Star Wars characters, entries from the Marvel Universe, and others from Disney's vast media empire, it is the Pixar stars who will take the spotlight at Disney's theme parks for a Year of Pixar in 2018 and beyond.
Celebrate Disney's Year of Pixar
With the opening of Toy Story Land June 30 at Disney's Hollywood Studios in Florida, Andy's backyard will come to life. Much like Cars Land at Disney's California Adventure Disney's Imagineers have set out to capture the atmosphere and whimsey of the Toy Story films.
To accomplish this the moment visitors enter Andy's yard, visitors will shrink down to the size of Mr. Potato Head, Buzz Lightyear, Rex, and the rest of the gang. Toy Story land has been created alongside another much-anticipated addition. Star Wars: Galaxy's Edge set to open next year.
Disney California Adventure, meanwhile, opens Pixar Pier June 23 during the limited-time Pixar Fest celebration. Part of Paradise Pier has been reimagined as Pixar Pier with its four whimsical neighbourhoods featuring our most beloved Pixar stories including newly themed attractions, foods and merch. Upon its opening, Pixar Pier will launch with the High-Speed action of Incredicoaster featuring characters from "The Incredibles."
Guests will enter Pixar Pier through a new marquee, pictured above, which according to Disney will be topped by the iconic Pixar lamp later in the year. The area that includes Paradise Gardens, Goofy's Sky School, Silly Symphony Swings, Jumpin' Jellyfish, Golden Zephyr, and The Little Mermaid: Ariel's Undersea Adventure will be renamed, Paradise Park according to the Disney Parks Blog.
Now lets adventure together across the world to The Shanghai Disney Resort theme park. 25 Apr 2018 Disney·Pixar Toy Story Land opened, the first addition to the complex since it opened in June 2016.
"We're grateful to the people of China for wholeheartedly embracing Shanghai Disney Resort, for truly making it their own and also making it one of the most successful theme parks we've ever opened," said Robert A. Iger, chairman and chief executive officer, The Walt Disney Company. "We're incredibly proud of the success of this one-of-a-kind, world-class destination, and we are thrilled to give our Chinese guests, even more, to explore and enjoy at the resort with the addition of a spectacular new land based on Pixar's beloved Toy Story characters."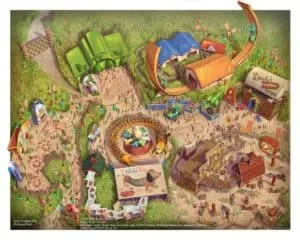 Based on the hugely successful Toy Story films, Shanghai Disneyland's seventh land is a fun-filled, bright world with three new attractions, Slinky Dog Spin, Rex's Racer, and Woody's Roundup. With its themed character greeting area Meeting Post, and its shopping and dining experience options – Al's Toy Barn and Toy Box Café.
The characters of Toy Story and their stories from the franchise have strongly resonated with Chinese guests. If you are looking for the only Toy Story-themed hotel in the world you will find it at Shanghai Disneyland.
This will be a Year of Pixar with top favourites like the Pixar Play Parade at Disneyland Resort reimagined, and the whole new experiences of Toy Story Land at Walt Disney World, Disney·Pixar Toy Story Land at Shanghai Disney Resort theme park, and the much anticipated Pixar Pier and Pixar Fest at Disneyland Resort. We hope to see more surprises throughout the year.
Enjoy the gallery we have created below. Here you can look at some of the concept art for Walt Disney Worlds Toy Story Land.
You May Also Like…
40 Things to do Near Walt Disney World Without Visiting a Theme Park
26 Tips for Walt Disney World First Timers
Best Shoes for Disney & Theme Parks 2018
Disney Cruise Vacation Planning Tips & Tricks
Disneyland Paris: $2.5 Billion Multi-Year Expansion Frozen, Star Wars, and Marvel