Last Updated on September 30, 2020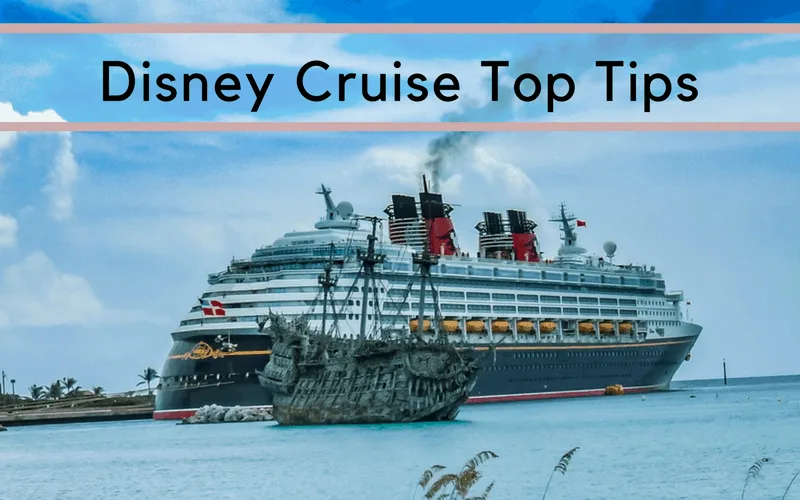 There are some unique aspects to creating your Disney Cruise vacation; here we offer you some suggestions and our top tips we hope it will improve the quality of your DCL experience. Ultimately, planning a Disney Cruise Vacation trip is like planning any other holiday, just add those cruise specific items. Below find our top tips for making the most of a Disney Cruise Vacation:
Consider spending the night in town before the sailing date. Things happen. Luggage can be misplaced, flights can be delayed, or there is traffic on the way to the port. Once upon a time, the airline lost a friends luggage and they were scheduled to depart same day. The suitcase followed them from port to port, just missing them each time. She was forced to survive with her carryon and anything she purchased on the cruise (travel insurance covered this extra cost). If they had spent the night, who knows how things may have turned out.
Check in online up to 90 days in advance, because you can. This is when you will be able to secure your excursion bookings. Do a little research and know which excursions you would like, in order to make the booking process that much more efficient. Dates for online check-in are as follows;
Platinum & Concierge: 120 days prior to sailing date,
Gold: 105 days prior sailing date,
Silver: 90 days prior to sailing date,
First-time cruisers: 75 days prior to sailing date.
Check-in begins at 12amEST and your account must be paid in full in order to reserve onboard activities – I suggest paying in full a few days before your check-in date in order to allow plenty of time for your payment to be processed and give you time to correct anything should a problem arise with your payment.
Shore excursions are a must. It doesn't matter which port you are getting out at, if Disney has decided to land there, it's pretty safe to say that the area is worth it. When we landed in Nassau, Bahamas, so many people were telling us that it wasn't safe and they wouldn't get off the boat. Disney didn't drop us off in the middle of a war zone, it's Nassau! Yes, there is a little more crime here than usual and definitely more pickpockets but it's a huge tourist port, of course, there are more tourist scams. I wouldn't expect anything different. Be aware of your surroundings, know the scams, know how to avoid them, and stay with the group.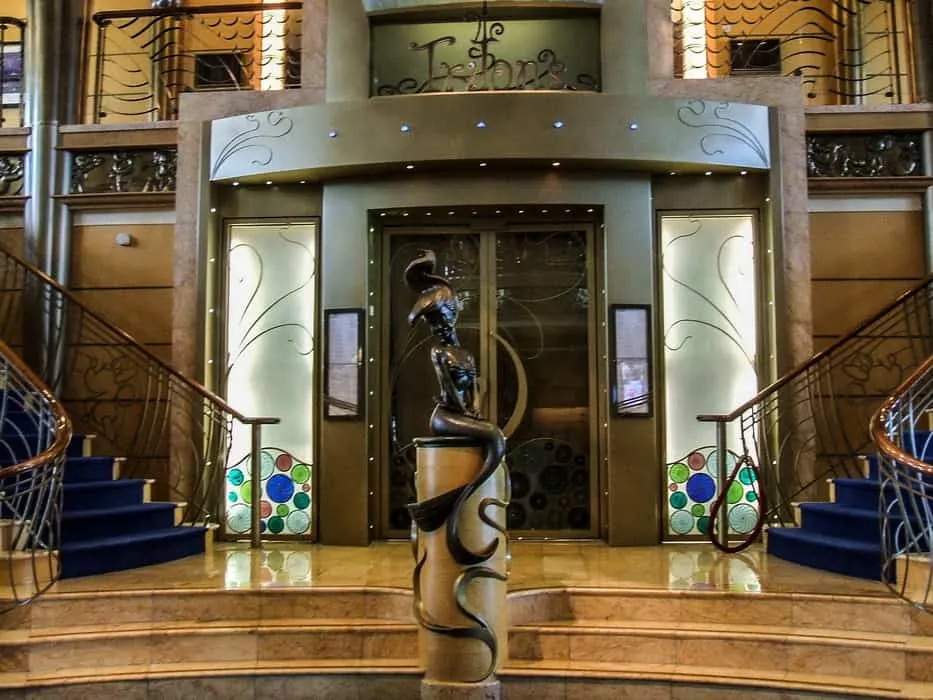 Consider trip cancellation insurance and some sort of Travel insurance with emergency medical benefits for those DUH! moments. Trip cancellation insurance can provide peace of mind and can cover things preventing you from catching your cruise. Some of these insurance options can include weather delays, loss of employment or simply the boss cancelled your vacation days. With proof that you or a member of your party received time off and it was withdrawn by the employer, insurance can reimburse those costs and potentially the cost for the whole family.
Travel insurance with emergency medical benefits is just that, for emergencies. It does not cover preexisting conditions. Travel insurance with emergency medical benefits can save your vacation. Getting sick or suffering an accident would be bad enough. The one thing that would make it worse is losing your hard-earned vacation. Find yourself and your family a travel insurance plan that offers not just emergency medical benefits but also includes trip cancellation and trip interruption benefits. If you're forced to cancel or cut your trip short for a covered reason, the policy will provide reimbursement for non-refundable travel expenses.
It is beneficial to have a cruise packing plan. Check and double check your suitcase before leaving the house and have everything you can think of for the days at sea, and during ports of call.
Not so funny story; We flew to our Disney Cruise Vacation directly from our destination wedding and I managed to leave the top of one swimsuit and the bottom of another on the drying rack in our hotel. This meant each day on our cruise and at Castaway Cay, I wore a horrifically unmatching two-piece bikini.
Speaking of suitcases, your luggage will arrive at your stateroom later on in the day. Have a carryon with a change of clothes and a few essentials to last you until then. We suggest having all your toiletries, electronics, valuables and medication in your carry-on suitcase. If you are taking the Magical Express from the airport to the cruise, you may not see your suitcase after turning it in at the airport back home; swapping items from one bag to another after landing may or may not be an option.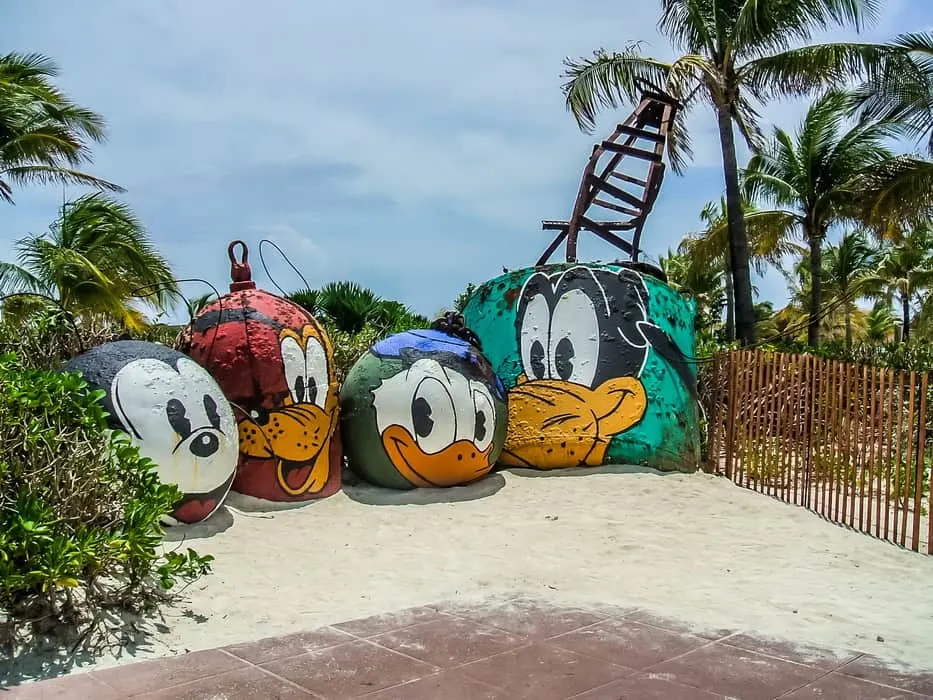 Research what is and isn't allowed to be packed. There are plenty of banned items to be made aware of, and they can change at the drop of a hat. Power strips are often allowed, but they must not have a power surge protector. In the event it is confiscated, keep your receipt and they will return it to you upon disembarkation. Bicycles, scuba equipment, musical instruments and homemade foods are also banned from the ship.
Apart from the standard banned items, like firearms and fireworks, Disney Cruise Line also has the task of keeping the ship safe from electrical items – a fire on board a boat is the single most dangerous emergency in open waters. Game players, media players, drones, and electrical appliances are not allowed on board Disney Cruise Line. There is a limited number of bottler sterilizers and bottle warmers available for rent, it is required to contact Guest Services here to make the reservation request.
According to the Disney Cruise Line, passengers (21 years of age and older) may bring onboard two bottles of unopened wine or Champagne (no larger than 750 ml) or six beers (no larger than 12 ounces) on embarkation day and in each port of call. The alcohol must be hand-carried in a day bag and/or carry-on luggage.
Any alcohol brought onboard via checked bags will be confiscated and returned on disembarkation day. All alcohol must be in an original unopened container, or it will be confiscated and destroyed at the owner's expense. There is a corking fee of $25 for any wine or champagne brought onboard to be consumed in one of the dining halls.
Check the daily itinerary to know which parts of the ship to avoid and where you want to be. Character greetings and children's activities are listed every morning; whether you want to be part of that action or avoid it like the plague, know where everything is and plan your day accordingly. If you are interested in character meet and greets, it is suggested to queue at least 30 minutes before the designated times. Waiting too long to join the queue could mean a long wait or being refused entry if the line looks like it will take the characters passed their stated end-times.
Attend as many live shows and movies as possible. Because Disney owns the cruise line, and they own the rights to their own films (obviously), they are known to give pre-screenings of many movies while on board. For example, we were able to watch Toy Story 3 on board, free of charge, just a few weeks after it was released in theatres. AND… we watched The Sorcerer's Apprentice on release date. Again, free of charge. The movies and live shows are streamed to your room, should you wish to have a nice relaxing evening in, but the atmosphere is half the fun. And the snacks are amazing.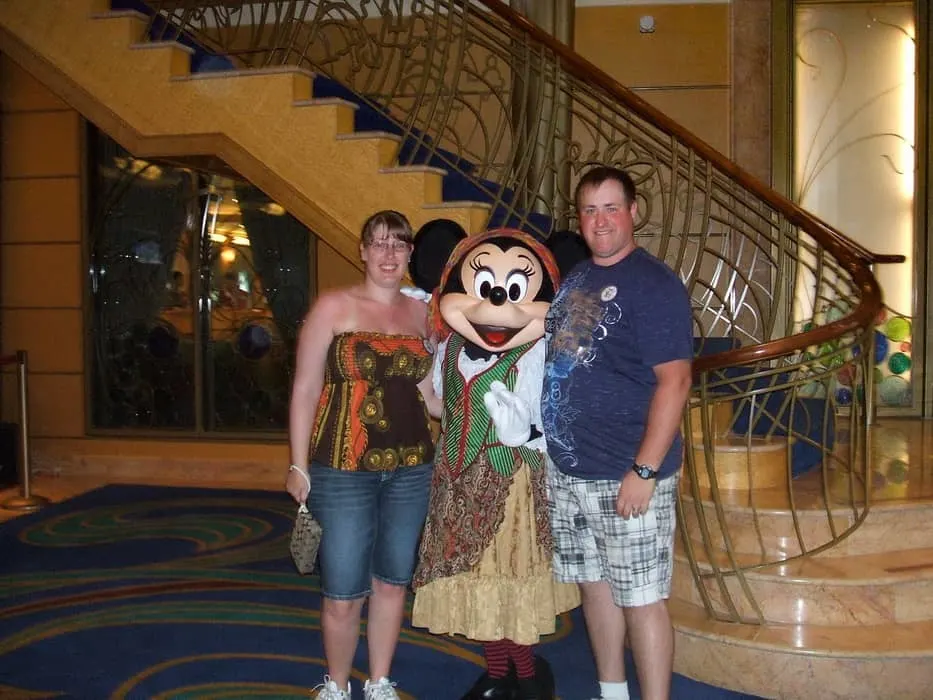 Take as many photos as humanly possible. Pack extra SD cards. Bring your cell phone and take videos of everything. There is so much to see and do that you will find yourself easily overwhelmed with the day's activities and will need a little reminder here and there of what just happened. It's ok. It happens to the best of us. It just means you are having fun. Since there is a lot of water involved in many of the activities you will probably end up reserving, consider investing in a waterproof housing for your devices, if they are not already waterproof. Test them before heading out and give yourself enough time to replace anything that is defective.
Speaking of photos, get Disney Shutters. I can't tell you how many times we have given our camera to one of the photographers and they have royally messed up our pictures. We try to have the settings settled before it is our turn, so they aren't doing much, just snap the photo. They still manage to come out fuzzy, unfocused, discolored and off center. Our cellphone pictures end up being the best image but the quality isn't there. I don't want to spend ages with the character using multiple devices to take a decent picture; just get the photo package, have them take a million pictures and be done with it.
Laundry. Some ships offer both professional service (for a very high price) or self-serve facilities on board. They are limited to a handful of machines per floor so getting there early and staying until the job is done is recommended. Not everyone stays, mind you, but the cruise is not responsible for lost or stolen property and too many times I have witnessed guests removing clothes from the machine before it was finished. It will be the longest 2 hours of your life; bring a book and have the hubby bring you a drink, you deserve it – you are literally watching clothes dry.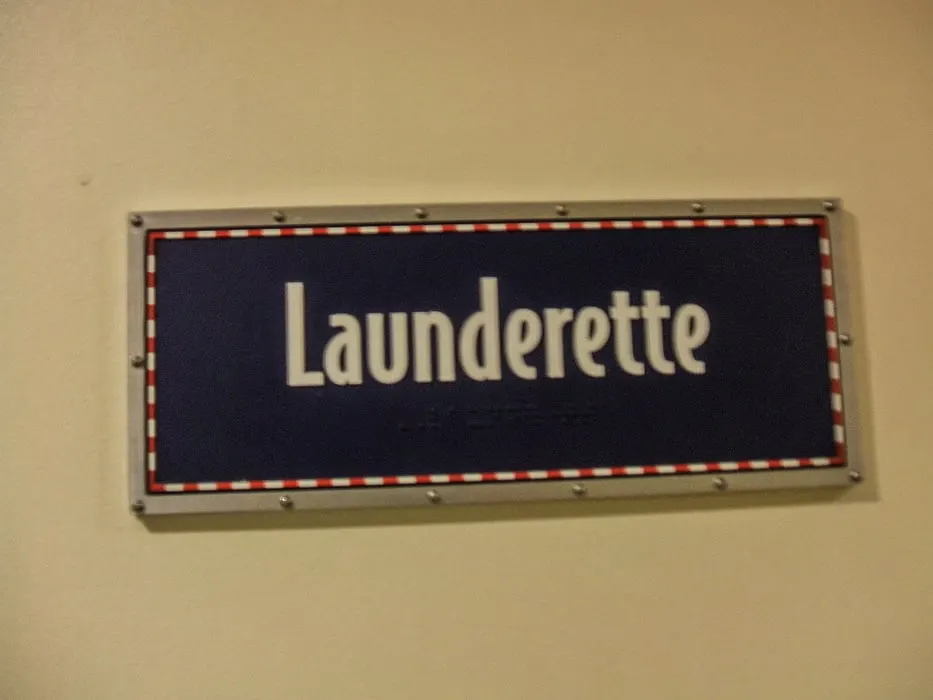 Know the dress code. In general, most onboard dining locations are "cruise casual," so casual attire, such as shorts and T-shirts, is permitted, with the exception of swimwear and tank tops. Most cruises have special theme nights that provide opportunities to dress up for a one-of-a-kind family photo. One formal and one semi-formal night—both give you the opportunity to dress up and take advantage of the onboard photography services. Though optional, we recommend dress pants with a jacket or a suit for men, and dress or pantsuit for women.
Daycare. Reserve a spot at the daycare even if you don't intend to use it all the time.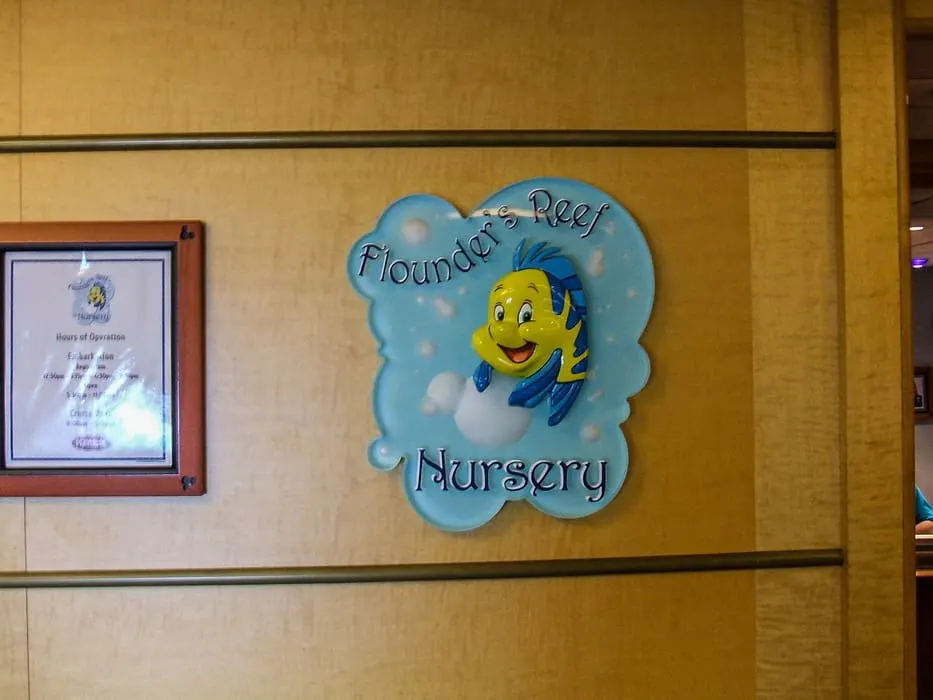 Dinner time. With young kids, take the 1st sitting for dinner. Older families or childless couples tend to take the 2nd This is both courteous and practical – no child will stay calm at 9 pm waiting for a fancy dinner they probably won't eat. Munchkin went to the buffet upstairs for his dinner at 5, we snacked. Brought him back to daycare for 6 pm every other night, then mommy and daddy had a nice quiet date night. But boy do the little ones look adorable in 3 piece suits. After 2 or 3 nights we figured out what he liked on the menu so he ordered the same thing each time he had dinner in the Hall.
Pack wisely. If your checked luggage gets lost, who knows when it will meet you. A friend lost hers on the way to a Mediterranean cruise; the luggage followed her from port to port, just missing her, until it was "misplaced" along the way. It showed up at her door 2 weeks after they landed. Also, some companies take your luggage to your room for you, but this takes time. While you clearly can't pack all your luggage into your carry-on (or can you?), you will need toiletries, a change of clothes and dinner wear before you are reunited with your checked bag.


Tip.
Don't pack all your clothes in a single bag. Try to spread everyone's items over all the bags, that way not everything is misplaced if a bag does go missing. This means essential items will need to be on your person; documents, medication, money, jewelry, good shoes, and toiletries.
Baby dishes. Don't assume someone else is going to clean the baby items for you. Bring appropriate cleaning supplies and extras in case some are lost. Most cruises have a "corner store" section with baby items but they have a limited supply and are not cheap.
Wear sunscreen. And lastly, our final tip for a happy and relaxing Disney Cruise Vacation; "Drunk on the beach" has its drawbacks, and "lobster" the next morning isn't much better. Wear sunscreen, and reapply often. Especially when drinking alcohol, ensure you reapply. Let this photo be a lesson to you all… kid kept poking me, called me a lobster.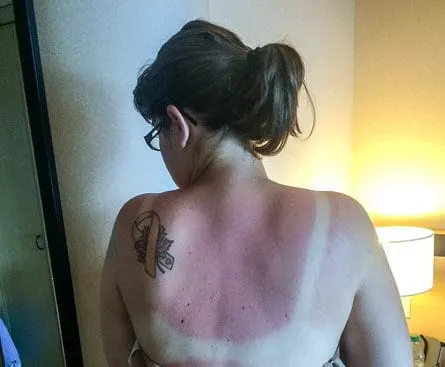 Your Thoughts...
Please share your thoughts in the comments or reach out on social media...We would love to hear from you.
Follow Mouse Travel Matters for Disney Parks news, the latest info and park insights, follow MTM on Twitter, Facebook, and Instagram.
You May Also Like…
Disney Cruise Vacation Planning Tips & Tricks
Dehydration and Heat Stroke on Your Disney Holiday
26 Tips for Walt Disney World First Timers