Last Updated on March 2, 2020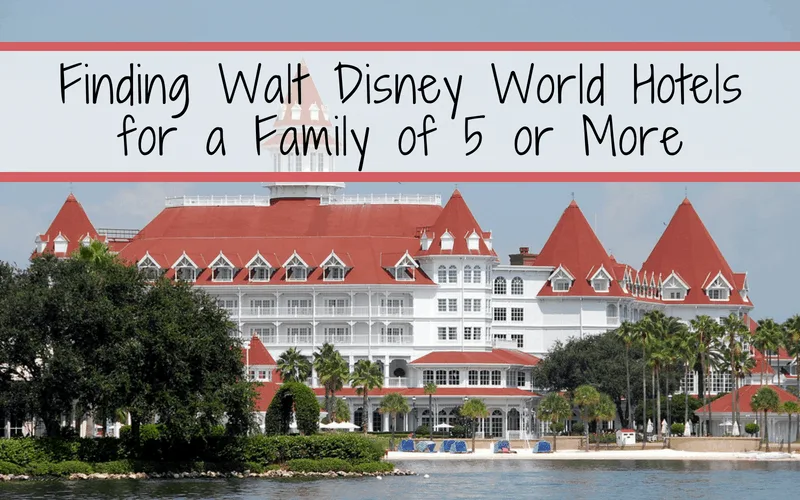 Planning an exciting trip to Walt Disney World and looking for a suitable hotel? If you have two or more kids, you might have a hard time finding a room in many hotels.
In the United States, most hotels with the word "suite" in their name have rooms that can accommodate five or six people. And in Orlando, any hotel that includes "villa" accommodations will be able to sleep five or more. But it takes more effort to find the large rooms in hotels without the word "suite" or "villa" in the name.
To see family travel tips and lists of hotels with large rooms in cities worldwide that can accommodate 5, 6, 7, or more in one room or suite, see Sleeps5.com.
Advantages of Booking One Room:
Travelling with kids is family fun, but kids require hands-on assistance and supervision. If there are more than two children, having two or more adults present eases the childcare workload. It's much simpler for a family of 5 or more to stay in one room, or suite this way every family member's belongings are in one place. Being in the same space also means the adults help the kids together, and they are better able to discuss crucial logistic planning.
Booking one room also saves money. More often then not, a large room for five or more is less expensive than booking two rooms at the same hotel.
Large Rooms or Suites May Have Separate Areas:
Some families prefer the convenience of a separate space for kids. This arrangement provides privacy and usually an extra TV so family members can watch what they'd most enjoy. Large suites often have a pullout sofa bed in a living area that has some division from the main bed area. Some suites even have a separate bedroom or two. These sizeable suites often include an extra bathroom as well.
But if saving money is a primary goal, then booking a hotel room that has multiple beds in one large space is generally a more budget-friendly option.
Hotels Don't Always Provide Room Detail Information:
All hotel rooms have a maximum occupancy limit based on room size and according to local regulations and the hotel's policies. Some hotels do clearly state a room's occupancy limit and bed sizes. However, many hotel websites do not provide exact bedding or occupancy information.
Additionally, occupancy limits are often not directly correlated with the beds available. For example, a hotel website photo of a double bed and a queen-size sofa bed does not necessarily mean the room allows four people. And some hotel websites do describe a room's bed sizes but still don't state the maximum number of guests allowed. There are many hotels that will permit guests to request an extra rollaway bed or a crib (baby cot), but oftentimes, the hotel's website won't clearly state that, either.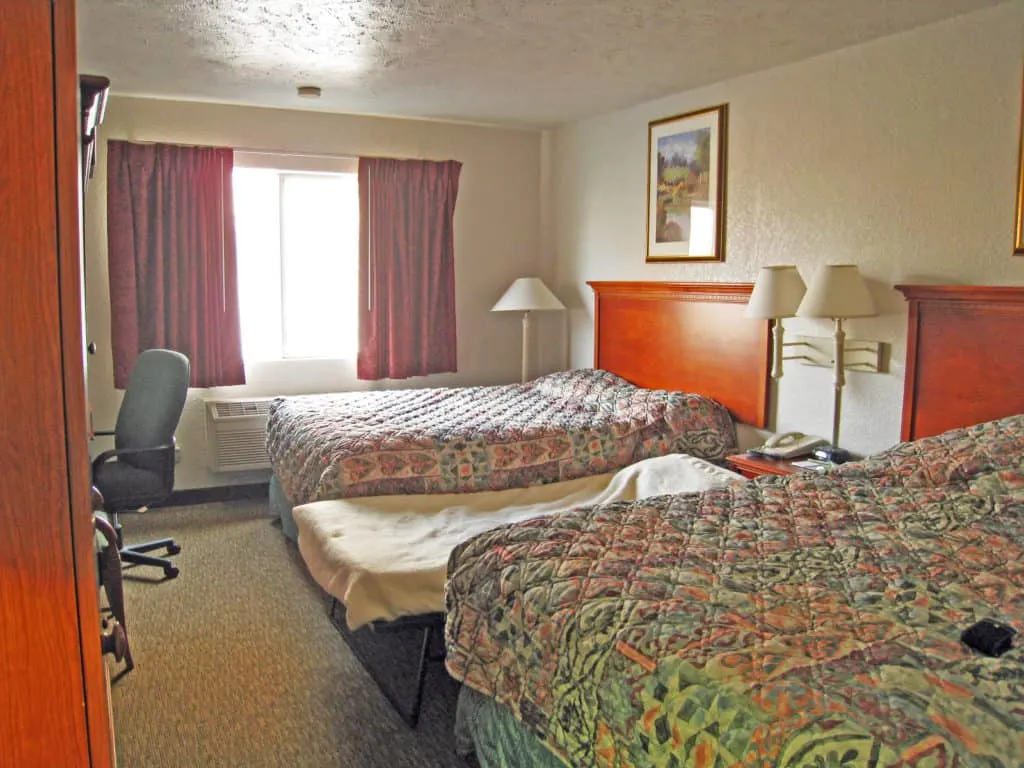 How to Book When the Room Limits are Not Clear:
When a hotel's been selected, but it's not clear how many are allowed in a room, a family travel planner can try to determine if the hotel can sleep 5 or more by using the hotel's online reservation system. Enter the dates of travel, the number of adults and children, plus the kids' ages, into the boxes and wait for the results.
Sometimes the results will clearly state 'exceeds maximum occupancy'. Unfortunately, some hotel reservation system results simply state 'no availability' and the family travel planner is left to guess whether the reason is due to occupancy limits or a full hotel for the dates entered. One way to find out the reason is to fill in the reservation boxes again, except this time enter one less child. If the results produce an available room, then it's clear what the maximum occupancy happens to be.
Many hotels allow a combination of online and special request reservations if a family exceeds the reservation system occupancy limits. For example, a family of five can reserve a room online for four people, then contact the hotel directly to request an extra rollaway bed or crib. When using this method, it's safer to reserve online with a cancellable option, like Booking.com, in case the hotel won't have any extra beds or cribs available, or in case the hotel denies the special request for another reason.
Alternatively, a family travel planner can contact the hotel directly by phone or email to inquire about occupancy allowances and availability. Always state the kids' ages and bedding needs, since sometimes a hotel will permit a crib (baby cot) but not an extra bed. In that case, the room can sleep 5 if the youngest is a baby or toddler.
In our experience, it's best to contact the hotel's front desk rather than the hotel chain's main reservation call centre to inquire if a room can accommodate a family of 5 or more. The front desk staff knows whether the hotel has flexibility in permitting an extra bed or crib, or allowing a small child as the fifth guest in a four-person room, for example.
Keep in mind that hotel policies and room bedding configurations frequently change, so what may have worked for one family may not be permitted on a return trip, or for another family at another time or with different aged kids.
Orlando Hotels for Families of 5 or More
Luckily, there are plenty of choices for large hotel rooms, suites, and villas for families in Orlando!
Staying on a Disney property means extra Disney-style amenities are included or available for purchase, such as theme décor, airport transportation, childcare options, shuttle rides between all the parks, multiple on-site dining venues, and access to playgrounds and pools and activities.
One of the Disney properties with a Family Suite for five or six is Disney's All-Star Music Resort, which is in the less expensive Value Resort category. It has a queen size bed, a double size sleeper sofa, and twin size sleeper chair and sleeper ottoman. Disney's Art of Animation Resort also has 4 separate styles of themed Family Suites, although they are traditionally more expensive than Disney's All-Star Music Resort because they are two bedroom suites.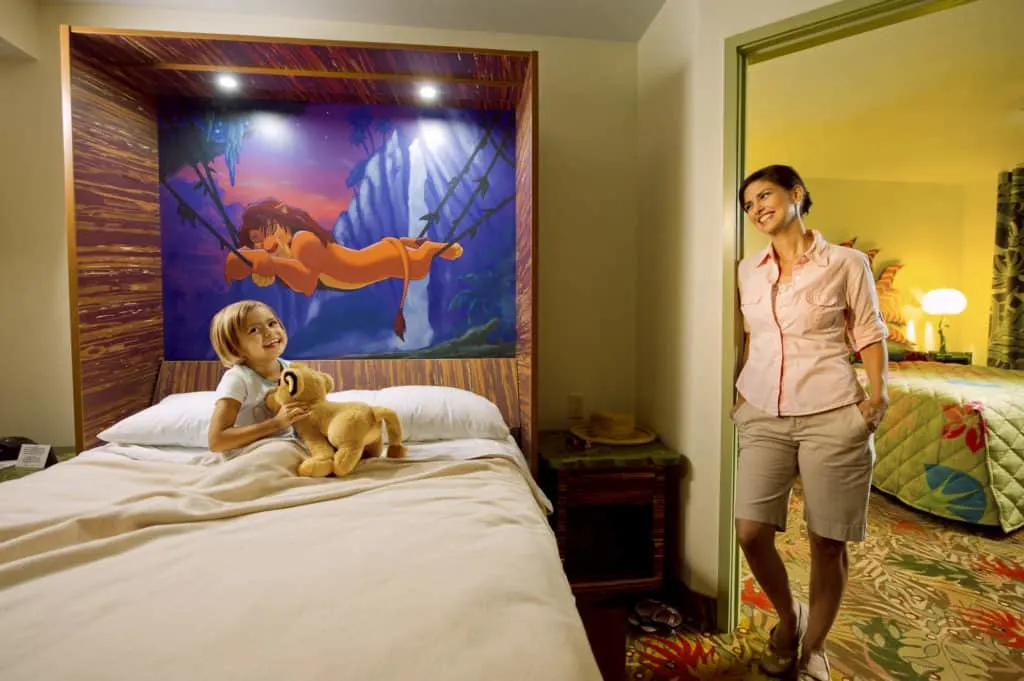 Disney's Beach Club Villas, part of the Deluxe Resort category can sleep up to eight people in two-bedroom villas with a combination of king, queen, and sleeper sofa beds. The villas also have a kitchen and laundry machines.
For a more rustic feel, the Cabins at Disney's Fort Wilderness Resort can accommodate five or six. They are near the Magic Kingdom. Each cabin has a bedroom with a two-person bed and a set of bunk beds. There is also a pull-down double size wall bed in the living area, and a full kitchen.
Find more information regarding Disney World On-site hotels that accommodate large families here.
Staying off-site near Walt Disney World has its own perks. Often, the large hotel rooms are less expensive than a Disney hotel and sometimes the value is enhanced with free breakfast or parking. Some off-site hotels even have their own shuttle bus system to help transport families to the theme parks.
A good example of this is the Comfort Inn Maingate. Located a mile from Walt Disney World, its Family Rooms can accommodate five or six with two queen beds and a set of bunk beds. The hotel offers free parking, free breakfast, shuttle to Disney theme parks, and an outdoor pool.
For more space, the Floridays Resort Orlando has two-bedroom and three-bedroom suites to sleep up to eight people. Each unit has multiple TVs, a kitchen, and a washer and dryer. The resort has two dining venues, multiple outdoor pools, and fun activity areas. Parking and shuttle service to theme parks is included.
Many Big Family Hotels for Walt Disney World
With all the on-site and off-site hotel options that can accommodate a family of 5 or more in Orlando, the family travel planner's main difficulty may be how to select one! It's a good start to gather family preferences, list the benefits of each location, and determine the total price (including resort fees and taxes) for the dates of travel. Transportation costs such as rental car and parking, plus the time needed to get between locations, should also be factored in.
Since many hotels are unable to sleep more than four to a room, needing accommodation for a large family group does help to narrow the hotel choices. But in the Orlando area, there are still so many to choose from!
Your Thoughts...
Please share your thoughts in the comments or reach out on social media...We would love to hear from you.
Follow Mouse Travel Matters for Disney Parks news, the latest info and park insights, follow MTM on Twitter, Facebook, and Instagram.
You May Also Like…