Last Updated on April 26, 2019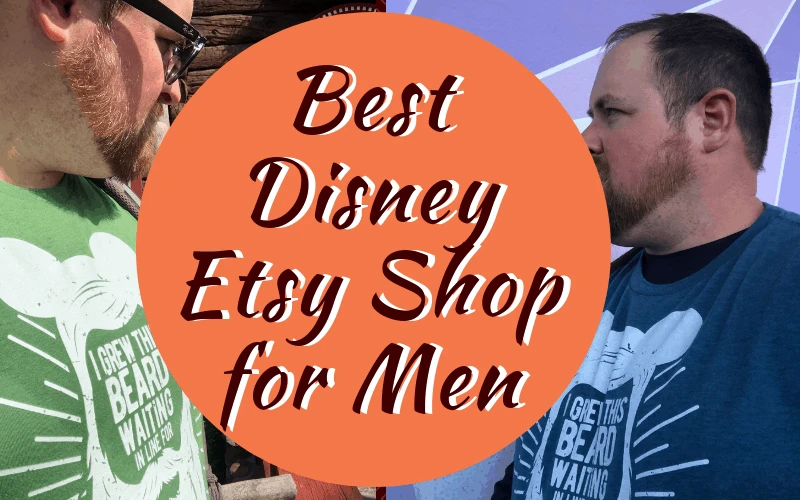 Like many Disney blogs out there, we have been focusing on women and children for the majority of our fashion posts. It's high time that the men in our lives get a little Disney magic of their own in the form of Disney shirts and swag.
But. There aren't many shops willing to make designs for men, other than the traditional #broke or "Most Expensive day ever". Our men are allowed to enjoy Disney just as much as we are. They deserve personalized t-shirt designs that show off their love of Disney and we finally found one!
This post may contain affiliate links.
To which I earn a small commission, at zero cost to you!
Find more info in our
Privacy Policy
.
My new online friend Ben started his Etsy shop, BeenJamminTees, back in 2017 and his inventory is not only clever but crazy comfortable.
We asked Ben to sample a few shirts before writing this article.BeenJamminTees offers comfortable material and the printing quality is lightweight and breathable. Getting print-shop quality shirts while still having the customer experience we have all come accustomed to with Etsy and other Home-based businesses was also a great perk.
Ben was able to help me decide on a colour and go through the size chart to make sure we got it right the first time. His expertise was spot on and hubby's shirts came out exactly the way we were promised.
Below are a few of the amazing shirts that BeenJamminTees has to offer. Don't forget to click the image to go to his store.
Disney shirts for men
There are a few phrases that stick in your head even weeks after leaving Disney; this, and "please take small children by the hand", but that's not as much fun to write on a shirt. I think everyone can enjoy this design, even the wife when you aren't looking. Just saying, it looks comfy.
We aren't ones to run around with shirts or accessories about drinking, especially those designs of tall Beer Mugs with Mickey ears, but this one is just enough to fly under the radar unless you are actively reading it. But seriously, after the reported 300 minutes (5 hours) wait times for Slinky Dog, I think we all need a beer.
Did anyone else just hear Will Smith's voice while they were reading this? No, just me? Cool.
BeenJamminTees has a few of these styles available for most of the popular rides. Unless you have Fast Passes, there is a good chance you will grow a 5 O'Clock shadow before boarding any of these rides so this is clever and accurate.
I love this one. Same great Disney beard design, but Santa-fied.
Your Thoughts...
Please share your thoughts in the comments or reach out on social media...We would love to hear from you.
Follow Mouse Travel Matters for Disney Parks news, the latest info and park insights, follow MTM on Twitter, Facebook, and Instagram.
You May Also Like…
Disney Fashion- Toy Story Crew Socks Set
10 Disney Tattoos From Instagram For Inkspiration
Picking the Perfect Park Bag for Disney & Theme Parks
A Guide to Single Rider Lines at Walt Disney World