Last Updated on December 17, 2019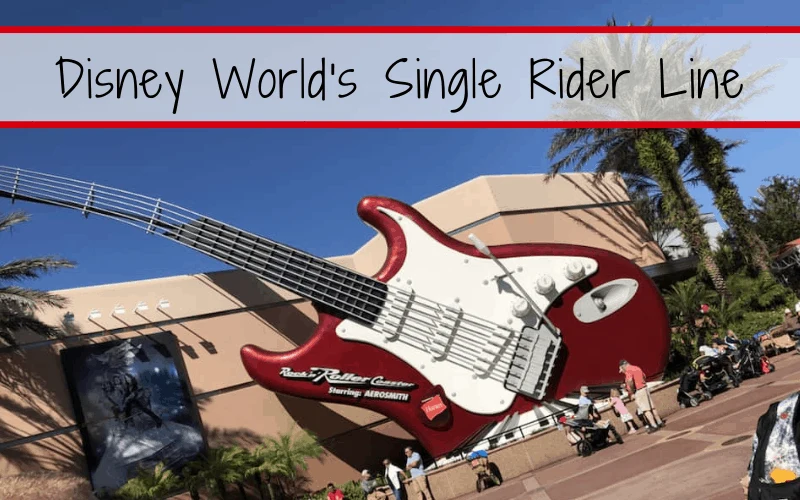 Ever wondered how Disney fills those empties seats on rides? If your family is an odd number (compared to the seating capacity of the attraction, of course), Disney isn't about to let that seat simply remain empty. They are going to want to fill that gap with anyone willing to ride along with you. But how?
What are Single Rider lines?
Just like it sounds, single rider lines are meant for Disney guests that are traveling solo or don't mind riding alone. When a single spot becomes available, because of odd party sizes in the Fast Pass or standby queues, Cast Members will pull someone from the Single Rider queue to fill that spot.
This is a great way to ride more attractions in a shorter amount of time, as the single rider queues tend to go much faster than the traditional lines.
Why Disney Offers such a thing?
Single Rider Lines are located on attractions where they frequently will need a "single rider" to fill a car or ride vehicle. Disney likes to keep families together and this can lead to a few empty seats on the rides. When this happens, they call upon a single rider to fill that seat.
There are four attractions at Walt Disney World that offer a single-rider option:
Test Track – Epcot
Rock 'n' Roller Coaster – Hollywood Studios
Millennium Falcon – Smugglers Run – Hollywood Studios
Expedition Everest – Animal Kingdom
Some attractions like Soarin' will fill in spaces with single riders from further back in the queue as needed but do not have a dedicated single rider line. Both the Seven Dwarfs Mine Train and Space Mountain in the Magic Kingdom also have frequent calls for single riders at the loading area, due to the way the ride vehicles are set up.
When should you use the single rider line?
There are only 4 rides with Single Rider Line available but this doesn't mean that there can't be purposeful planning involved when deciding if this line is the best option for you.
Test Track Single Rider Line is a great option because it is a Tier 1 attraction. This allows you to use one of your Tier 1 FastPass+ options for Soarin' or Frozen Ever After.
The single rider line moves really fast over at Test Track. This is due to the cars only holding 6 people and most being a party of 2-4 leaving those extra gaps for you to fill.
Expedition Everest is another great choice because it is also up in terms of popularity. There are so many popular rides at the Animal Kingdom, that why would you use your FP+ for an attraction that you can practically walk on to.
Rock 'n' Roller Coaster is a little bit of a different story. According to DisneyParks Mom Panel, the single rider line can take just as long to get a seat as Fast Pass lines, only because the "stretch limos" are in rows of 2, and can easily accommodate families of 2 and 4. They suggest asking a Castmember for the anticipated wait time in the Single Rider queue before making your final choice.
Millennium Falcon – Smugglers Run is a brand new ride to Walt Disney World, and is therefore very popular. The standby queue can reach 300 minutes first thing in the morning and stay around 150 minutes throughout the day. The Single Rider line can go fairly quickly; roughly 10-20 minutes. This is because the ride takes 6 passengers at a time and most families are between 3-5 members. We rode once where they called 3 single riders into a single group. There is no guarantee you will be seated with your family but you are going to be so busy accomplishing your task that you won't even miss them.
Tips and Rules for the Line
You have to be at least 7 years old to use the Single Rider Line
You can enter the line as a group but you WILL be split up.
Always make a plan with people in your party to meet at the exit of the ride in case you do get split up.
Single Rider Lines (much like the FastPass+ Lines) often bypass some of the fun interactive aspects of some of the queues.
Your Thoughts...
Please share your thoughts in the comments or reach out on social media...We would love to hear from you.
Follow Mouse Travel Matters for Disney Parks news, the latest info and park insights, follow MTM on Twitter, Facebook, and Instagram.
You May Also Like…