Last Updated on March 26, 2019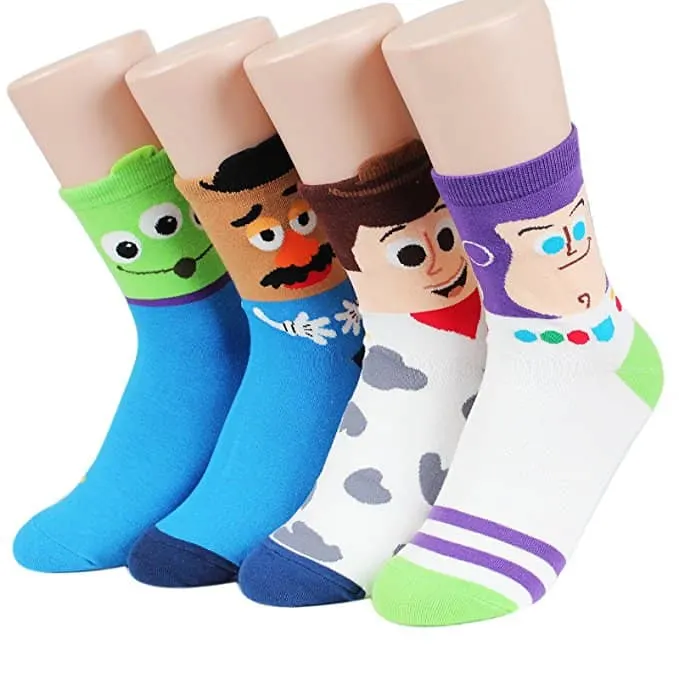 We love Toy Story and we found some AMAZING socks on Amazon. Boring white tube socks just aren't going to cut it. This is why I am always on the hunt for cool and awesome socks to spice up my day and help through the Disney blues.
This post may contain affiliate links.
To which I earn a small commission, at zero cost to you!
Find more info in our
Privacy Policy
.
Today's Disney Fashion Discovery is the Toy Story crew socks set.
This four-pack set features some of your most beloved Toy Story characters; Woody, Buzz, Mr. Potato Head, and a Pizza Planet Alien.
Each pair is a rendering of the character, capturing his character and essence. Buzz features his signature neon green, with purple stripes, and Star Commander buttons to send you into hyperdrive. Woody, with his western cowboy print, red bandana, and 3D hat pushing the sock hem to a new level.
Mr. Potato Head, too, has a 3D hat standing tall; his key features of mustache, nose, and hands posed on display. The Alien has all three eyes on you, in signature neon green and accents of blue.
These pairs of socks are not only a steal but an adorable statement! Gear up and head on over to Pixar Pier and Toy Story Land soon to hang with Jessie and the rest of the gang!
If you love the Toy Story crew socks set as much as we do, shop for them HERE.
The posts and pages of Mouse Travel Matters
do contain affiliate links that we earn a small commission for,
they come at no extra cost to you!
Happy shopping, fashionistas!
Your Thoughts...
Please share your thoughts in the comments or reach out on social media...We would love to hear from you.
Follow Mouse Travel Matters for Disney Parks news, the latest info and park insights, follow MTM on Twitter, Facebook, and Instagram.
You May Also Like…
25 Things to Know About Star Wars: Galaxy's Edge