Last Updated on May 11, 2022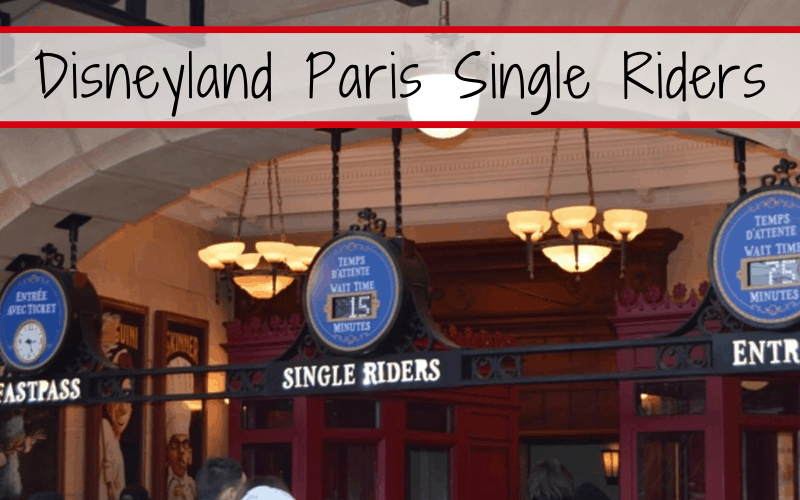 Just because it's called "single" riders, doesn't mean pairs and groups can't join. We have seen our fair share of families join, as long as they don't mind being separated once they get to the front. Because you will get separated.
Skip the queue and fill an empty seat between groups of regular riders
How does Single Rider Work?
Single Rider is a free service aimed at reducing wait times for several attractions. This service does not give immediate boarding or a choice of seat and vehicle.
There is a minimum age requirement of 7 years old to ride alone on any attraction, but just because they can doesn't mean they should. There have been a handful of times when rides break down and guests have to be escorted through the emergency exits; is your child able to do this on their own and follow Cast Member directions? There is a very strong chance they will be able to speak enough English to help your child but we can't make assumptions.
You can use the SINGLE RIDER service on the following attractions:
DISNEYLAND PARK
Star Wars: Hyperspace Mountain
WALT DISNEY STUDIOS PARK
RC Racer
Toy Soldiers Parachute Drop
Crush's Coaster
Ratatouille : The Adventure
When is it worth joining a single rider?
Check the wait time indicator but it is safe to use any time the standby line exceeds 30 minutes.

Single Rider or FastPass?
Because both Ratatouille and Crush Coaster are Rope Drop attractions, one would assume that it is best to obtain a FastPass for Ratatouille and use Single Rider for Crush Coaster.
However, the queue for the single rider at Crush Coaster is generally just under the standby queue time. The vehicles take 4 people so there are few free spaces. It has a capacity of just 960 people per hour and that's with turtle shells filled right up with 4 people departing regularly like clockwork every 15 seconds.
Single rider at Ratatouille works out great. I'm assuming this is because the ratmobiles are 2 rows of 3 seats each, and many people have a party of 2, or a party of 4. So you can be "added" to a party this way. The only downside of the single rider is that you miss out on much of the details from the standby queue, which can easily hit 2 hours if you don't line up at rope drop.
Early Magic Hours
Not to throw another kink in your plans, but Walt Disney Studios also regularly holds Early Magic Hours. The following rides operate from 8:30-9:30 am for onsite guests only;
Crush's Coaster
Ratatouille: L'Aventure Totalement Toquée de Rémy
Rock 'n' Roller Coaster starring Aerosmith
How much time will I save?
You can save anywhere between one hour and 5 minutes. It all depends on the availability of empty seats.
I would put more stock into using the Single Rider lines on Star Wars Hyperspace Mountain and RC Racer. These attractions have higher height requirements, meaning you have more chances of meeting parents using the rider switch and being seated with what remains of their party. Ratatouille, Crush Coaster, and Parachute Drop can take your average 5-year-old, therefore you will find more families sticking together in the standby queue and filling up all 4 seats.
Your Thoughts...
Please share your thoughts in the comments or reach out on social media...We would love to hear from you.
Follow Mouse Travel Matters for Disney Parks news, the latest info and park insights, follow MTM on Twitter, Facebook, and Instagram.
You May Also Like…