Last Updated on September 6, 2019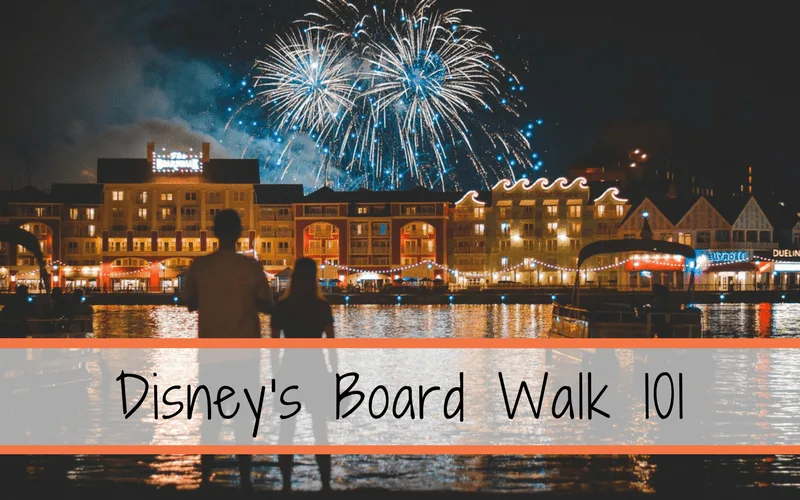 Disney's Boardwalk | Everything You Need to Know
– More than just a collection of hotels –
Disney's BoardWalk is a shopping, dining and entertainment district in the Epcot resort area. It is a true Walt Disney World hidden gem: Many people (including locals) do not realize – or tend to forget — that it is there, as they assume when it is mentioned that someone is referring to Disney Springs.
Others mistakenly believe the BoardWalk is only for guests of the Epcot resorts. The truth is that it is open to all, and because it is not as well-known as some other areas, it has a nice relaxed pace — even during the busiest times of the year.
Getting to the BoardWalk is easy. If you are using Disney transportation, just take a bus, which should be marked "BoardWalk" or "Epcot Resorts". If you have any questions, always ask the driver. If you are driving there yourself, simply follow the signs to "Epcot Resorts" once you're on Disney property. The BoardWalk is located at 2101 Epcot Resorts Boulevard, which is off of Buena Vista Boulevard.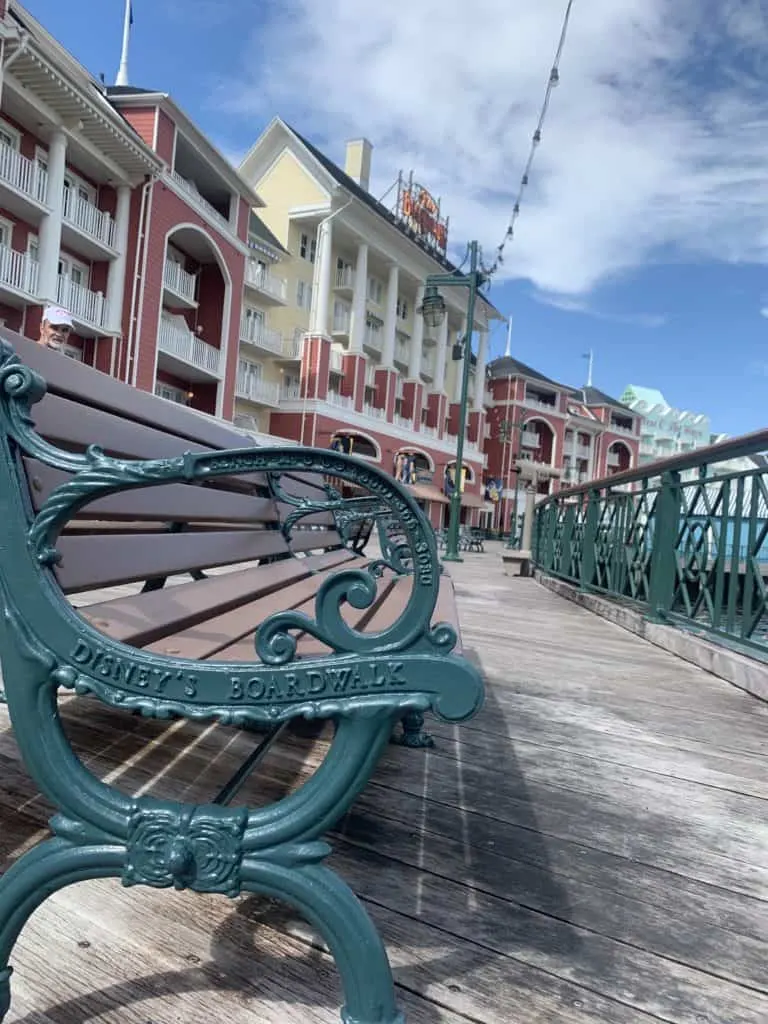 The entrance is across the street from a Hess gas station. There is a security booth, so simply show a picture ID and tell the guard that you are going down to the BoardWalk. He or she will show you where to park for self-parking, and valet parking is also available. Walk towards the hotel, and you'll find the stairs to the BoardWalk clearly marked to the right of the main entrance. There is also an elevator inside the hotel.
During the day, Disney's BoardWalk has a laid-back pace. You will most likely see a few runners enjoying the loop around Crescent Lake. Bring your camera, because the area is beautiful. Themed to look & feel like Coney Island or Atlantic City at the turn of the 20th century, enjoy a stroll, grab a bite to eat, or browse in the shops.
The World Showcase entrance for Epcot is a short walk or boat ride away, so it's a good escape from the hustle and bustle of the park. You can also catch a boat to Disney's Hollywood Studios, or take the 20-minute walking path just past Jellyrolls. Surrey bikes are available for rental to ride around the lake, but be warned: There are two hills along the path. If you want to just hang out for a while, ESPN Club has an arcade and better-than-average theme restaurant fare.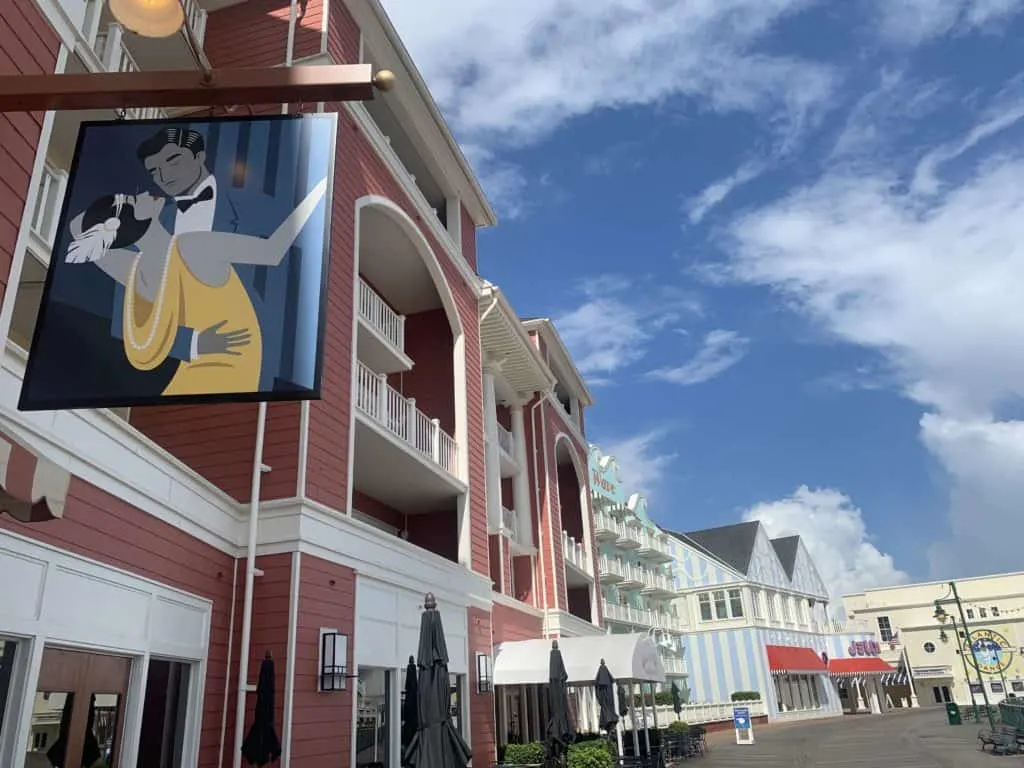 Visit Disney's BoardWalk
The best time to visit Disney's BoardWalk is in the evening when the area comes alive. Try your luck at a game of chance and skill and possibly win a prize. Enjoy a funnel cake. From 7:00-10:00 each evening, the BoardWalk's street performers come out to entertain you; These performers are hand-picked by Disney and the best in the world at what they do while offering free shows that are appropriate and fun for all ages.
There are three performers most nights with shows at two different locations — one in front of the Flying Fish Restaurant, and the other by the Screen Door General Store.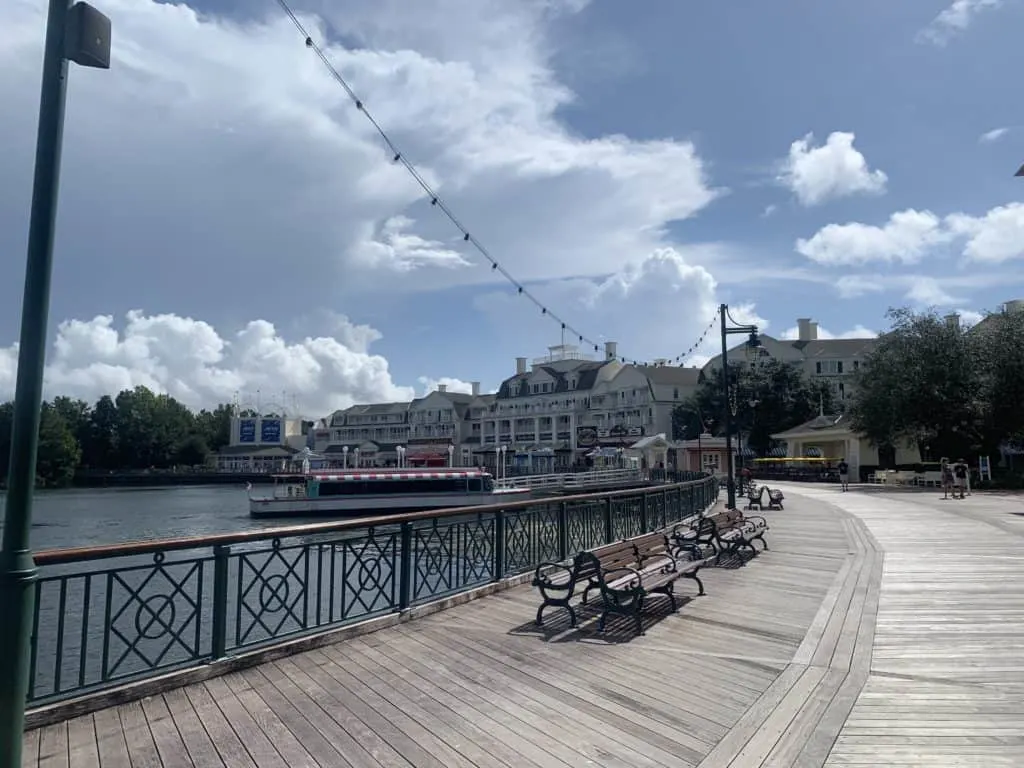 You could see juggling, magic, a plate spinner or even occasionally a sword swallower. All of the performers are unique and will leave you amazed. Most nights there is a ring of children sitting in the front, and your kids will have a blast. (Make sure that you keep an eye on your children — it is not a babysitting service.) If it rains or the temperature is too cold, the shows will instead be performed inside the BoardWalk Hotel — one in the lobby and the other near the elevator.
Disney's BoardWalk also offers a great view of the fireworks from IllumiNations at Epcot. Head past the ESPN Club and grab a spot on the bridge. The fireworks start around 9:00 pm except during the Christmas season, when they start at 9:30.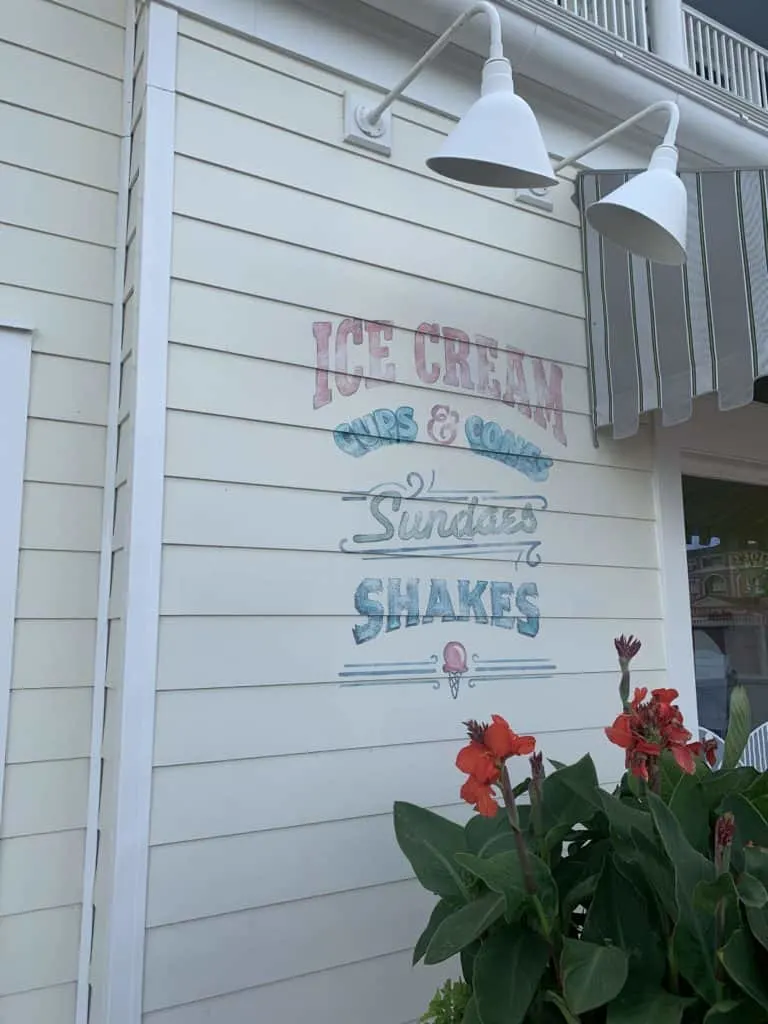 Getting to Disney's Boardwalk
By Car
While the Boardwalk and the Epcot resorts are open to the public, there isn't direct transportation to the area – yet.
By Complimentary Disney Transportation – including the new Disney Skyliner
If you don't have a car, guests wishing to visit Disney's Boardwalk can take resort buses to the Boardwalk Inn, Beach Club, or Yacht Club from the theme parks or Disney Springs.
Beginning in Fall 2019, the Disney Skyliner aerial gondolas will take guests closer to Disney's Boardwalk from around the Walt Disney World Resort than ever before. The gondola system will connect Epcot, Disney's Hollywood Studios, Disney's Caribbean Beach Resort, Disney's Art of Animation Resort, Disney's Pop Century Resort, and Disney's Riviera Resort.
Riders can get off at Epcot's International Gateway station and be just steps from Disney's Beach and Yacht Club, Disney's Boardwalk Inn & Villas, and all of the entertainment and dining options Disney's Boardwalk has to offer.
Epcot and Hollywood Studios also have complimentary boat services to the Epcot area hotels, including Boardwalk. The boat leaves every 20 minutes and takes about as long to get from one park to another.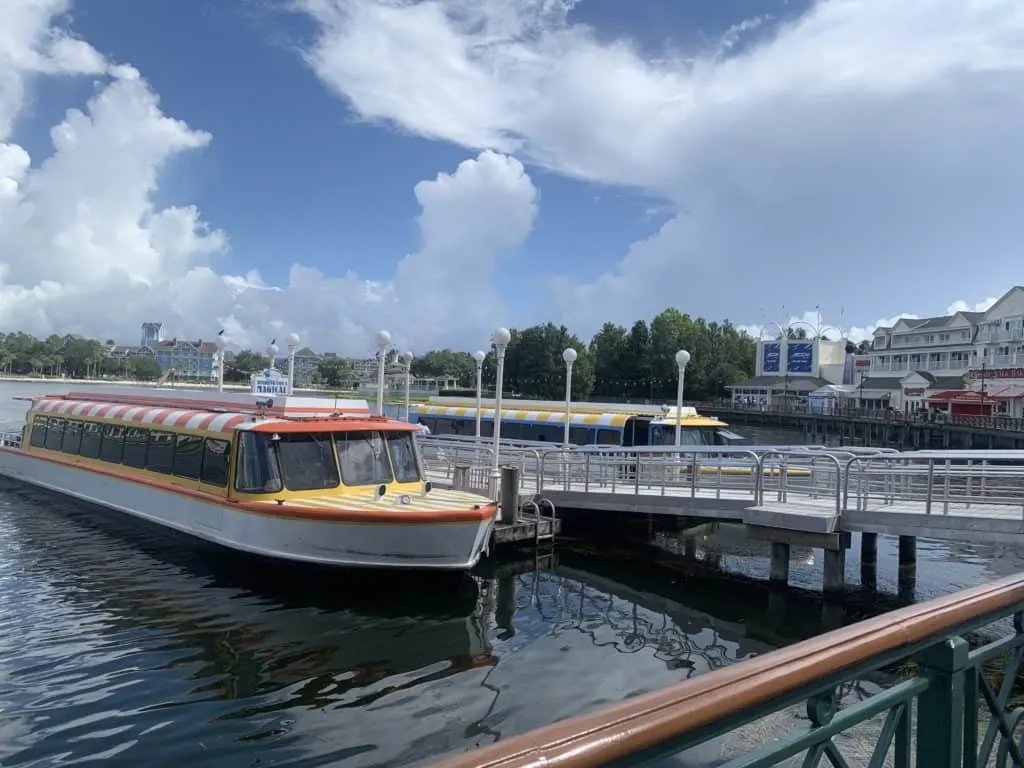 Disney's BoardWalk Restaurants
There are a few shopping options at Disney's BoardWalk. Seashore Sweets' is a small candy shop that also sells ice cream. It gets crowded even when there are only a few people in the store. Wyland Galleries offers marine sculptures and other art by environmental artist Wyland. BoardWalk Character Carnival sells Disney themed sports items, housewares, and other souvenirs.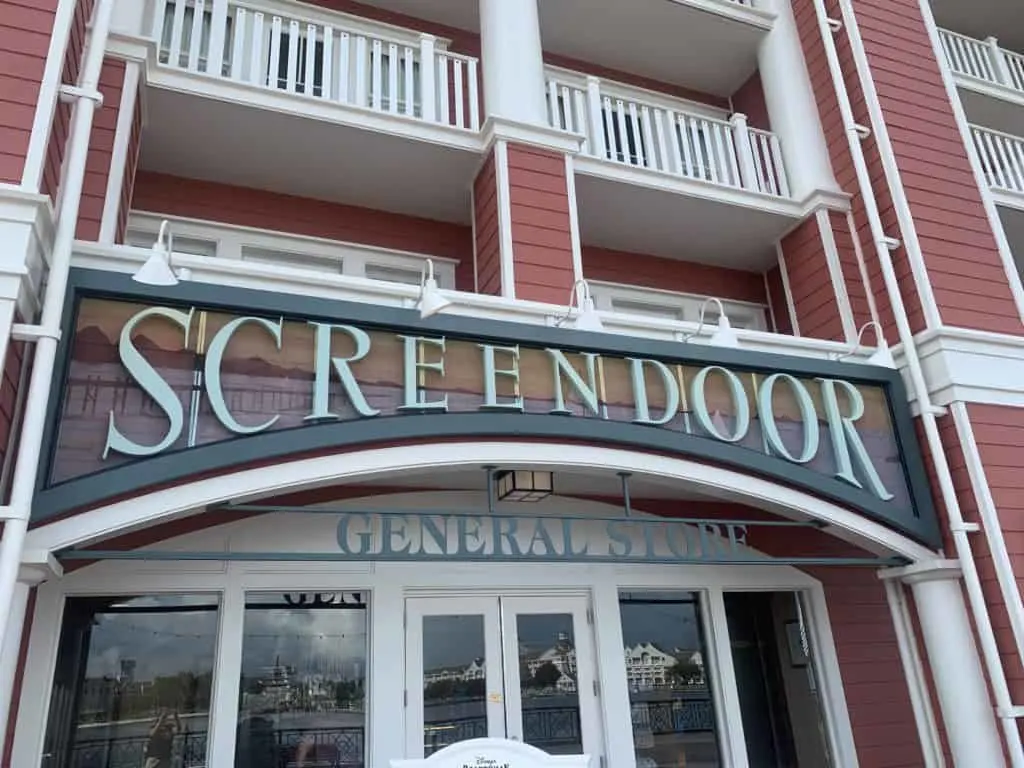 The Screen Door General Store has groceries (they are expensive), and they have a little bit of everything when it comes to souvenirs. It's a good place to stop when you're not sure what to buy for someone back home. Thimbles & Threads is where you will find apparel. The selection isn't huge so don't expect to find something there that you saw in the parks or at World of Disney but didn't pick up. (The Screen Door, Character Carnival and Thimbles & Threads are connected to each other.)
You can also buy sport-related items at ESPN Club Store – ESPN The Yard.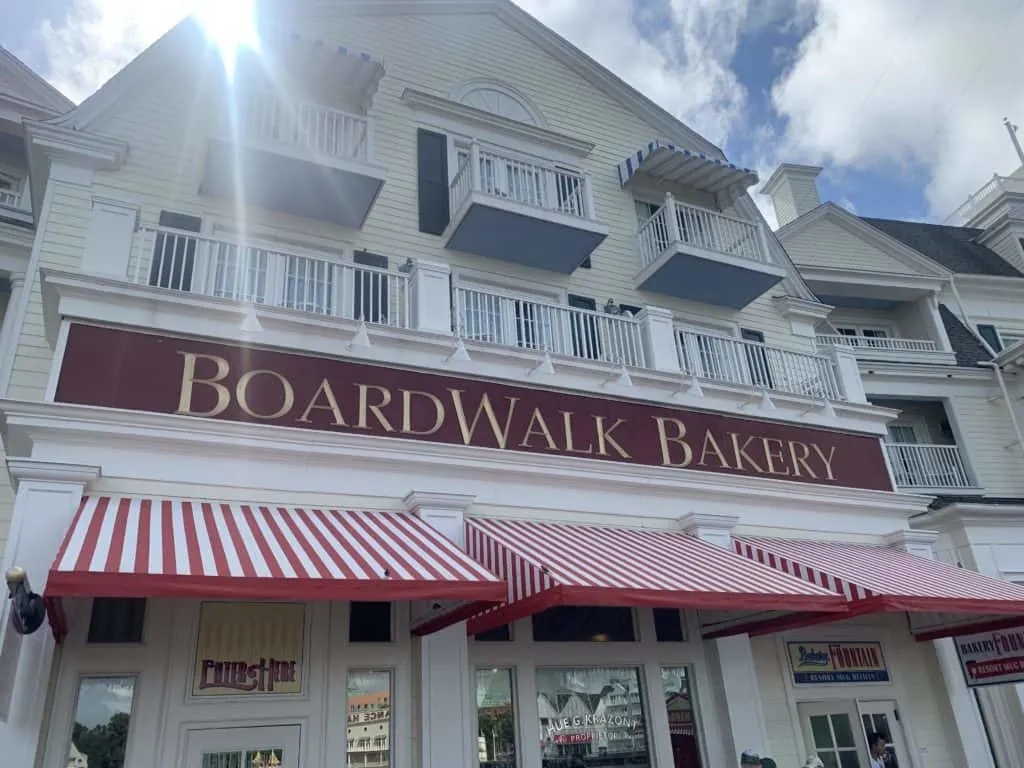 Disney's BoardWalk has restaurants to suit all tastes and budgets. Start your day off with some sweet carbs from BoardWalk Bakery. If you want a quick bite, the aptly named Pizza Window sells whole pies or by the slice. Other quick food options include Tasty Sensations, which features funnel cake and cotton candy, and Disney's BoardWalk to Go, which offers hot dogs, sandwiches and the like.
If it's ice cream that you want don't forget to check Seashore Sweets', which features Edy's brand. BoardWalk Joe's has various coffees and also serves margaritas, wine, and beer.
Disney's BoardWalk also has several full-service eating options. ESPN Club is a great place for lunch or dinner, or to get a drink at the bar while watching a can't-miss game. ESPN Club does not accept reservations and gets crowded in the evenings, especially on the weekends. If you're at Walt Disney World on Super Bowl Sunday, this is the place to take in the game.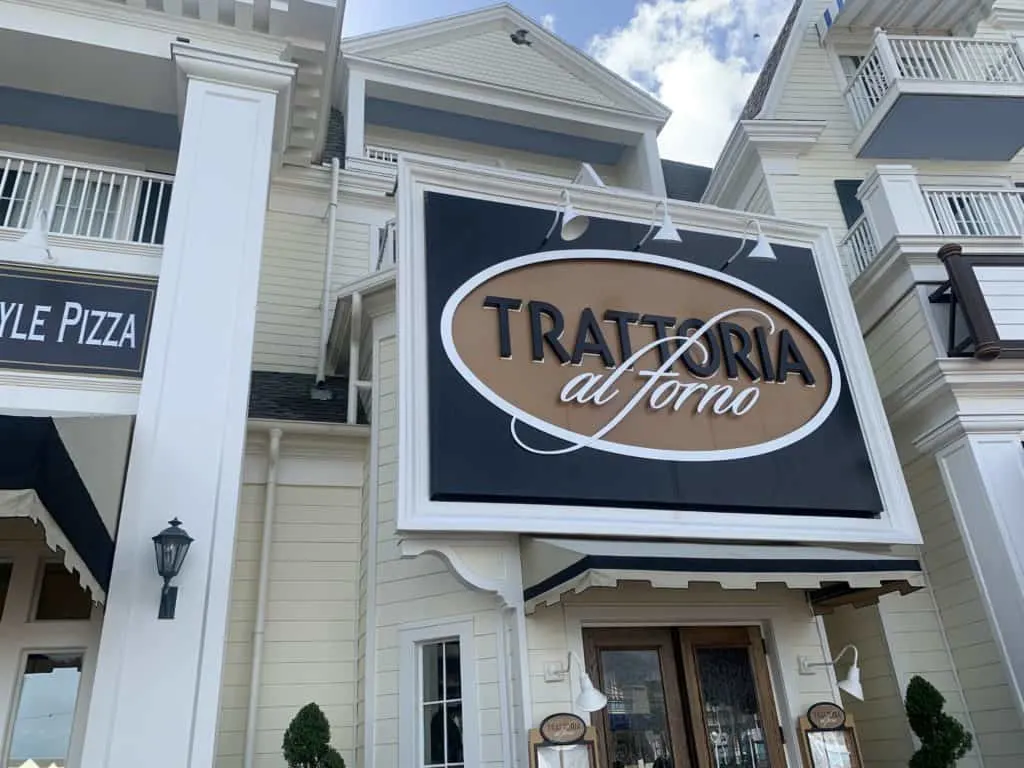 Big River Grille & Brewing Works has its own brewery, but it is still family-friendly and offers salads, sandwiches and pub favourites. Dine inside or enjoy the view of the lake.
Finally, The Flying Fish Café offers a signature dining experience. Open only for dinner, the seafood restaurant features an onstage kitchen so you can watch as the food is prepared. The Flying Fish Café is also the location of the Chef's Tasting Wine Dinner and is one of two locations at Walt Disney World for the Dine with an Imagineer program.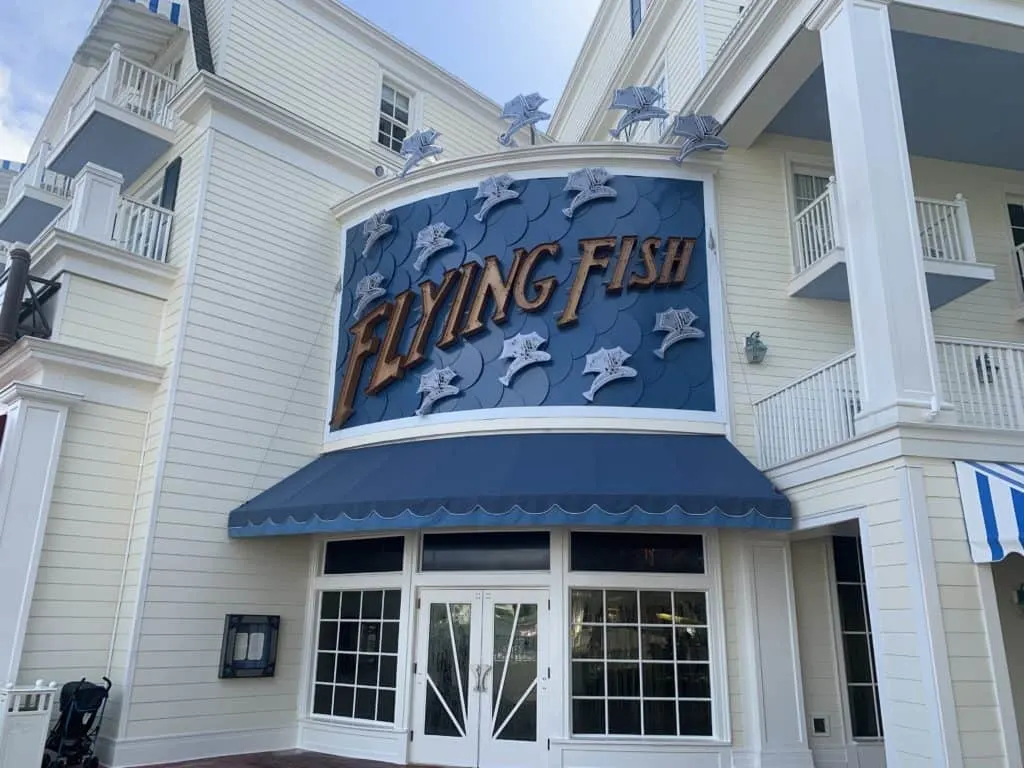 For those 21 and older, Disney's BoardWalk provides two evening options. Both of them are open 9:00 pm-2: 00 am most evenings, although special events can occasionally alter the schedule. Jellyrolls is a unique club featuring duelling pianos where guests try to stump the maestros. There is a cover charge. Atlantic Dance Hall has live music or a DJ most nights. It's a place where you can dance the night away and there is no cover charge.
Disney's Boardwalk Entertainment for Families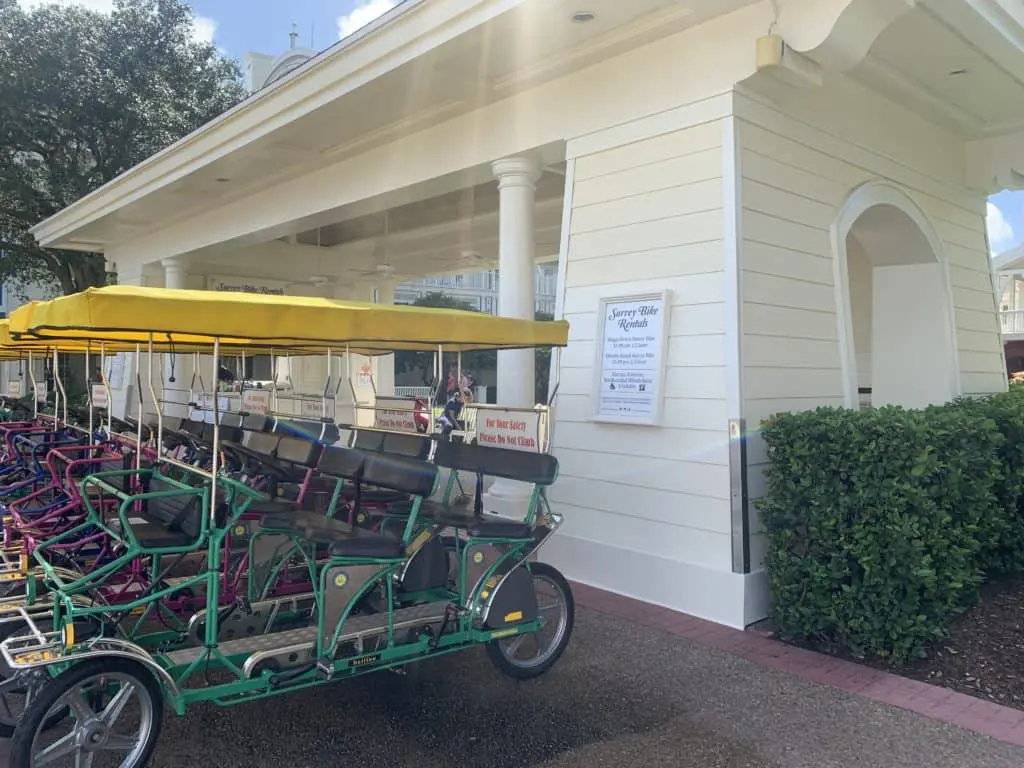 On your walk, consider getting a sundae from Beaches & Cream Soda Shop. The restaurant now requires advance reservations for all seating, including the bar, but you can get many of the ice cream menu items from the takeout door!
Street Performers – On Thursdays – Saturday evenings, you'll find street performers like balancing acts, a juggler, or street musicians that give the Boardwalk a fun, street festival feel; especially after dark with the lights are on.
Fantasia Gardens Miniature Golf – two mini-golf courses with a fun Fantasia theme. While not technically part of the Boardwalk Entertainment area, it is within walking distance.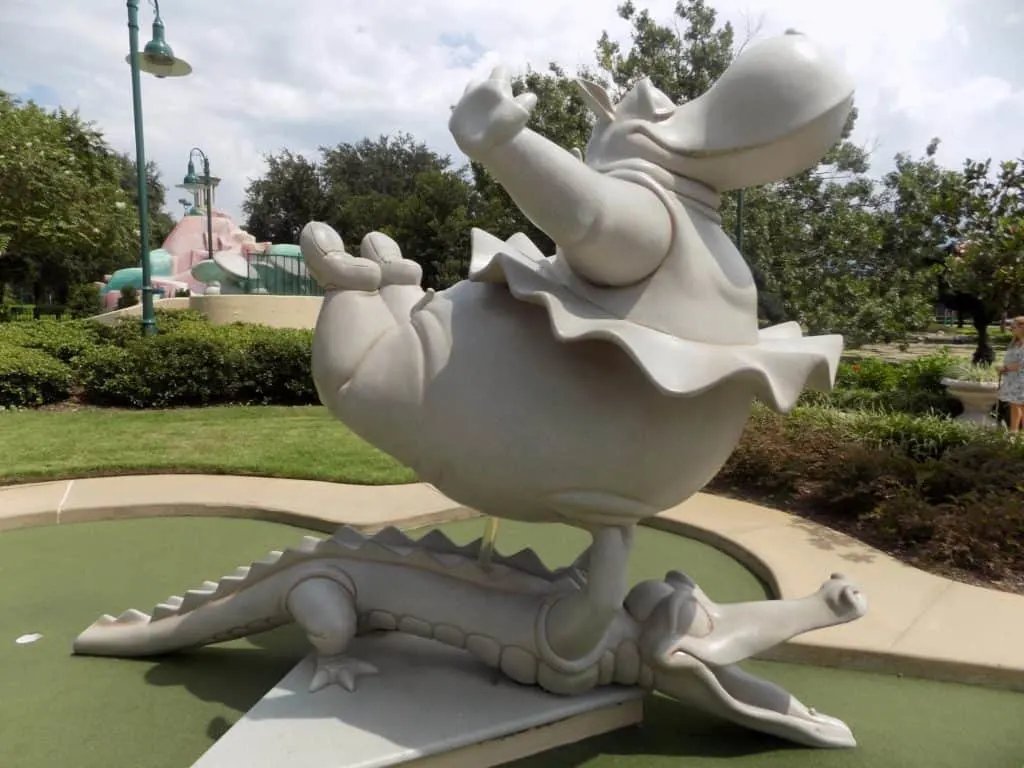 Disney's Boardwalk Shops
Along the BoardWalk, you'll find the Screen Door General Store, with a variety of Disney merchandise, as well as sundries and some grocery items. Disney's Character Carnival on the BoardWalk features adult and golf apparel, accessories, plus Disney character merchandise for all ages.
Thimbles & Threads has ladies, children and infant apparel, plus Disney character plush, toys and accessories. The unique Wyland Galleries, located near the entrance of the BoardWalk Inn, is a classic gallery of marine life, featuring internationally renowned artist Wyland and others.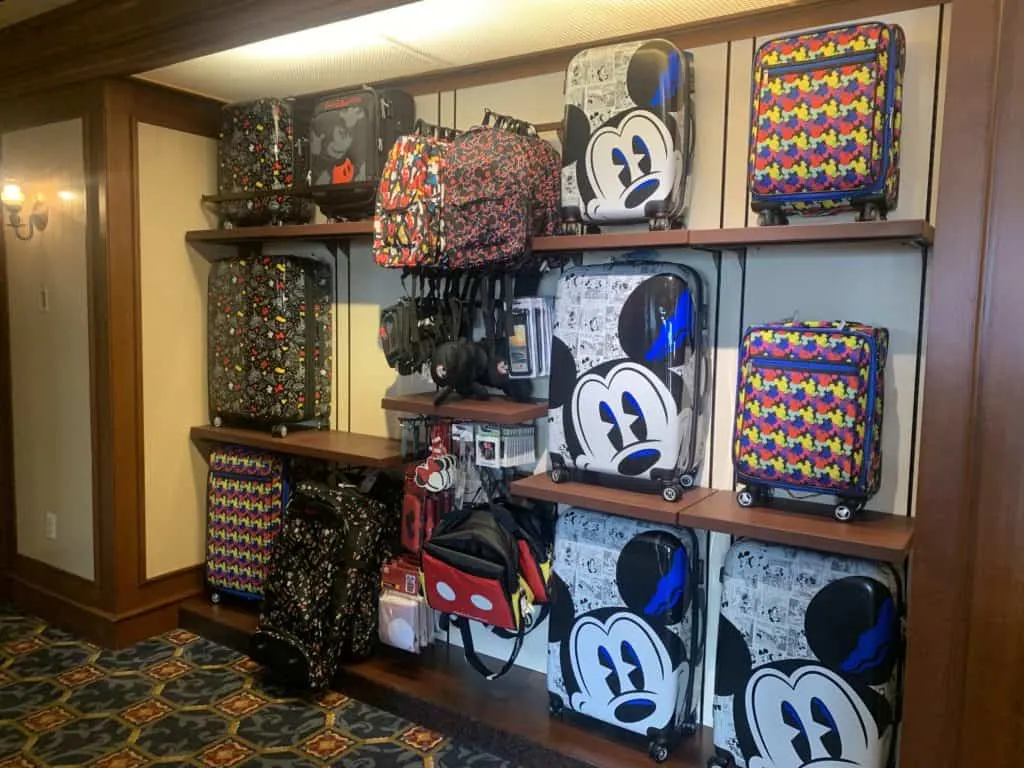 Plus, the BoardWalk features a well-stocked Pin Station to satisfy even the most avid collector.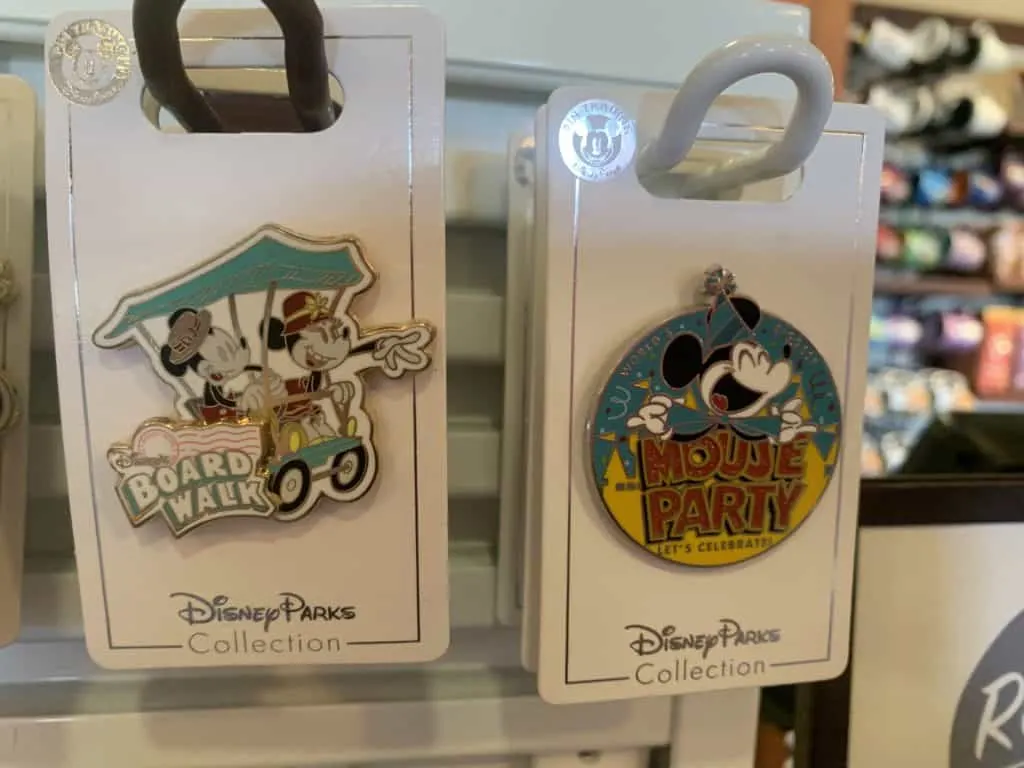 Disney Boardwalk Fireworks
The promenade at Disney's BoardWalk is the best place to watch Disney fireworks outside of the park.
For the best view of the fireworks, head toward Jellyrolls and Atlantic Dance Hall. Or you can walk towards the ESPN Club, continuing on almost to Disney's Beach Club Resort. There is a bridge that connects the Boardwalk and Beach Club hotels. On this bridge, you'll catch a pretty good view of the show, but it does get crowded sometimes.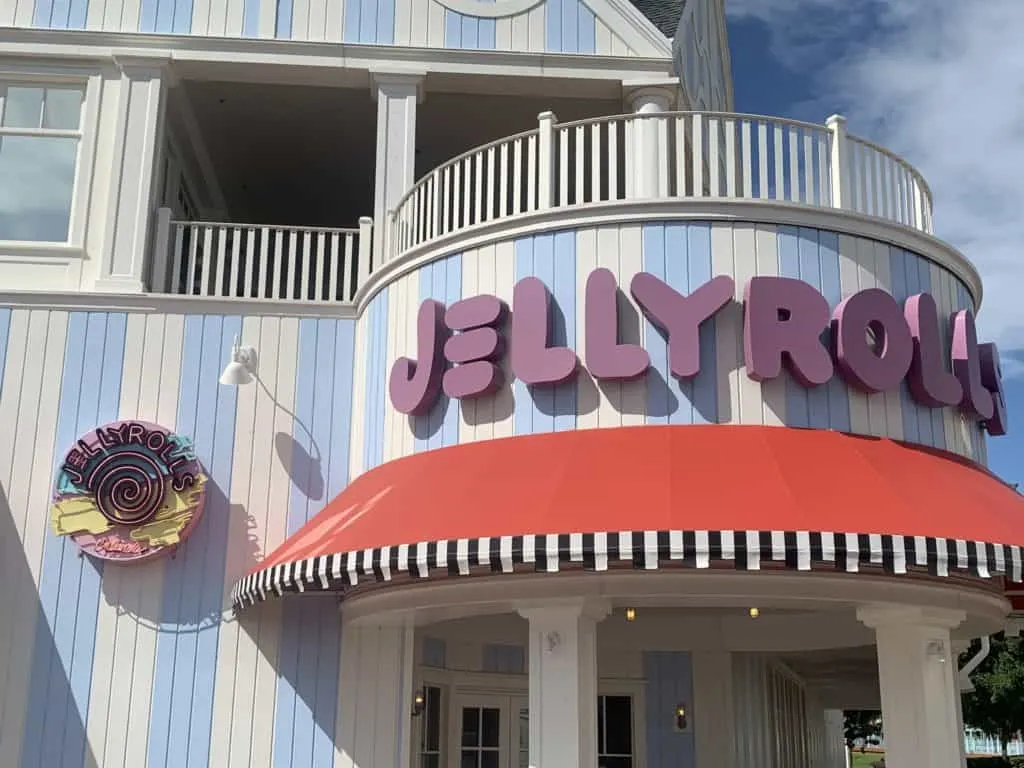 Another option is the walkway bridge that connects the Boardwalk and Beach Club resorts — it's about as close as you can get without entering the park Depending on showtimes, you may be able to view Epcot, Magic Kingdom, and Disney's Hollywood Studios fireworks all around the same time from this one spot. Plus, the Swan and Dolphin is a visually unique backdrop.
Disney Boardwalk Map
Hotels on Disney Boardwalk
There are 4 incredible hotels on Disney Boardwalk. They are Deluxe level resorts, which means Expensive. But, this also means incredibly luxurious, close to the action and surrounded by great amenities.
Walt Disney World Dolphin Resort
Walt Disney World Swan Resort
Disney's Beach Club Resort
Disney's BoardWalk Villas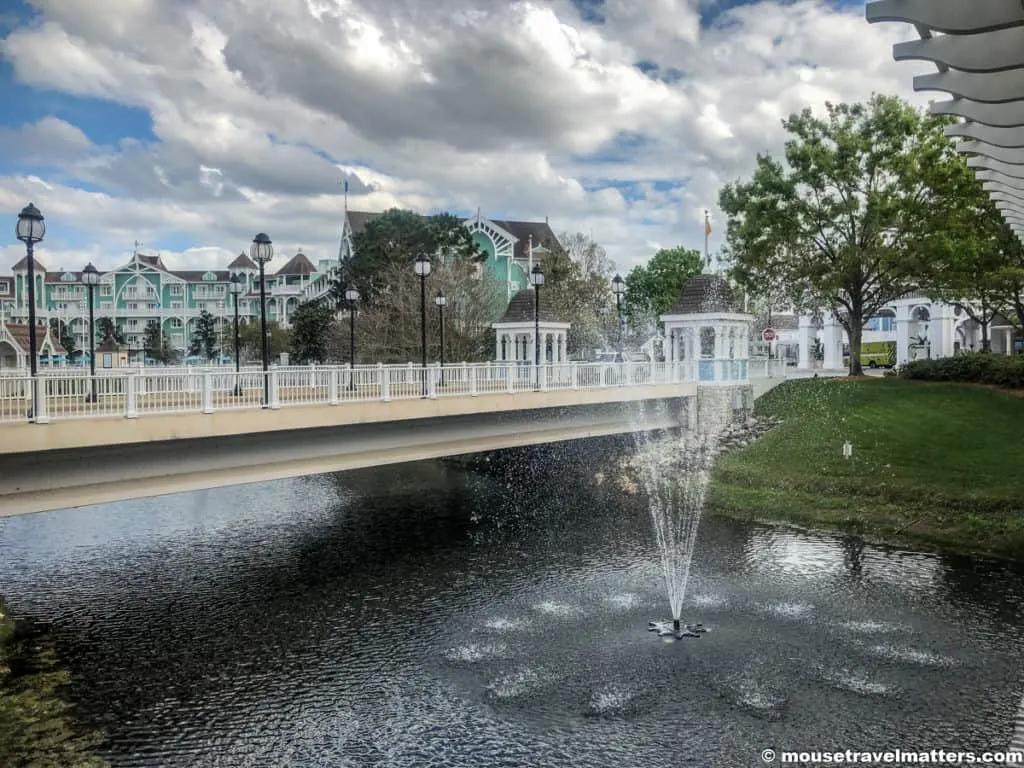 Your Thoughts...
Please share your thoughts in the comments or reach out on social media...We would love to hear from you.
Follow Mouse Travel Matters for Disney Parks news, the latest info and park insights, follow MTM on Twitter, Facebook, and Instagram.
You May Also Like…