Last Updated on May 16, 2019
Maintaining the Keto diet on vacation can be a challenge but is not impossible.
While Disney is known for its great snacks and treats, as well as being an allergy-friendly environment, Disney has yet to address the Keto option. They do, however, do a great job at allowing guests to eliminate and substitute parts of their dishes when needed.
While we choose to cheat from Keto while on our recent Disney vacation, mostly because everything looked so amazing that we didn't want to miss out on anything, we are aware that not everyone will make the same choices. This is not always true of other guests, so here is a quick guide to Keto at Epcot Flower and Garden Festival.
Substitutions are up to the Cast member serving the dishes, as always, but for the most part, Disney Employees are very accommodating and understanding.
Keto Friendly Kitchens at Epcot Flower & Garden Festival
The food kiosks at Epcot Flower & Garden Festival each sell small, snack-sized options that are not full meals but are larger than most would expect.
The chefs design the plates to include various textures, tastes and smells that go incredibly well together. There are no specific Keto-friendly items on the menu, as they focus on allergies, but there are ways to create a keto-friendly dish with substitutes and being "keto-ish".
Arbor (Located at The Gardeners Terrace in The Odyssey Center)
Smoked Salmon Stack with Avocados, Tomatoes, Sour Cream, Caviar, and Focaccia Crostino
Flavor Full Kitchen (Located near the Honey Bee-stro Garden)
Citrus-poached Salmon with Ancient Grain Salad, Roasted Vegetables, and Citrus Greens
From the Garden: Roasted Beets, Cashew Cheese, Micro Herbs, Lemon-Oil Dressing.

Not the greatest use of a snack credit or your hard-earned dollar but it's Keto.
The Citrus Blossom (Located near Refreshment Port)
Lobster Tail with Meyer Lemon Emulsion and Grilled Lemon
Tuna Tataki with Spicy Yuzu Glaze, Mango, Avocado, and Pappadam Crisp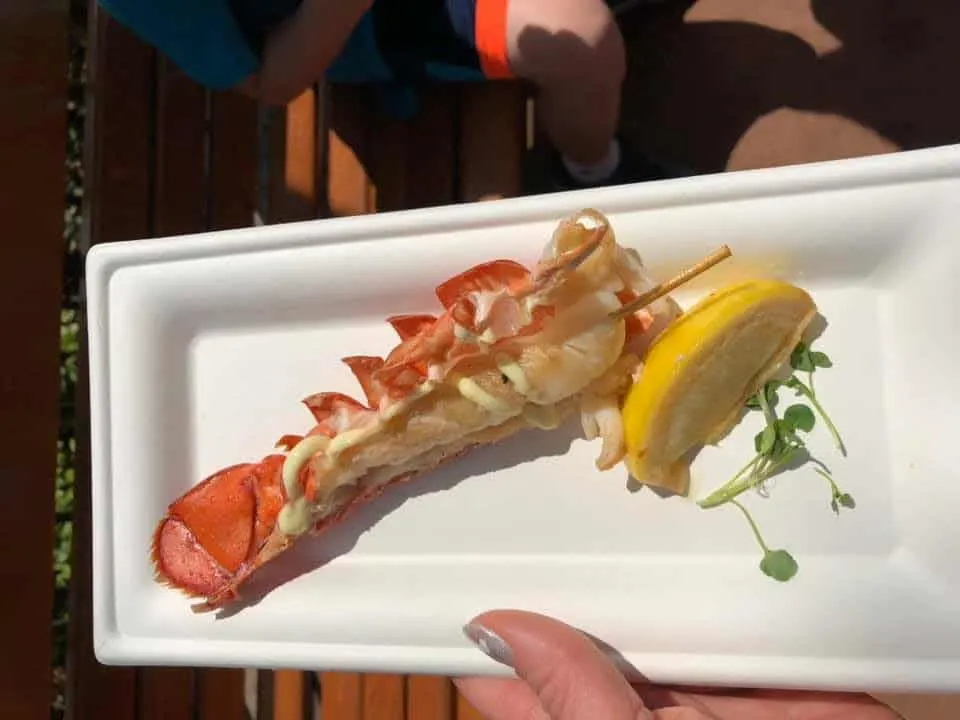 Pineapple Promenade
Spicy Hot Dog with Pineapple Chutney and Plantain Chips

Ask for your Hot Dog to be served without the bun.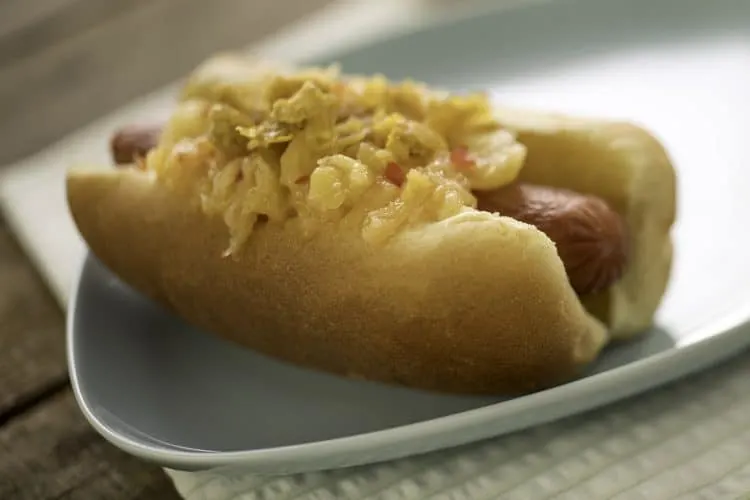 La Isla Fresca (Located in Showcase Plaza)
Jamaican-braised Beef with Pigeon Pea Rice and Micro Cilantro

The rice serving isn't large, but neither is the beef. You can ask for this dish to be served without rice.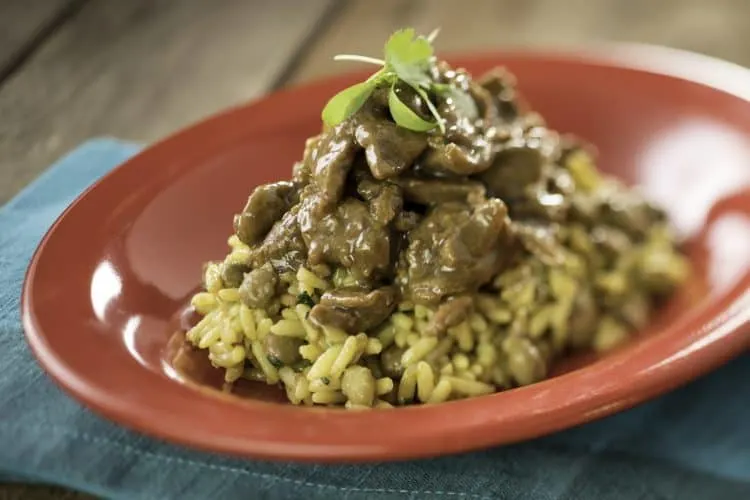 Trowel & Trellis
Farmhouse Meatball with Lentil bread, Spinach, Marinated Vegetables, and Creamy Herb Dressing
Jardin De Fiestas (Located in the Mexico Pavilion)
Beef Torta: Braised Beef served on a Crispy Sourdough Roll with Queso Oaxaca, Avocado, Pickled Onions, and Jalapeños in a Spicy Habanero Sauce
Lotus House
Szechuan Spicy Red-braised Beef Shank over Rice
House-made Crab and Cheese Wontons

wonton wrappers are only 4 carbs per wrapper
Vegetable Spring Rolls

One piece of rice paper is anywhere from 5 to 10 grams of net carbs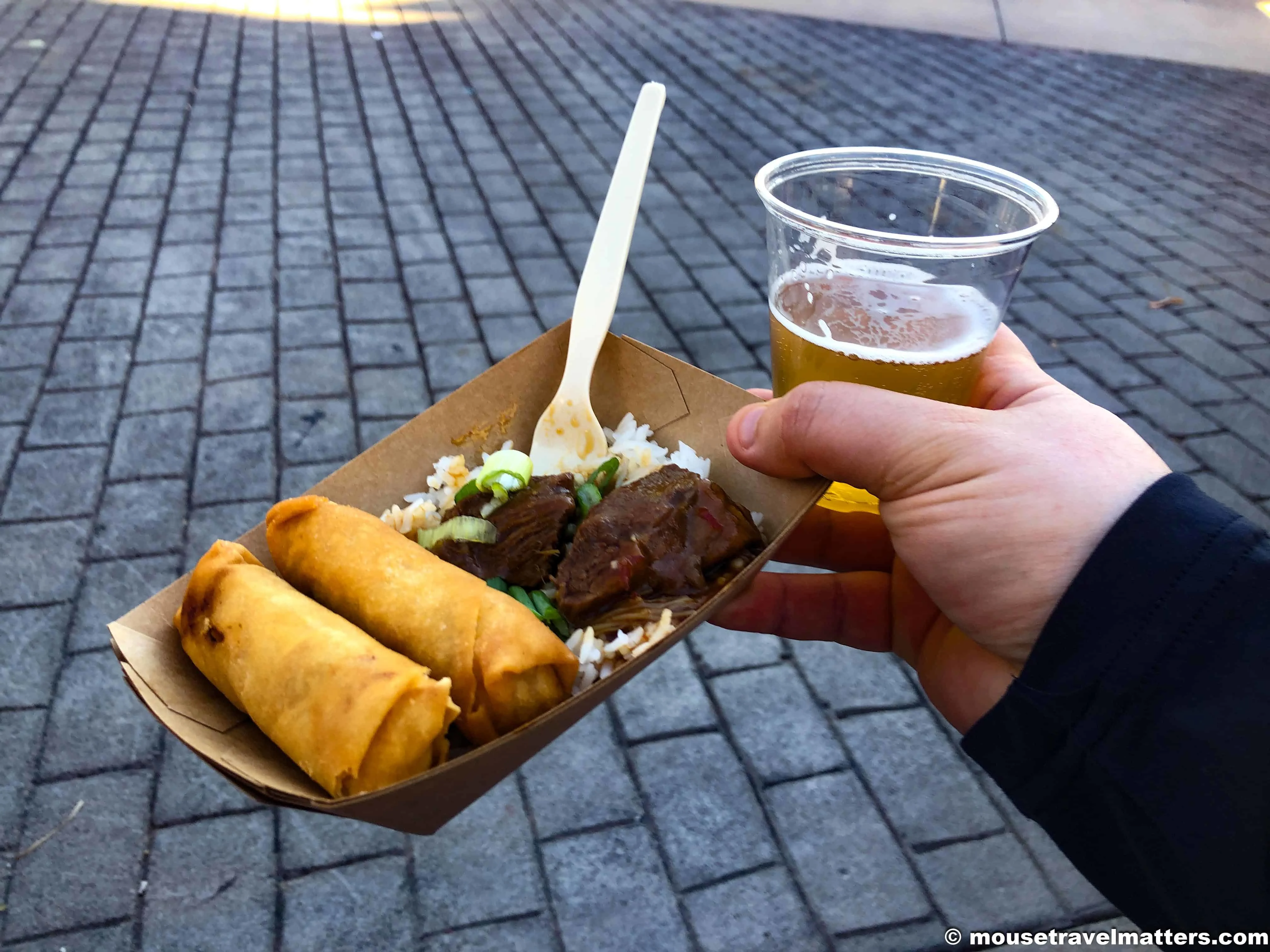 The Smokehouse, (Located in the American Adventure)
Pulled Pig Slider – served with coleslaw.
Beef Brisket and smoked Pork Belly Slider – served with Garlic Sausage, Chorizo fondue, Cheddar Fondue and house-made Pickle

skip the Chorizo fondue, as it is typically made with corn starch, and forget the bun.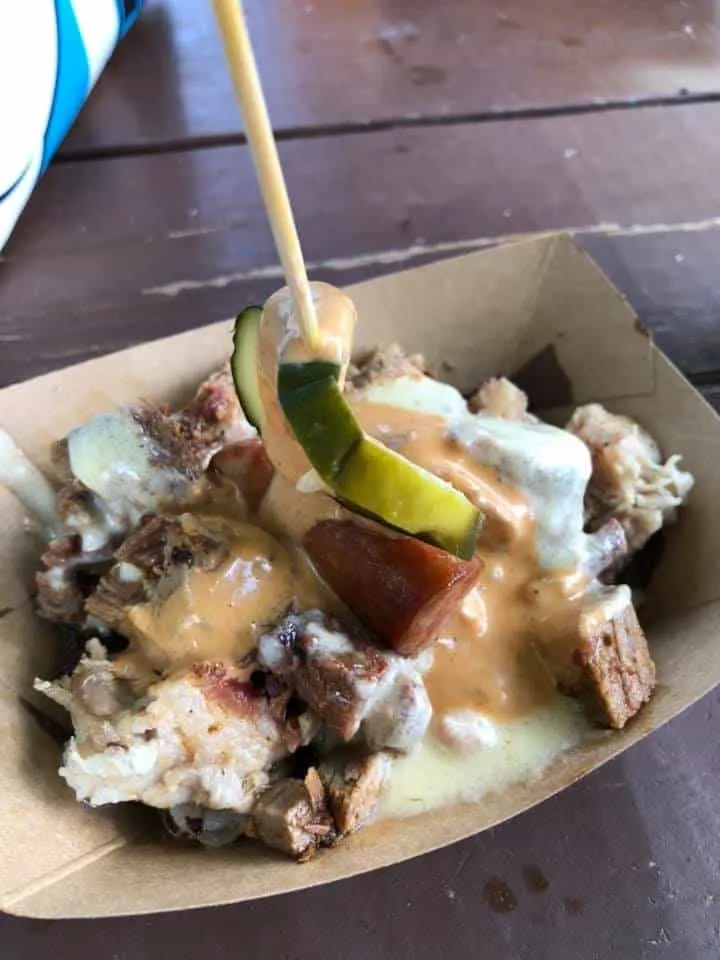 Shredded Beef Brisket – served with smoked potato, chorizo fondue, and Green Tomato Relish.

Order without the smoked potato and they will add a sausage in it's place. Also, skip the Chorizo fondue, as it is typically made with corn starch.
Hanami (Located in Japan Pavilion)
Karaage with Nanban Sauce – Japanese-style fried chicken served on a bed of shredded cabbage and topped with a soy and vinegar-based dressing.
Chilled Soba Noodle Salad with Pan-seared Tuna and Wasabi Dressing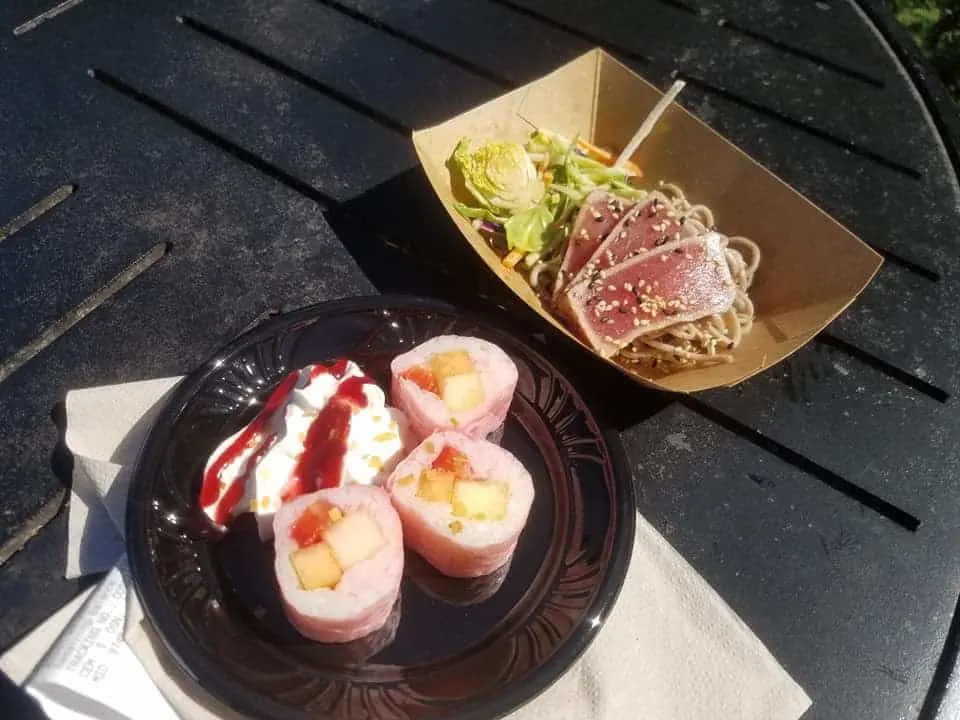 Taste Of Marrakesh (Located in the Morocco Pavilion)
Harissa Chicken Kebab – with dried fruit couscous salad

Since Couscous is just delicious African wheat, this will need to be eliminated. Ask for just the kebab and they will give you two instead.
Fried Cauliflower – with Capers, Garlic Parsley, and Chili-Ranch Sauce.

The Cauliflower is breaded but easily peeled away without sacrificing flavour, but bites are small so it is tedious.
Florida Fresh (Located between France & Morocco Pavilions)
Carne Guisada with Black Bean Cake and Cilantro-Lime Sour Cream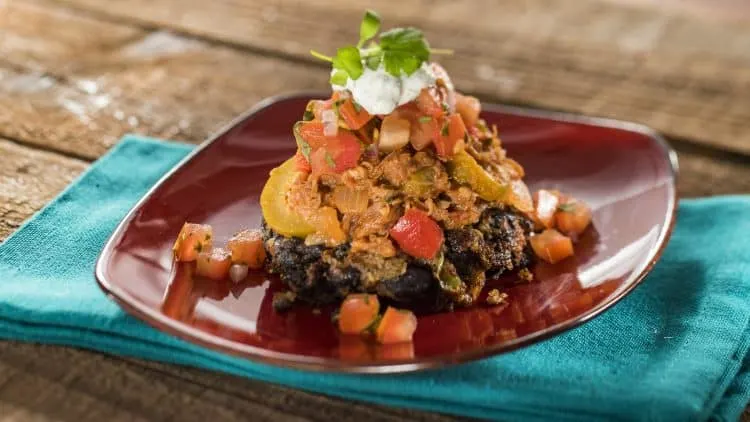 Spicy Blackened Shrimp and Cheddar Cheese Grits with Brown Gravy and Local Sweet Corn Relish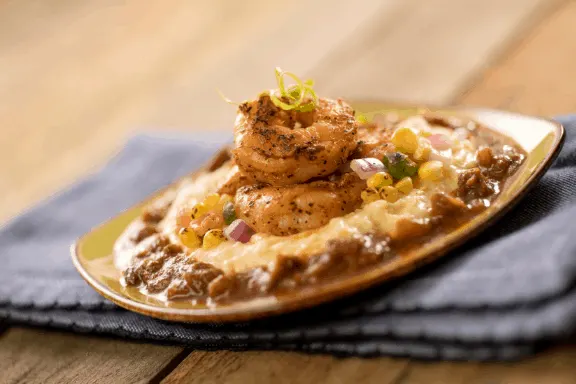 Fleur de Lys
Vichyssoise aux Concombres; Chilled Cucumber Soup

This Low-carb, Gluten Free dish is a Keto Option at France Pavilion
Canard Confit Aux Gnocchi à la Parisienne: Braised Duck Confit with Parisian Gnocchi

Confit means to be marinated and cooked slowly in its own fat over a period of time as a way to preserve food. Therefore the Duck here is great for Keto but the Gnocchi is Potatoe based, so you would need to ask for this dish without Gnocchi.
Northern Bloom (Located in the Canada Pavilion)
Seared Scallops with French Green Beans, Butter Potatoes, Brown Butter Vinaigrette, and Apple-wood Smoked Bacon
Beef Tenderloin Tips, Mushroom Bordelaise Sauce, and Whipped Potatoes with Garden Vegetables

Sub out the potatoes for more vegetables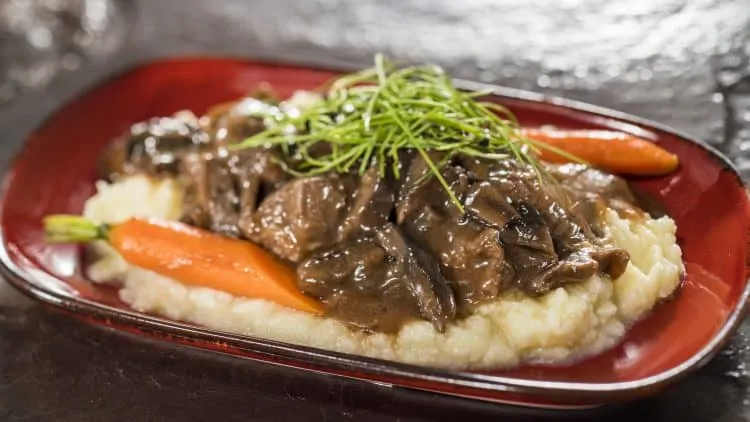 Not so Keto-Friendly Kitchens
Looking at their overall menu, the following kitchens do not offer keto-friendly dishes.
Bauernmarkt: Farmer's Market
Taste Track
The Honey Bee-stro
Primavera Kitchen
Refreshment Port
Your Thoughts...
Please share your thoughts in the comments or reach out on social media...We would love to hear from you.
Follow Mouse Travel Matters for Disney Parks news, the latest info and park insights, follow MTM on Twitter, Facebook, and Instagram.
You May Also Like…