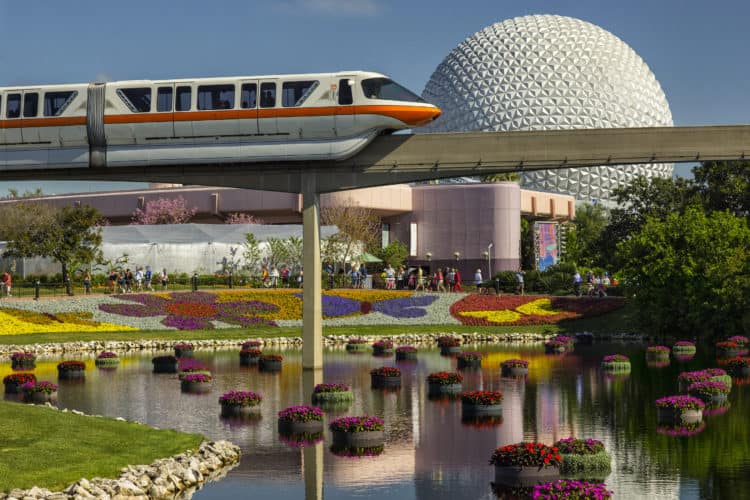 With over a dozen delectable stops, the World Showcase at Epcot plays host to the Festival-exclusive Outdoor Kitchens, each offering a specialty menu of creative cuisine and libations. Savor, sip and stroll while satisfying appetites large and small!
Event Details
World Showcase, Epcot
Outdoor Kitchens open daily from 11:00 AM to 9:00 PM
Epcot admission required
Alcohol will only be served to Guests 21 and older
Outdoor Kitchens subject to closure at any time
Food and beverage samples are available while supplies last
All menu items are subject to change without notice
Please note: the following menu items marked with (GF) are gluten/wheat-friendly and those with (V) are vegetarian
What else is going on at Epcot International Flower & Garden Festival
The festival, which runs March 6-June 3, 2019 at Walt Disney World Resort in Lake Buena Vista, Fla., features dozens of character topiaries, stunning floral displays, gardening seminars and the Garden Rocks concert series – all included in regular Epcot admission.
Delectable bites and libations at various outdoor kitchens
Dozens of world-renowned, Disney-themed topiaries
Breathtaking garden spaces and wildlife habitats
Inspirational exhibits, a "How-To" Garden and engaging tours
An outdoor concert series featuring fan-favorite bands and more
Epcot International Flower & Garden Festival Outdoor Kitchens Menu
All details and more can be found on Disney's website.
Bauernmarkt: Farmer's Market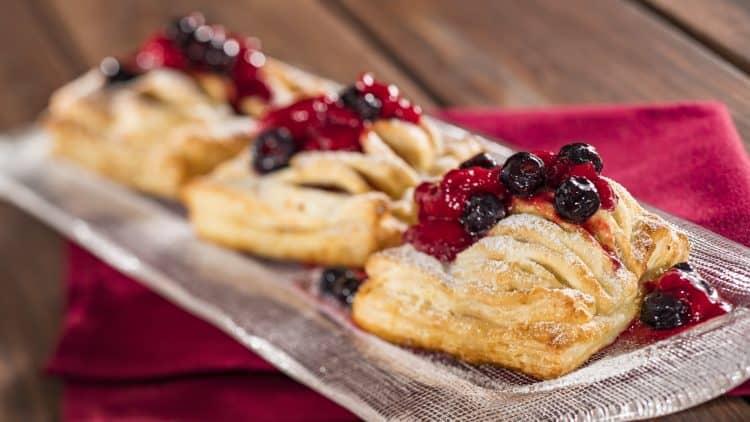 Venture to Germany for Bavarian bites sure to sate foodies of all ages—every dish is köstlich!
Food
Potato Pancakes with House-made Apple Sauce (V)
Potato Pancake with Caramelized Ham, Onions and Herb Sour Cream
Toasted Pretzel Bread topped with Black Forest Ham and Melted Gruyère Cheese
Warm Cheese Strudel with Mixed Berries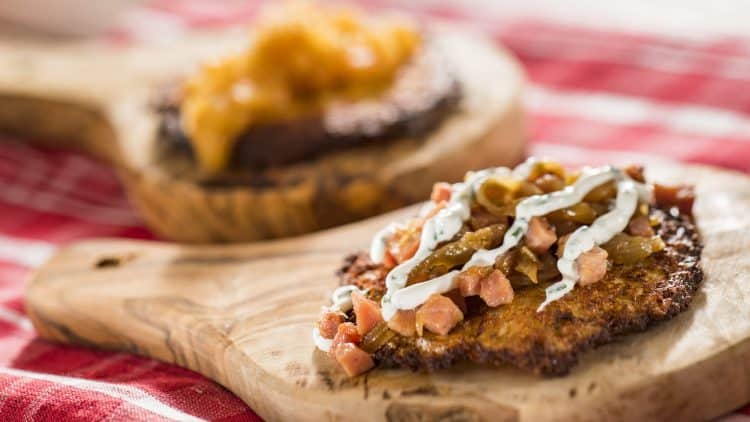 Beverages
Hugo-Charles De Fère "Organic" Brut with Elderflower and Mint
Paulaner Original Munich Lager
Ayinger Bräu Weisse Hefeweizen, Munich, Germany
Köstritzer Schwarzbier Black Lager, Bad Köstritz, Germany
Beer Flight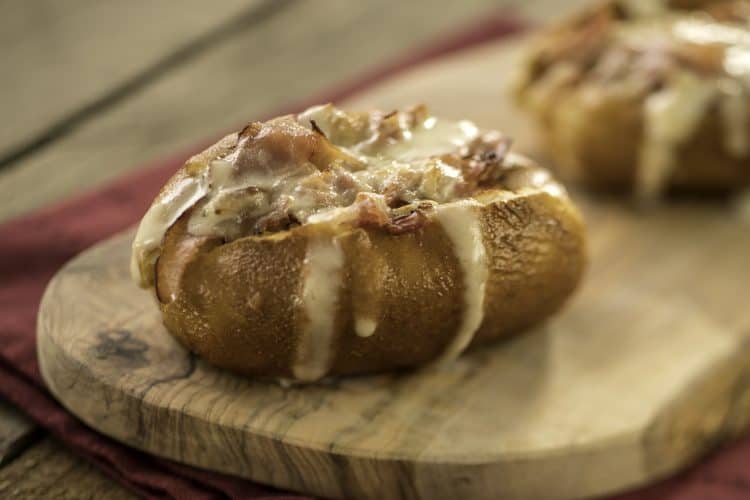 Fleur de Lys
Indulge in haute cuisine and boissons that'll make you fall in ooo-la-la-love with this palate-pleasing Parisian pop-up!
Food
Tarte à la Tomate Provençale: Provencal Tomato Tart with Sautéed Onions, Fresh Thyme and Rosemary on a Flaky Pastry Crust (V)
Canard Confit Aux Gnocchi à la Parisienne: Braised Duck Confit with Parisian Gnocchi
Macaron au Chocolat en Sucette: Large Chocolate Macaron Lollipop (GF)
Beverages
La Vie en Rose Frozen Slushy: Grey Goose Vodka Orange, St. Germain Liqueur, White and Red Cranberry Juice
Kir Pomegranate: Sparkling Wine and Pama Pomegranate Liqueur
Cabernet Sauvignon, Village de France
Kronenbourg Blanc 1664
Florida Fresh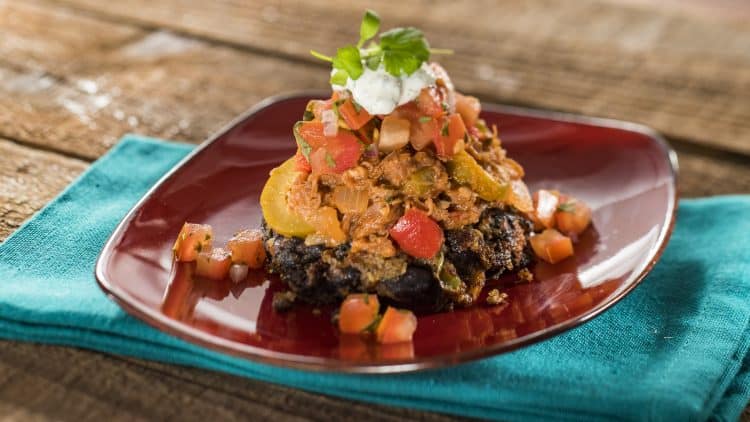 Enjoy sweet 'n' tangy treats from our own Sunshine State-station, nestled between the France and Morocco Pavilions.
Food
Carne Guisada with Black Bean Cake and Cilantro Lime Sour Cream
Spicy Blackened Shrimp and Cheddar Cheese Grits with Brown Gravy and Local Sweet Corn Relish
Key Lime Tart with Toasted Meringue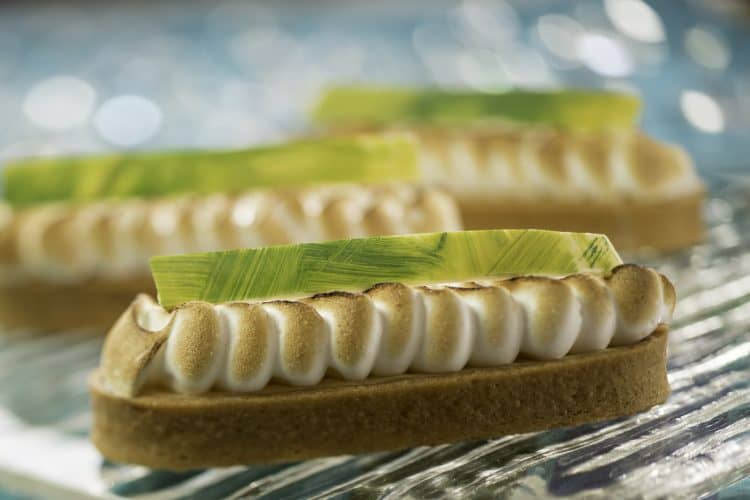 Beverages
Florida Orange Groves Winery Key Lime Sparkling Wine, St Petersburg, FL
Tampa Bay Brewing Company Quat Seasonal Fruit Ale
Big Top Brewing Company Conch Republic Key Lime Wheat, Sarasota, FL
First Magnitude Brewing Co. Monarch Milk Stout, Gainesville, FL
Watermelon Cucumber Slushy with Tamiami Florida Gin
Watermelon Cucumber Slushy (Non-alcoholic)
Beer Flight
Cider House
Behold buzz-worthy ciders and artisanal provisions perfect for a farm-fresh picnic near the United Kingdom Pavilion!
Food
Pear Cider-brined Shredded Corned Beef with Braised Cabbage and Branston Dressing with Pears
House-made Potato and Cheddar Cheese Biscuit with Smoked Salmon Tartare
Freshly Baked Lemon Scone with Crème Fraîche and Mixed Berries (V) (GF)
Select dishes feature Melissa's Produce.
Beverages
McKenzie's Black Cherry Hard Cider, West Seneca, NY
Florida Beer Company Caribé Pineapple Tropical Hard Cider, Cape Canaveral, FL
Ciderboys Grand Mimosa Apple Orange Hard Cider, Stevens Point, WI
Cider Flight
Martinelli's Sparkling Cider, California (Non-alcoholic)
Hanami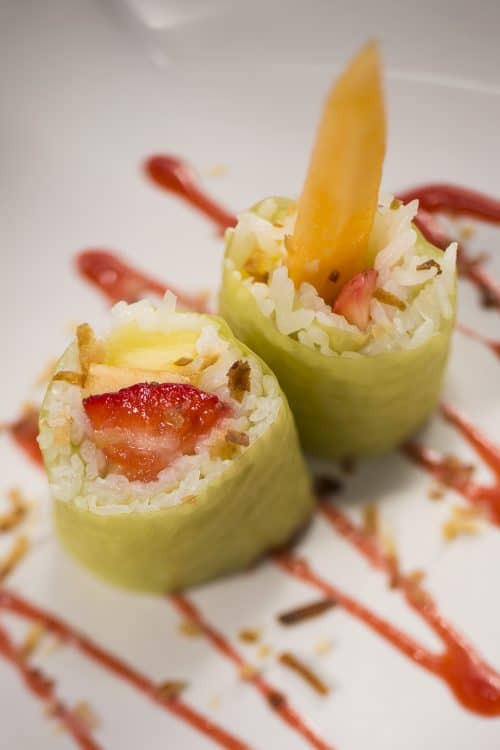 Journey to Japan for innovative plates crafted with culinary Zen—each delish dish is a Festival favorite!
Food
Frushi: Fresh Pineapple, Strawberry and Melon rolled with Coconut Rice, sprinkled with Toasted Coconut and Whipped Cream with Raspberry Sauce on the side (V)
Ginger Beef Yaki Udon: Thin-sliced Beef, Onions and Noodles tossed on the grill with Soy and Ginger
Teriyaki Salmon with Furikake Seasoned Brown Rice (GF)
Beverages
Pineapple Momo Sake Cocktail
Karatamba "Dry Wave" Sake
Sapporo Draft Beer in a Kampai Cup
La Isla Fresca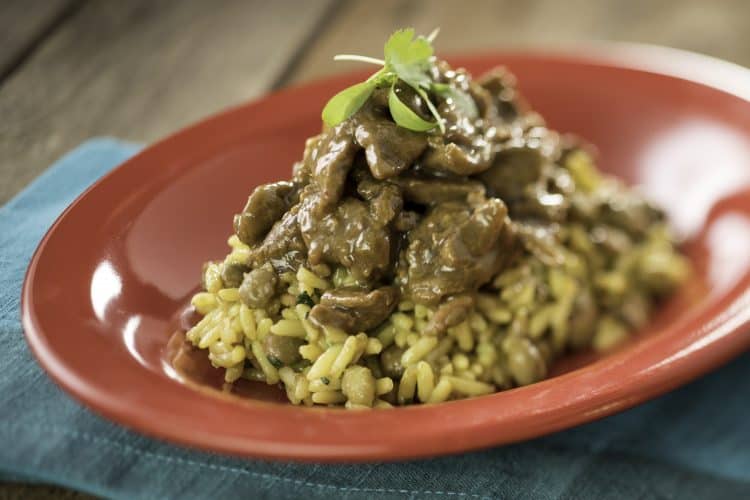 Nibble on Caribbean-seasoned dishes that'll send appetites swaying to the island beat!
Food
Jamaican-braised Beef with Pigeon Pea Rice and Micro Cilantro
Sugar Cane Shrimp Skewer with Steamed Rice and Coconut Lime Sauce
Caribbean Conch Salad with Mango, Papaya and Pickled Red Onions
Tropical Mousse Cake: Layers of Passion Fruit Cake, Coconut Mousse and a Tropical Fruit Glaze with Fresh Pineapple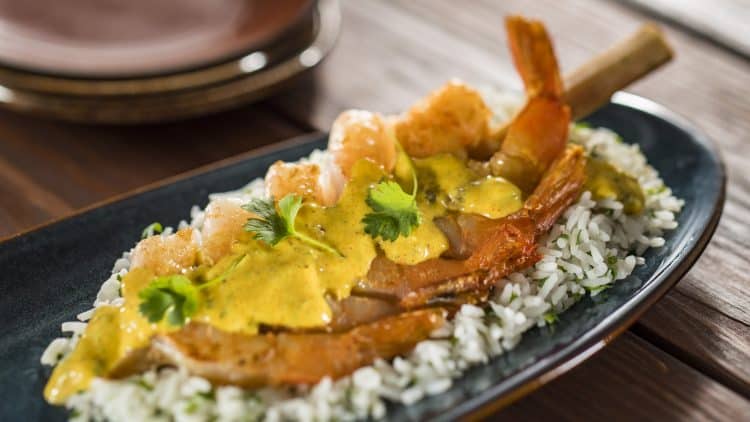 Select dishes feature Melissa's Produce.
Beverages
Golden Road Brewing Tart Mango Cart Wheat Ale, Los Angeles, CA
Tropical Freeze with Cruzan Mango Rum
Tropical Freeze (Non-alcoholic)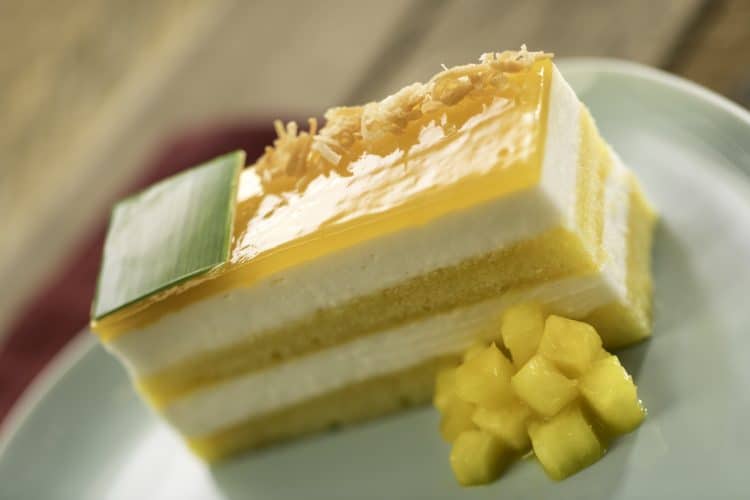 Lotus House
Sink your teeth into authentic Chinese eats filled with morsels of good fortune!
Food
Spicy Meatballs with Crispy Tofu
Fried Chicken Dumplings with Peanut Sauce
Vegetable Spring Rolls (V)
Beverages
Oolong Peach Bubble Tea (Non-alcoholic)
Kung Fu Punch: Vodka, Triple Sec, Mango and Orange Juice
BaiJoe Punch: Chinese Bai Jiu Spirit, Lychee, Coconut and Pineapple Juice
Plum Wine Cooler
Tsingtao Lager
Northern Bloom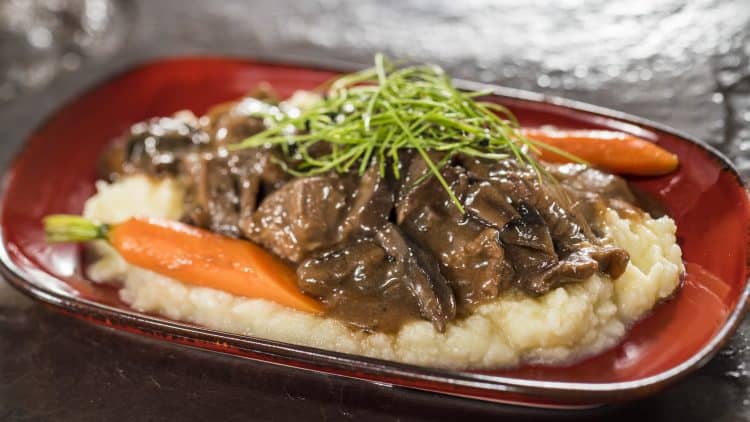 Please discriminating palates with fantastic fare from our Great White North neighbor… O Canada!
Food
Seared Scallops with French Green Beans, Butter Potatoes, Brown Butter Vinaigrette and Apple-wood Smoked Bacon (GF)
Beef Tenderloin Tips, Mushroom Bordelaise Sauce, Whipped Potatoes with Garden Vegetables
Griddled Maple Pound Cake with Warm Peach Compote and Sweet Corn Gelato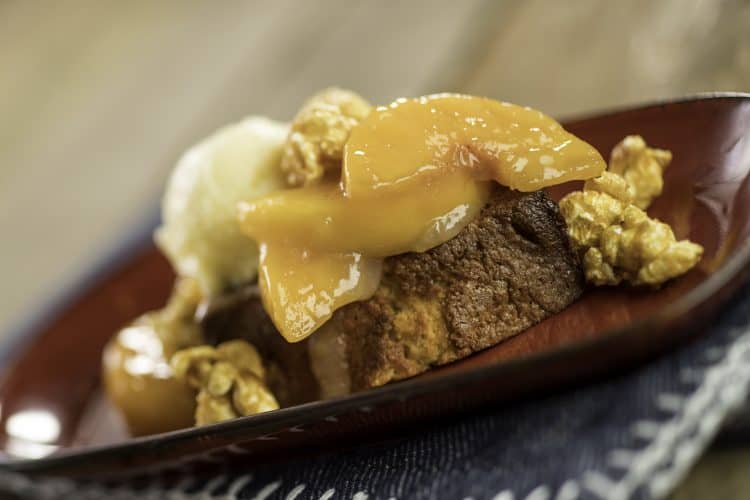 Select dishes feature Melissa's Produce.
Beverages
Maple Popcorn Shake with Crown Royal Maple Whisky
Maple Popcorn Shake (non-alcoholic)
Unibroue Maudite Amber Ale, Chambly, Québec
Unibroue À Tout Le Monde Saison, Chambly, Québec
Unibroue Éphémère White Ale, Chambly, Québec
Beer Flight
Jardin de Fiestas
Take a food-tastic tour of the Mexico Pavilion… these tantalizing tastes will add some spice to your day!
Food
Pork Taco: Slow-braised Pork Taco served with Apple Relish, Goat Cheese and Chile de Árbol Sauce
Chilaquiles: Chilaquiles served with Ranchera Sauce, Chorizo, Mexican Cream and Cotija Cheese
Capirotada: Bread Pudding served with Rompope
Beverages
Tiger Lily Sangria
Rose Margarita
Violet Cassis Punch
Daisy Spicy Beer
Pineapple Promenade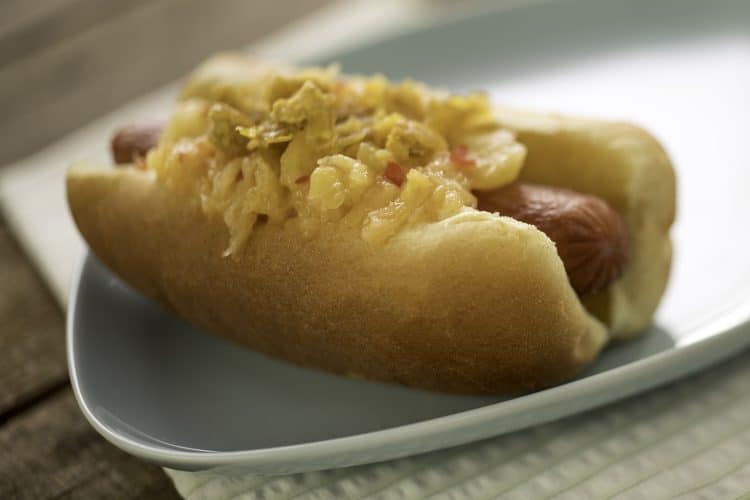 Get your tropical fruit fix from tart 'n' tangy to the sweetest frozen treats!
Food
Spicy Hot Dog with Pineapple Chutney and Plantain Chips
Pineapple Soft-Serve (V)
Beverages
Coastal Empire Beer Co. Coco Piña Gose, Savannah, GA
Maui Brewing Co. Pineapple Mana Wheat, Kihei, HI
SweetWater Brewing Company Goin' Coastal IPA with Pineapple, Atlanta, GA
Pineapple Beer Flight
Florida Orange Groves Winery Sparkling Pineapple Wine, St. Petersburg, FL
Playalinda Brewing Company Violet Lemonade Ale, Titusville, FL
Pineapple Soft-serve with Parrot Bay Coconut Rum
Frozen Desert Violet Lemonade (Non-alcoholic)
Pineapple Soft-serve with Fanta (Non-alcoholic)
Primavera Kitchen
Mangiare hearty helpings of Old-Country dishes served with a glass of vino… now that's amore!
Food
Frittata di Asparagi: Asparagus Frittata, Mixed Greens and Citrus Dressing (GF) (V)
Fritto Misto: Crispy Shrimps, Zucchini and Spicy Sauces
Raviolo all' Aragosta, Germogli di Piselli: Maine Lobster Ravioli, Veloute Sauce, Pea Sprouts, Pear Drop Tomatoes and Salmon Roe
Panna Cotta al Melone: Cantaloupe Panna Cotta (GF) (V)
Beverages
Pinot Grigio
Chianti
Prosecco
Corbinello
Moscato
Bellini: Sparking Wine and Peach Purée
Frozen Italian Margarita with Limoncello and Tequila
Moretti Lager L'Autentica
Moretti La Rossa
The Berry Basket
Sweeten your feast with an assortment of berry-licious dishes sure to hit the spot!
Food
Lamb Chop with Quinoa Salad and Blackberry Gastrique
Field Greens with fresh Strawberries, Crisp Quinoa, Strawberry Vinaigrette and Spiced Pecans (V)
Warm Wild Berry Buckle with Pepper Berry Gelato (V)
Select dishes feature Melissa's Produce.
Beverage
JDub's Brewing Company Blueberry IPA, Sarasota, FL
Island Grove Blueberry Moscato, Hawthorne, FL
Twinings® Green Tea Berry Mint Julep
Twinings Green Tea Berry Mint Julep (Non-alcoholic)
THE SMOKEHOUSE: Barbecue and Brews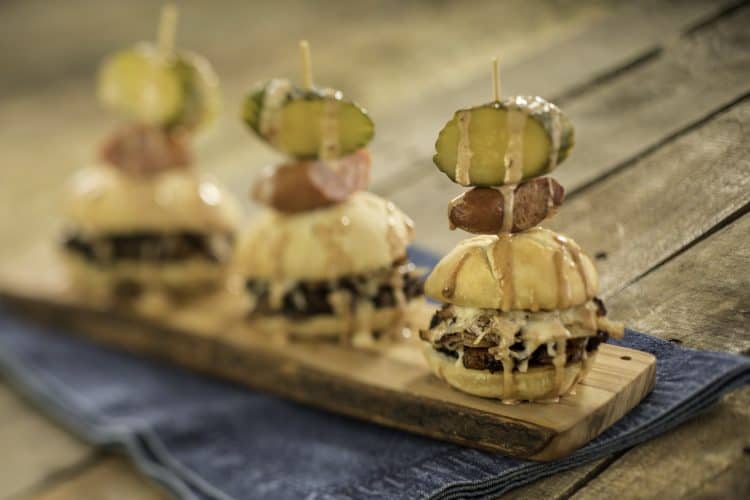 Saddle up for slow-cooked specialties and a mighty fine selection of craft beer—at the American Adventure Pavilion!
Food
Pulled Pig Slider with Coleslaw
Beef Brisket Burnt Ends and Smoked Pork Belly Slider with Garlic Sausage, Chorizo, Cheddar Fondue and House-made Pickle
Beef Brisket Burnt Ends Hash with White Cheddar Fondue and Pickled Jalapeños
Warm Chocolate Cake with Bourbon-Salted Caramel Sauce and Spiced Pecans (V)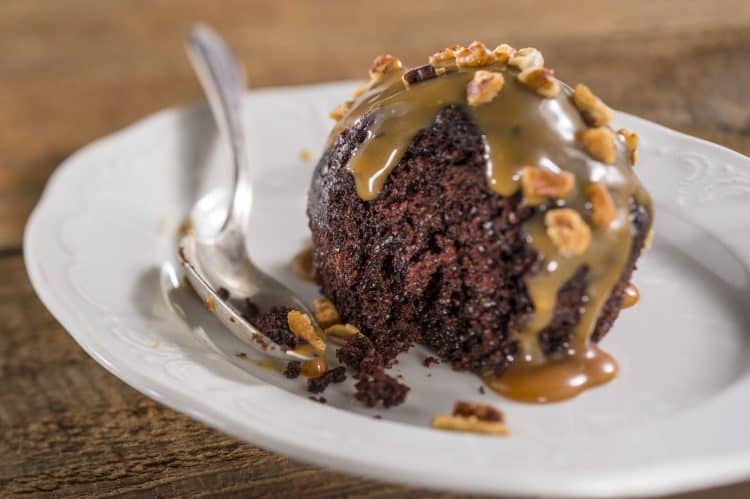 Beverage
Zen of Zin Old Vine, California
Central 28 Brewing Company Sunshine Greetings Orange Hibiscus Wheat Ale, DeBary, FL
3 Daughters Brewing Phantasmas Spicy Double IPA, St. Petersburg, FL
Shipyard Maple Bacon Stout, Clearwater, FL
Beer Flight
Simply® Lemonade with Firefly Blackberry Moonshine
Simply Lemonade (Non-alcoholic)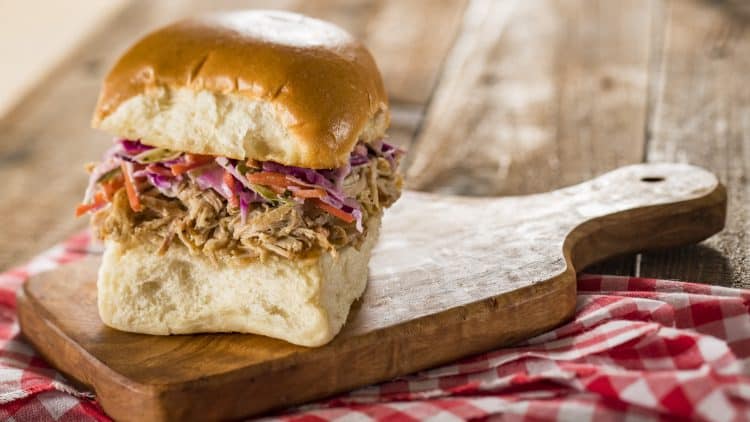 Taste of Marrakesh
Intoxicate taste buds with the exotic flavors of this North African mecca—mysterious Morocco!
Food
Harissa Chicken Kebab with Dried Fruit Couscous Salad
Fried Cauliflower with Capers, Garlic Parsley and Chili Ranch Sauce
Walnut Honey Baklava
Beverages
Desert Rose: Sparkling Wine topped with Pomegranate Liqueur
White Sangria
Casa Beer
The Honey Bee-stro Hosted by National Honey Board™– NEW!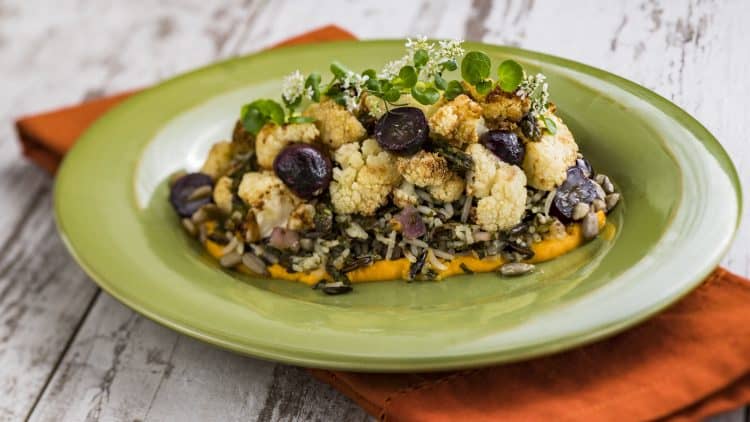 Quell cravings with an incredible menu of all-natural food and drink infused with the nectar of the gods!
Food
Roasted Cauliflower with Buckwheat Honey Carrot Puree, Wild Rice Pilaf, Asparagus, Honey Blistered Grapes and Sunflower Brittle (GF) (V)
Honey Tandoori Chicken Flatbread with White Cheddar Cheese, charred vegetables, Clover Honey Sour Cream and Micro Watercress
Local Wildflower Honey-Mascarpone Cheesecake with Orange Blossom Honey Ice Cream garnished with Fennel Pollen Meringue Kisses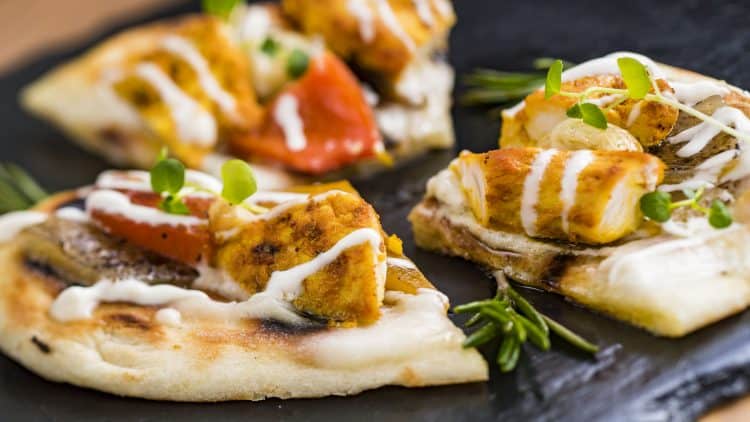 Beverages
Florida Orange Groves Winery Orange Blossom Honey Wine, St. Petersburg, FL
Orange Blossom Brewing Co. Orange Blossom Pilsner, Orlando, FL
Honey-Peach Cobbler Freeze with Blueberry Vodka
Honey-Peach Cobbler Freeze (Non-alcoholic)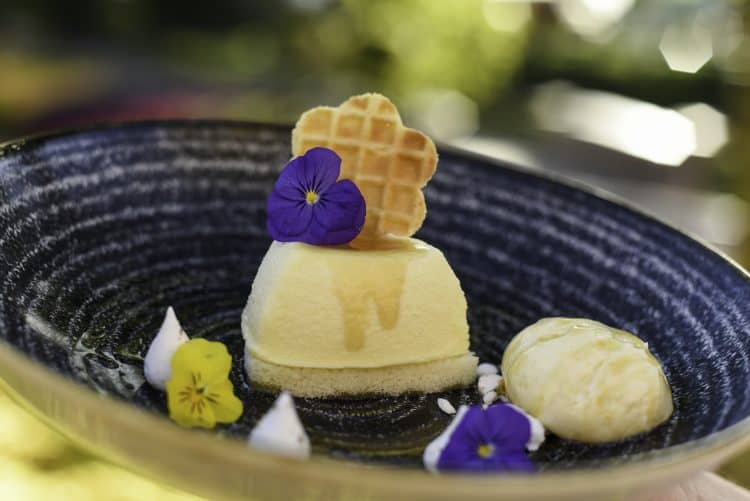 Specialty Coffee Carts Hosted by Joffrey's Coffee & Tea Company®
Wet your whistle with Festival-inspired beverages and adult libations at coffee carts across the park!
Future World Coffee Cart Hosted by Joffrey's Coffee & Tea CompanyThe Final Lap: Iced Tea topped with Frozen Passion Fruit with Vodka
Port of Entry Coffee Cart Hosted by Joffrey's Coffee & Tea CompanyGarden of Guava: Frozen Pink Guava topped with Rum or Vodka
American Adventure Coffee Cart Hosted by Joffrey's Coffee & Tea CompanyStrawberry Piña Colada: Frozen Piña Colada and Strawberry with Rum
Showcase Coffee Cart Hosted by Joffrey's Coffee & Tea CompanyOrange Blossom Twist: Frozen Orange Pineapple topped with Vodka
Please note: Alcohol will only be served to Guests 21 years of age and older. Food and beverage offerings are subject to change without notice and are available while supplies last.
Be sure to print out your FREE checklist by clicking the images below
2019 Epcot Flower and Garden Festival Printable Checklists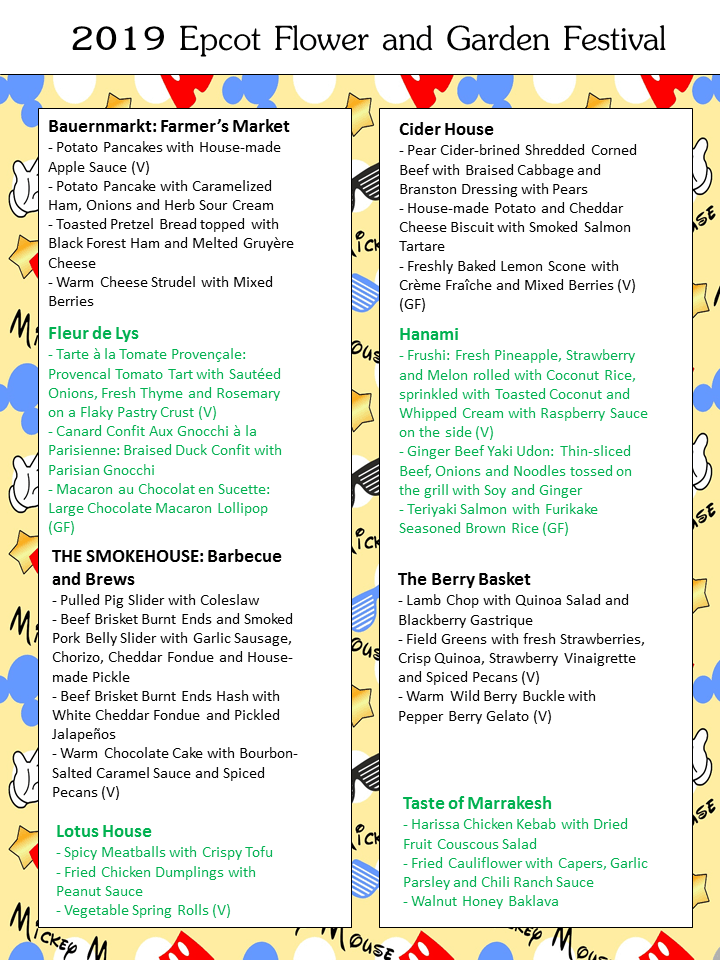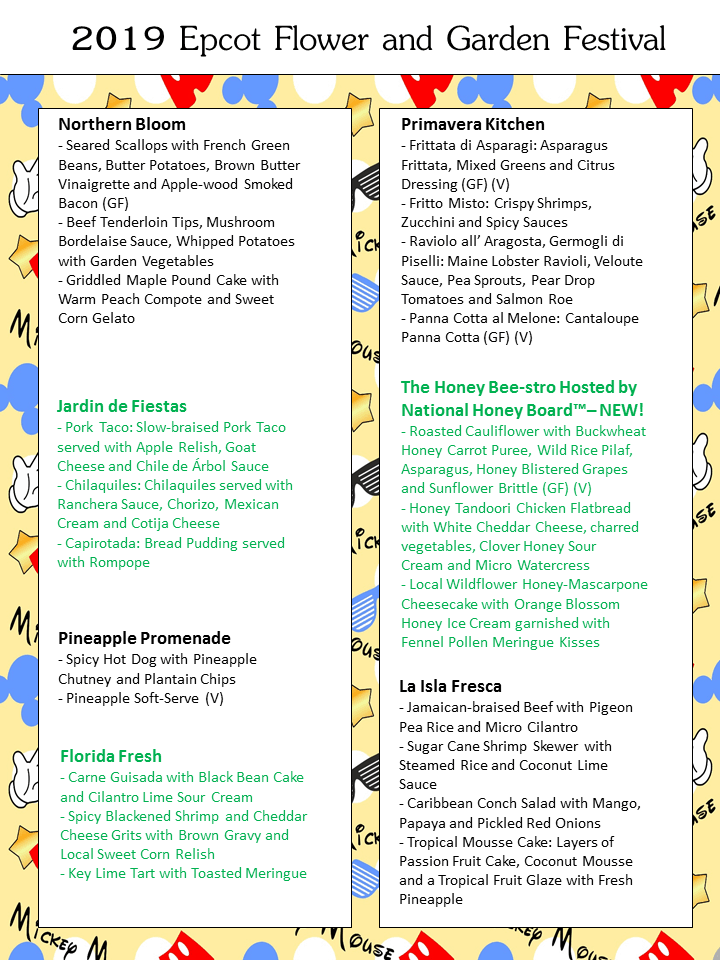 Your Thoughts...
Please share your thoughts in the comments or reach out on social media...We would love to hear from you.
You May Also Like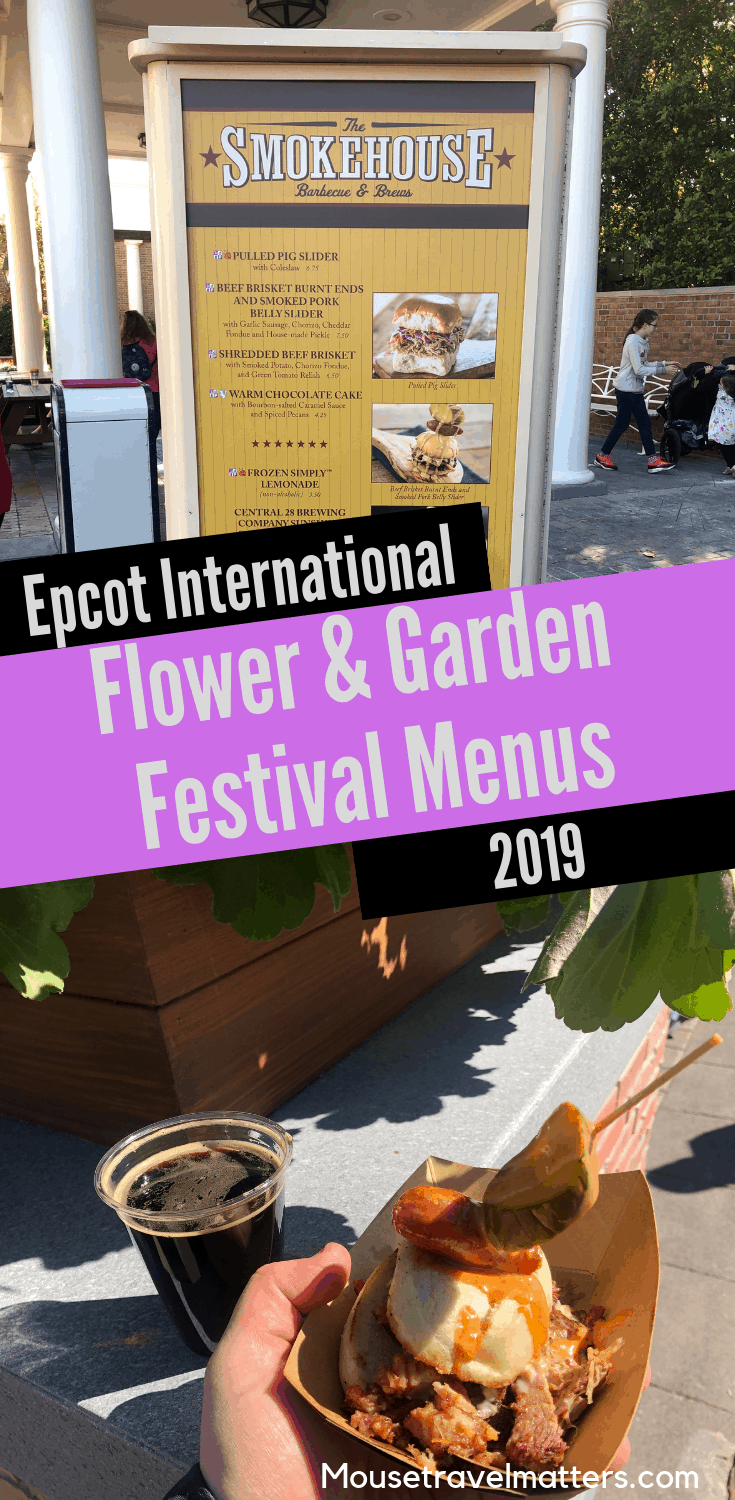 For Disney destinations, our preferred travel agency is Clickthemouse. They specialize in Disney destinations and will help you with all the details like dining, FastPasses, Magical Express, park days, etc. The best part is that their services are FREE when you book your vacation with them. Personalized service at no extra cost to you! To get a quote from a Click the Mouse travel agent, simply click on the quote button below and they will be in touch: