Last Updated on August 18, 2019
The 2019 Epcot International Food & Wine Festival will run August 29-November 23 making it the longest Food & Wine Festival in the park's history at 87 days!
The International Food and Wine Festival at Epcot gets bigger and more impressive every year, and 2018 is no exception. This year, Disney is rolling out all kinds of new experiences to make Food and Wine even more fun than ever. Here are five awesome new things that you can do at the Food and Wine Festival.
This post may contain affiliate links.
To which I earn a small commission, at zero cost to you!
Find more info in our
Privacy Policy
.
2019 Epcot Food and Wine Festival Index
2019 International Food and Wine Festival, Epcot: The Best Low Cost and Free Events
2019 – Five New Things to Do at Epcot International Food and Wine Festival
2019 – Ultimate Kid's Guide to Epcot Food and Wine Festival
2019 – Epcot Food & Wine Festival Gluten-Free OfferingsUltimate Guide to 2019 Epcot Food & Wine Festival
Ultimate Guide to 2019 Epcot Food & Wine Festival
Brunch with the Chef
Almost every Sunday throughout the Food and Wine event you can have an incredible brunch to start the day off right and continue the fun with a Q and A. Each day a new guest of honor will give their cooking tips and finish with a meet and greet/photo opportunity. The whole event begins with a sparkling wine toast.
Guest Chefs include Art Smith, Masaharu Morimoto, and Buddy Valastro. Brunch starts at 11:30 at the World Showplace Events Pavilion and goes until 1:30. Tickets are $129 per guest. Epcot admission is not included, but gratuity is.


Delicious Duo
This food pairing event takes place at the Festival Center Stage. A ticket is only $25. A featured chef collaborates with a beverage presenter to demonstrate a dish that is perfectly paired with a drink. As part of the demonstration, guests get to enjoy the same prepared dish and paired beverage. The event kicks off on Friday, August 31st with Chef Pam Smith and Master Sommelier Joseph Spellman. The Demonstrations take place every Friday-Sunday at 2:30.
Family Fun
Kids normally have very little just for them at Epcot, especially when it comes to the Food and Wine Festival. Disney decided to change that and put more focus on families this year. The big thing for kids all around Disney World for 2018 is Dance Parties. The Food and Wine Festival is no exception. A rotating cast of characters will take part in the Disney Du Jour Dance Party, a fun interactive experience on Friday and Saturday nights.
The festival will also feature a playground for kids and Junior Chef Kitchen, a workshop for kids to take place on Sundays. There will also be a Ratatouille-themed scavenger hunt for the whole family. The list things your kids can do at Epcot's International Food and Wine festival are incredible.
Eat to the Beat
New acts are coming to the America Gardens Theater in the World Showcase. There will be new concerts daily from a lineup including, 98 Degrees, Smashmouth and Jim Belushi. There are three shows nightly. Dinner packages are sold that include reserved seating for a concert. The musical styles are suited to every taste from pop to R&B.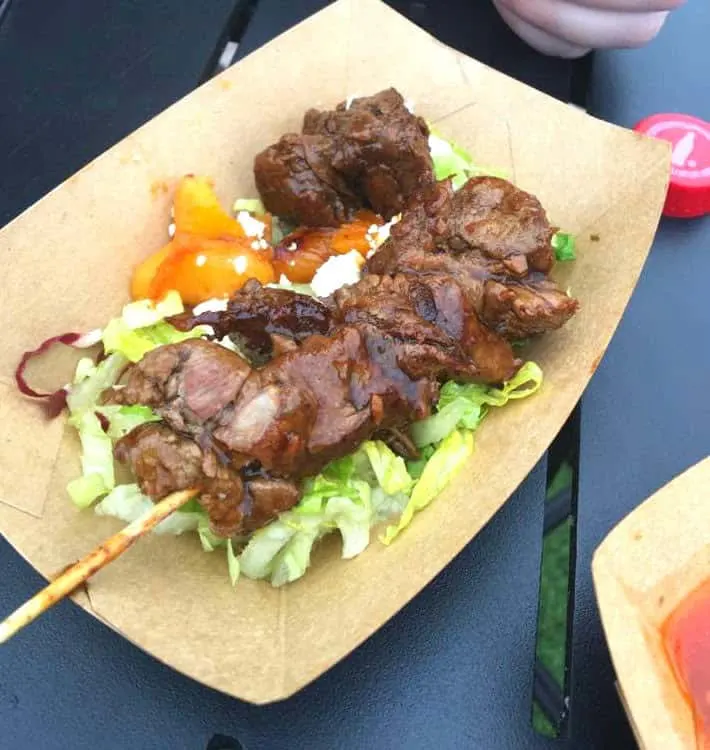 New Marketplace Dishes
There are three amazing new dishes coming to the Global Marketplaces this year. In America, at the Hops & Barley location, they are serving a New Brunswick Slider. This slow-braised Beef Brisket is prepared pot roast style and served with horseradish cream and crispy fried onions on a potato roll with pickled vegetables on the side.
The Wine and Dine Studio in Future World is featuring a new Butternut Squash Ravioli with Brown Butter Vinaigrette, Parmesan Cheese, and Pumpkin Seeds. Also in Future World, at the Flavors From Fire kiosk, they are serving up a Charred Chimichurri Skirt Steak with Smoked Corn Cake, Pickled Vegetable Slaw, and Cilantro.
Your Thoughts...
Please share your thoughts in the comments or reach out on social media...We would love to hear from you.
Follow Mouse Travel Matters for Disney Parks news, the latest info and park insights, follow MTM on Twitter, Facebook, and Instagram.
You May Also Like