Last Updated on April 1, 2020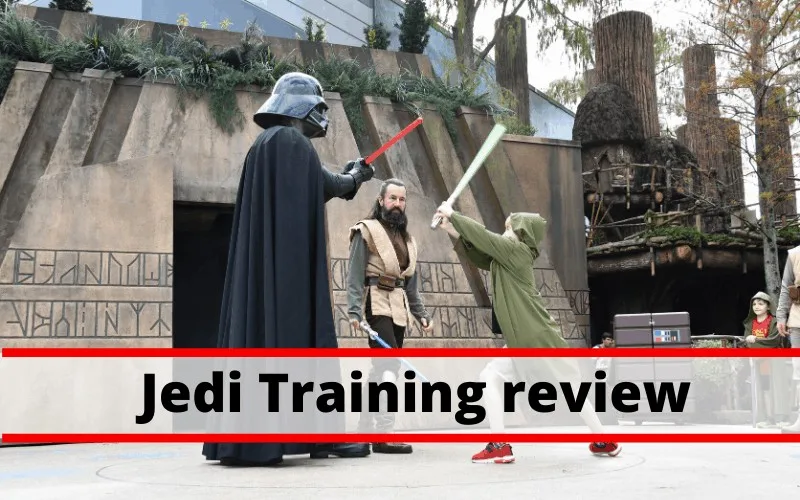 For parents of Star Wars fans, the Jedi Training Academy at Walt Disney World will blow your kids' minds! It takes place at Disney's Hollywood Studios and you may have to run to grab a spot!
The Ultimate Jedi Training Academy Experience at Disney's Hollywood Studios
After a fun-filled day of everything Star Wars, it was time to reward the children with something that was completely for them. Not that they didn't have fun in Galaxy's Edge, but there is only so much "immersive experience" the kids can handle before they demand something a little more hands-on and exciting.
We signed them up first thing in the morning but they were checked out and didn't really pay attention to what was going on around them, like usual, so it wasn't much of a surprise when they were surprised that we were going to do Jedi Training before lunch.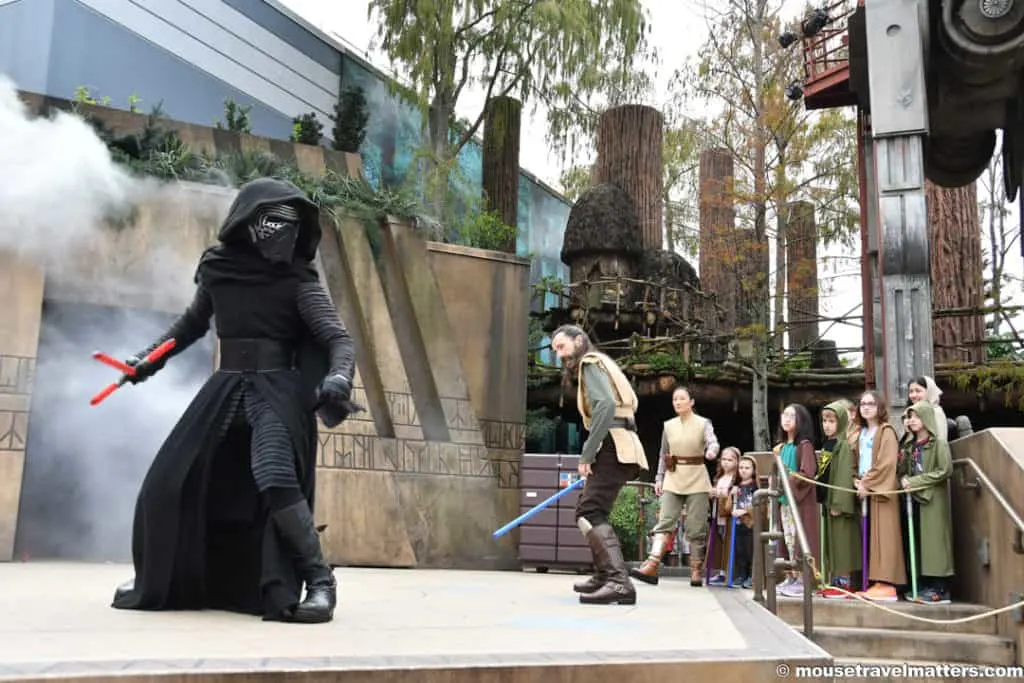 Touring Disney at the beginning of December, even days after a new attraction is opened, the crowds are still relatively light. We thankfully arrived after the boarding groups for Rise of the Resistance were sold out so we didn't have to worry about meeting that crowd of people when we entered the park.
Today's article will be reviewing the most frequently asked questions about Jedi Training: Trials of the Temple, and giving our review of the whole experience with our kids.
What is the Jedi Training Academy?
This 20-minute Hollywood Studios stage show takes place in 15 separate performances throughout the day at an outdoor stage located next to the Star Tours attraction.
Thirty minutes before your Jedi Training: Trials of the Temple showtime, you'll drop your kids off with Disney cast members who will talk to them about what will happen during the show. A Jedi Master and his helpers teach about 30 kids (ages 4 – 12) how to become a Jedi. They give kids cool Jedi robes and lightsabers.
Then, for 25 glorious minutes, your child will share the stage with Star Wars legends in front of an audience of Star Wars enthusiasts! They split the kids into two groups: one goes up on stage and the other stays down on the main floor.
After a bit of theatrics, the two Star Wars characters split up and begin their lightsaber battles with each kid individually. Each battle lasts about 10 seconds and Disney PhotoPass photographers will take several photos of each child's battle.
At the end of the show, the kids hand back their robes and lightsabers and the trainers give each kid a Star Wars pin as a token.
Make sure to grab the PhotoPass card from the photographer taking photos of YOUR child. Then, you can bring to the photo area near the gate and just add the photos of your child to your Memory Maker (or purchase separately.)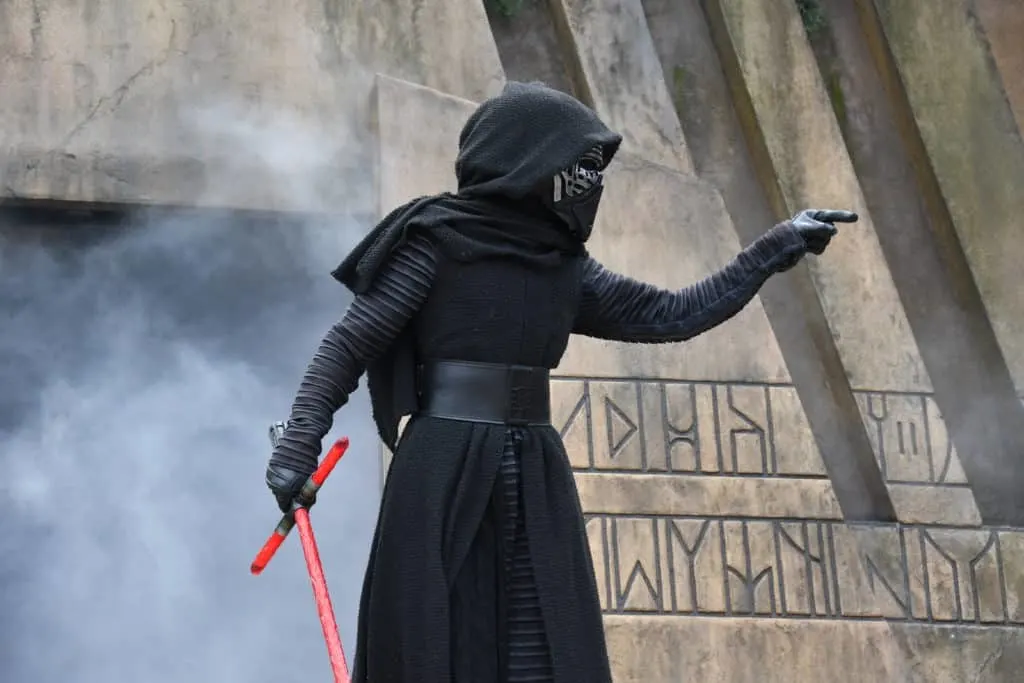 How to book Jedi training at Hollywood studios
A cast member will ask your child a few questions to gauge if they're able to follow the basic instructions necessary to participate in the show. This is why you can not register without your child present. If your child seems ready, they will be officially registered for specific showtime of Jedi Training.
Disney World Jedi Training Participants must meet these requirements:
The child must be age 4 to 12 years old
The participant must be present at registration
The child must be able to follow basic instructions
Where do you sign up for Jedi Training?
To sign up for Jedi Training: Trials of the Temple, head directly to the Indiana Jones Adventure Outpost.
If you don't have a map handy, this is along the route towards Galaxy's Edge, just after 50's Prime Time Diner. There are Cast Members with signs pointing you in the right direction.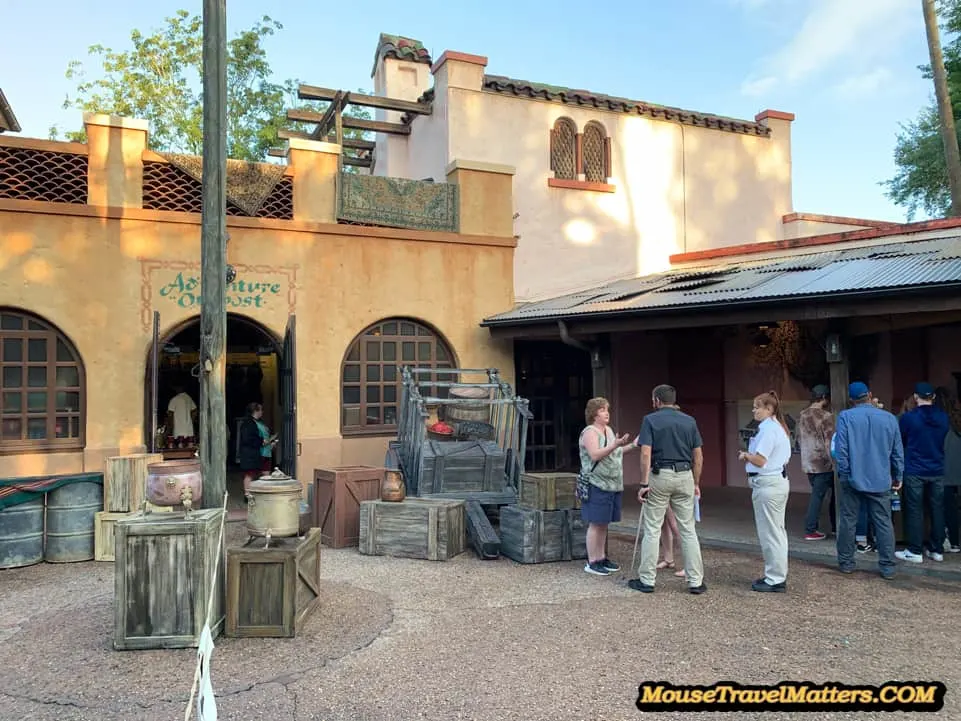 How early do I need to show up to register?
During high season, you'll want to head there as soon as you get into the park. This may mean booking a pre-park breakfast reservation just to get into Hollywood Studios before everyone else. Hollywood & Vine offers Disney Junior Character breakfasts from 8 am – 10:20 am.
Triple check what time Disney's Hollywood Studios opens that morning and give yourself enough time to get through security and be ready for the gates to open. EMH is also a great time to sign the kids up.
What age does Jedi Training start?
Jedi Training: Trials of the Temple is available for Star Wars fans ages 4 to 12 years old.
Pro Tip – While there is never a perfect age to take your kids to Disney, we do strongly suggest waiting until your youngest is 44 inches tall and at least 4 years old if you plan on taking the older kids on these activities. They are too much fun and your little one will want to participate, even if they have no particular interest in Star Wars.