Last Updated on September 17, 2019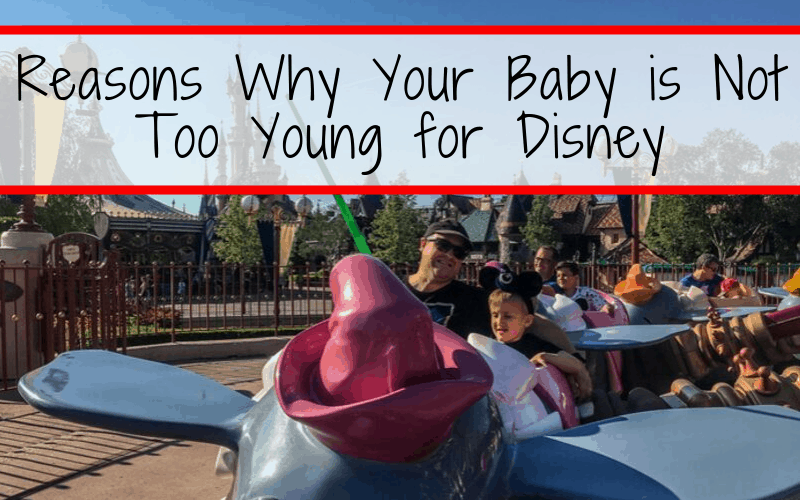 How young is too young for Disney?
While the Disney franchise prides itself on being for everyone, even the young at heart, how young is too young for visiting a Disney property is a very real question. We don't want to get all the way there and realize your party can only accomplish half of what they wanted to do because someone always needs to care for the child. Is your child too young for Disney?
This post may contain affiliate links.
To which I earn a small commission, at zero cost to you!
Find more info in our
Privacy Policy
.
The Best Age to Visit Disney World; Reasons Why Your Baby is Not Too Young for Disney
What can they ride?
Unless the baby is brand new, they can pretty much ride everything that is labeled Family-friendly. This includes Peter Pan, It's a Small World, and Dumbo.
The child either needs to be attached to you via a carrier or able to sit on the bench on their own. There are some rides that are faster than others so their neck and back strength need to be considered when getting onto those rides.
If in doubt, read reviews for each of the rides.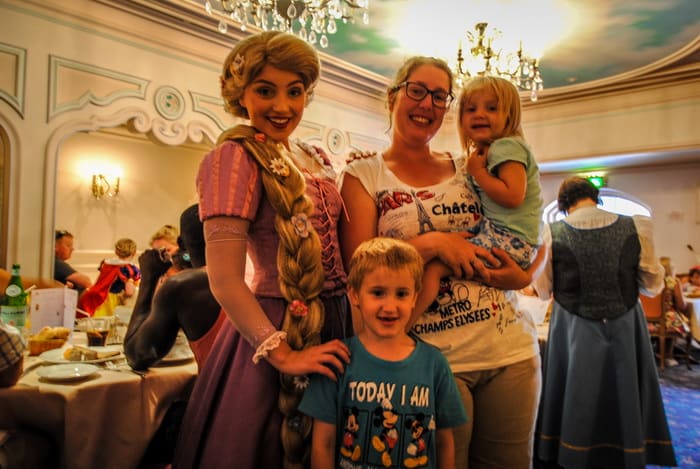 What are the height restrictions
There are a fair number of height restrictions at Walt Disney World. 40 inches is the magic number. If you want to ride everything at Disney, including Space Mountain and Star Tours, you need to be at least 40 inches tall. More can be accomplished at 48inches but 40 will get your child into almost everything.
Keep in mind, though, just because the child can ride, doesn't mean they should ride. My 6-year-old was finally tall enough to ride Big Thunder Mountain and he left the ride wishing he hadn't.
Gear needed
Depending on the age of the child, a stroller is always a good option. Babywearing may also be required for some of the rides that require the child to sit unassisted or be strapped to a parent.
How will the baby eat? Do you need to heat food or can they eat the same thing as the family?
My suggestions? I still stand behind my Bob Revolution stroller, in this situation because of easy handling around the crowds and famous one-hand maneuverability. I can hold the toddler's hand and push the stroller easily. Oh, and I have to have my mommy hook every time I take the stroller out in public; its that extra pair of hands you know you will need to carry all those souvenirs.
For a baby carrier, I go inexpensive but still a brand name. This is slim enough that I can simply close my jacket when she isn't in it and it is (mostly) hidden. Since it converts to back-wearing as well, it is a great carrier for newborn to 40 lbs. These food pouches will help you when it comes time to feeding your baby puree in between sit down meals, as they are ready to go in the bag. Once they are a little older, adding finger foods like this will also keep baby's attention. Self-feeding now, no problem. I love this container and I show it off to all my mommy friends.
Baby needs
Does your baby require 4 naps a day, constant nursing and can't leave Mom's side for more than 10 minutes at a time? Then I'm afraid Mom may not ride everything Dad and big sister get to experience. Strollers are not allowed in the queues, or in the restaurants. If it is not too busy, eateries may allow a stroller if the baby is sleeping but that is up to their discretion.
Finding a proper baby changing station isn't that hard, they are in all toilets on the property, but each toilet is spread out pretty thin and the line can be a little long sometimes. I use a simple changing pad for the restrooms or out on the streets – sometimes those lines are crazy long and they only have one change table per rest stop.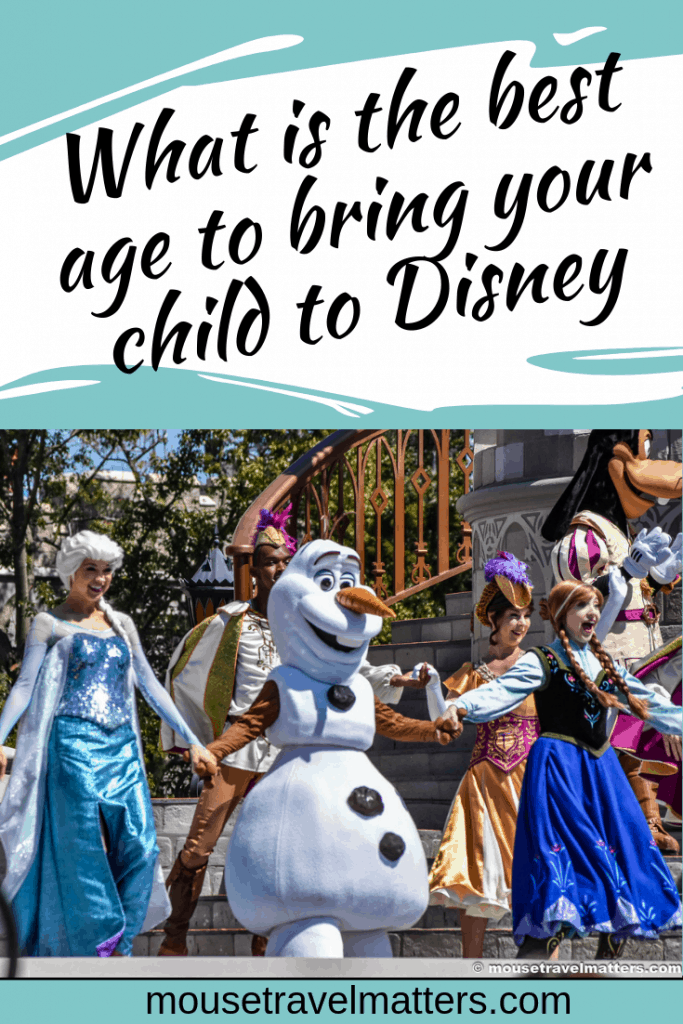 Expectations of your visit
What are you trying to get out of this trip? Want to visit each ride, get every characters autograph and see each parade/fireworks display/show in a very short period of time?
Then maybe going baby free is your best option. Relaxing time with the family, take it all in and see where it goes? Then, by all means, bring the little munchkin along. You can never predict when a meltdown, blow out or nap time will happen and this can severely dampen even the best of plans.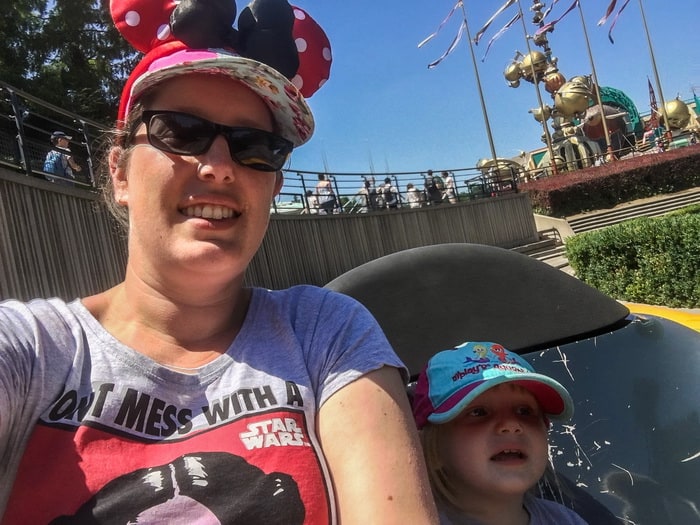 Will we return?
Do you plan on visiting this property again? Will you be OK not seeing everything the park has to offer, even if you never come back? The last thing you want is to resent your little one's demanding schedule.
Routine
Does the baby adjust to changes in schedule well? Are you able to adjust to baby's changing schedule? If your fast pass is for 11, and nap time is generally 10:30, how will you keep baby awake and happy long enough to survive the queue and the ride before someone loses their mind?
Since very few attractions allow for a stroller, will you be walking around with the family during nap time or going back to the hotel? Are you able to bring enough prepared food to feed the baby until you return or can the child eat restaurant food?

Do they travel well?
Not just about changing the routine, but changing the scenery? Can the child handle hotel rooms, restaurant food, crowds in public, and constant in and out of the stroller and park rides? If they can walk, will they hold your hand in the busy park or are they going to stay in the stroller when not in your arms? Do they have the patience to wait in the queue safely?
While it seems that I am asking you more questions than answering them, only you can decide when your child is old enough to visit a Disney property. You can tell from the photos that my children were fairly young their first time there; he was 2.5 years and she was 18 months. A lot of people thought I was crazy for taking them this young, but I definitely saw babies that were brand new, barely a few months old, with their families.
I am a huge Disney fan but personally, a newborn is too young, only because I can't do everything I want to do. This goes back to what I said about expectations. Constantly doing a baby swap or taking the baby in and out of the carrier to join the family in a show or climbing Swiss Family Tree House is not what I want out of my Disney experience.
Be true to yourself, your expectations, and your children's limits. There is nothing wrong with waiting until your child is 10 years old while your sister's kids went when they were 3.
You may also like: