Last Updated on September 5, 2019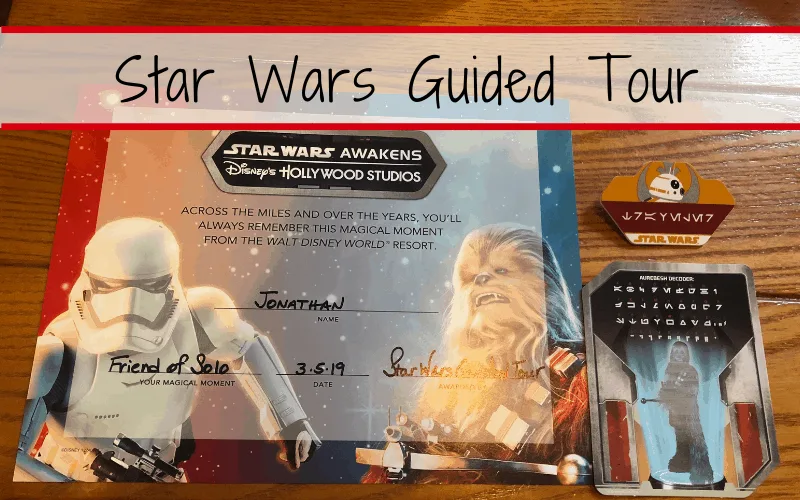 Disney's Hollywood Studios has been getting a lot of attention lately with the opening of Toy Story Land. Let's dive into the Star Wars Guided Tour.
Although Hollywood Studios has always had some of Walt Disney World's best attractions and theming, I think it's also fair to admit that the opening of Toy Story Land and the upcoming Galaxy's Edge, aka "Star Wars Land", will also bring some much-needed energy back into the park.
However, there's no need to wait for new attractions to get as much as possible out of a day at Hollywood Studios. There's more to do at the park than perhaps meets the eye. It's time to go Beyond the Rides with the exclusive Star Wars guided tour.
Let me start by saying that although this tour is perfect for any Star Wars enthusiast, you don't have to love Star Wars to enjoy the experience
This five and a half hour tour begins at 8:00 am (check in at 7:45 am) at Guest Relations inside Disney's Hollywood Studios.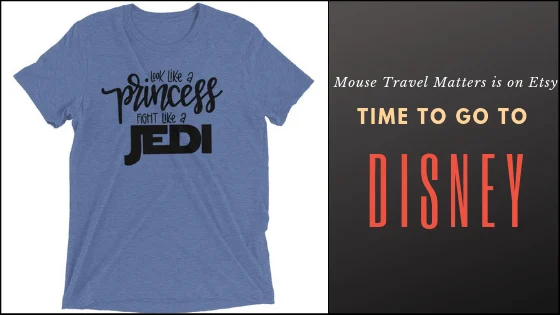 Pricing and General Information
Star Wars Guided Tour Pricing: $99 per person – tax included (Separate admission to Disney's Hollywood Studios is required)
There is a 15% discount for Annual Passholders, DVC Members, or if you're using a Disney Visa card.
The Star Wars Guided Tour is one of the most popular tours in all of Walt Disney World and is currently being offered every day Monday through Saturday.
The Tour starts at about 8 AM. Arrive beforehand to check in for your Tour and select what you will be eating for lunch at Backlot Express.
If you don't have a child attending the Jedi Training Academy, you may leave the tour after the 12:30 pm Star Wars: A Galaxy Far, Far Away Stage Show.
The tour will officially end after the 1:10 pm Jedi Training: Trials of the Temple
Reservations: Reservations are highly recommended and can be made by calling (407) 939-7529 up to 60 days in advance.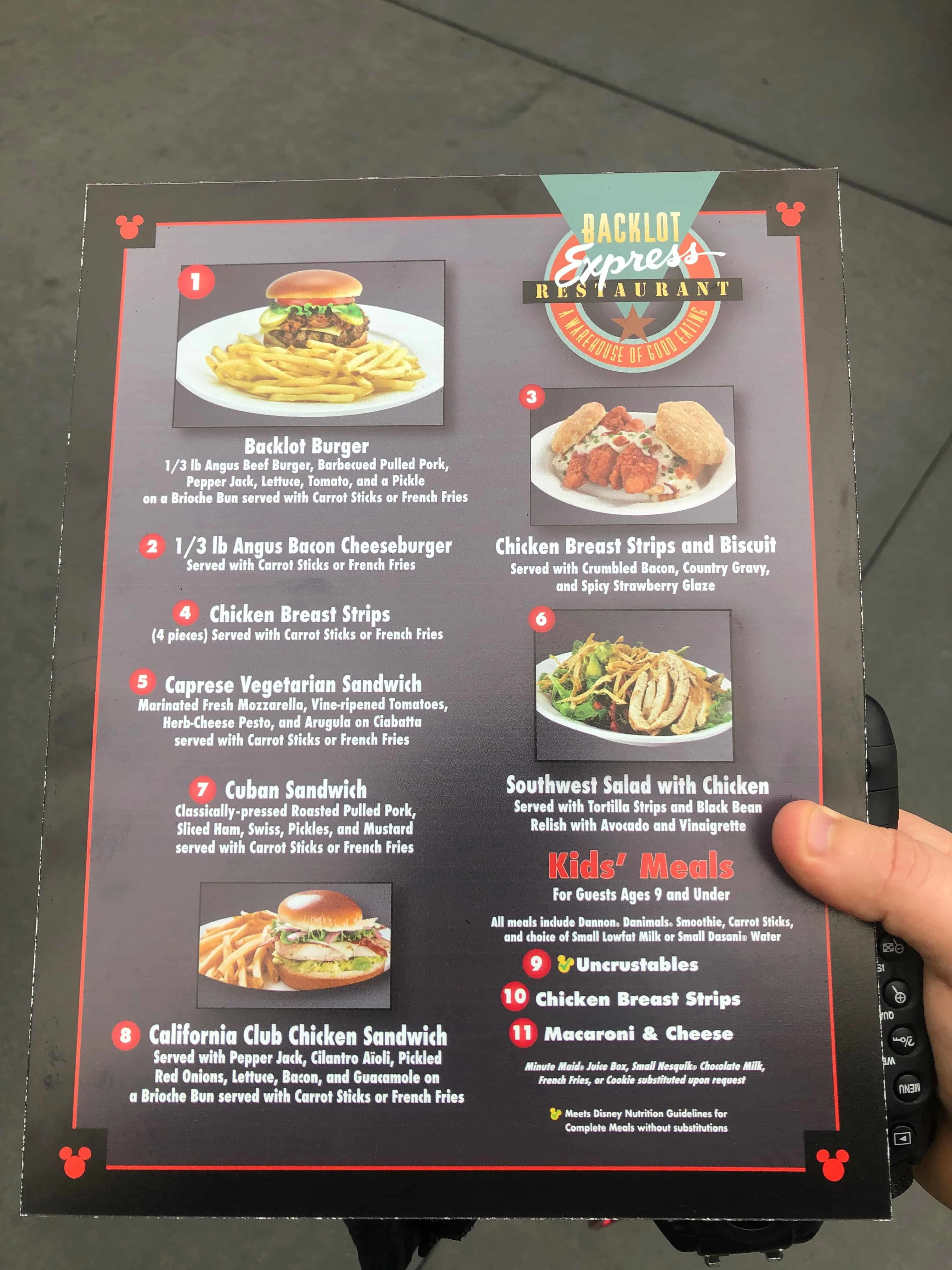 This guided voyage will have you:
Seeing stars during a screening of the movie, Star Wars: Path of the Jedi
Watch 2 live stage shows—Star Wars: A Galaxy Far, Far Away and March of the First Order from a reserved viewing area
Enrolling younglings ages 4 through 12 in Jedi Training: Trials of the Temple
Launching into hyperspace aboard a Starspeeder 1000 on Star Tours – The Adventures Continue
Sinking your jawas into a Star Wars-inspired meal at Backlot Express
Joining forces with new friends at a Chewbacca and Kylo Ren Character Greeting
Orbiting around saga-centric exhibits featuring replica props, models, concept art and artifacts at Star Wars Launch Bay
View exhibits featuring replica props, models, concept art and artifacts at Star Wars Launch Bay
Take a souvenir of your tour home with you to commemorate your adventures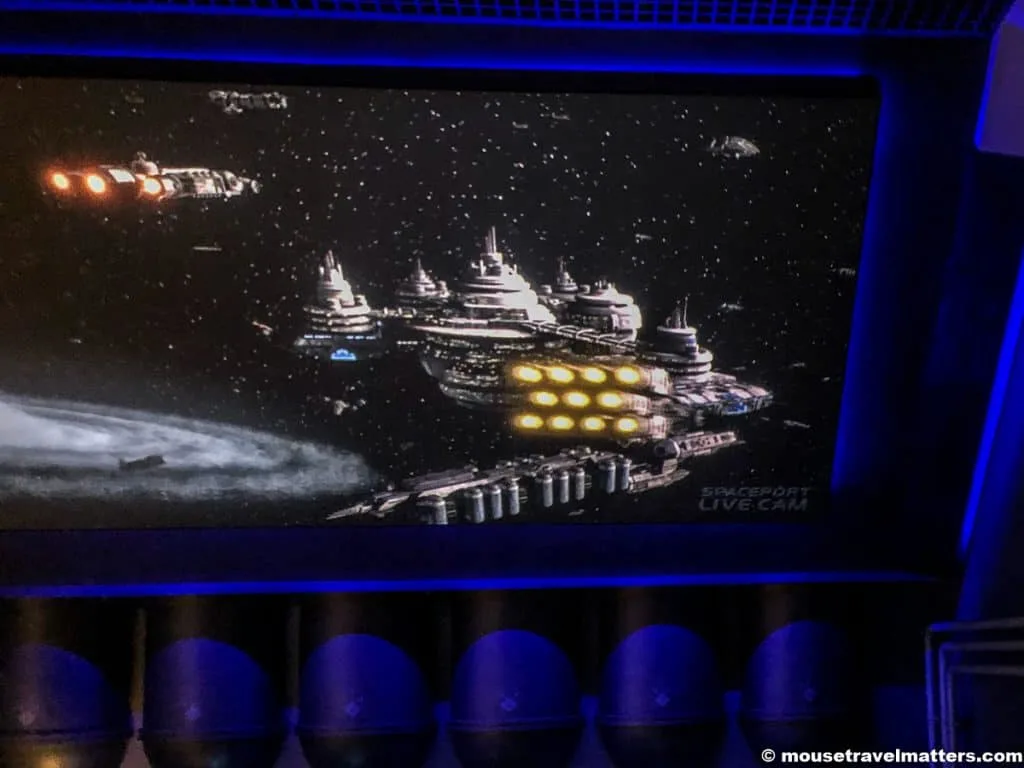 The tour uses audio ear pieces so you can hear your tour guides throughout the day. You also place your lunch order in advance, which makes dining a breeze later. I was already excited knowing the tour started an hour before park opening, which meant empty park photos!
Check-In and Orientation: To get things going, guests are welcomed near Grumman's Chinese Theater by receiving VIP passes and a home-planet assignment
Not only do they fill you in on all sorts of Star Wars trivia, but they're also happy to answer questions and share secrets about Hollywood Studios that will bring you a whole new appreciation for the park.
Behind-the-Scenes With Star Tours: Another big highlight of the guided tour is to get exclusive behind-the-scenes access to the Star Tours attraction.
Stellar Meet-and-Greets: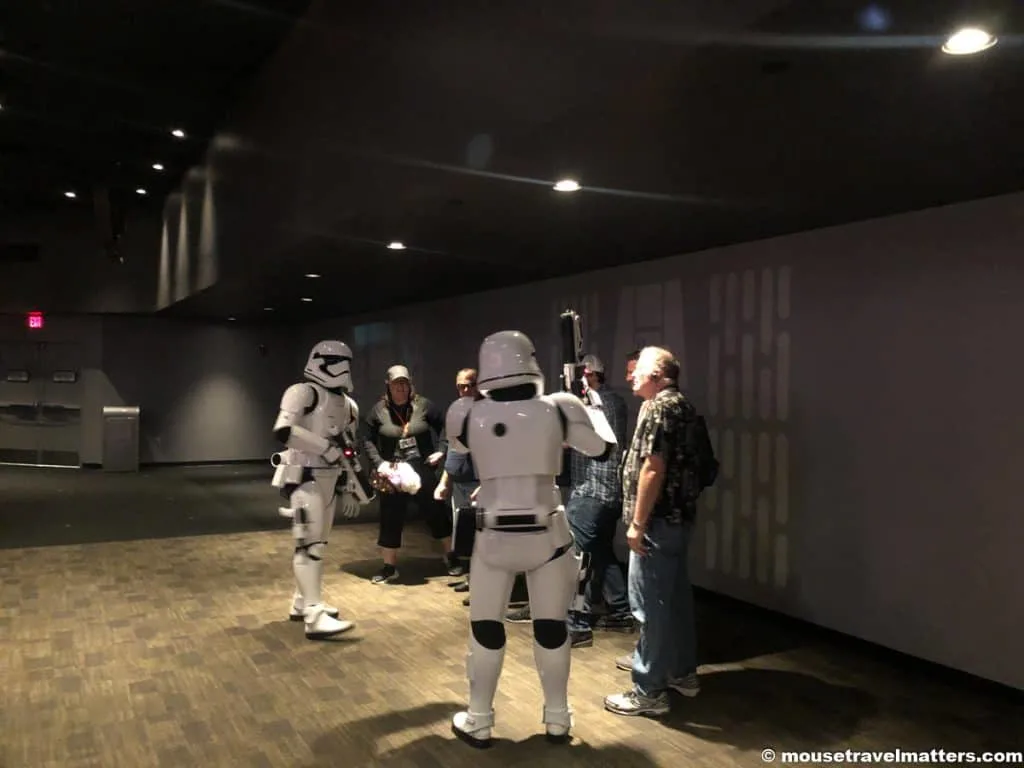 Path of a Jedi: Although the order of tour activities may vary depending on the day, one part of the morning will be spent watching a park-exclusive movie called "Path of a Jedi". Tour participants are given front row seating in the ABC Sound Studio theater as they then enjoy the 10-minute film detailing the history of the Jedi Order throughout the original saga. With various clips from the movies, the film is both familiar yet fresh and exciting. It's also a welcome rest out of the sun and heat!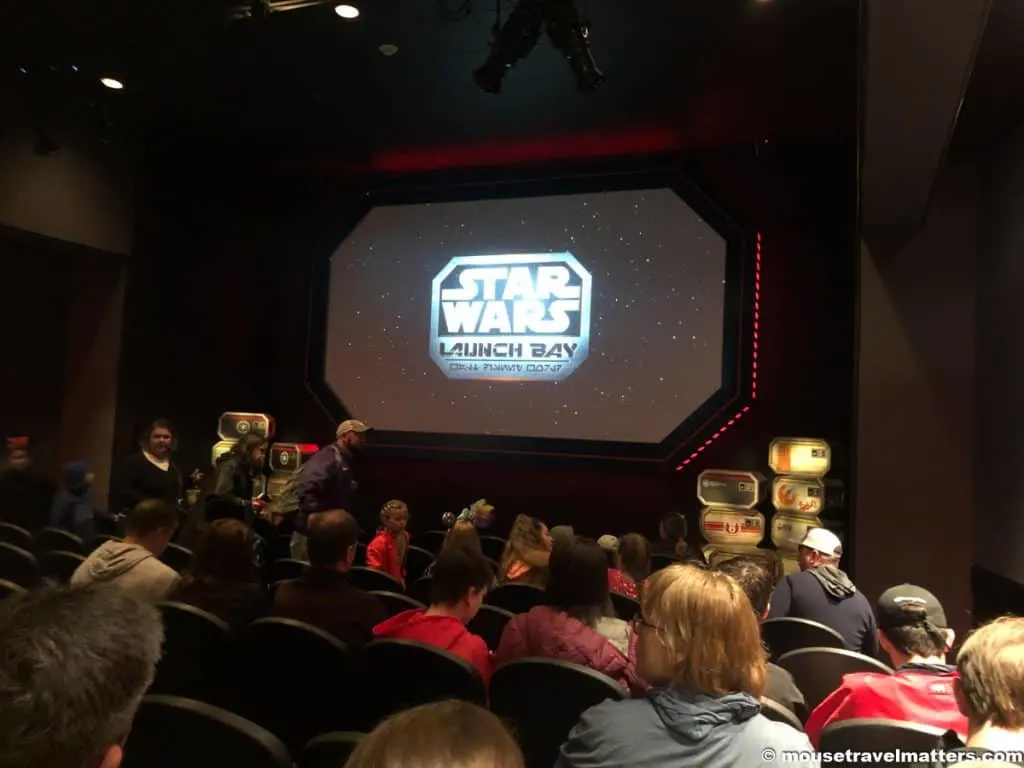 March of the First Order:
Tour participants are given priority viewing for the march along Hollywood Boulevard.
A Galaxy Far, Far Away Stage Performance: Though not originally part of the Star Wars tour, the Galaxy Far, Far Away stage performance is a somewhat newer addition to the tour's list of activities. Following the March of the First Order, the stage performance begins with a selection of clips from all 7 movies being projected on a screen. A handful of your favorite Star Wars characters will then enter the stage to further bring the character experience to life.
Launch Bay Exhibits: A final stretch of your morning will be spent at the Star Wars Launch Bay checking out various exhibits packed full of original Star Wars art work, memorabilia, film replicas, and other artifacts.
This is where the Star Wars character meet and greets, displays, and such are.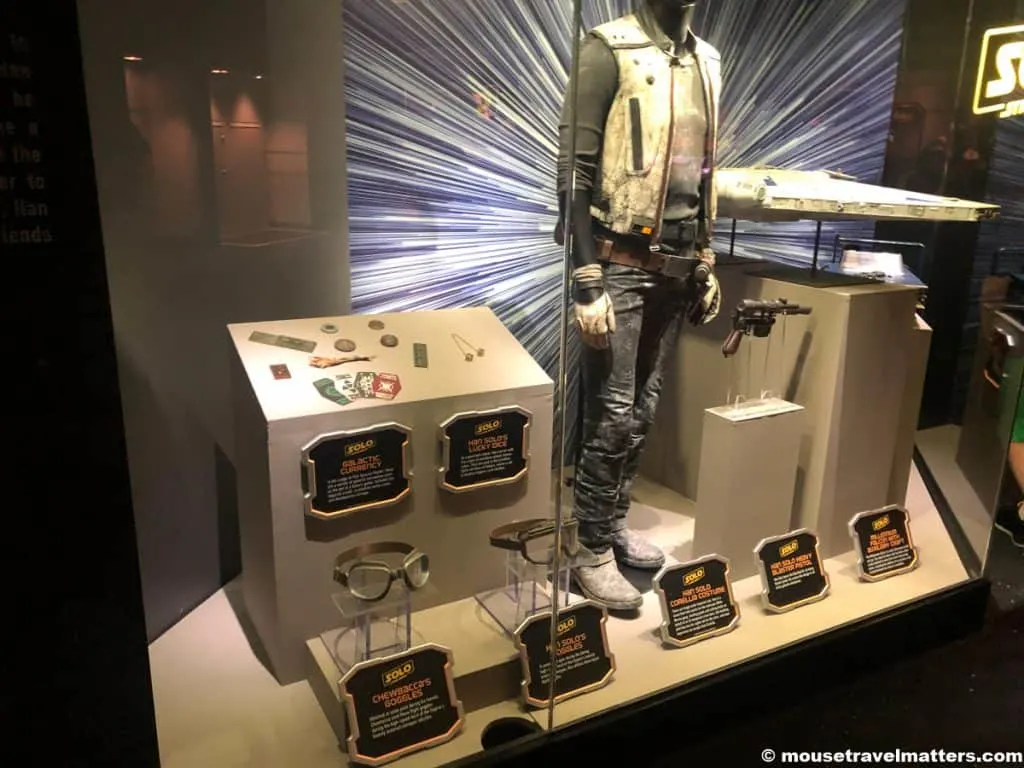 Backlot Express Lunch: After a jam-packed morning full of lots of walking and standing, you'll have worked up an appetite.
Stormtroopers interact with guests during lunch at Backlot Express.
Jedi Training: After lunch, Padawans ages 4-12 are recruited to join the Jedi Academy to train and defeat the Dark Lord himself. Padawans especially strong with the Force might even get to take on Kylo Ren as well. Adults will spend this time either exploring the area on their own and/or taking a seat to watch the Jedi Training.
A Galactic Spectacular Nighttime Show:
For the guided tour, you get priority seating for the outdoor show only, but no dessert is offered. If you'd like to enjoy the dessert party with the nighttime show, you'll have to reserve additional tickets for this separate event on another night

So is the Star Wars Guided Tour really worth the high cost of the ticket?
Keep in mind you and the rest of the tour group will be able to skip the lines at Star Tours and to meet the characters without using your own Fastpass+, guarantee your kids age 4 through 12 one of the coveted spots in Jedi Training, have the best location in the park to see the Star Wars shows and fireworks without having to wait, receive a personalized name tag in addition to another special souvenir, dine on a Star Wars themed entrée and drink of your choice, all while being entertained and educated on the Star Wars Universe by one of Disney's top-notch guides.
For die-hard Star Wars fans, I would say the answer to that question is a definite YES!
Your Thoughts...
Please share your thoughts in the comments or reach out on social media...We would love to hear from you.
Follow Mouse Travel Matters for Disney Parks news, the latest info and park insights, follow MTM on Twitter, Facebook, and Instagram.
You May Also Like…