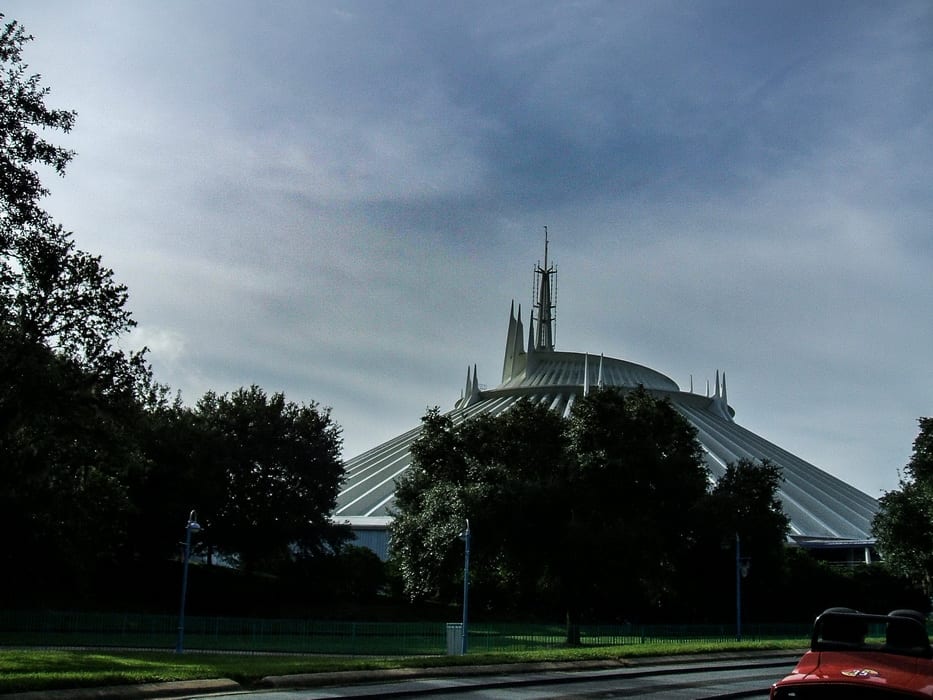 Magic Kingdom Information
Magic Kingdom Rides and Attractions
Characters and Entertainment
Magic Kingdom Lands
Tomorrowland Attractions
Buzz Lightyear's Space Ranger Spin
Monsters, Inc. Laugh Floor
Astro Orbiter
Space Mountain
Stitch's Great Escape!
Tomorrowland Speedway
Tomorrowland Transit Authority PeopleMover
Walt Disney's Carousel of Progress
Tomorrowland Restaurants
Auntie Gravity's Galactic Goodies – Ice cream, smoothies, sundaes
Tomorrowland Terrace
Cosmic Ray's Starlight Cafe
Frozen Treats Cart
Joffrey's Revive
The Lunching Pad
Tomorrowland Shopping
Mickey's Star Traders
Merchant of Venus
Popcorn Cart
Tomorrowland Light & Power Co.
Tomorrowland Speedway License Photo Booths
Tomorrowland Overview
Tomorrowland was originally designed to portray Disney's view of the future. The only trouble with futuristic views is that they need frequent updating.
In the 90's, Disney chose a different tactic and renovated Tomorrowland to depict the future as described by sci-fi writers from the 1920's and 1930's. With this imaginative decor, Tomorrowland is the "Future That Never Was."
Two of Disney's most popular attractions are found in Tomorrowland. Thanks to its incredible theming, Space Mountain is not to be missed. Since 1975, this ride through space always has a long wait and remains a park favorite.
The other "must do" is Buzz Lightyear's Space Ranger Spin. This ride puts you in the middle of a gigantic arcade game and is fun for guests of all ages.
The TRON Lightcycle Power Run Rollercoaster, the highest rated attraction at Shanghai Disneyland, is coming to Tomorrowland in a brand new area near Space Mountain. The new attraction is set to open in time for Walt Disney World's 50th Anniversary celebration in 2021!

Right behind the Buzz attraction is the Monsters, Inc. Laugh Floor. Same as Buzz, this is great for all ages. It can accommodate a lot of guests which minimizes wait time and you can't beat taking a break from the heat by sitting and laughing.
Stitch's Great Escape is part of Tomorrowland. It's a retrofit of the very scary "Alien Encounter." While not as frightening, it still has elements that make it a bad choice for little kids. Stitch's Great Escape is now a seasonal attraction.
Finally, in a bit of a paradox, one of Disney's oldest attractions is found in Tomorrowland. Disney's Carousel of Progress featured in the 1964 New York World's Fair is located here.

Tomorrowland has several snack and counter service venues. Cosmic Ray's has tons of indoor seating, entertainment and a menu that offer more choices than most of the other counter service destinations. The Lunching Pad offers turkey legs, snacks and frozen drinks. If you're looking for a cool treat, Auntie Gravity's Galactic Goodies offers a selection of ice cream and floats.
Tomorrowland Entertainment
Tomorrowland Videos