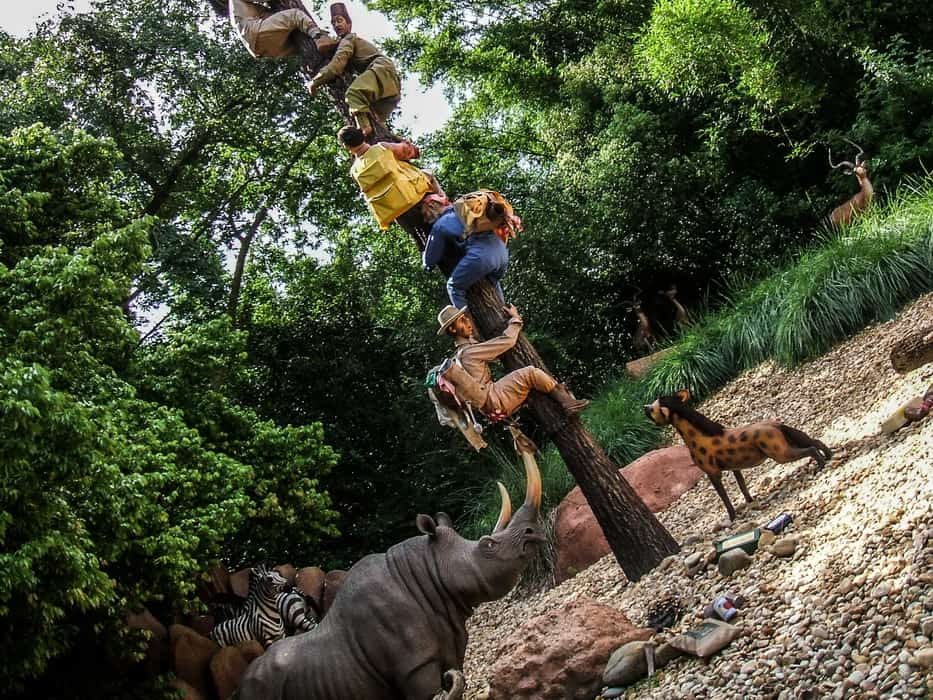 Adventureland in Magic Kingdom at Walt Disney World has some of the most popular Disney attractions i.e.. Jungle Cruise and the Pirates of the Caribbean ride.
Magic Kingdom Information
Magic Kingdom Rides and Attractions
Characters and Entertainment
Magic Kingdom Lands
Adventureland Attractions
Jungle Cruise
The Magic Carpets of Aladdin
Pirates of the Caribbean
Swiss Family Treehouse
Enchanted Tiki Room
A Pirate's Adventures: Treasures of the Seven Seas
Adventureland Restaurants
The Jungle Navigation Co. Ltd. Skipper Canteen
Tortuga Tavern
Sunshine Tree Terrace
Aloha Isle
Adventureland Shopping
Agrabah Bazaar – Clothing and costumes. Aladdin souvenirs
Bwana Bob's – Ear headbands, hats, jewelry, toys, and bags
Island Supply Sunglass Hut – High-end sunglasses
Pirate's Bazaar – Pirates of the Caribbean merchandise, candy, sunglasses, hats, and accessories
Zanzibar Trading Company
Adventureland Overview
From Main Street, U.S.A., you enter Adventureland by crossing a wooden planked bridge. One thing you notice about this section, the walkways where you first enter tend to be narrow and congested.
Fortunately, Adventureland has two of the Magic Kingdom's most popular attractions; the Jungle Cruise and Pirates of the Caribbean.
There's a fun Pirate Tutorial that takes place throughout the day. Other characters often found in Adventureland are Peter Pan, Wendy, Captain Hook, Aladdin, Jasmine, Genie, Rafiki, Timon, Tinker Bell, and Goofy. (Check the Times Guide.) If watching pirates isn't enough for you, you can become a pirate yourself at The Pirates League. Make an appointment and you can experience a pirate makeover including makeup, a costume, and even your own pirate name!
A Pirate's Adventure: Treasures of the Seven Seas is an interactive game in which guests will use pirate maps and "magic talismans" as they compete to become members of Captain Jack's pirate crew.
Arguably one of the best features at Adventureland is the Aloha Isle. This is one of the only spots in all of Walt Disney World where you can purchase the very popular Dole Whip soft serve pineapple flavored ice cream.
As you can see, Adventureland is sort of a mishmash of themes. You can climb a tree, fly over the desert, explore the jungle, sail on the high seas and visit a tropical island where birds talk and sing. No matter which adventure you choose, it's a fun area to visit.
Adventureland Videos
Your Thoughts...
Please share your thoughts in the comments or reach out on social media...We would love to hear from you.
Follow Mouse Travel Matters for Disney Parks news, the latest info and park insights, follow MTM on Twitter, Facebook, and Instagram.
You May Also Like…