Last Updated on October 28, 2019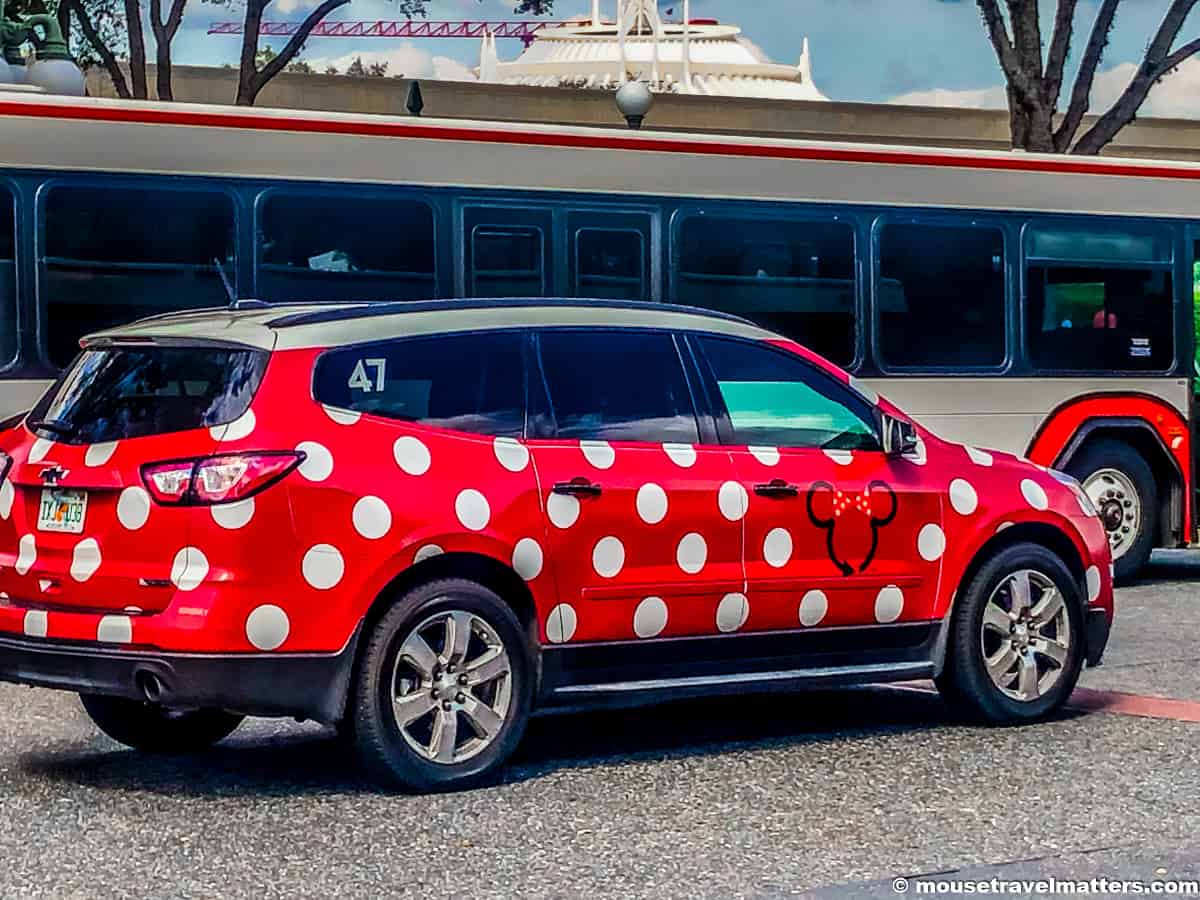 Disney World has a free transportation network of buses, boats and the monorail, you rarely need to use a Minnie Van to get around.
Minnie Van Service at Walt Disney World
Sometimes, you want a direct, private ride.
The Minnie Vans are able to transport guests anywhere on the Walt Disney World property and to and from the Orlando International Airport. One of the biggest issues many guests have regarding Disney transportation is the amount of time it takes when traveling from one resort hotel to another using Disney buses.
Request Minnie Vans Via the Lyft App
There are many people who are distrustful of these ride-sharing services. They have their pros and cons. But Minnie Vans are somewhere nice between a Taxis and a Limo. They are designated drivers, vetted by Disney, and are considered "traveling in style" type of service.
Minnie Vans can be hailed/requested like a Taxis, and yet you have the feeling of being in control like you would by using Lyft/Uber. Especially when it comes to getting price quotes. I dislike not knowing!
You can see an estimate of your trip cost prior to requesting the Minnie Van by using the Lyft app.
How many people can fit in a Minnie Van?
Minnie Vans are perfect for your family vacation, as they can fit up to 6 people, plus luggage.
Minnie Mouse Vans now goes to MCO
Minnie Vans airport shuttle service reservations must be made by calling 407-WDW-PLAY. The service is available to guests staying at any Walt Disney World Resort hotel. Hours of operation for the shuttle service is for flight arrivals 7 a.m.-10 p.m. for flight departures 9 a.m.-12 a.m.
Each Minnie Van can hold up to six passengers and eight medium-sized suitcases. Up to three complimentary car seats can also be provided and ADA accessible vehicles are available.
The cost per vehicle is $150.
And to Port Canaveral, the cost is $240 each way (plus tip) and can be set up by calling Disney Cruise Line Embarkation Services at 1-800-395-9374.
Where can Minnie Vans Go?
Technically, Minnie Vans aren't allowed to leave the Disney campus. This means even Disney owned property outside of "The World" are a no-go.
On the bright side, Minnie Vans are allowed to visit Disney Springs hotels, Good Neighbor Hotels and the sports areas (Mini Golf and ESPN).
What hours do Minnie Vans operate?
Service is available between 6:30 a.m. and 12:30 a.m (subject to change).
How Much do Minnie Vans cost?
Minnie Van pricing has changed from a flat fee of $25 per ride no matter the distance to a base rate of $15 per pick-up, plus a per mile fee that varies based upon demand, but will typically be around $2.75 to $3.00 per mile.
Minnie Vans have complimentary car seats
This is one of the things that make Minnie Vans stand out. All Minnie Vans are equipped with 2 convertible car seats. These seats can be used both as forward-facing or rear-facing car seats or as a booster seat (both with and without the back).
What car seat models can I expect in a Minnie Van? Will my child be too big or too small for them?
Disney uses the Graco 4Ever car seat in its Minnie Vans exclusively. Disney guarantees the seats are less than a year old and will replace them if they are ever in an accident.
Easiest Way To Magic Kingdom:
Be strategic with your Minnie Van use. Minnie Vans are best used when they will save you a significant amount of time over Disney transportation.
Minnie Vans are handi-friendly:
Guests needing an Accessible Minnie Van can request one by calling (407) 828-3500. Requests for accessible Minnie Vans can be made 45-60 minutes ahead of time however, because of the limited number available, the wait for the accessible vans may be a bit longer.
Expect a Bit of a Wait
Like anything, just because you hailed a Minnie Van, doesn't mean it will appear immediately. There can be wait times about 5-15 minutes.
You're Paying for a Luxury Item
While the cost of a Minnie Van doesn't compare to that of your standard Lyft/Uber, or even taking the complimentary Disney transportation, there is something to be said about convenience.
Not only are you provided with a safe and clean (and free) car seat for your children, but you can have the perks of self-driving without the cons of actually driving yourself.
Hello Epcot, goodbye designated driver.
Tipping your Minnie Van Driver
Disney Minnie Vans are driven by Cast Members and not your typical Lyft driver. This means they have an hourly salary, regardless of the number of jobs they run. However, rumour has it that their salary is based on the expectation of tips.
Oh, tip culture. How we loathe thee.
Disney has announced that Minnie Van drivers are allowed to accept tips from guests so if your ride was especially amazing, feel free to leave a few extra dollars.
Your Thoughts...
Please share your thoughts in the comments or reach out on social media...We would love to hear from you.
Follow Mouse Travel Matters for Disney Parks news, the latest info and park insights, follow MTM on Twitter, Facebook, and Instagram.
You May Also Like…