Last Updated on May 11, 2022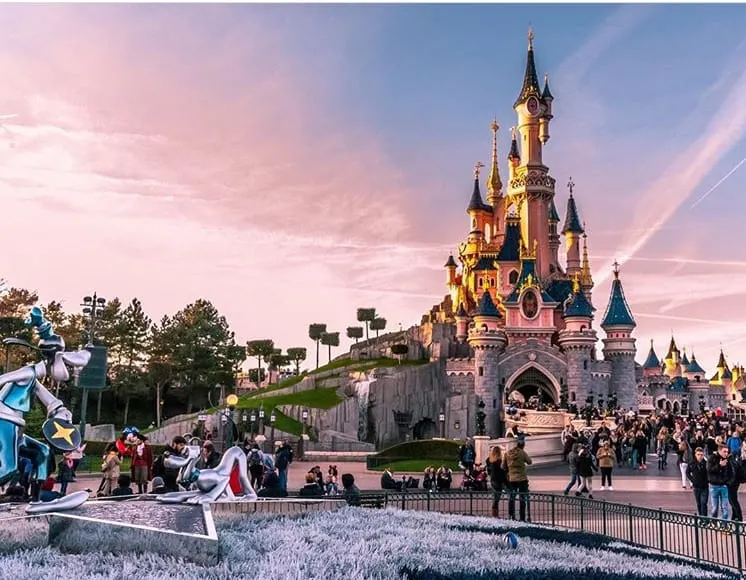 Earlier this year, Disneyland Paris introduced a paid "Disney Access One" trial program, which gave people one-time Fastpass-style access to select attractions. Now Disneyland Paris is rolling out a tiered pay-for-play line-skipping system that actually uses the "Super Fastpass" name.
The new range of paid Fastpasses coming October 15:
Super Fastpass with Family or Big Thrills (€30 low season and €45 high season) – This gets you 3 extra Fastpass tickets, only to be used once per attraction; Peter Pan's Flight, Buzz Lightyear Laser Blast and Ratatouille – L'Aventure Totalement Toquée de Rémy.
Le Super Fastpass Attractions à Sensations Fortes / Super Fastpass Big Thrills (€30 low season and €45 high season) Like the name suggests this selection is for guests that prefer more thrilling rides. They will be available for Star Wars Hyper Space Mountain, Rock 'n' Roller Coaster avec Aerosmith and The Twilight Zone Tower of Terror.
Fastpass Toutes Attractions Accès Rapide / Ultimate Fastpass One Time Access ( €60 low season and €90 high season) Access to 9 attractions, this selection allows guests to ride everything in the Superfastpass tiers, as well as Big Thunder Mountain, Star Tours : l'aventure continue and Indiana Jones et le Temple du Péril.
Fastpass Toutes Attractions Accès Illimités / Ultimate Fastpass Unlimited Access (€120 low season and €150 high season) with this tier, you get all 9 attractions, but instead of being limited to one ride each, you get unlimited access to all 9 rides.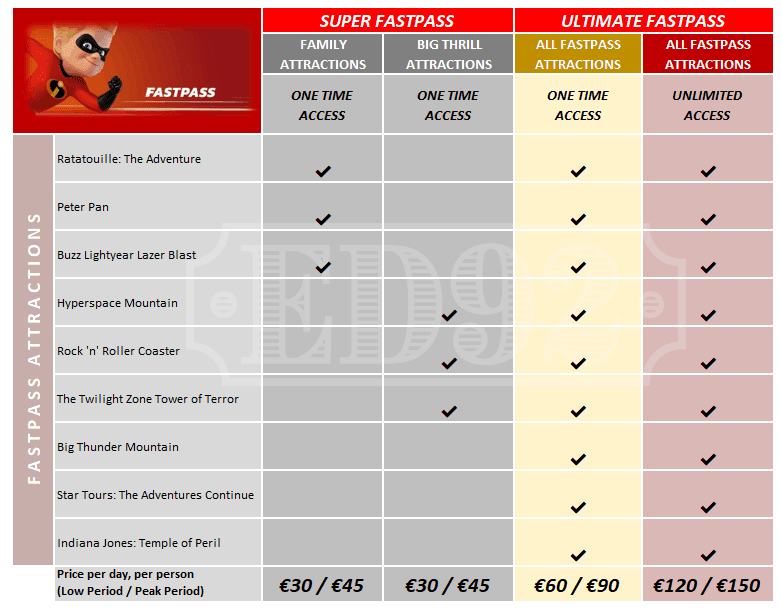 Limited numbers and available on select days

You will note that not all days are available for purchasing Superfastpasses. Also, when making your touring plan and budgeting all expenses, keep an eye that Red is High season and Yellow is Low.

According to the press release, Superfastpasses can be purchased up to 2 days in advance from either the website or calling Disney themselves to make the reservations. It is possible to purchase on the day of if there is stock available.
The regular, free, FASTPASS service is not being discontinued and will run as normal alongside this program. Disney theme park admission is required in addition to the paid Fastpass tickets.
Great news for onsite guests!

Discounts for Annual Pass Holders
Annual Pass holders will receive discounts on the new paid Fastpasses. Discounts for Annual Pass holders are 15% for Infinity and 10% for Magic+.
Is it excessive?
Yes and no. We're not used to it in Disneyland Paris but I've been to plenty of other theme parks where they offer the same thing for the same price. So general theme park wise speaking, it's actually a normal price.
I think if I was doing a solo trip during peak season I'd consider getting the ultimate one on one day – but as a family of four, there's no way I could ever justify 600euros a day just to skip the queues! I think the only people who will buy the FastPass are those with limited time in the parks, if they are going at a busy time or only have one day there and want to do all the FastPass rides that are open.
Your Thoughts...
Please share your thoughts in the comments or reach out on social media...We would love to hear from you.
Follow Mouse Travel Matters for Disney Parks news, the latest info and park insights, follow MTM on Twitter, Facebook, and Instagram.