Last Updated on February 23, 2022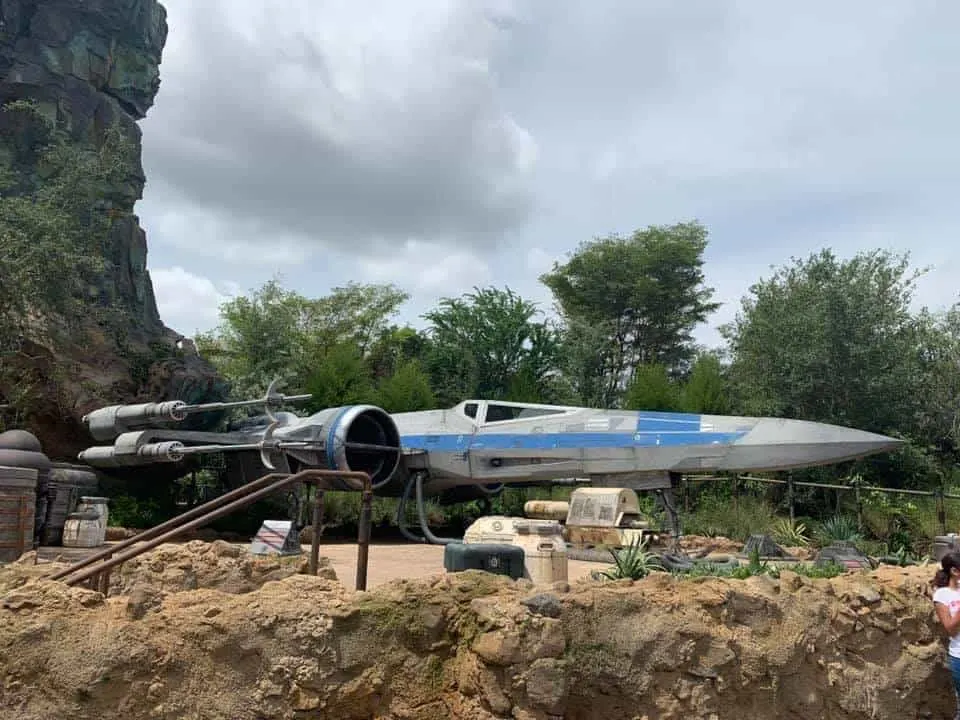 I'm giving you a complete overview of Star Wars: Galaxy's Edge so you will be able to make the most of your visit.
This post may contain affiliate links.
To which I earn a small commission, at zero cost to you!
Find more info in our
Privacy Policy
.
Star Wars: Galaxy's Edge is a totally immersive land, you will feel like you left Disneyland and landed on another planet. One of the coolest things is that all the cast members act as if they truly are residents of Batuu. They even have their own language, here are a few things they say and what they mean:
Bright Suns – Good Morning
Rising Moons – Good Evening
Til the Spire = Farewell
Refresher = Bathroom
Hydrator = Water Fountain
PhotoPass photographers = Imagers
Magic Shots = holograms
The PhotoPass card= unique Image Data Card
Credits = Currency
Star Wars: Galaxy's Edge Index
Breakfast at Star Wars: Galaxy's Edge
Full Menu for Every Star Wars: Galaxy's Edge restaurant
Star Wars Guided Tour
Know Before your go to Star Wars: Galaxy's Edge
Star Wars Rise of the Resistance Height Requirements
Opening Dates for Star Wars: Galaxy's Edge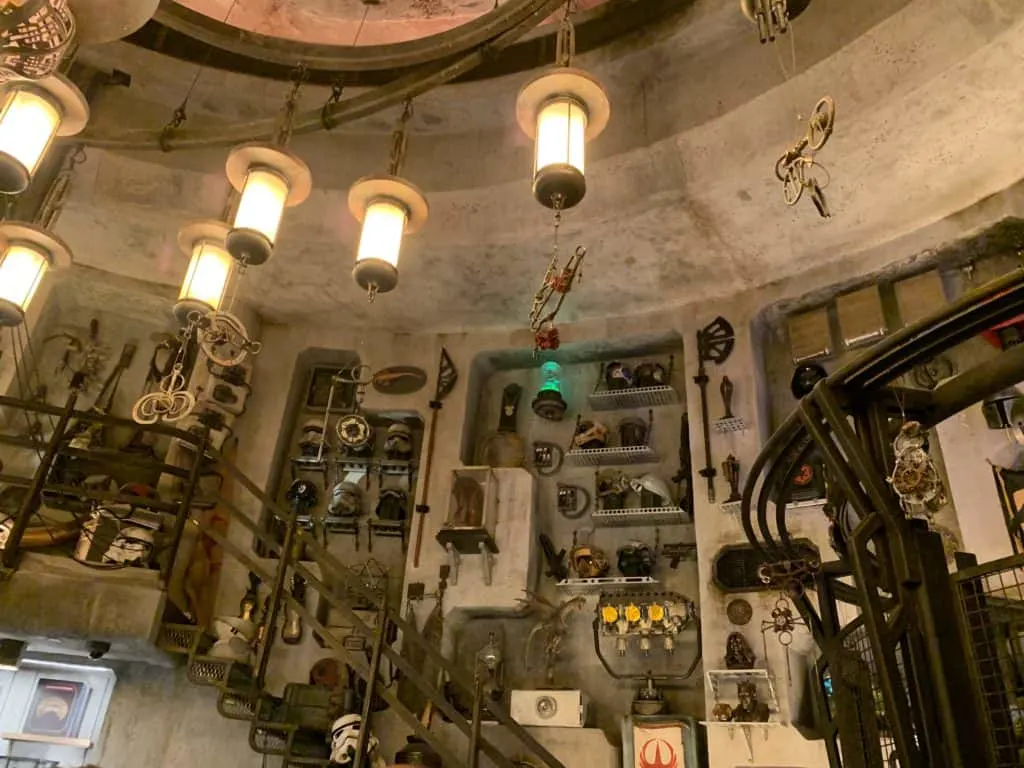 Star Wars Galaxy's Edge at Walt Disney World officially opened to the public on August 29, 2019. There wasn't much in terms of communication to the public about how the park would be opened or how the Cast Members would handle early-birds but the overall opening day went off without a hitch.
Are there differences between Star Wars Land in Disneyland and Disney World?
The Walt Disney World website continues to state that "major offerings will nearly be the same." In fact, the Star: Wars Galaxy's Edge page on Disney World's website is almost identical to Disneyland's page.
As far as we can tell, the land itself is completely identical. The food and merchandise offerings will be identical as well. The only difference we can see as of today is access to Galaxy's Edge.
Disneyland required reservations to get into Galaxy's Edge for the first month and allowed guests to standby for entrance into the attractions and restaurants. At Walt Disney World, land reservations are not required but there isn't much to do if you can't get your hands on one of 3 required reservations for Droid Depot, Savi's Workshop of Oga's Cantina.
Follow us on Instagram for realistic Disney inspiration
Backstory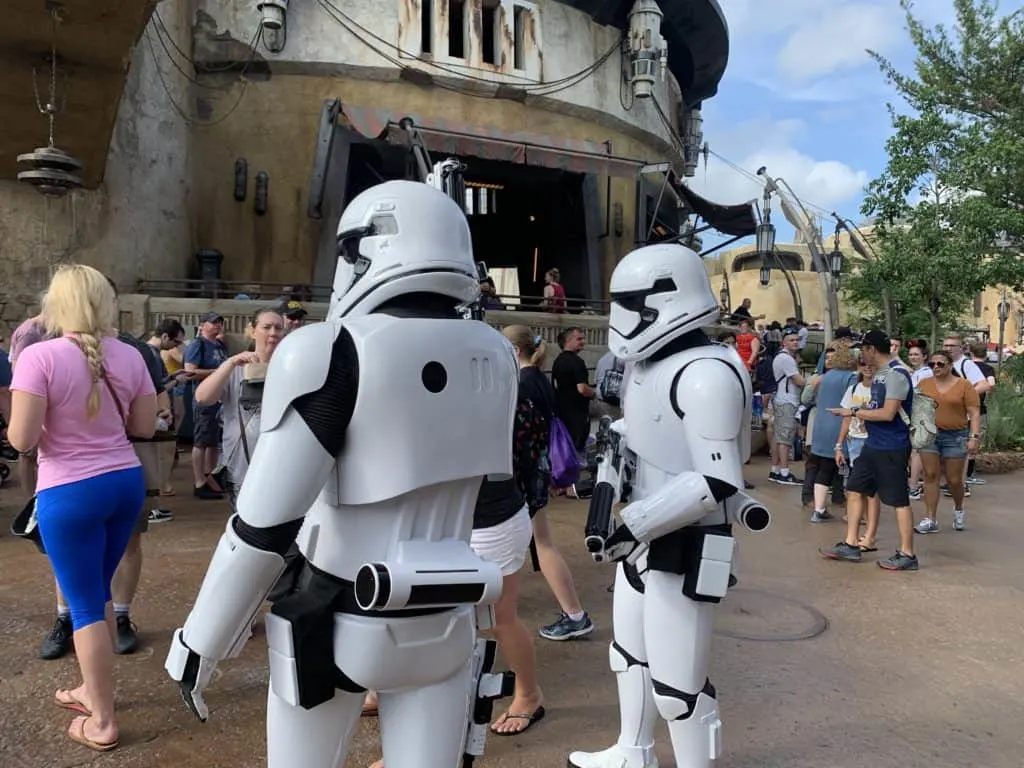 Disney Imagineers and LucasFilm came up with an elaborate Backstory for this single village, on a single planet, in the middle of the Star Wars universe. But before we dive into that backstory, let's ask one important question; why is this even necessary in the first place? Why couldn't they have picked a village or planet that we are already familiar with?
The idea behind a brand new planet is that we are already familiar with the others. We already know what to expect, and we already know that it isn't real. It's just a story from a movie.
The origin story for Batuu is quite simple; The remote planet on the galaxy's edge once served as a busy crossroads along popular trade routes. Batuu was a hub of trade and commerce for the first interstellar explorers heading out into a territory on the edge of uncharted space known as the Unknown Regions. The birth of lightspeed and the rise of hyperspace travel left this once-bustling planet behind.
Trade routes relocated to core galactic planets. This left Batuu on the frontier between the known Star Wars universe and the galaxy's fringe. The decline of the planet left Batuu home to smugglers, pirates, rogue traders, bounty hunters, opportunists, and con artists.
Rides and Dining
There are 2 rides available at Star Wars; Galaxy's Edge – One available on opening day and one a little later in the year. There are also several dining options available for guests between reservations or for those wanting to have a slightly different experience while touring Disney's Hollywood Studios.
Rides
There are 2 attractions slated for Star Wars; Galaxy's Edge.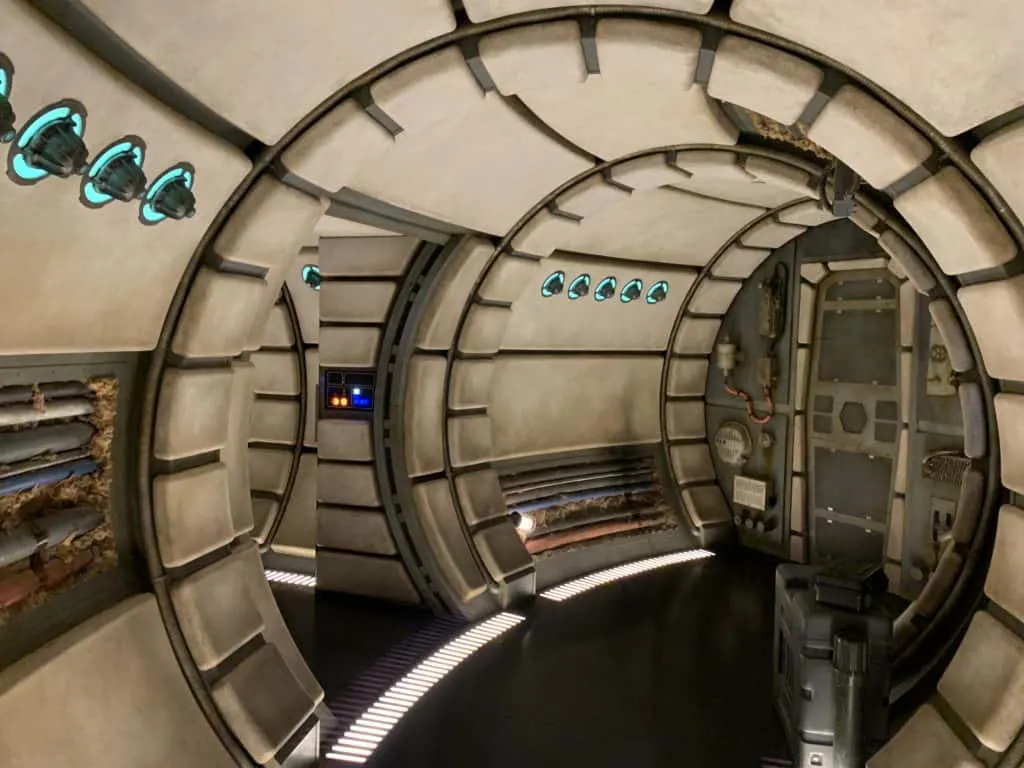 Smuggler's Run is the only ride currently open at Star Wars; Galaxy's Edge, making this a very important ride for many, if not all, Star Wars fans.
The line can get a little long but in the end, it's worth it. There are two lines at the moment; Single Rider and Standby. There is a FastPass lane set up for the future but they have not released when this will open. Single Rider takes between 10-20 minutes to board, and Standby has been listed anywhere from 300 minutes in the mornings to 150 minutes in the late afternoons.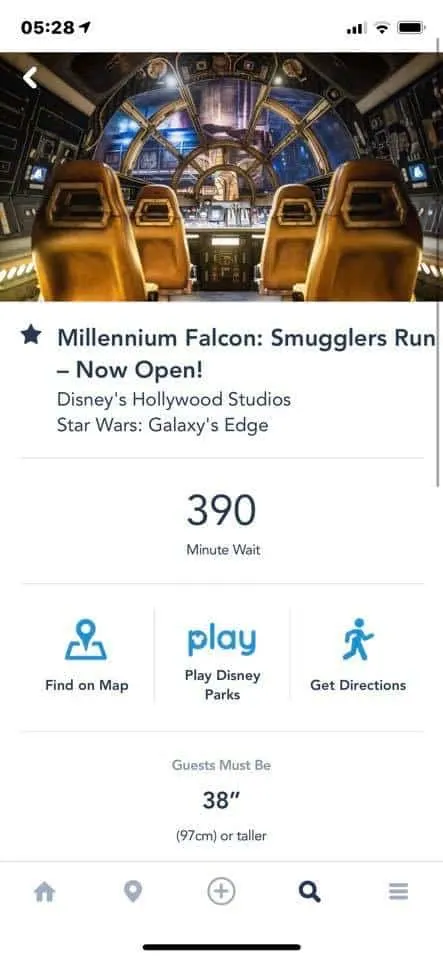 A crew is made up of 6 people, 2 Pilots, 2 Gunners, and 2 Engineers. Each has its own responsibilities and are required to do their share in order to secure the cargo and complete the mission.
Check out our full review of Millennium Falcon; Smugglers Run here
Rise of the Resistance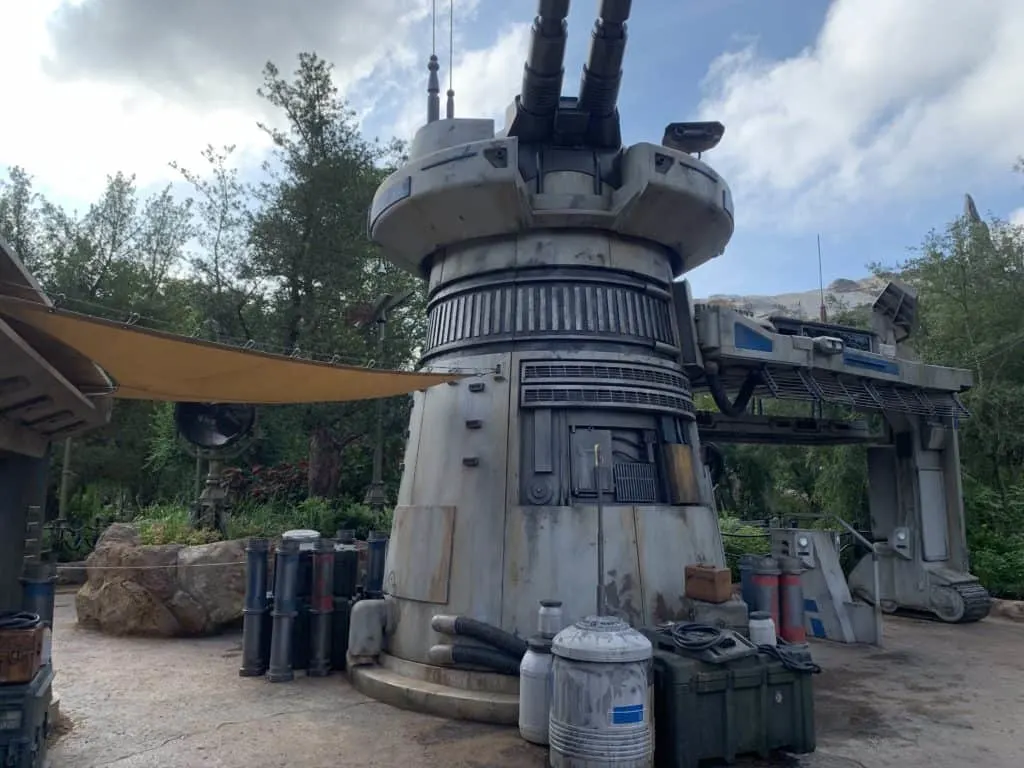 Rise of the Resistance isn't scheduled to open until December 2019 but so far, this is what we have to look forward to.
Dining
It may not look like there is a lot in the way to sustenance in Galaxy's Edge but there are a surprising number of locations where guests can grab a bit to eat or a drink to quench their thirst.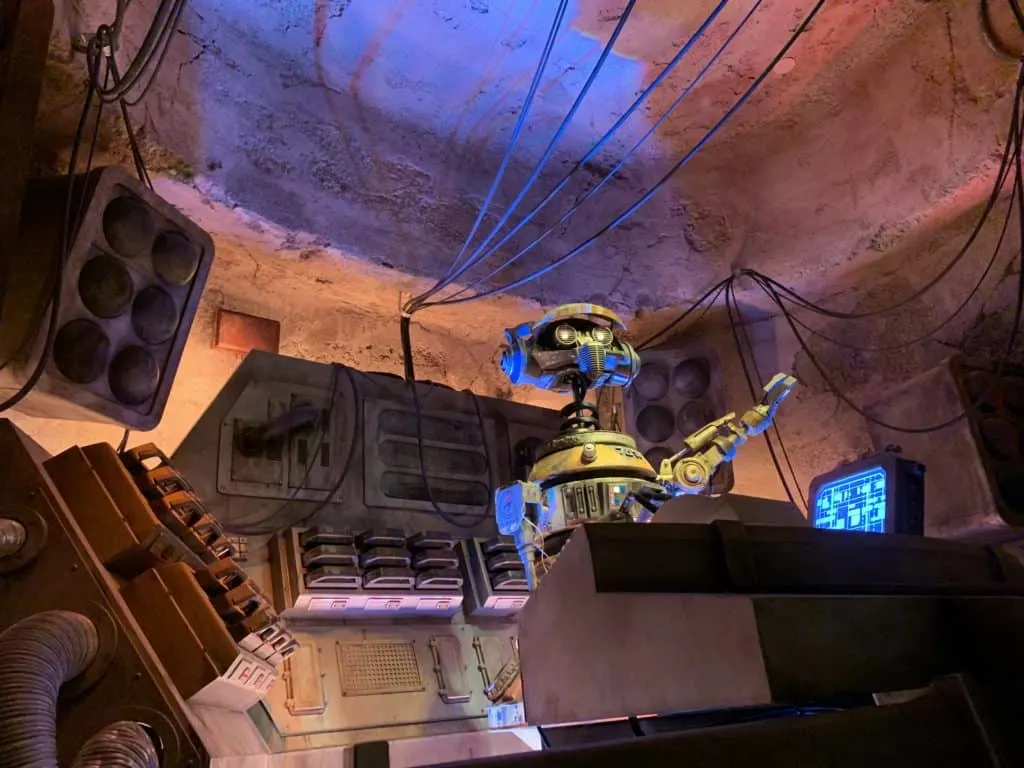 There isn't much to eat here but there is plenty to see and drink. As the only server of alcoholic beverages outside of Blue/Green Milk, Oga's is the place to be. 90% of the lounge is standing area and I can see them reserving the benches for families with small children; as they are not tall enough to use the bar.
There is a happy mix of alcoholic and non-alcoholic beverages, a few traditional drinks like wine, and a few invented concoctions like Fuzzy Tauntaun and Yub Nub.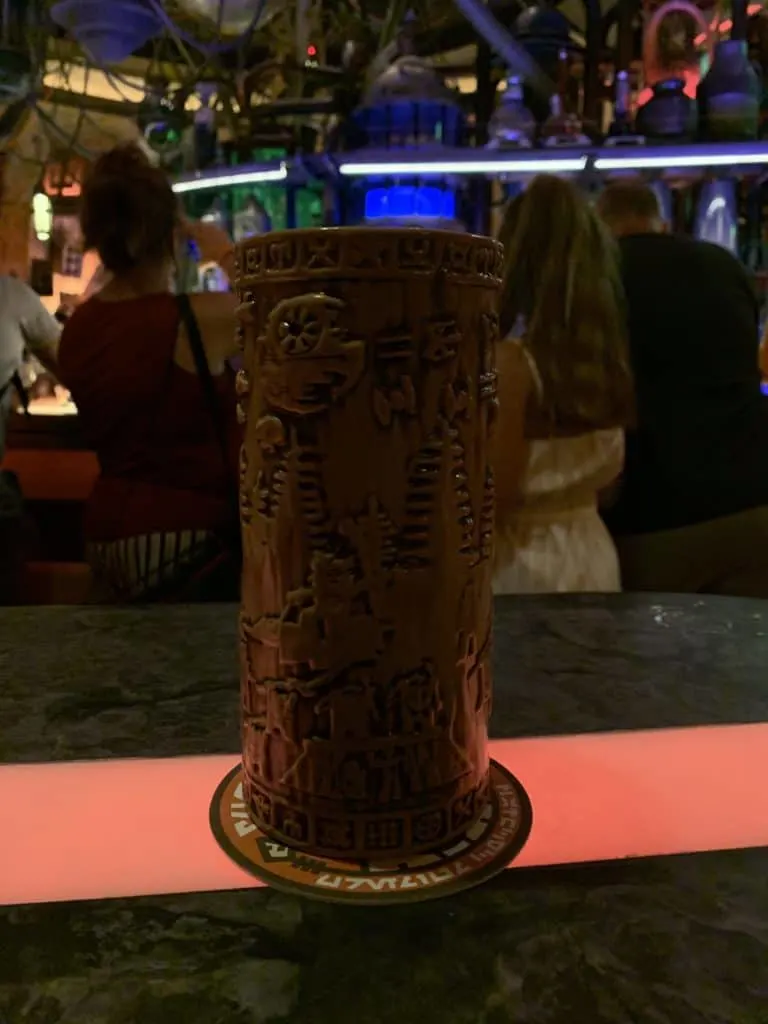 Ronto's Roaster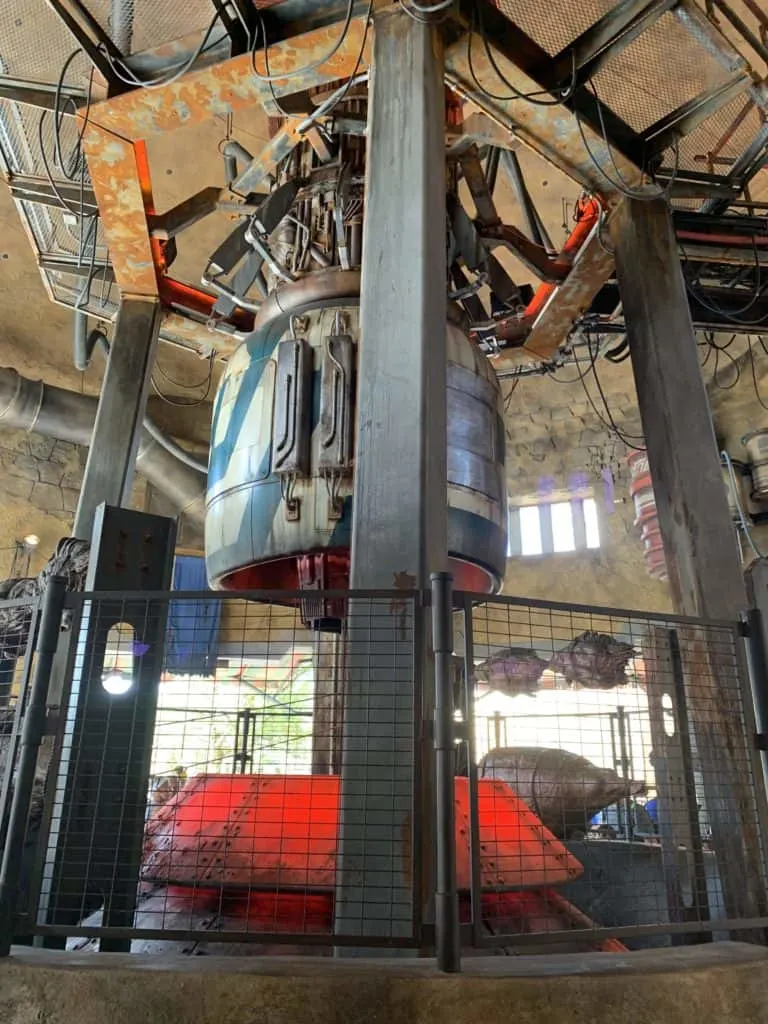 Basically selling hot dogs or Jerky, this vendor is small but busy. Everyone wants to have a bite of the cheapest and easiest item on the menu.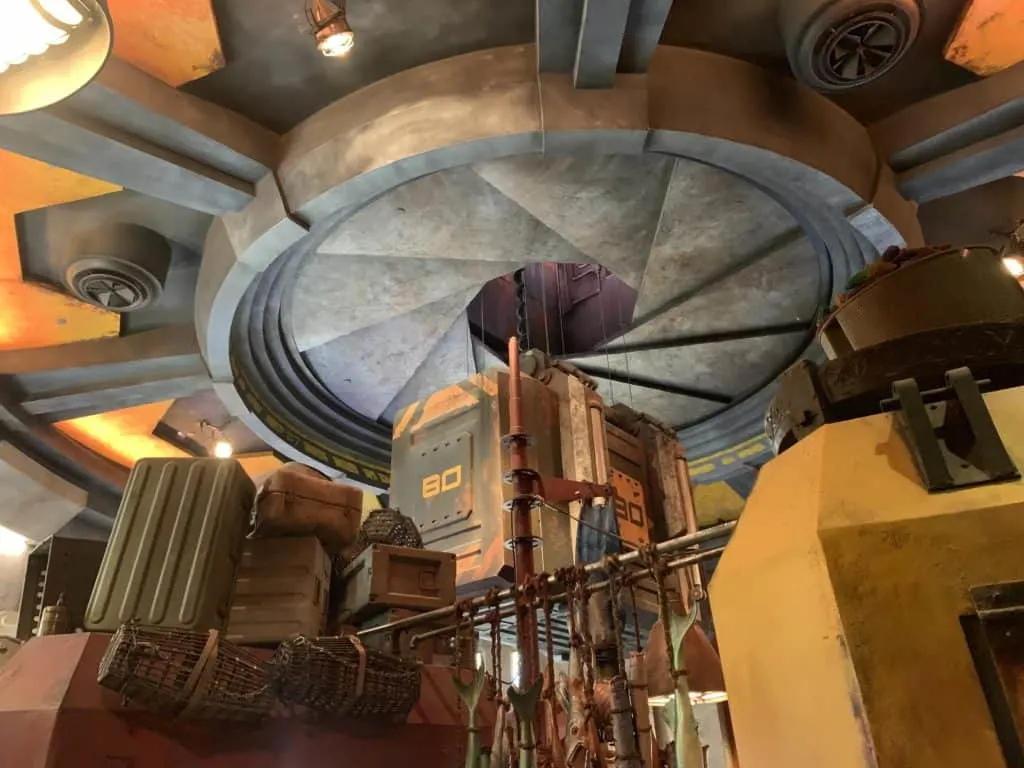 The only full-menu Quick Service location in Galaxy's Edge, Docking Bay 7 can get fairly busy, fairly quickly. The menu items are delicious and it is hard to say which one is the best, but overall the atmosphere is great and you get to try one of their famous Sporks.
Kat Saka's Kettle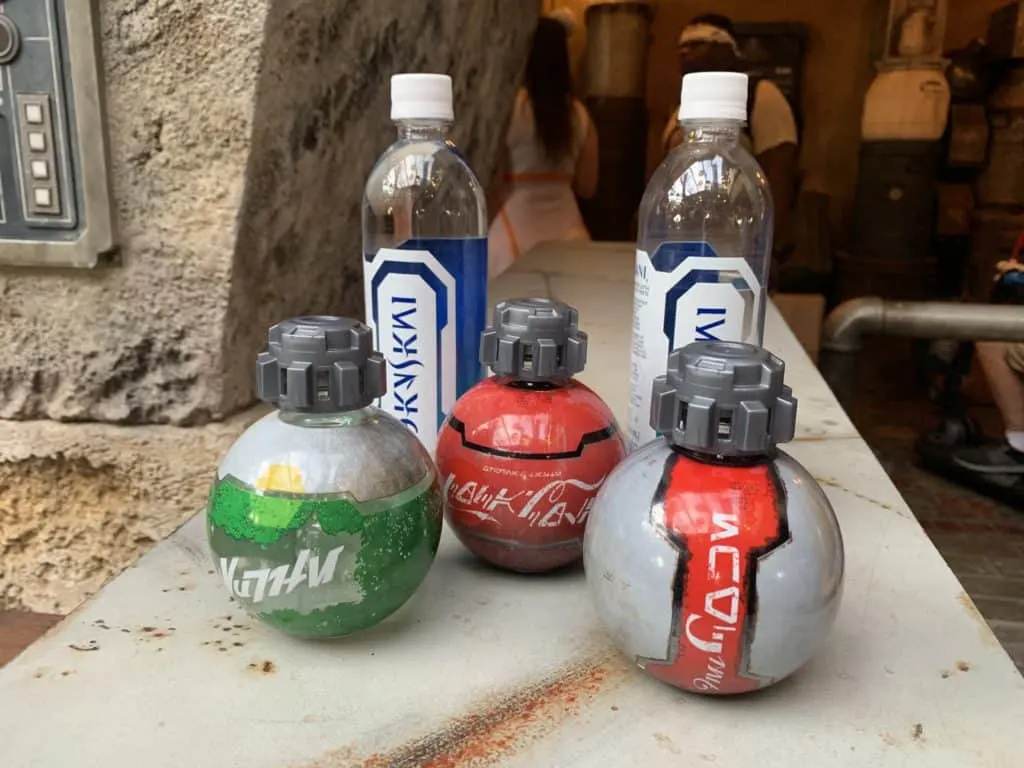 Known across the galaxy for their popcorn, Kat Saka's Kettle also carries Coke and Water. The popcorn is available in a fancy carrying box as well.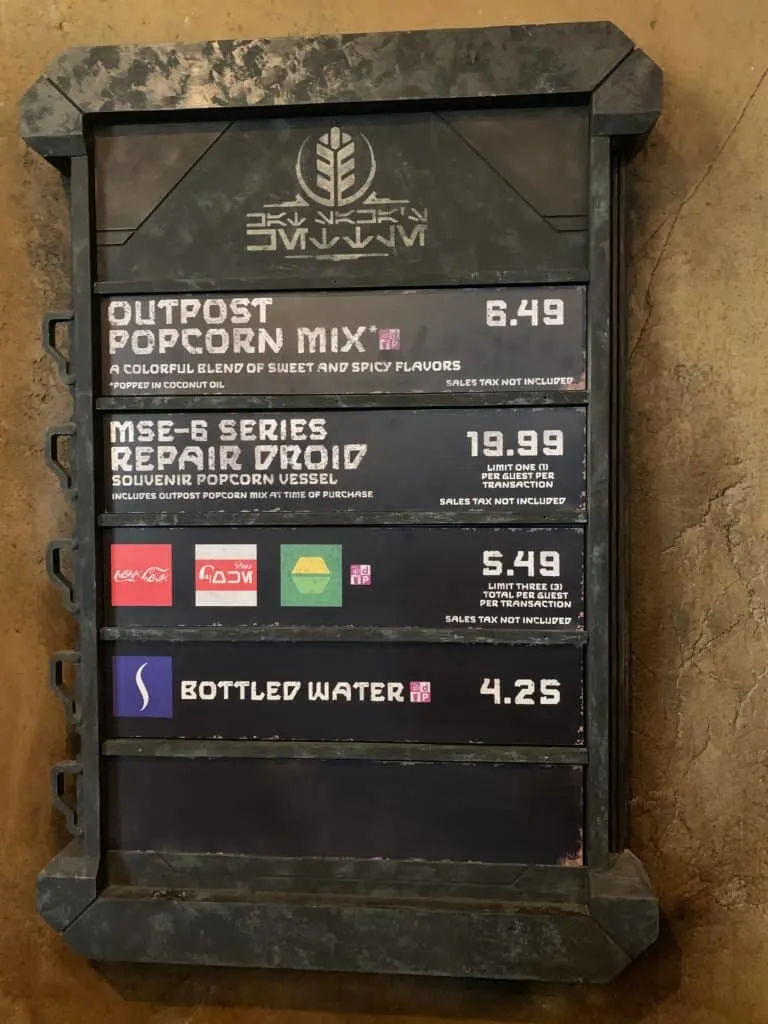 While one usually agrees that popcorn is a poor use for a snack credit, at 6.49$ for a small bag, Star Wars popcorn is the exception to the rule.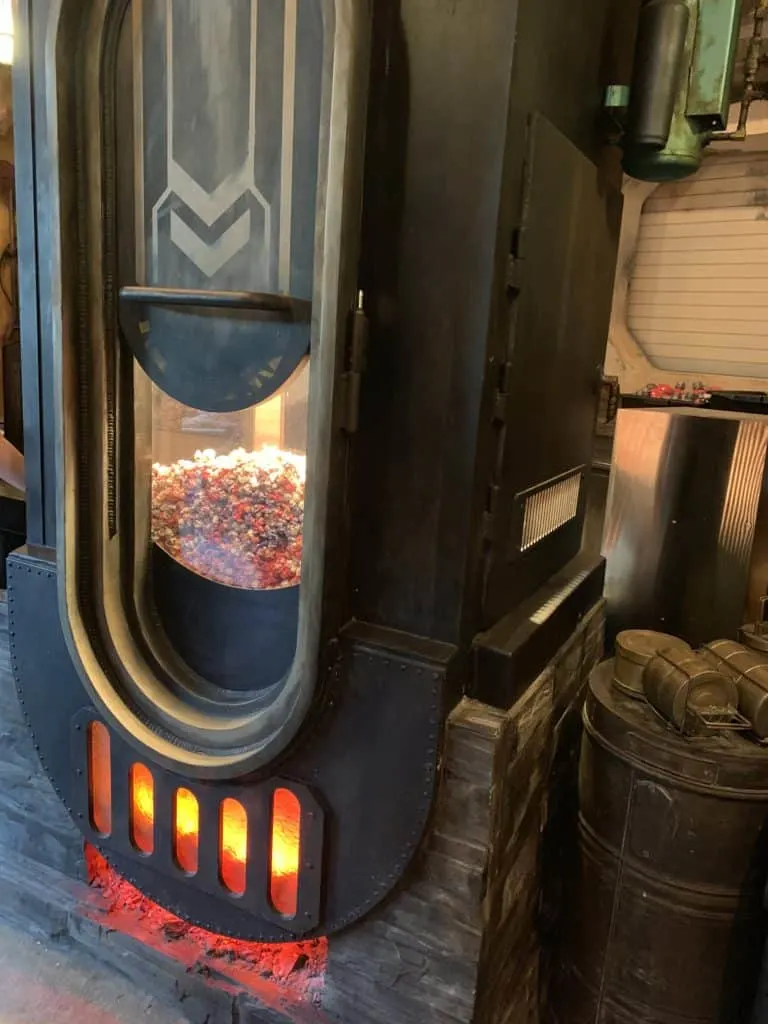 There is also a neat popcorn bucket to go along with your purple and pink popcorn. This is not included with your purchase and can not be used with a snack credit.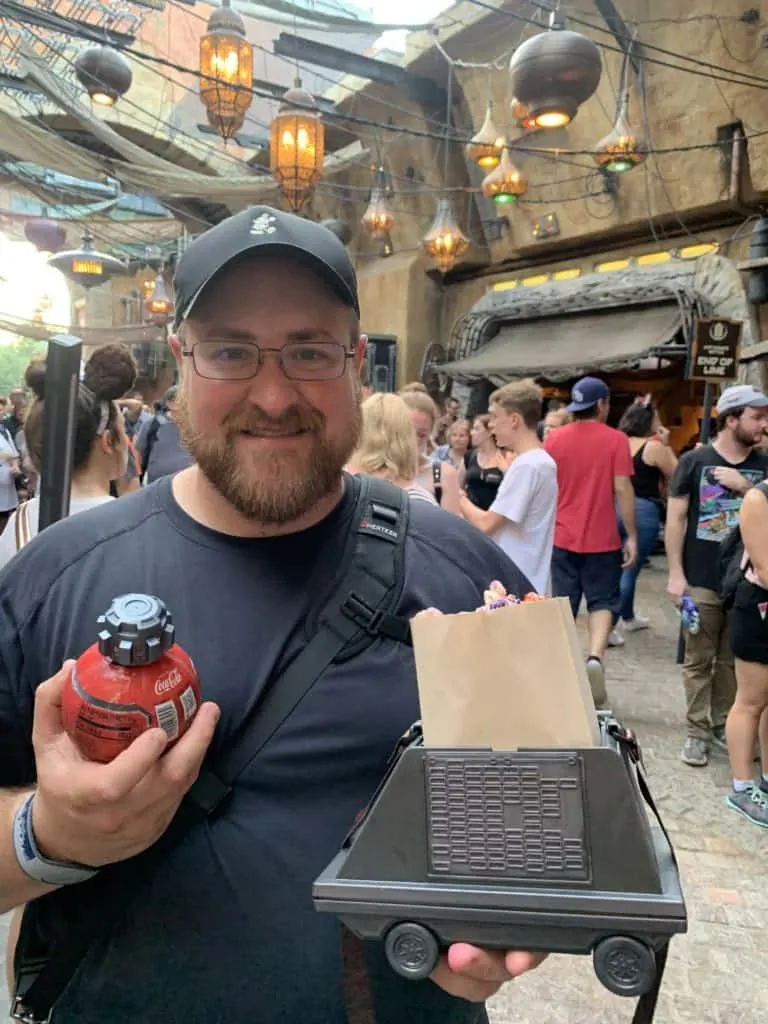 Milk Stand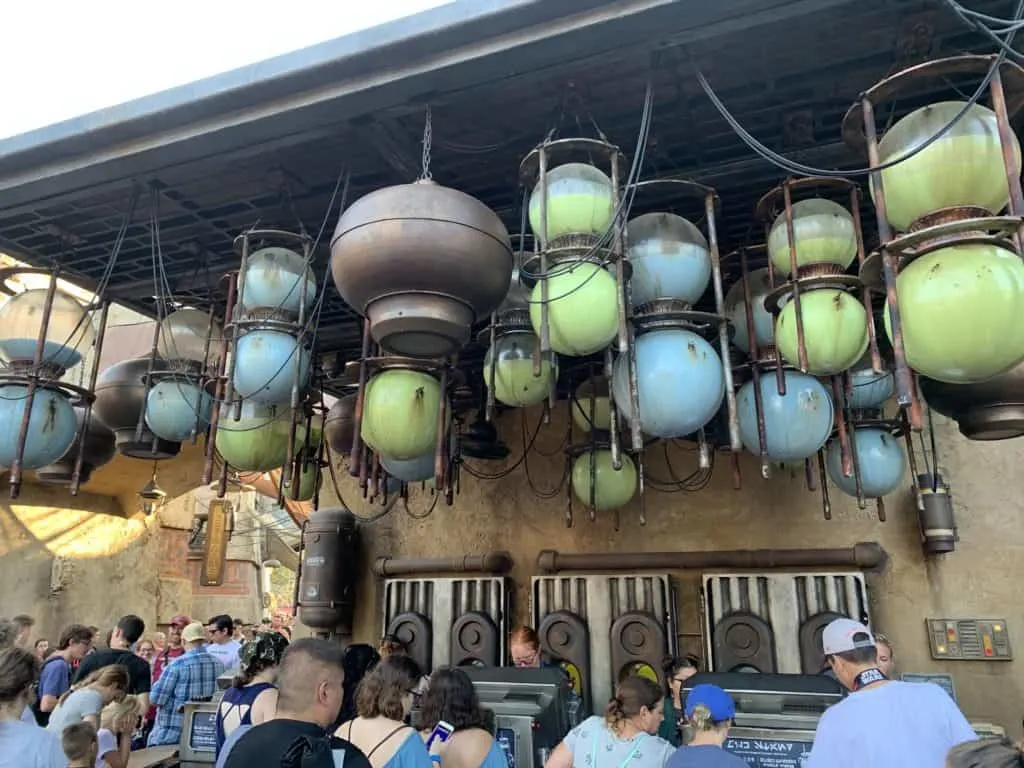 The Milk Stand is a fairly busy spot and the lines do tend to go reach 20 minutes in the mornings. When making your order, make sure to specify if you want the alcoholic version or the non-alcoholic version.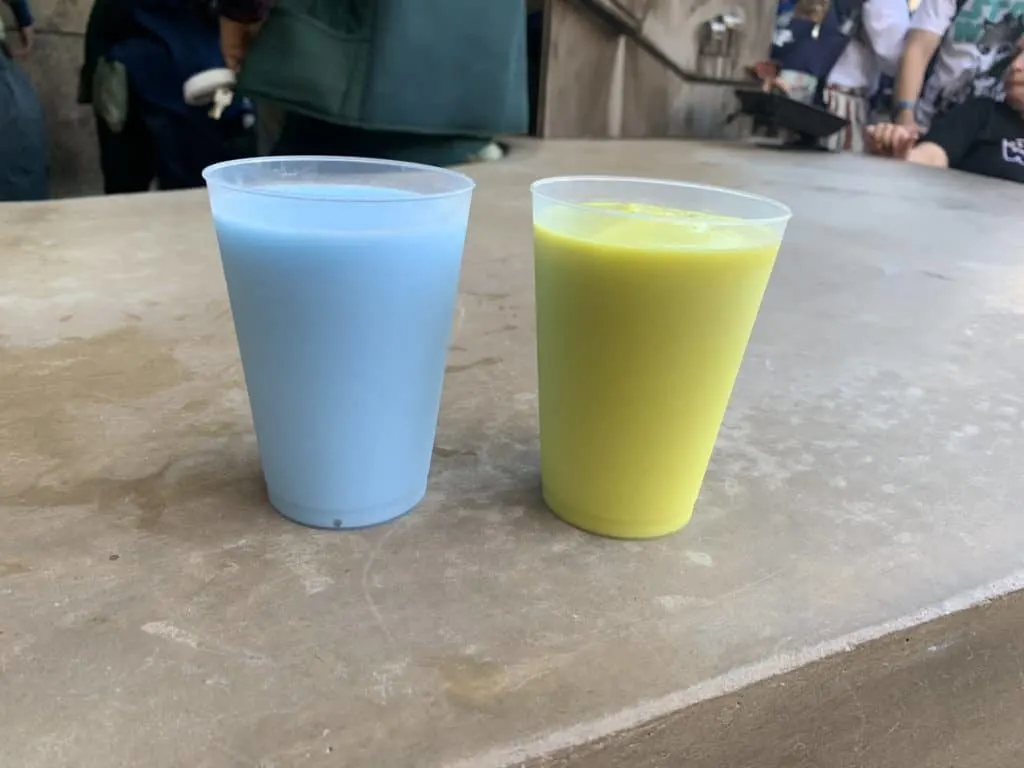 Mobile Food Ordering
Before I talk about more of the food, it's important to stress how convenient and important it is to use mobile ordering. You can place your mobile food order via the Disneyland app. With Star Wars: Galaxy's Edge being so popular mobile order return times may fill up quickly so order your food early. You can schedule your pick-up time for hours later if necessary. You can use mobile ordering at the following locations:
Disney Dining Plan at Star Wars Galaxy's Edge
Docking Bay 7 Food & Cargo
Ronto's Roasters
Milk Stand

Support us by liking our Facebook page
Experiences and Gift Shops
Dok Ondar's Den of Antiquities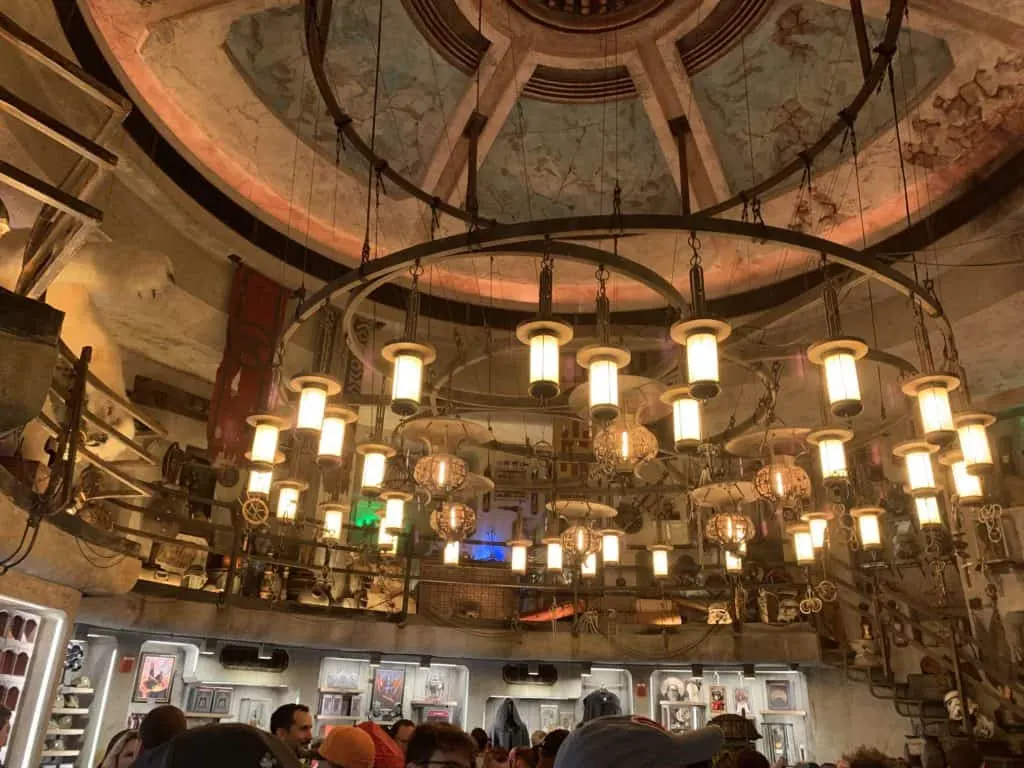 Savi's Workshop (Lightsabers)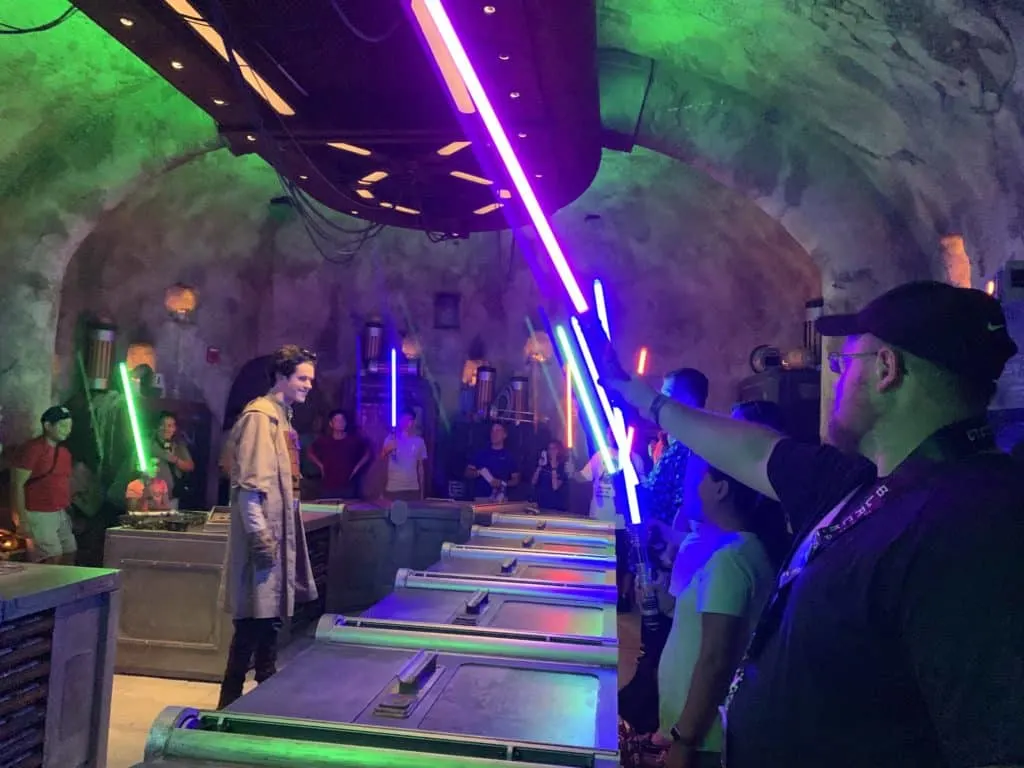 This workshop combines entertainment and retail into a shopping experience. The only way you will be able to see this cool experience is if you shell out the $199 to make a lightsaber. The lightsaber is not a cheap plastic one, the pommel is made of metal and is more of a collector's item. This experience is better for older kids, teens and adults.
The good news is the experience includes a carrying case for your lightsaber so you can protect your investment. You are allowed to bring two members in with you to watch the experience.
Toydarian Toymaker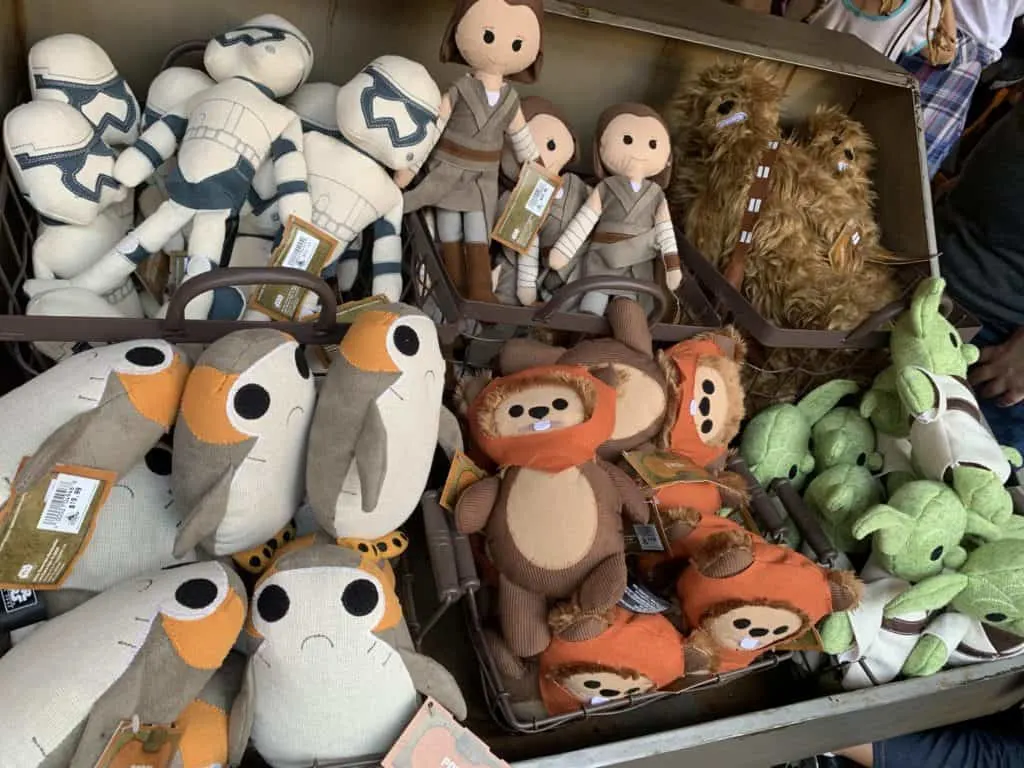 There are so many toys, games, and stuffies here that it is hard to choose which one to buy for the kids and which ones to keep for yourself. Personally, I wanted one of everything because they are so cute.
Mubo's Droid Depot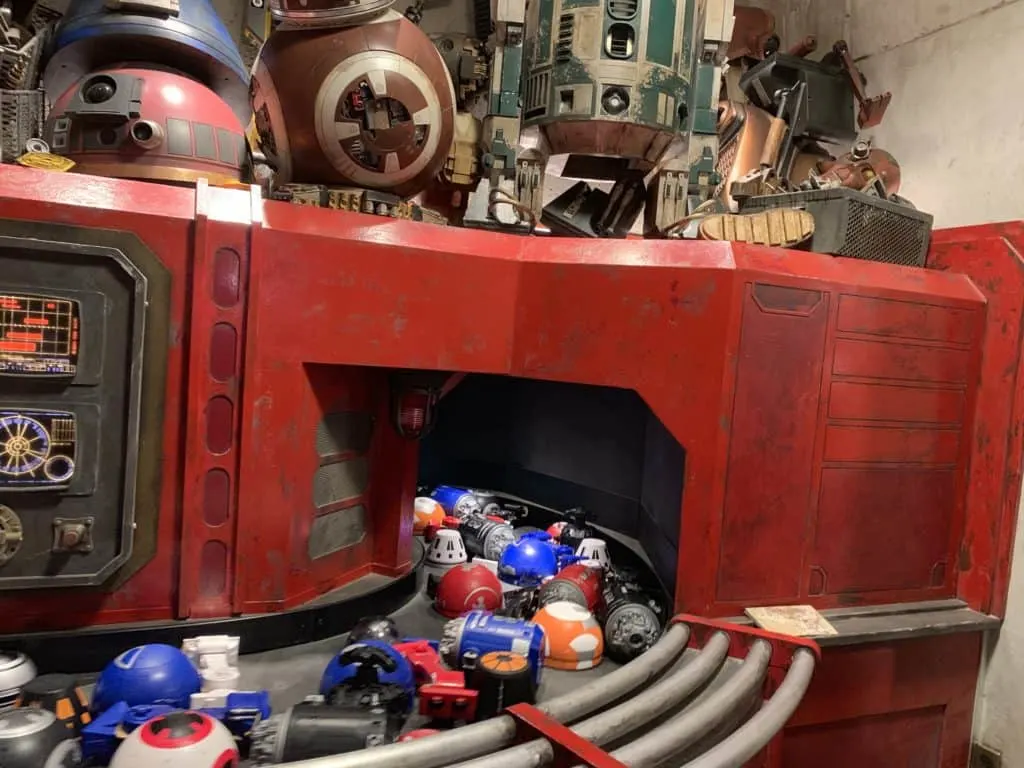 Another combined shopping and entertainment experience is available at the Droid Depot. The cost for this one is $99. Currently, reservations are required in order to get access to the Droid Depot or wait 2 hours in the standby queue. With a reservation, we were able to quickly enter the shop, pay for our selection and start collecting pieces. Once this is done, find a building station and ask the CM's for help if needed.
Bina's Creature Stall
This is where you will find the most number of Star Wars creature stuffies, shoulder buddies and "pets" in Galaxy's Edge. The shop is small but full.
Black Spire Outfitters
Shopping for your next scouting mission through the Outer Rim? Need a new robe to greet the ambassador of your home planet, or just want to pick up some casual garb to blend in with the locals? At this local shop, you can browse through an eclectic selection of stylish, functional clothing suitable for a variety of occasions and worlds.
Resistance Supply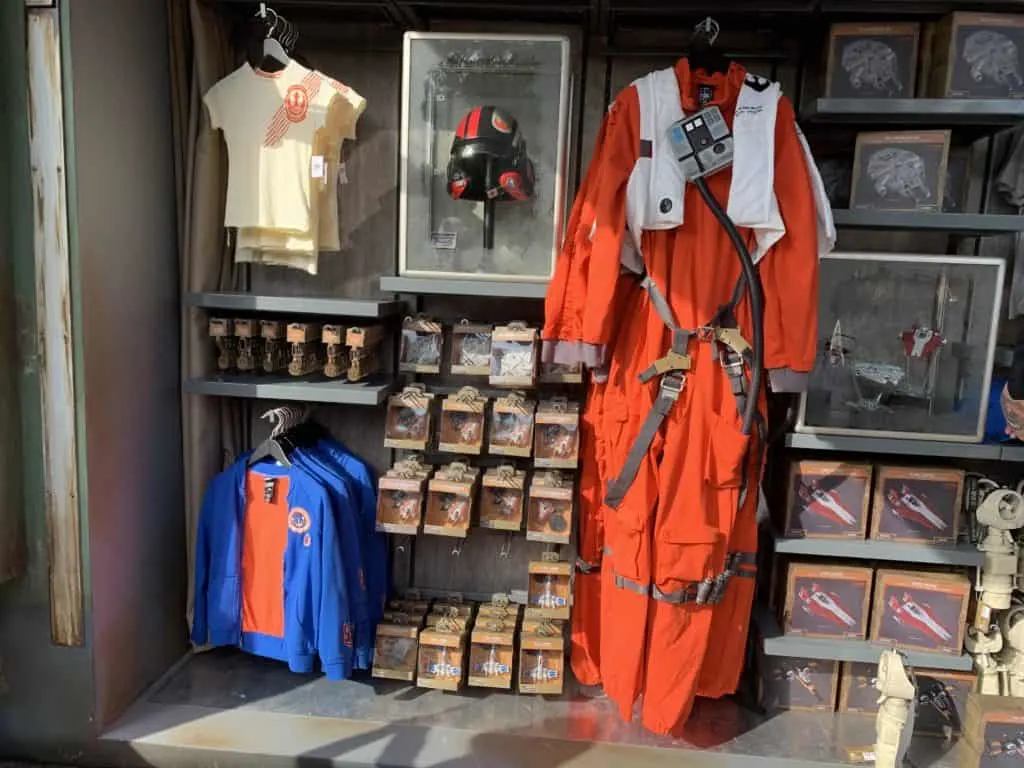 Stock up on essential gear and supplies so you're prepared for your next mission, wherever it may take you.
First Order Cargo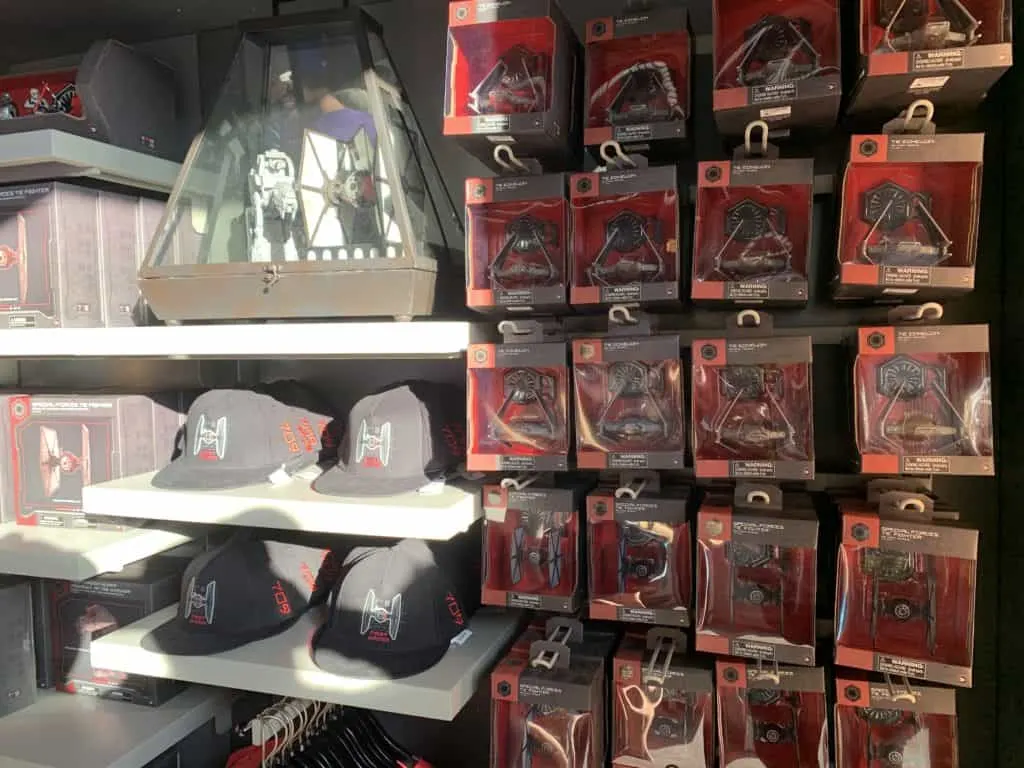 The First Order has recently arrived in Black Spire Outpost in pursuit of the Resistance. Report for duty and make your way to Docking Bay 9 where they have set up a temporary post next to their shuttle to win the hearts and minds of the locals. Browse for gear and other products to show your support.
The Jewels of Bith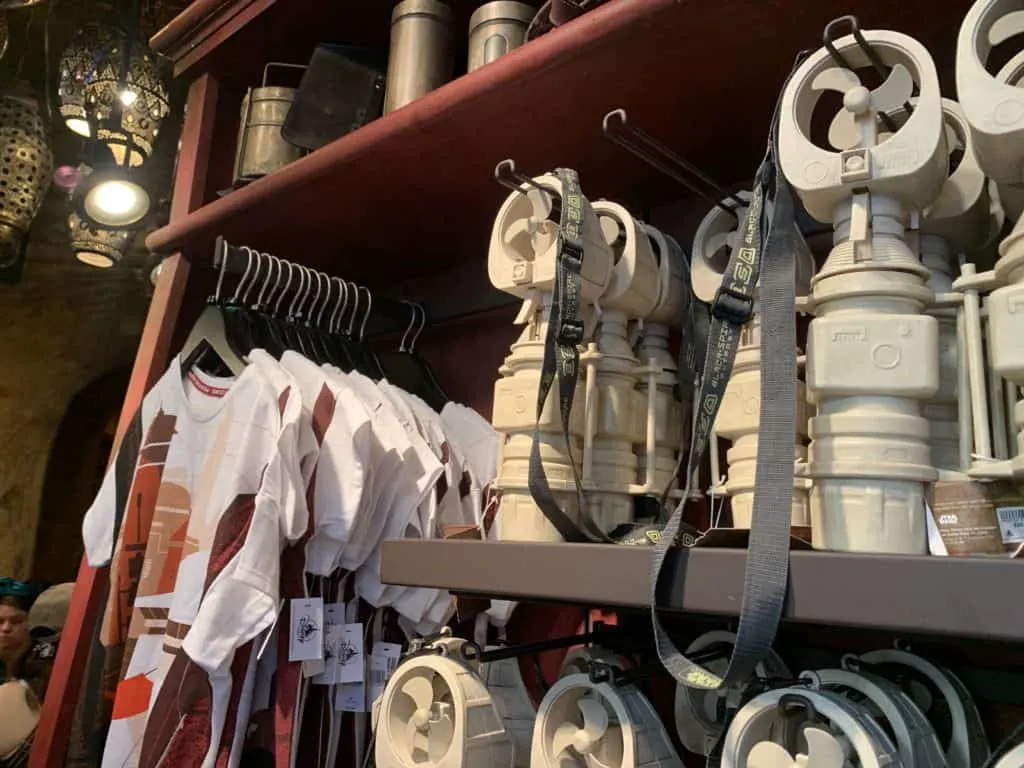 This is my favourite shop in the marketplace. Similar to a standard Disney souvenir shop, The Jewels of Bith sold shirts, magnets, pins, and misting fans. While not an immersive experience, I was happy to find my traditional souvenirs and collectibles without having to wander around Hollywood Studios to find them.
Follow us on Pinterest – we share the best Disney content (not just ours)
Theming, Atmosphere & Entertainment
Character Meet 'n' Greets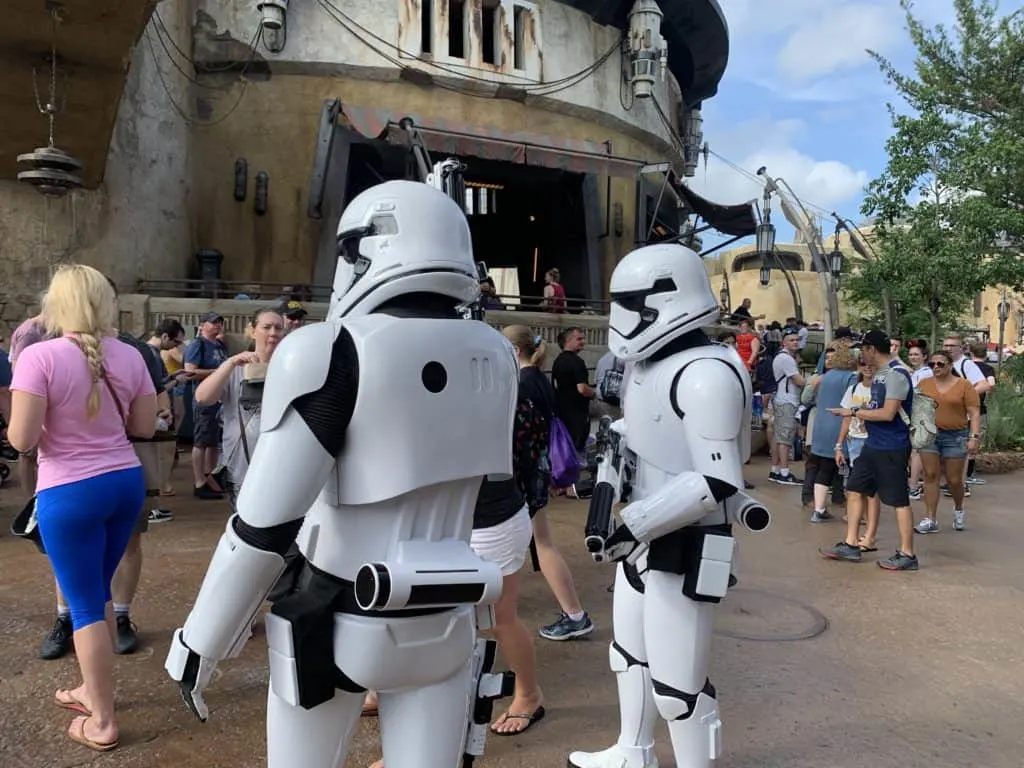 The character interaction is different at Star Wars: Galaxy's Edge, you won't line up to take photos with the characters, instead, the characters roam throughout the land and interact with everyone
Play Disney Parks App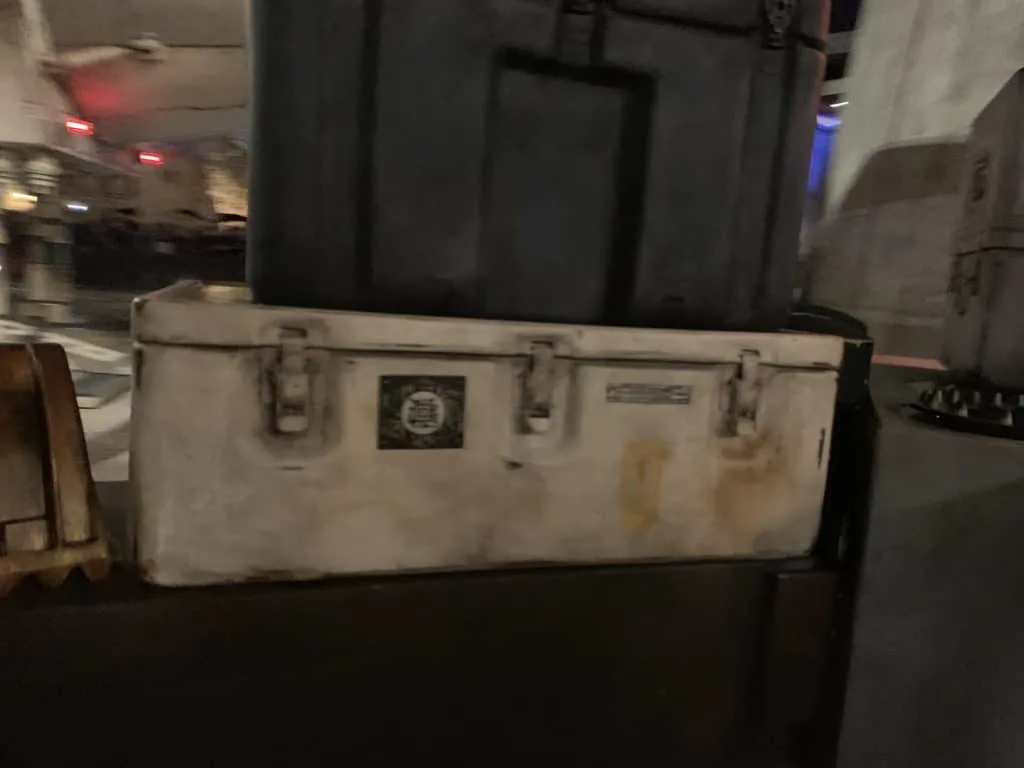 Interact with every inch of Batuu with the Play Disney Parks App. Turn your Smart Phone into a Data Pad and scan cargo boxes, hack antennas and translate messages.
Packing for Star Wars: Galaxy's Edge
Between arriving early and having to wait in line to get into the park, we don't want to have too much in your park bag to slow down the security process. While we normally suggest bringing in your own snacks, a change of clothes for the kids and a handful of other great Disney Day Bag necessities, Galaxy's Edge is another beast entirely.
Here are the must have's for any visitor to Galaxy's Edge;
Portable smartphone charger – You will take so many pictures and videos that even a brand new phone can't keep up.
Sun Screen – Cause it's Florida and it's HOT!
Refillable Water Bottle – Again, because it's hot. There are free water bottle refill stations throughout the land and any restaurant would be more than happy to refill it for you. You also need to drink plenty of water if you are going to be spending a lot of time at Oga's. Just sayin'
Hat – It's hot, and the sun is bright, and you will thank me later. I hate hats and I know I need to wear one at Disney. Galaxy's Edge doesn't appear to have too much-shaded space so you are at the mercy of the elements here. Ladies – a pony-tail hat is an answer to all our problems – who knew we needed our own hat style?
Plan Your Visit to Star Wars: Galaxy's Edge – What to do when you arrive at Walt Disney World
What should I do when I first arrive at Galaxy's Edge?
Just take it all in. Grab a parks map, open your Disney Parks App and take a breath.
If you do not have a reservation for the cantina, droid or lightsaber building, be sure to check the Star Wars: Galaxy's Edge Status and Access in the Disneyland app once you have entered the park.
What hotel should I reserve for my Disney World vacation?
There are 7 resorts that are in peak proximity to Disney's Hollywood Studios and would make for a great Disney home.
There are 4 resorts that allow guests to walk into Disney's Hollywood Studios; Disney's Beach Club Resort, Disney's BoardWalk Inn, Disney's Yacht Club Resort, and Walt Disney World Swan & Dolphin Hotels.
Starting September 29, the Skyliner will be available to guests directly through these 3 resorts; Disney's Caribbean Beach Resort, Disney's Pop Century Resort, and Disney's Art of Animation Resort. The Skyliner, however, does not solve the problem of arriving at Disney's Hollywood Studio before the masses, as they are rumoured to only open at 9 am.
Getting to Galaxy's Edge
Disney's Hollywood Studios is opening much earlier than many fans anticipated; 6 am. Buses are available starting 1 hour before the park officially opens.
If anyone has rope dropped a popular ride before, they know that 1 hour before the park opens is not enough time to make the transit, and wait in line. We suggest self-driving or hire a taxi to take you to the park if you plan on getting through the gates in a timely fashion.
Taking a taxi or ride-share means you can be dropped off directly at security and save yourself the walking.
Parking at Galaxy's Edge
Officially, the parking lot doesn't open much earlier than this but parking attendant cast members have mentioned that they are at their stations before 4 am on most days. Other guests have said the parking lot is left open throughout the night, making it much easier to self-drive or hire a car.
Extra, Extra Magic Hours
From August 29 to November 2, 2019, Guests staying at Disney Resort hotels will have more opportunities to take advantage of the Extra Magic Hours benefit with extra, Extra Magic Hours! It's a special chance to enjoy more time at a select theme park—before the park's regular operating hours—to enjoy select attractions and experiences.
The extra, Extra Magic Hours benefit will be offered every day as follows:
August 29 through November 2, 2019
Disney's Animal Kingdom theme park—including Pandora – The World of Avatar and other attractions throughout the park—from 7:00 AM to 8:00 AM daily
Magic Kingdom park—including favourites in Fantasyland and Tomorrowland—from 7:00 AM to 8:00 AM daily
September 1 through November 2, 2019
Disney's Hollywood Studios—including Star Wars: Galaxy's Edge, Toy Story Land and more—from 6:00 AM to 9:00 AM daily
The Extra Magic Hour benefit is also available to Guests of Walt Disney World Swan Hotel, Walt Disney World Dolphin Hotel, Shades of Green® Resort, Disney Springs Resort Area Hotels, Four Seasons Resort Orlando, Hilton Orlando Bonnet Creek and Waldorf Astoria Orlando.

Where is Star Wars: Galaxy's Edge located in Hollywood Studios?
Star Wars: Galaxy's Edge is located on the other side of Toy Story Land. Entrance is also available through Grand Avenue, next to Muppet 3D vision.
Finding Star Wars merchandise outside Galaxy's Edge
Because Galaxy's Edge is an all-immersive experience, you aren't going to find too many trinkets or shirts with Galaxy's Edge written on it. This is why they have moved all of their Galaxy's Edge merchandise to Once Upon A Time on Sunset blvd and Star Wars Launch Bay.
This is also where you will find your Annual Pass exclusives.
Tips for a better trip to Walt Disney World 's Star Wars: Galaxy's Edge
Arrive Early – Just because the park opens at 6 am doesn't mean you can roll out of bed at 5:30 am. The lines are going to start closer to 4 am so best be prepared for that.
Be at your reservation no later than 15 minutes early – Disney asks that you check in to your reservation no later than 15 minutes before your scheduled time. This means having a plan to get the group back together well beforehand, to account for any stragglers.
Don't forget to lookup – not everything is going to be at eye level and below. There is plenty of Star Wars theming going on above our heads so don't forget to look around, and lookup.
If something starts happening, pay attention – You never quite know what could happen in Galaxy's Edge. At times, a mini-scene might break out two feet from you between the Resistance and First Order. So if something starts getting weird, just stop and wait to see what it is. It'll almost certainly be cool.
BE SURE TO JOIN OUR MTM NEWSLETTER AND STAY ON TOP OF ALL YOUR MOUSE TRAVEL MATTERS!