Last Updated on October 12, 2021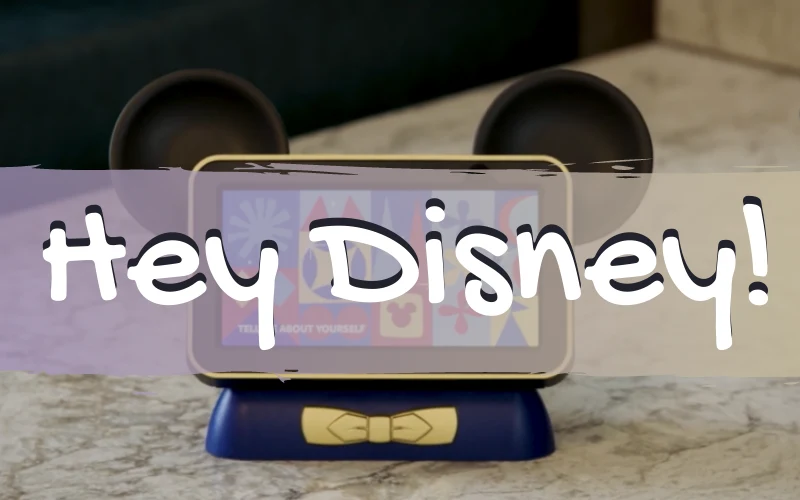 Amazon Echo is about to get a new Voice Assistant! And I'm not talking about Alexa. It's a Voice Assistant, made by Disney, to do Disney things. It's coming to DIsney hotel rooms in 2022 and if you want it for your home, you have to pay extra for it. It's called Hey Disney!, it's kinda cool and we are here to give you all the details.
This latest innovation at the Disney Parks is forged through a partnership with Amazon, has been first been shown off a Disney's Polynesian Village Resort.
Disney and Amazon, two giant corporations that seem to get all of my money, have joined together to make a voice assistant that coexists with Alexa on Echo devices. This means there are two different word phrases to activate the separate features. It will be available next year for guests at Walt Disney World hotel rooms and for purchase as an add-on to anyone with an Echo device.
Sometime in 2022, Disney will be installing Echo Show 5 devices in its hotel rooms at Walt Disney World, so all Resort guests will be able to use Hey Disney! in their rooms.
And anyone with an Echo at home will also be able to try it out. In fact, if Hey Disney! isn't enough Disney for you at home, there is an adorable Mickey stand that puts Mouse Ears on your Echo Show 5.
Introducing Hey Disney!
Integrating the best of Disney; their world class story telling and the most memorable family expereinces, with Alexa.
Hey Disney! is built on Amazon's Alexa technology. Whether your at home or at one of Disney Worlds amazing resort hotels, you'll soon be able to use an Echo device to interact with your favourite Disney, Pixar or Star Wars characters. At Disney parks, technology is increasingly becoming part of the magic; seemlessly integrating the physical, virtual and digital worlds to help guests navigate various Parks and platforms.
Hey Disney! is the first of it's kind custom assistant for Echo devices, a great example of how guests can interact with multiple platforms on a single device.
The cost of Hey Disney!
Disney hasn't said how much their Hey Disney! feature will cost. With its own unique voice and personality, it won't answer your questions quite the same way that Alexa might. Hey Disney! isn't just about being a virtual assistant to plan your next vacation, while it can do that too. No, Hey Disney! is literally a voice overlay that you can do all your normal Alexa things with, except in a Disney character voice. So if you want to hear jokes, trivia, sounds and games, they are all available with Hey Disney!
Echo devices with a screen will show animations and little visual goodies to match the audio. There are sing-alongs and soundscapes available as well; sounds from an environment that is inspired by Disney movies or theme parks. By the way, Disney soundscapes are available on Disney + and it is a hoot, it's called Zenimations.
However, the Hey Disney! feature will not support making purchases. That is reserved for Alexa proper. There are Easter eggs or quirky moments that you may discover while interacting with various Disney characters.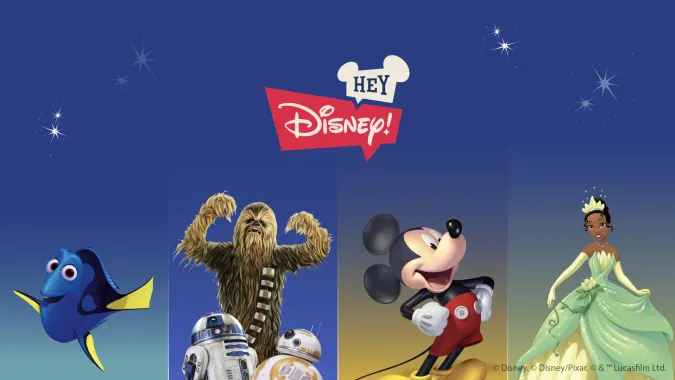 Why pay for an add-on feature that doesn't even do everything you want?
This is a bit of a loaded question. Hey Disney! doesn't take over the Echo and disables Alexa, it's an add-on feature that you activate when you want to accomplish a task that Disney is offering.
What kind of task? A task that involves listening to Dory tell you a joke that she can't remember the punch line to, or brush up on your
Making Your Disney Resort Stay More Magical
Using Hey Disney! at the resorts has some extra added magic than you would find at your home version. It can help with hotel-related assistance, like asking it to bring you more towels to your room, or other vacation-related questions, like when is the next bus to Epcot, where can I get great pizza or my favourite, when is the 3 pm parade.
The resort rooms are getting Echo Show 5 devices. it will be a modified version of the Echo's, for privacy reasons, so the video and calling features will be disabled. and there is no logging in with your personal account, this is strictly for the Hey Disney! feature. Alexa will be in the background, however, just a little more limited than you are used to. Alexa will be able to read you the news, check the weather, and play music.
When you enter your resort hotel room, the smart speakers are inactive and muted. You have to opt-in to this feature to enable the speaker. the hotel version doesn't support purchases; thank you Mickey Mouse for that one. I can't imagine if our tech-savvy son got ahold of a purchase-enabled Alexa after telling him he can't buy another Galaxy's Edge lightsaber!
It also will not be able to connect to the Smart Home features, so you can't control the lights or TV with the Echo Show 5. At least, not for now.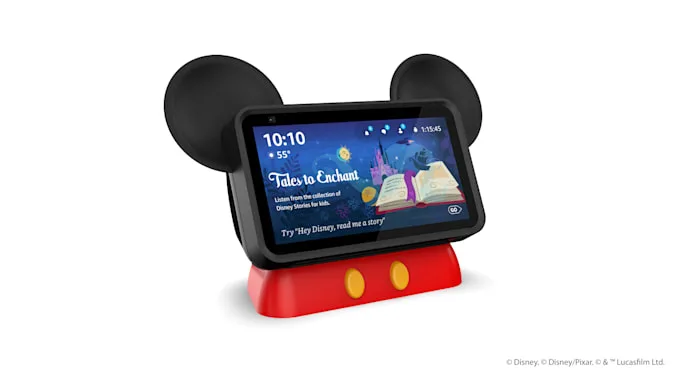 Why is Disney doing this?
I mean, this is way cool and I can't wait to test it out but I have to ask… why?
Allowing the backend AI to correlate which guests need more towels or assistance with their baggage, things are meant to run more smoothly for everyone involved. Disney has suggested that they will add more features to the assistant in the future, all depending on how well guests respond to the initial introduction of the technology.
The Echo Show 5, a smart display with a 5.5-inch touchscreen, is what's coming to Disney's hotel rooms in Florida. And if you want to go all-in on the Disney-fication of the Echo at home, there's a new OtterBox stand that puts Mickey Mouse ears on the Echo Show 5, available to preorder now for $25.
Your Thoughts...
Please share your thoughts in the comments or reach out on social media...We would love to hear from you.
Follow Mouse Travel Matters for Disney Parks news, the latest info and park insights, follow MTM on Twitter, Facebook, and Instagram.
You May Also Like…