Last Updated on February 23, 2022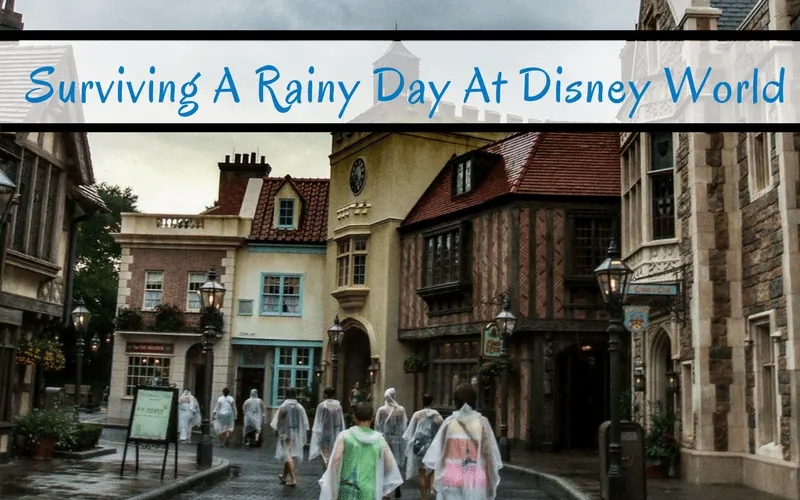 Central Florida, with its lush palms and green landscapes, is maintained by a great deal of rain the area receives. Every year in Central Florida, an average of 53″ of rainfall occurs, half of that coming during the typical daily 2-hour thunderstorm during the busy summer months. These brief storms at Walt Disney World could force you to rethink your epic algorithm-based Disney park plan.
Enduring A Rainy Day At Walt Disney World
DON'T DO IT! A little rain won't ruin your trip to Walt Disney World. You have options, and there are clear strategies to power through rainy days. You have four theme parks, two water parks, twenty-seven themed resort hotels, with troves of activities and Spas, and what have you.
Have a plan to save the plan for what could be some generally rainy days.
The good news, is, not everyone plans ahead and you often see visitors leaving in droves once the rain begins as the unprepared will be heading for the nearest exit. Here are the best tips for surviving a rainy day at Disney World.
These fun-filled locations are a great place to be when the rain starts:
Dumbo's Indoor Playground
Mickey's PhilharMagic
Walt Disney's Carousel of Progress
Hall of Presidents: A Celebration of Liberty's Leaders
Upstairs at the Columbia Harbor House
It rains, best to not dwell on it. You paid sums of money that demand you work through it.
This post may contain affiliate links.
To which I earn a small commission, at zero cost to you!
Find more info in our
Privacy Policy
.
What do you do when it rains at Walt Disney world?
1. Pick Your Park Carefully
Rainy day parks? How about Epcot? Specifically in Future World. Future World has attractions that are primarily indoors, and the only rain you will encounter will be when you hop from pavilion to pavilion. Test Track is the only major attraction in Future World to close during those rainy spells. If you want a restaurant to wait out the inclement weather, The Seas with Nemo and Friends and The Land have some inside, so no mad dash through the storm to get food.
2. Pack a Poncho
Returning to your Air Conditioned hotel room is not a pleasant experience. Having a lightweight waterproof layer available is a no-brainer. You are allowed umbrellas in the park, but now you don't have free hands and you have to drag them around when it's not raining. Very little space in your bag will be taken up by a poncho. Disney-themed Mickey ponchos are readily available in the parks, however, you can save a lot of souvenir money by bringing plain ones from your local dollar store.
Follow us on Instagram for realistic Disney inspiration
3. Rent a Locker.
A great rainy day idea for the stroller free, you can store a change of clothes and footwear for after the storm. Once the storm ends it's a quick locker trip to change into dry clothes, and leave the wet ones until the day ends.
4. Dress Appropriately
If you know it is going to rain, or just understand Florida weather and know the skies could open up at any moment without warning, pack a poncho. Sure, you can buy one after it starts to rain, but by then you are already wet and they are dirty expensive. A simple $1 poncho from the dollar store will do the job just the same. If you are looking for a Disney-themed poncho, arrive prepared.
Support us by liking our Facebook page
5. Magic Kingdom's Rainy Day Cavalcade
Disney Festival of Fantasy Parade may be canceled as a result of bad weather. It super sucks but the characters and floats just don't hold up in the rain. While this may seem like a disappointment, you might get to experience the Rainy Day Cavalcade! This is something most guests don't have the opportunity to see. The characters parade in covered vehicles and dancers wear raincoats and boots. This mini parade even has a special rainy day song. This Disney magic brings a bit of fun to an otherwise drizzly day
Best Disney park when it rains? With so many indoor rides available, and the rainy day Cavalcade, we would say that the Magic Kingdom is the best Disney park when it rains
6. Cover Your Stroller.
Stroller covers aren't only for sunny days. When the child is in or out of the stroller, make sure it is covered properly and that the cover won't blow away in the wind. Munchkin doesn't want to avoid the rainstorm by sitting in a puddle of rainwater in the seat of his stroller.
Follow us on Pinterest – we share the best Disney content (not just ours)
7. Dining Opportunities
There will be a portion of guests that will arrive late or completely cancel their dining reservations due to the weather or even just days before. Take this opportunity to check online or make a request in person at your favorite Disney restaurant, oftentimes they will be taking walk-ins. This is where that rented locker comes into play, change into those dry clothes.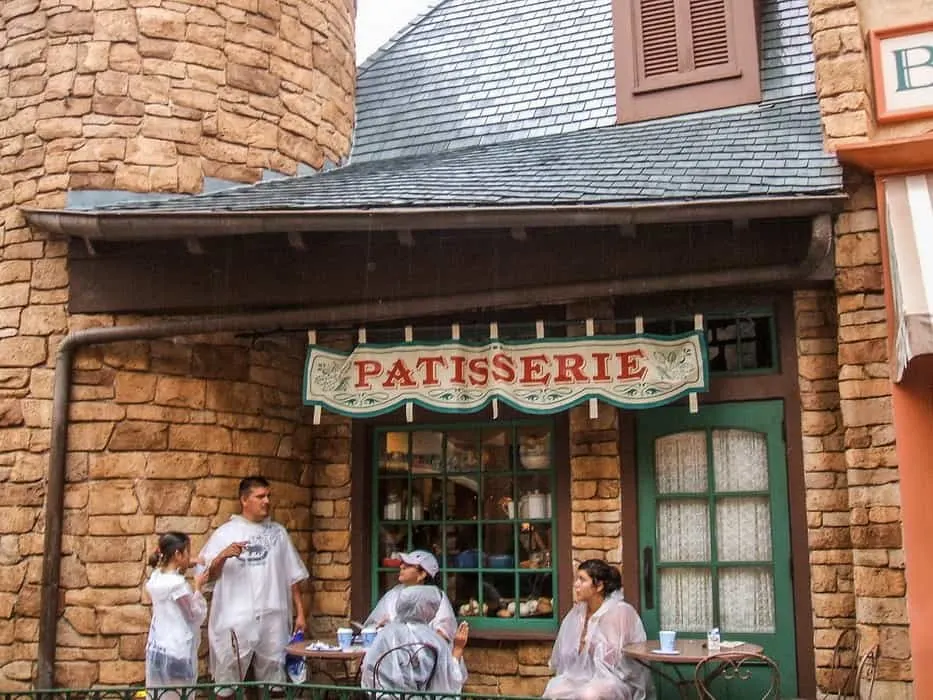 8. Visit Disney Springs
Raining first thing in the morning or heading into an all-day rain fest? Perhaps plan for a day of souvenir shopping on a rainy day at Walt Disney World. Disney Springs offers many shops that are mostly indoors. Great restaurants and even bowling are also available. Be sure to keep an eye on your surroundings. With everyone leaving the parks, they will be heading here too. In some situations, you may find shopping in the parks less crowded. If it's one of Central Florida's quick rainstorms, it rarely lasts very long. Being close to the shops will make it quick work to buy that dry souvenir T-shirt!
9. Walt Disney World Monorail Resort Hop
An opportunity to explore Disney's monorail hotels, well a fun activity for any day, gives you that indoor escape from the rain. The resort hotels on the Disney property are unique in that they have special themes and decor all their own. The monorail hotels (Disney's Grand Floridian Resort & Spa, Disney's Polynesian Village Resort, and Disney's Contemporary Resort) have easy monorail stops all undercover; the Contemporary Resort stop being completely indoors. You will be able to travel to all these areas without getting wet! And if you travel with Kids this will hopefully lead to a better mood. Be sure to sample the delicious cuisine offerings at each resort, the children will thank you.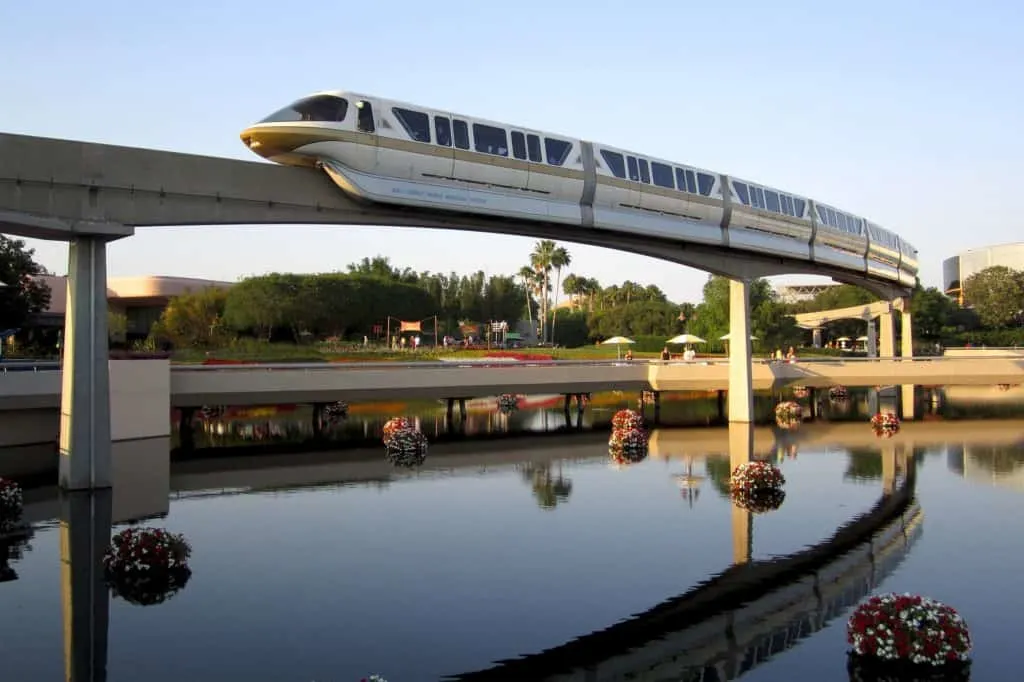 10. Avoid the Animal Kingdom
The Animal Kingdom and the water parks for that matter are the most difficult of the Disney parks on a rainy day. Just like humans, most animals tend to run home during rainy weather plus animal viewing areas close during lightning. If you have the option to visit another park on a rainy day, we recommend it.
What is Your Disney World Rainy Day Activity Plan?
Your Thoughts...
Please share your thoughts in the comments or reach out on social media...We would love to hear from you.
Follow Mouse Travel Matters for Disney Parks news, the latest info and park insights, follow MTM on Twitter, Facebook, and Instagram.
You May Also Like…