Last Updated on February 6, 2020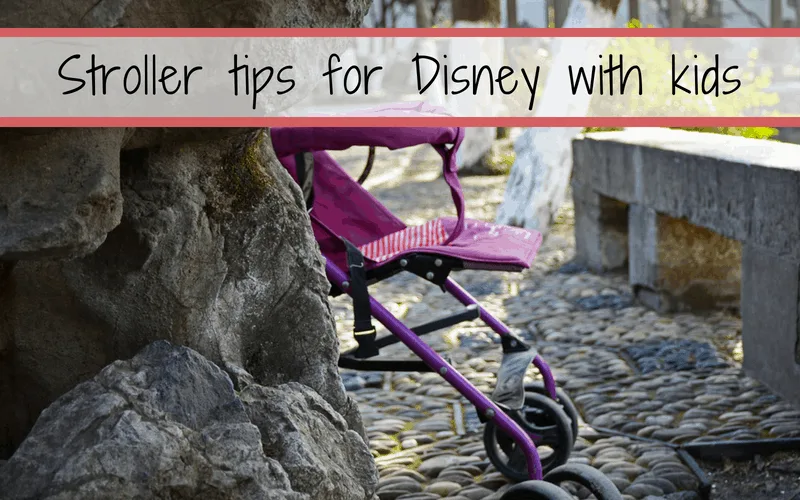 Assuming you have decided to bring or rent a stroller for your next Walt Disney World vacation with kids, here are the 12 Best Stroller Tips and reminders for all stroller users at Disney & theme parks. If you haven't decided yet and are still on the fence, check out Mouse Travel Matters reasons why you really need a stroller on your Disney vacation, and keep these tips in mind.
This post may contain affiliate links.
To which I earn a small commission, at zero cost to you!
Find more info in our
Privacy Policy
.
The first rule of bringing a stroller to Disney is bringing the right stroller. You don't want to be 2 days into a 10 day Disney vacation to find that your little umbrella stroller can't handle the weight of your child plus shopping, and every other stroller in the Magic Kingdom looks exactly like yours.
Bring (or rent) something reliable, with a canopy, that can recline and overall suits your needs and the needs of the rider – plus anyone else that may want to jump in – not just the needs of your wallet.
This post may contain affiliate links.
To which I earn a small commission, at zero cost to you!
Find more info in our
Privacy Policy
.
1. Empty and fold your stroller on buses and parking lot trams.
This is one reason why many families choose to self-drive to the Parks from their hotel. Carrying a sleeping or exhausted toddler, plus purchases and your Disney Park Bag can be a real drag.
2. Strollers also need to be folded on Magic Kingdom and Animal Kingdom trains.
Visit these attractions while the kids are wide awake. You have the option of folding the stroller and storing it in the back of your train car or leaving it at the train station that you boarded. Both are valid choices, but make sure you know where you are getting out before boarding, so you can make the proper decision for family's touring needs.
3. They don't need to be folded on the ferry or monorail.
Many families that aren't interested in self-driving may choose to stay at a monorail resort for this reason alone.
4. Strollers are not allowed in restaurants.
Most, if not all, restaurants, will require strollers to be left outside the main doors. In very unique circumstances, Cast Members have been known to allow a stroller or two to be parked next to the table if the baby is sleeping. This is on a case per case basis and probably will never work out for those attending character meals or when the restaurant is full.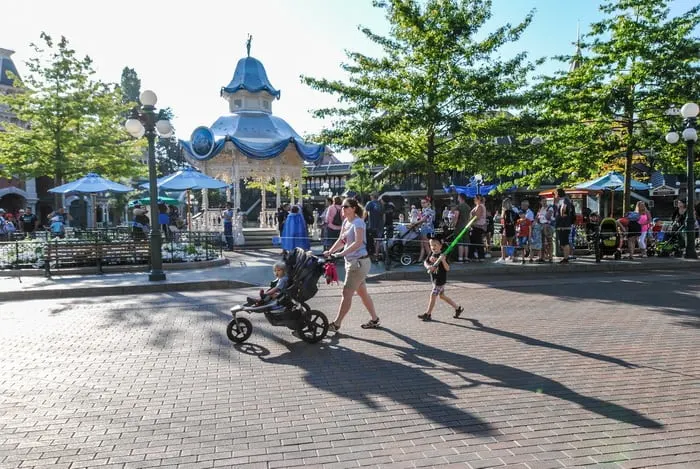 5. Strollers are not allowed in the queues
For safety and crowd reasons, strollers are not allowed in the ride queues. If your child isn't able to stand or walk for this long, or at all, we suggest getting a carrier to hold the child. Actually, we always suggest taking your toddler carrier in the queue, just in case it takes longer than estimated.
6. Strollers are not allowed in shows either
Again, due to space and safety, strollers (that do not double as a mobility device) are not allowed within the Disney theatres
7. Don't worry if your stroller isn't where you left it.
Strollers tend to not be EXACTLY where you left them, and that's ok. It will be moved around a lot in stroller parking by Cast Members to make room for new strollers entering the parking area.
8. Stroller theft isn't common but can happen.
A stroller lock is a major no-no, unfortunately. There are many out there that claim they have been doing this for years and have never had an issue. This is down to dumb luck and not to be used as a steadfast rule. Just as many guests have reported having their bike locks cut by Cast Members, and since this policy is listed clearly on their website, they are not required to replace the lock either.
9. Using a lock? The back wheel lock is best so CM's can still move it.
In order to properly prevent theft, it is important that there are no valuables in the stroller when unattended. Feel free to leave the baby's diaper bag but that's about it. Secondly, there are locks available that simply prevent the hind wheels from turning; while a CM can move the stroller a short distance to make room for more strollers, it would be apparent if a guest were walking around the parks with a locked stroller.
10. Make your stroller stand out
A major way to prevent your stroller from getting lost is to make it stand out. I'm not suggesting you purchase a Disney balloon because those are expensive and a pain to bring back home. There are many ways to decorate your stroller, just make it original.
11. Consider a stroller fan for overheat protection.
It can get hot at Walt Disney World and little ones aren't always able to communicate this. Prevent overheating by installing a stroller fan. If you need to cover them up, in order to sleep or prevent sunburn, you definitely want to have a stroller fan. This increases the airflow underneath the blanket that has just been cut off by the presence of the blanket itself.
Remember how hot it got while playing blanket-forts as a kid?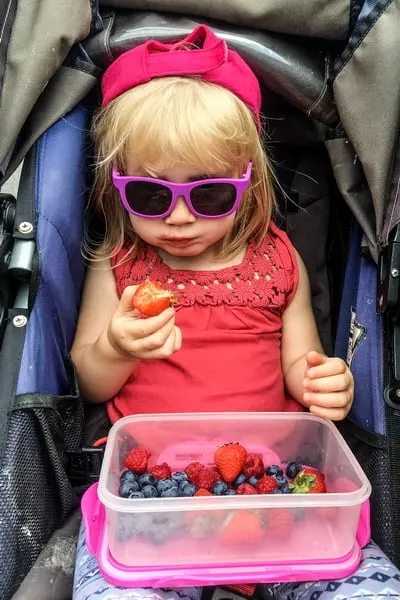 12. Get a Rain cover
Just because it's doesn't rain long doesn't mean it won't rain hard. If it looks like it may rain while you are in line or in the restaurant, cover your stroller and your child will have a nice, dry seat when they return. And a dry baby bum is a happy baby bum.
Frequently Asked Questions.
What else should I know about the Disney rental strollers?
Disney rental strollers are hard plastic and are not very comfortable for little ones. They also tend to blend in with the hundreds of other Disney strollers in the parks at any given time. Disney rental strollers are also not allowed outside of the parks, therefore parents must empty the stroller of shopping and sleeping children in order to get back to their car.
Should I bring my own stroller or rent one at Disney world?
This really depends on the age of the child. For little ones, I would suggest bringing your own, as the child is more comfortable in something they are already familiar with. Older children, 6-10 years old, I would suggest renting a Disney Stroller. You can pick the days you need a stroller and not have it take up so much space in your hotel room.
Should I bring my own stroller to Disney or where could I rent one?
There are plenty of places to rent a stroller for Disney. You can rent with Disney themselves, but they are more plastic than soft fabric. There are a handful of rental companies in the Orlando area that are able to rent out proper strollers for smaller children and multiples.
Whether or not to bring your stroller depends on the type of travel. In terms of flying, I don't personally trust the baggage handlers and would suggest renting in order to avoid them damaging or losing your stroller. Rental companies also have insurance available in case the stroller gets stolen or damaged while in your care.
Your Thoughts...
Please share your thoughts in the comments or reach out on social media...We would love to hear from you.
Follow Mouse Travel Matters for Disney Parks news, the latest info and park insights, follow MTM on Twitter, Facebook, and Instagram.
You May Also Like…