Last Updated on October 14, 2021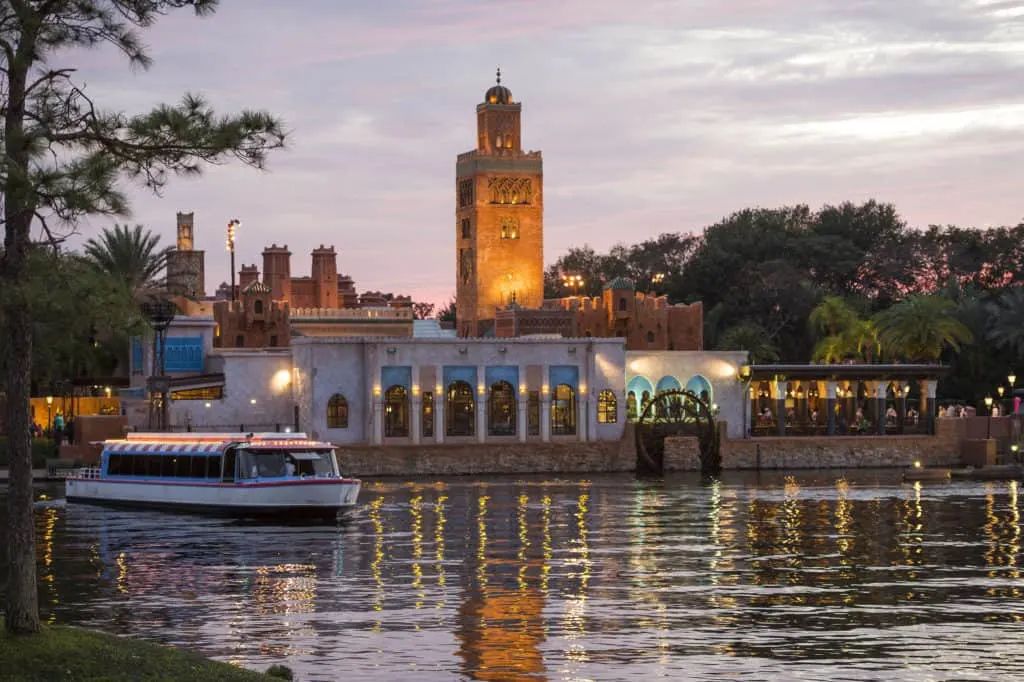 EPCOT vs Reality the Morocco edition explores the authenticity of the Morocco Pavilion in EPCOT World Showcase.
Walking around the World Showcase in EPCOT is like taking a trip around the world in one afternoon. Each pavilion is a whole different experience. I have visited all of them but there are some that just simply pull you in and you have to keep coming back. I personally have never been to the country of Morocco; it is a dream that I have but the family has been able to visit and they told me all about the amazing culture, architecture, and markets.
Until I can visit, I love going to the Morocco Pavilion in EPCOT. It is one of the few pavilions that I think is true to the culture. It is also the only pavilion that was set up by the government of the country that it represents. So let's talk about what makes the Morocco pavilion so wonderful.
This post may contain affiliate links.
To which I earn a small commission, at zero cost to you!
Find more info in our
Privacy Policy
.
Pavilion and Shopping
I like that I can take the watercraft directly from Future World. And because it is one of the least favoured pavilions, it is usually quieter and easier to find a nice spot to eat, get a drink, and relax. The food is spectacular and there are several great shops where you can find all sorts of nick-nacks including your very own magic lamp, carpet, or belly dancing costume.
These stores don't carry the usual Disney fare and you will find many things typical to Moroccan markets. You almost feel like you are walking around in a bold Mediterranean market. There are several shops in this pavilion and they all have things that you would love to buy. My favourites are the genie lamps and the belly dancer costumes, there are many chotchkies and clothes to choose from as well. If you are in the mood to shop, you won't be disappointed. As you walk around the world showcase you will also find a henna artist that will tattoo you as you take in the sights from around the world showcase as well as listen to the music.

As you follow the corridors you get a great idea of what it was like to live in an old home with a great courtyard. This style of home is common in Morocco. The courtyards have inward-facing windows to provide privacy from the hectic outdoor life. The tower is a replica of a 12th Century mosque and the detail all the way down to the tiles used in the mosaic designs is breathtaking. Even the plant life is local to the county. The tiles come directly from Morocco and a special designer was sent to make sure that the designs were laid out properly. You will eventually wander into an old museum with little bits of Moroccan history.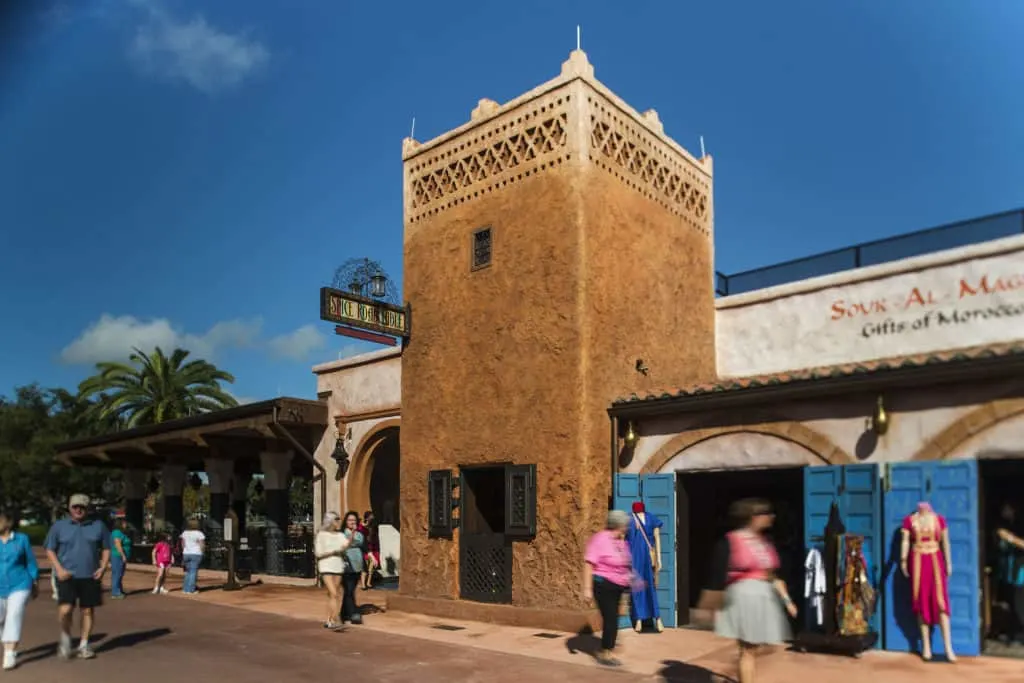 The Tower of Terror, located at Disney Studios, was painted in the same shades of pink as the tower in Morocco, as it can be seen from behind the pavilion. The reason for this is that they were trying to recreate a Casablanca feel for the story so they tied in the colours as well as some of the plants that are used in the Morocco area to continue the authentic Moroccan feel throughout the parks.
Food
Tangierine Cafe is an amazing quick-service restaurant. The food is fresh and delicious. You can try something different and not be disappointed. Cafe's are quite popular in Morocco life; it is not uncommon to find people socializing and having afternoon treats and mint tea. At the Tangierine Cafe, you can walk through and pick from several choices and the prices are very reasonable for Disney.
My son loves their hummus so we always make sure to get that. Dishes here include Falafel wraps, Shawarma chicken and lamb, and even vegetarian dishes. We usually get different dishes and try a little bit of everything. After we have our meal we walk back to the coffee bar and find some great desserts. We love the baklava but there are tons of choices to choose from.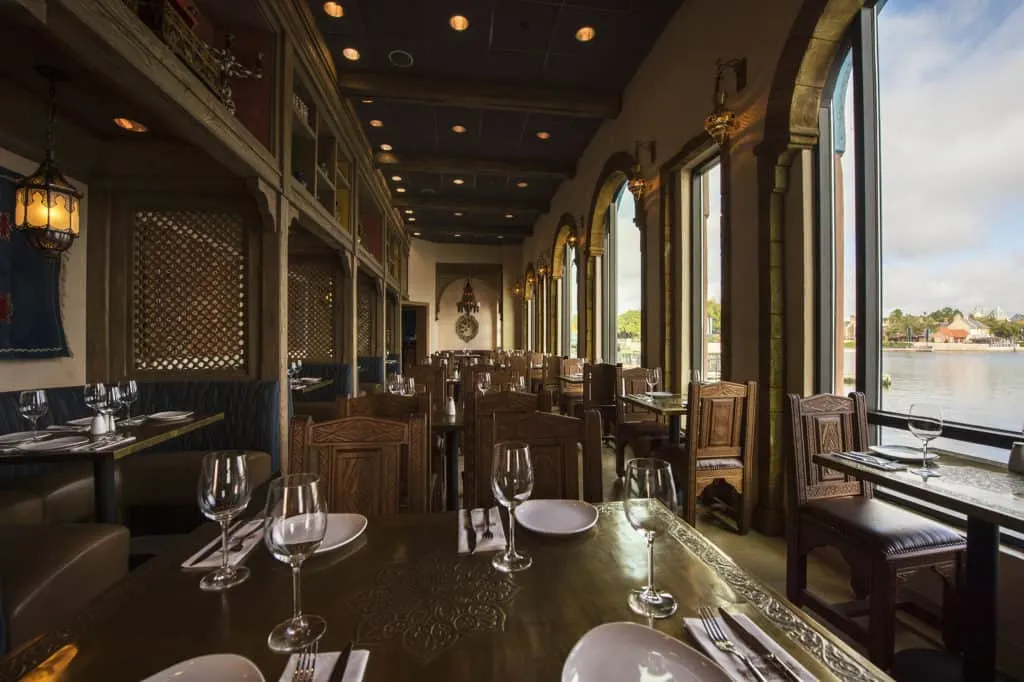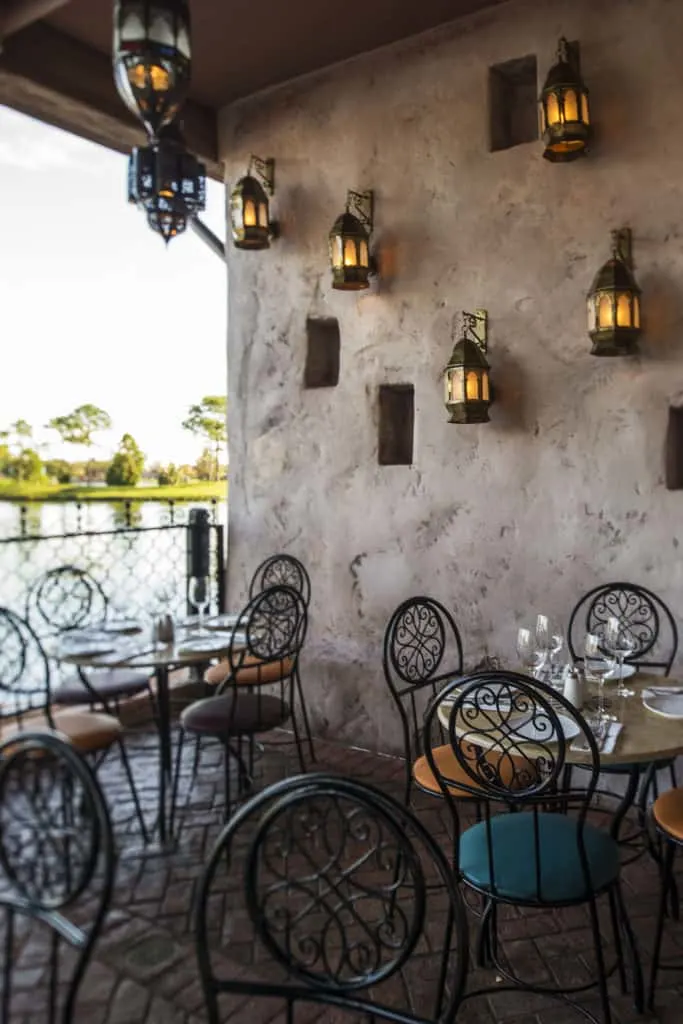 You can also choose a table service restaurant, Restaurant Marrakesh, which has great reviews. I have never dined there but it is something I hope to do and the outdoor menu looks quite amazing.
Music
They have the most amazing band that often plays, Mo Rockin. Their showtimes are posted so make sure to stick around for the next show. The music is authentic to the Moroccan region and it will always make you want to dance.
And speaking of dancing, they have a wonderful Belly Dancer. I often find myself walking away with a little shimmy in my steps. Mo Rockin is always around to create a wonderful ambiance, which is one of the reasons that this pavilion stands out and feels unique.
So, is the Pavilion accurate to the Moroccan culture? This is what Wikipedia had to say,"
The Morocco Pavilion, designed to look like a Moroccan city with a realistic Minaret, features the only pavilion in which the country's government aided in the design. Guests to the pavilion gain insight into the lifestyle and culture of the Moroccan people through the Gallery of Arts and History. Restaurant Marrakesh, along with the Tangierine Cafe, serves Moroccan fare. Six shops adorn the pavilion, selling patrons everything from rugs to leather goods, and traditional Moroccan clothing."
As I had mentioned, I have never been to Morocco personally, however, I feel like I am able to visit and experience just a little bit of Morocco through the Epcot Pavillion. There are things that could be a little different, but for me, it is a great experience and one that you should have too. Take time to walk around and rest and take in the surroundings. This is by far one of the most unique pavilions that the World Showcase has to offer.
Watch this video to see the Pavillion and to experience some of its wonders before your next trip.
World Showcase can be completely immersive and an experience for the mind and soul. Most of the pavilions will transport you to their country, some more than others. This is what makes EPCOT amazing. You enter a future world and then walk back in time to see the past of some of the world's most intriguing countries and areas.
This post was written by…
Alex of Coffee with PixieDust
Your Thoughts...
Please share your thoughts in the comments or reach out on social media...We would love to hear from you.
Follow Mouse Travel Matters for Disney Parks news, the latest info and park insights, follow MTM on Twitter, Facebook, and Instagram.
You May Also Like…