Last Updated on September 19, 2019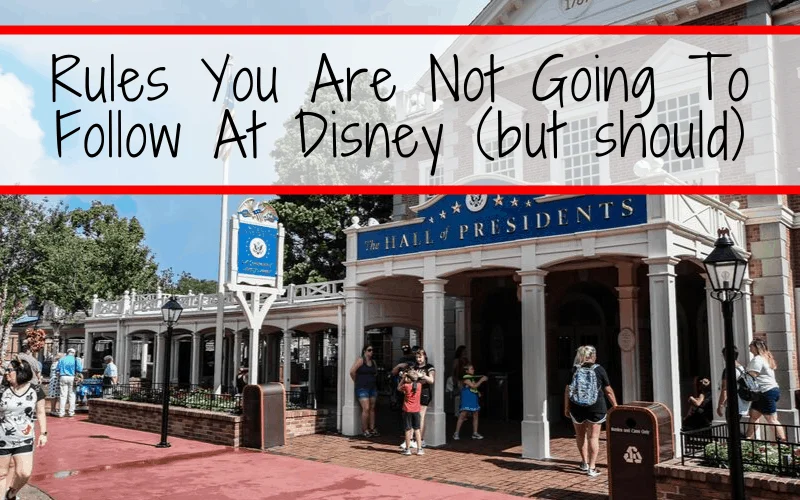 It's literally the rules. Social Media will have no sympathy. Disney fans are not gonna want to waste time.
This post may contain affiliate links.
To which I earn a small commission, at zero cost to you!
Find more info in our
Privacy Policy
.
Disney Alcohol Policy | U.S.A Parks
Don't be mad, it's the rules.
Disney has a pretty specific alcohol policy; no one under the age of 21 (legal age in the U.S.A) may purchase or consume alcohol. At least 99% of guests will follow this policy without issue.
Cast Members are not here to judge, they see hundreds of thousands of people every day and simply don't have the time or patience to try and guess your age.
Even then, we have heard stories of 50 something-year-old Grandmas being carded when asking for a glass of wine.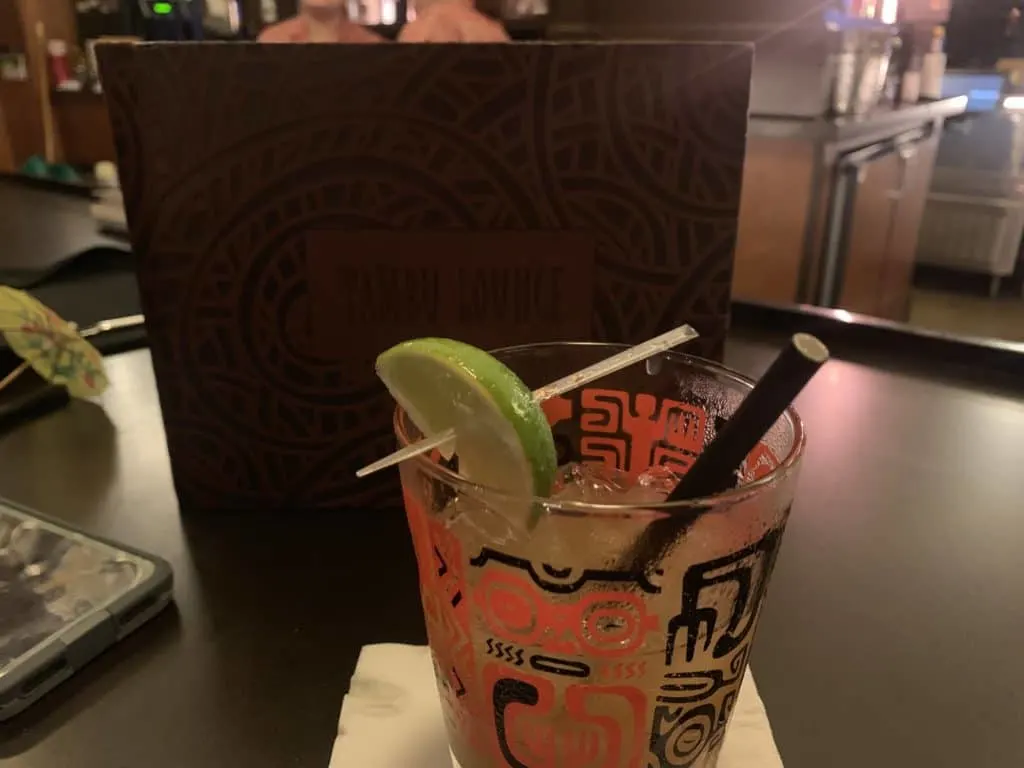 Enforcing ID Requirements
If and when your Cast Member asks for ID, they will ask for your Drivers Licence or Age of Majority Card. However, Disney has added to their policy that Guests from outside of U.S.A must also present a valid Passport (or a photo of their passport) as well as their license.
For non-us citizens having 2 valid pieces of ID is important, one the Primary (ie. Passport) shows your name and birth date two the Secondary (ie. valid Drivers License) support the accuracy of that information. In most cases, these laws are state or provincial laws, not just from Disney. Disney has to follow the law.
Just because it worked with one (piece of ID) yesterday doesn't mean it will work another day.

People who like to drink alcohol without delay!
Arguing with a Cast Member is not how you get your glass of wine faster and could make you ineligible to drink on Disney property. If you're already belligerent why would anyone serve you alcohol? Take out your Drivers License, show them a picture of your Passport and be on your way.
If you have a problem with this policy, take it up with the state of Florida, the US government and maybe Bob Iger, meanwhile everyone else will be drinking.
Speaking of passports and ID's …

Disneyland Paris | Passport Policy
It is French law that you carry some form of identification with you at all times. Unfortunately, European countries don't consider North American drivers' licenses to be valid forms of ID, therefore, Non-E.U. citizens must carry a passport in Europe.
This is largely a result of not have a national ID system in place and all of our licenses look different from province to province (or state to state). And then there are those without drivers licenses for whatever reason. But they don't have a drivers license, just a passport. In many areas, one can get an age of majority card to solve this.
And before you ask, a photocopy of your passport or a photo of it on your phone doesn't work in the E.U. They are not legal copies and therefore are not worth the paper they were printed on.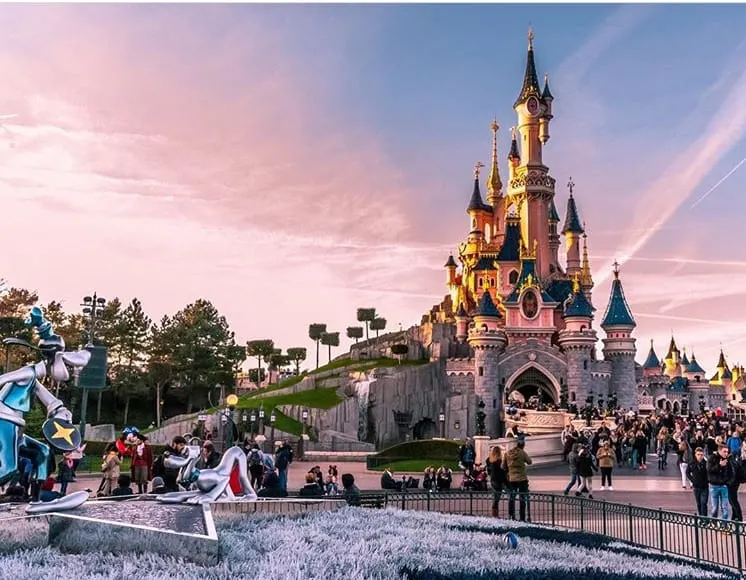 I'll admit it's unlikely, but legally, the French police can come up and ask you for identification at any time.
There are a handful of official websites that claim you don't need documentation, but these are poor translations of the official French website. Always go to the source; no one knows French foreign policy better than the French Foreign policy department.
European laws also require that hotels keep the names, nationalities, and details of all guests on file for 12 months, this is why you will be asked for it at check-in, FYI.
Stroller Size
Disney has made it clear that over-sized wagons are not allowed in the parks. They are a monster of a contraption and because they can be both pulled and pushed, many guests have decided to switch them to the pull-function once they have crossed security.
The few ruin it for the many.
Now Disney has plain cut down on the size of strollers and banned anything resembling a wagon.
What many guests choose to ignore is the dimensions of the strollers now being allowed into the Parks. Sure, you have an expensive stroller at home and you don't want to buy another one just for Disney or rent an equally expensive stroller from a third party company.
We get it! We would be devastated if someone told us we couldn't bring our two-year-old stroller into the park after 2+ years of planning the single most expensive holiday in our children's' lives.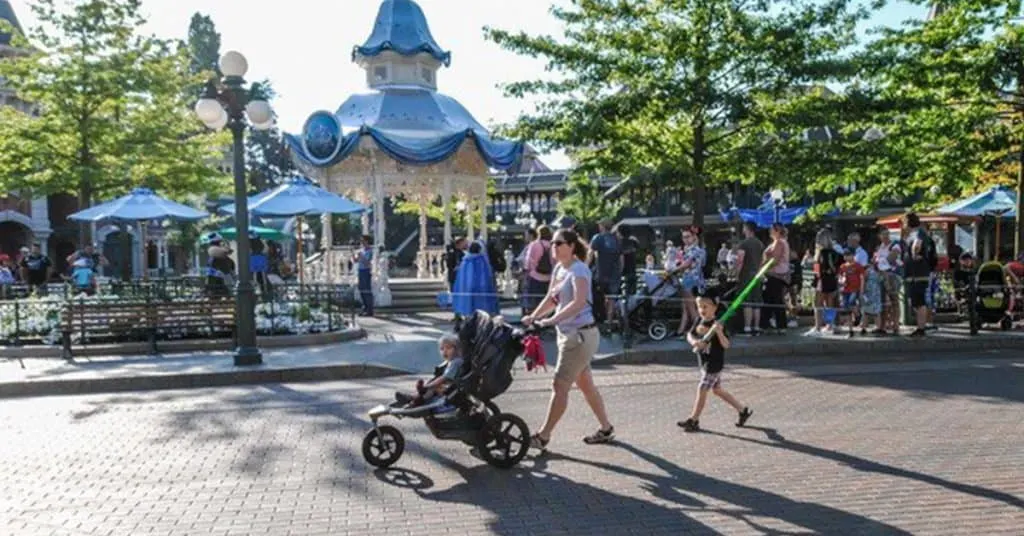 But arguing over 1 inch? Really? If the rules say no, the rules say no. There are stroller size checkers throughout the security zone to make sure oversized strollers do not make it through.
We have seen families turned away and forced to bring their strollers back to their cars, or worse, to their resort. Wasting precious time and not having anywhere for the kids to sit and sleep while at the parks. This is not how you want to spend your holiday.
We have also come up with a quick list of popular single and double strollers that fit the new rules, as well as a few that are no longer allowed. Remember, this is not an official list from Disney.
Check out your stroller size and if anything, visit Kingdom Strollers and a few other rental stroller agencies. They have reduced their line up to respect the strollers allowed into the parks (why rent strollers to a Disney guest if they can't even bring the stroller into the park?).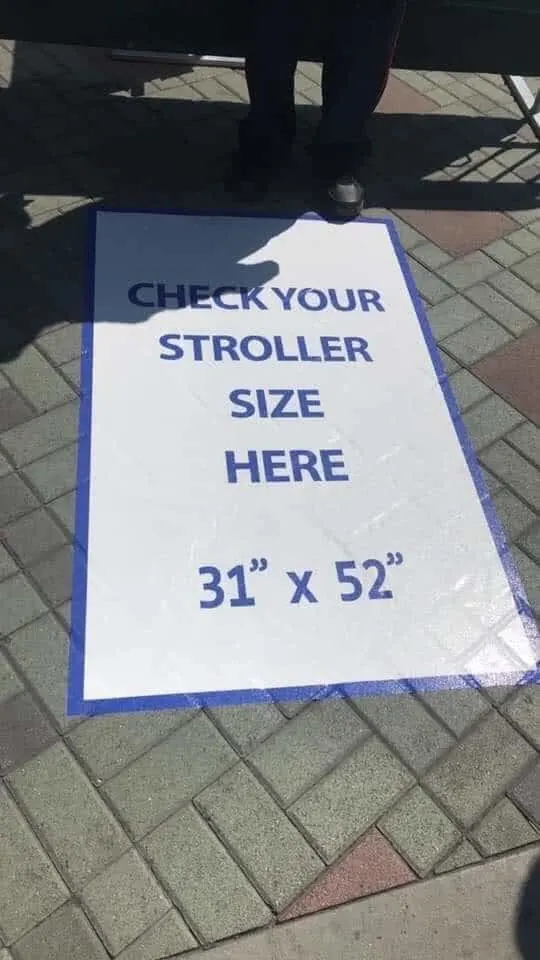 Attraction Height Requirements
We see at least 5 questions per day regarding height requirements and how strict the Cast Members are about them. Anything from "will my kid grow 2 inches in the next month?" to "if she's half an inch too short, will they let her in any way?"
While I understand that you simply want to include your children in all the Disney fun, and rider swap kinda sucks some of that fun out for the child being excluded, Disney has height requirements for good reason.
Many of the harnesses are simply not capable of reaching down to a level that will safely guard a small child and also fit a full-grown adult. Dumbo and Peter Pan have seat belts and pull bars that can be adjusted but Tower of Terror has a full chest contraption to keep you in your seat while you plummet. A 4-year-old and a 40-year-old can not be expected to wear the same size harness.
Chris Hemsworth (Thor) explains why it is important to follow the height requirements on many of the more thrilling attractions at Disney Parks. There is nothing like putting your child at extreme risk to wake you up! Safety!
Here are a few tips to avoid possible tension at the parks when it comes to height restrictions;
Measure your child before your trip.
Familiarize yourself with the ride height requirements before your trip.
Height requirement information is available on the park maps in case you forget
It may be best not to mention a potentially appealing ride if one or more children in your group are not tall enough.
If you have members of your party who are not tall enough for some rides, the rider swap option can be a lifesaver.
The rides with height requirements all have a measurement device at the attraction entrance. If a child looks to be anywhere close to too short, a cast member will ask the child to stand next to the measuring sign. If the child is tall enough, he will be allowed to enter the ride queue.
Many rides will have a second measuring device stationed directly before the ride vehicle loading area. Do not be surprised if your child is measured twice.
Bringing in banned items
Disney doesn't have a lot of rules of what you can and cannot bring into the parks, but they are pretty serious about the ones they do have.
Bringing in banned items serves no purpose other than to make a donation to the mounting pile in the contraband office.
Selfie Sticks and cigarettes seem to be the biggest culprits. Followed closely by glass containers, plastic straws (at the Animal Kingdom), large tripods, inappropriate clothing and adult costumes.
The biggest difference between a selfie stick and a monopod is that selfie-sticks can extend far beyond your body and are just plain annoying. They get in everyone else's way and they really do kill the mood for everyone affected. A monopod will only get your photography device a few inches higher than the reach of your arm and this is more for stability than distance.
Freedom of Fashion Expression
While Respecting Others
In terms of inappropriate clothing, Disney is not trying to be the fashion police, by any means. They allow creative freedom of expression, but they also know that not everyone wants to see what you want to express.
Mostly, they want to make sure everyone's bits are covered. This includes the men, just as much as the ladies. Offensive shirts, or tattoos, are not allowed within the parks either.
Political signs or pieces of propaganda meant to "stir the pot" are also not allowed in the parks. There was a man last year that decided to bring in political posters and wave it around the Magic Kingdom. He was quickly apprehended and banned from Disney.
However, simply owning a piece of clothing with a (non-offensively worded) political affiliation is allowed, as long as the purpose of wearing said piece of clothing is not to draw attention to yourself and your political views.
Barefoot during the rain
When it rains, it's nice to take off your shoes and just walk down the street barefoot and not ruin your nice sneakers. Shoes don't dry nearly as quickly as your feet and so 5 minutes of rain could really ruin your day.
But alas, that's gross. And against the rules. Disney expects, and demands, all guests wear a shirt AND shoes at all times, even if that means getting a soaker. Because it does rain in Florida, and it rains hard!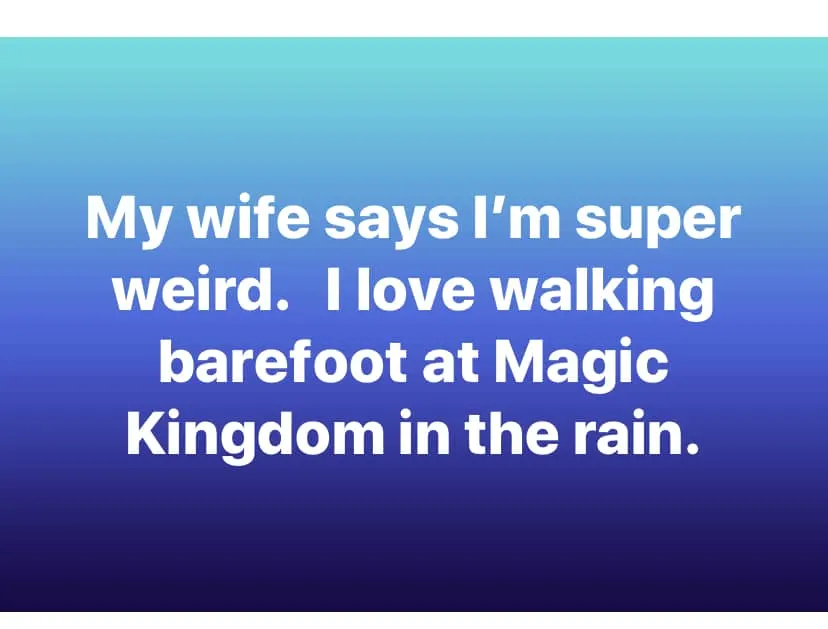 We suggest wearing waterproof shoes, sandals, carrying a plastic bag to cover your shoes while walking around the parks, or simply staying inside and waiting out the rain. Either way, please don't take off your shoes.
You May Also Like…