Last Updated on February 24, 2022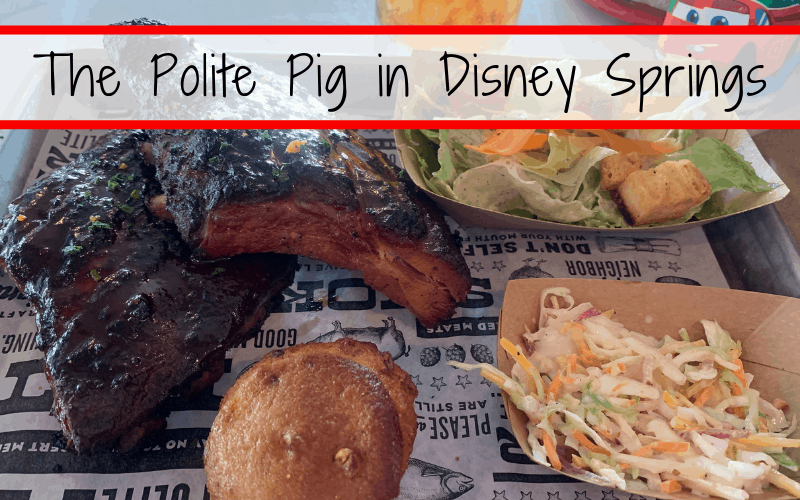 The Polite Pig is a counter service restaurant in Disney Springs at Walt Disney World, with a menu focusing on BBQ. In this review, we'll share food photos from our meal here, thoughts on the Polite Pig, and whether we'd recommend it to those visiting Walt Disney World. In terms of basics, the Polite Pig is on the Disney Dining Plan as a 1-credit counter service restaurant and offers an Annual Passholder discount of 10%.
The Polite Pig isn't your standard Quick Service restaurant. I took to Disney Springs as a solo adventure. The Polite Pig is located in the Town Center section of Disney Springs, close to the World of Disney Store and right next to the elevators for the Lime parking garage.
I was given menus at the start of the queue and had plenty of time to review before getting to the counter. This is great, as I don't like feeling pressured into making a choice, especially with the kids around, or people waiting impatiently behind me.
This also helped the queue move along quite quickly. Granted, I arrived just before noon on a sleepy Saturday before a major Hurricane but still, other restaurants were fairly busy and I was happy to see this one was able to accommodate the crowds easily.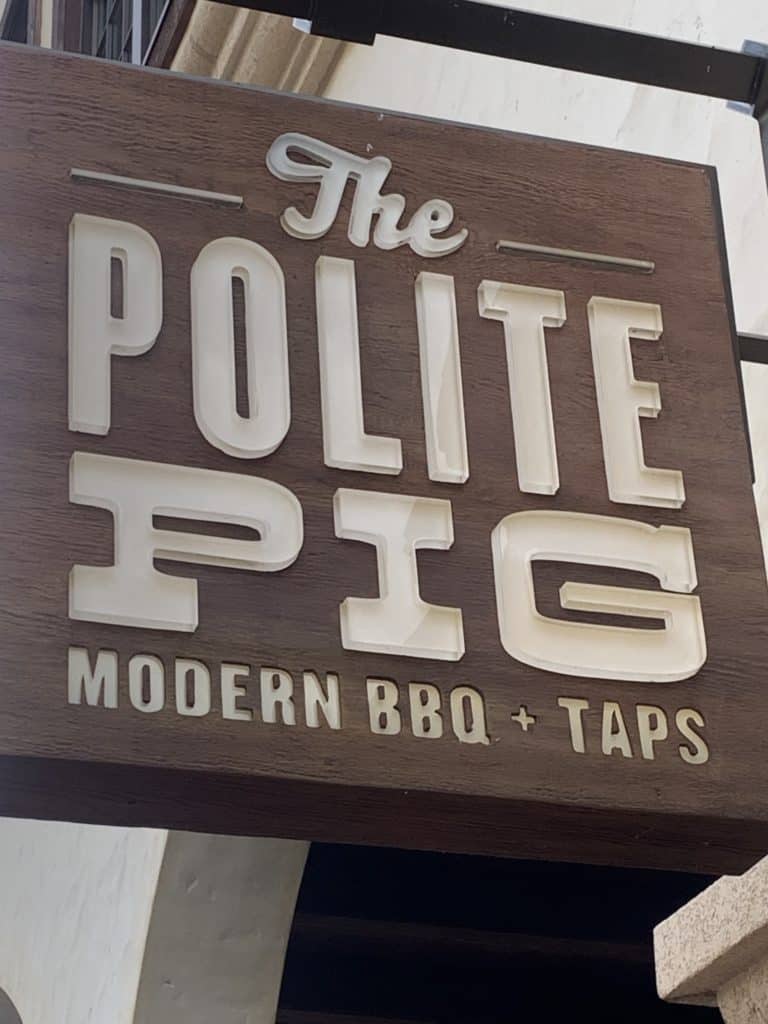 Looking through the menu, everything stands out as sounding amazing. I couldn't decide between the Half Chicken or the Ribs, as I am a huge fan of both. Considering the number of sides you get "From the Smoker", I knew I wouldn't be boarding my plane hungry.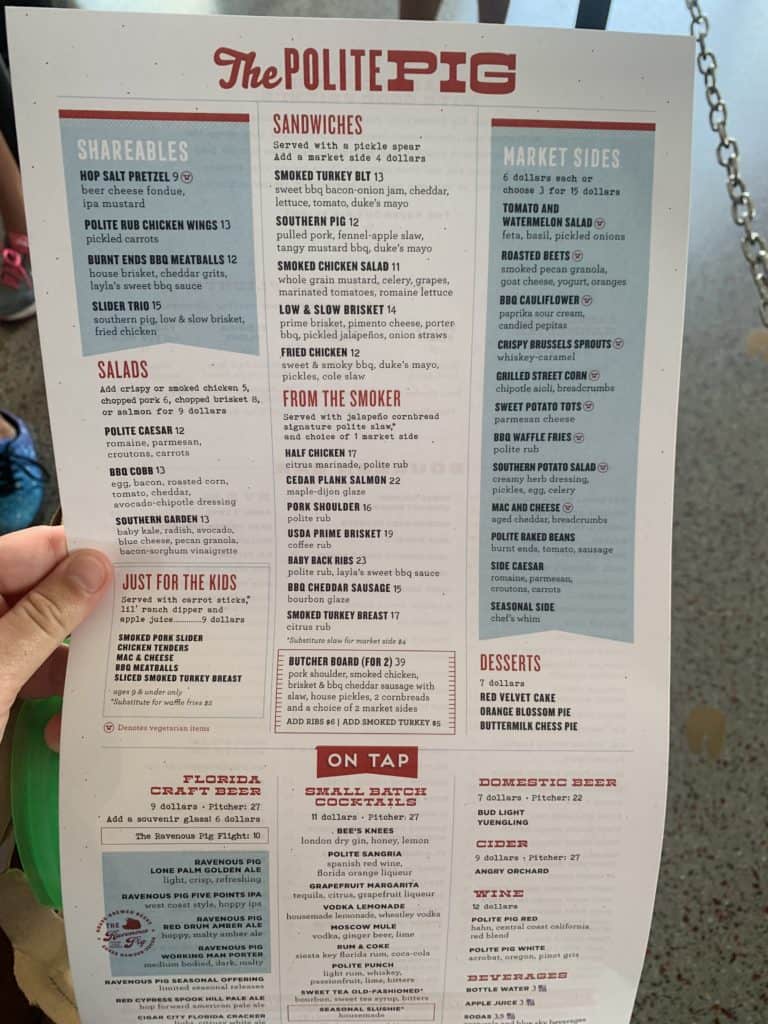 This is what I got to stare at while I was waiting in line. Those ribs were calling out to me! They looked and smelled so great, I knew I had made up my mind. Baby Back Ribs for the win.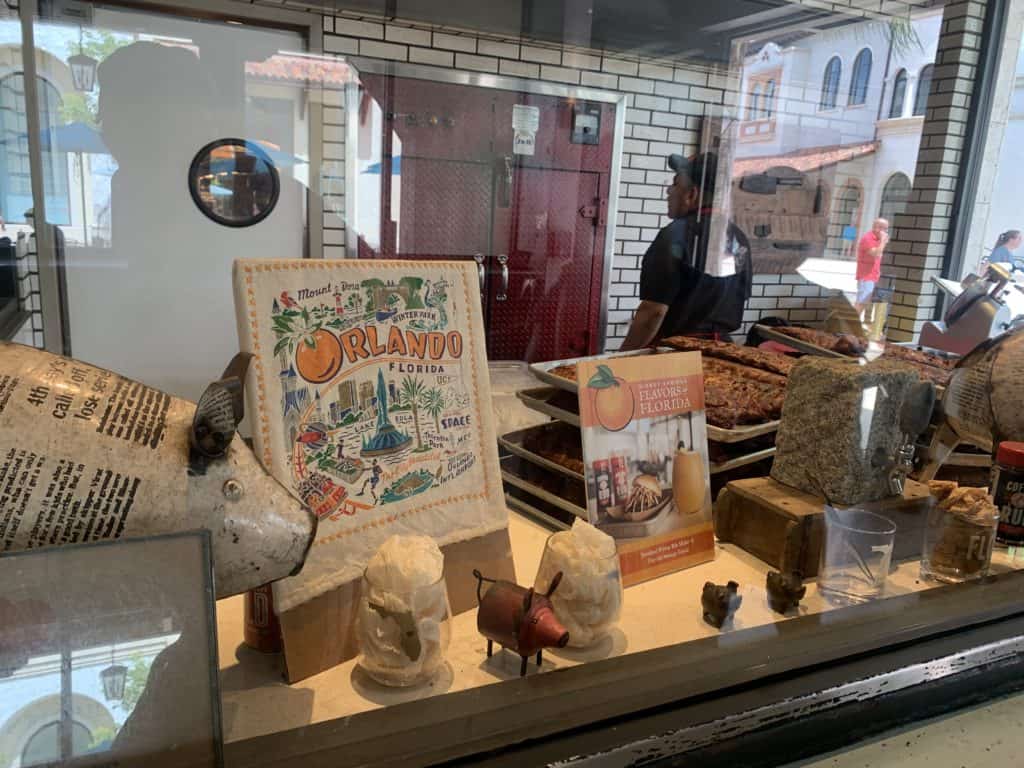 To be clear, I have no idea what the theme is. It's cool, it's clean, and it's mostly pork-based, hence the name "Polite Pig" but other than that…it's a quick-service restaurant.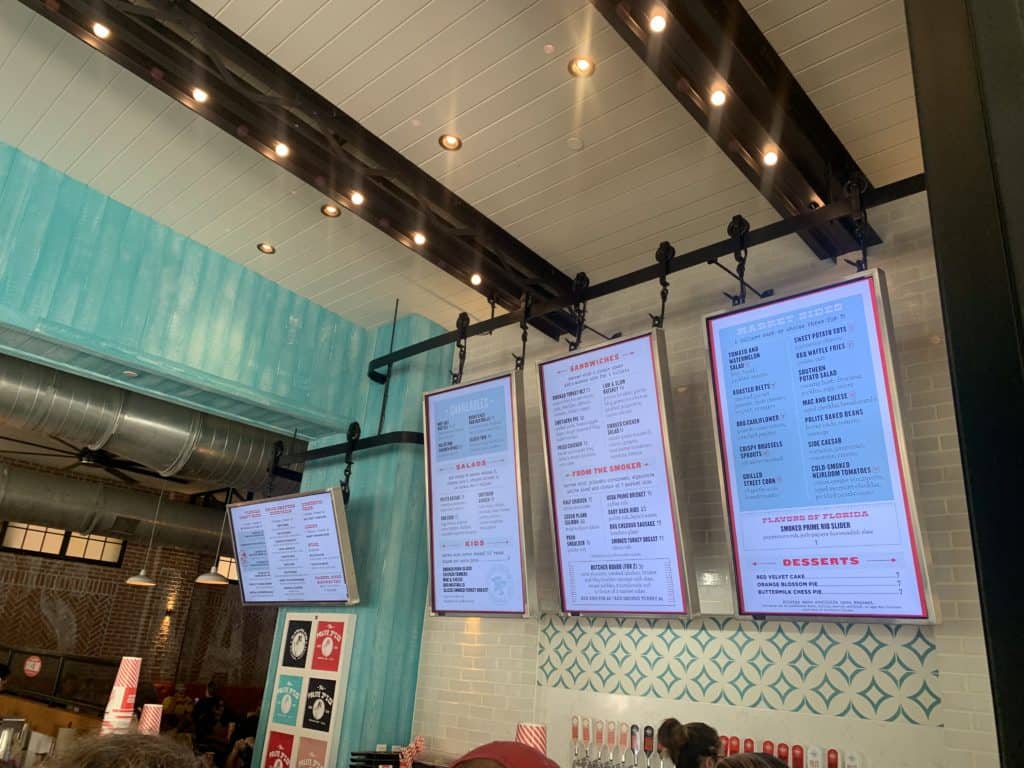 I finally got to the counter, not 20 minutes after I arrived, which is pretty decent timing considering some of the other reviews I have checked out beforehand.
The only thing that bothered me was tipping. I quickly learned that I didn't get my food right away; I would take a number card to my seat and the food would be brought to me when it was ready. Therefore I had a server. Therefore, this restaurant fell under the tip-culture scheme and I was asked to tip my server even before being served.
Yup. You read that right. When I paid for my meal quick-service style, I was asked to tip my server table-service style, ahead of time.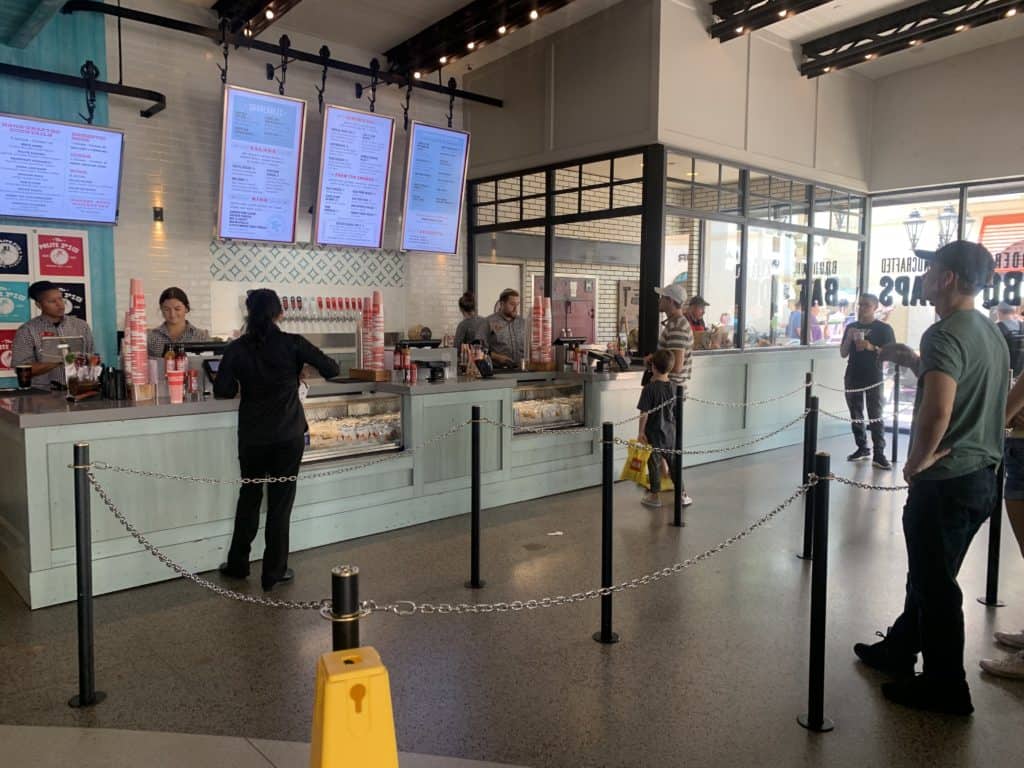 I went for the Baby Back Ribs ($23) which came with a mini cornbread muffin, a serving of slaw, and a choice of one side. I chose the caesar salad for my side based on recommendations from other Disney food lovers on Instagram.
I thought the ribs were great and the portion HUGE. You could definitely split this meal between two people and likely be full. I liked all of the sides, especially the caesar.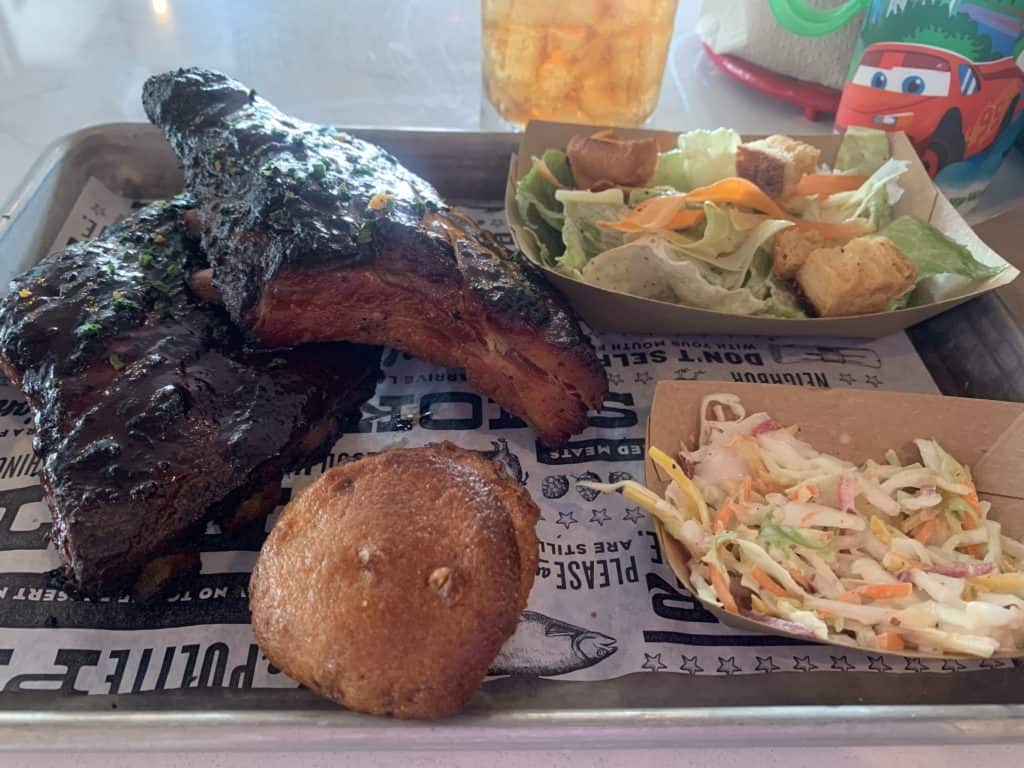 You can see that there is plenty of room for everyone to enjoy their meal in peace. This is the dining area, I didn't get a photo of the tabletop area that I sat in though. It was smaller than this but made up mostly of adults – since the kids can't reach the bar stools.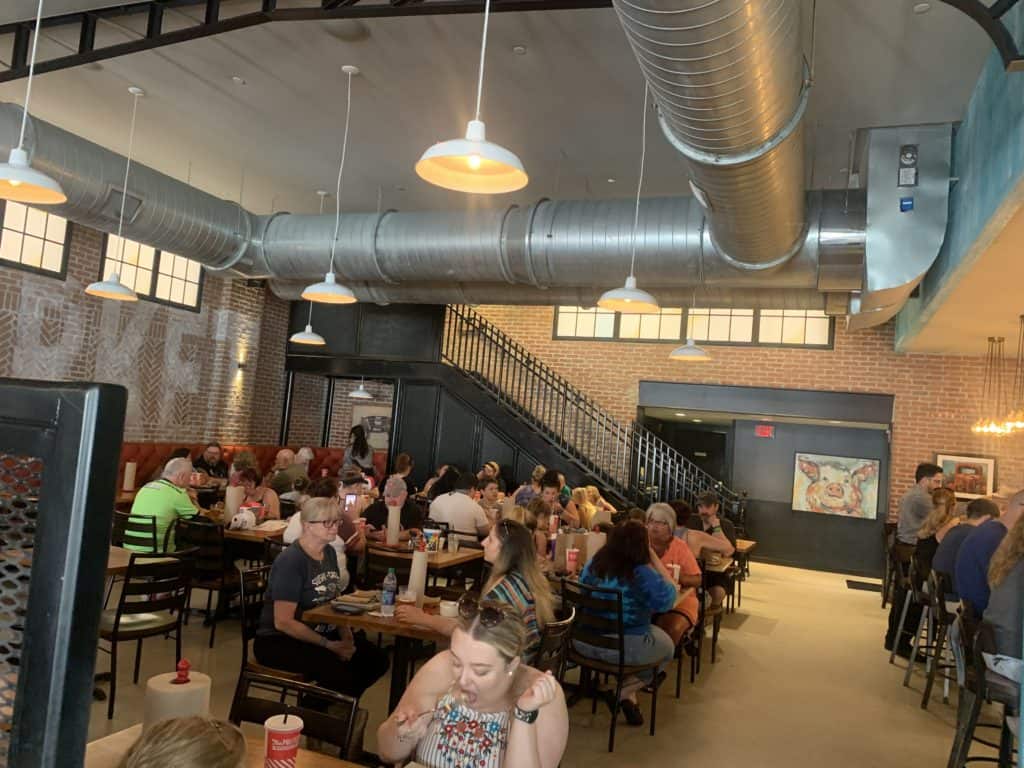 And right in front of me was the bar. They served up some pretty great concoctions.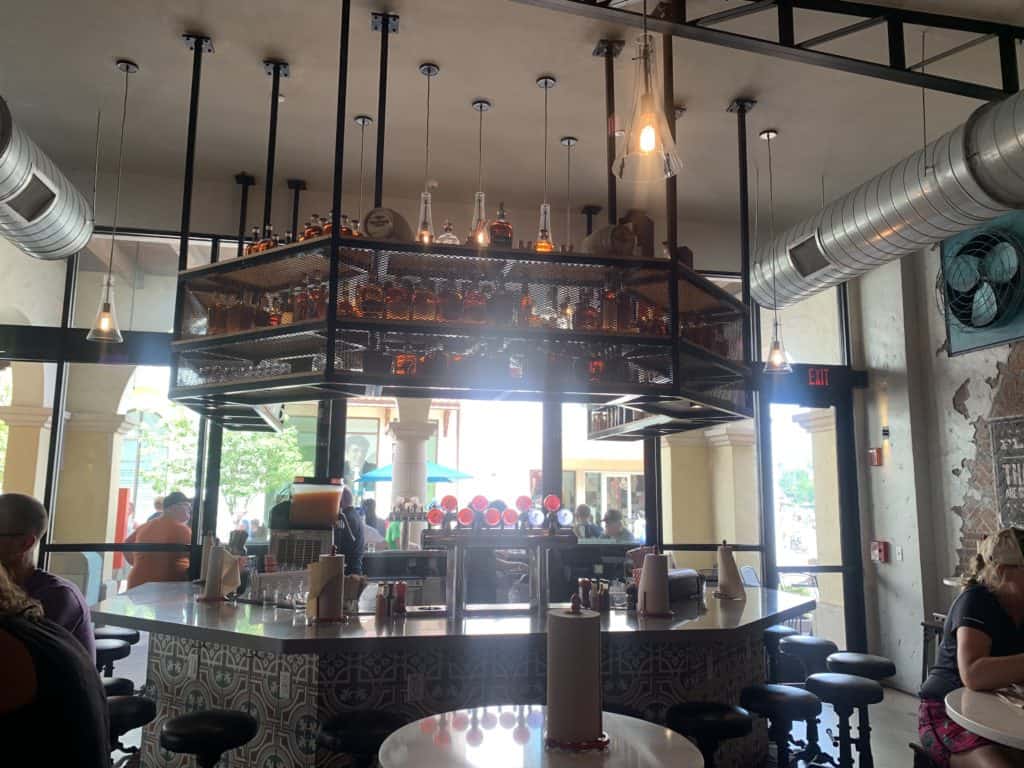 Conclusion
For $23 USD plus a drink (and tip), I had an incredible time at the Polite Pig. The food was incredible, the ambiance was great, and the server was kinda funny. She took one look at my plate, and a quick look at me, and asked if I wanted a box to go.
It was ALOT of food, and she was right. I took half of it back to the hotel and fed it to hubby; he didn't get a chance to have lunch before it was time to meet back up at the hotel to take the Magical Express to the airport.
I hope to bring the rest of the family here in December so we can all try the rest of the menu and bring you back more mouth-watering photos of our incredible meals. I am not one for taking pictures of my meals but I can't help myself here. A good bbq platter deserves to be recognized by all.
Your Thoughts...
Please share your thoughts in the comments or reach out on social media...We would love to hear from you.
Follow Mouse Travel Matters for Disney Parks news, the latest info and park insights, follow MTM on Twitter, Facebook, and Instagram.
You May Also Like…