Last Updated on June 2, 2020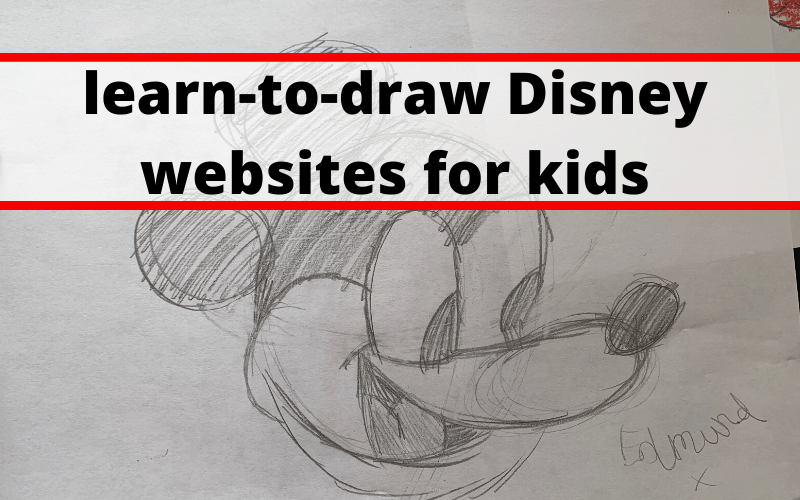 While we spend the next few weeks inside the house, it's nice to learn new things and expand our knowledge. Hubby and I have been cooking up a storm with our Disney copy-cat recipes, Soft Pretzels being my favorite, the kids wanted to try Disney art classes.
Of the myriad of learn-to-draw websites available, we found 3 that spoke to the kids at a level that they didn't feel patronized or overlooked.
This post may contain affiliate links.
To which I earn a small commission, at zero cost to you!
Find more info in our
Privacy Policy
.
Art Hub for Kids
This fun artist was introduced to us through our kids school – he is one of the resources they use during art lessons and our son loves watching these videos.
Our son mentioned that the artist, Rob, has a helper on set that draws the picture step by step after the artist does his part, so the kids have plenty of time and instruction to get their part done before he moves on to the next step.
There are several playlists available on Art Hub for Kids' Youtube channel but we focused on How To Draw Disney Characters today. While his depictions are far from Disney perfection, Rob and his daughter are still incredibly talented artists and their channel gives kids a great place to learn how to draw.
Rob Biddulph
Rob Biddulph of #drawwithrob is an artist and children's book author in his own right. He shows children how to draw a few of the creatures from his own books.
We appreciated the way he described the pencil movements and shapes that the children were expected to draw and copy. His hand motions are slow yet sharp, and he moves out of the way so the kids can see a full picture of the drawing at each step of the way.
The music in the background is fun, cheerful and light. Check out Rob making his own Gregosaurus.
Disney Parks – How to Draw series
Disney Parks has had their how-to-draw series out since 2014, it's only recently that many have been aware of it.
While we loved having a true professional guide us through our artwork and show us step-by-step how to draw Mickey Mouse, it was a little intimidating to watch them work. Discussing guidelines and construction shapes was new for us, considering I have difficulties drawing stickmen.
The artist was fairly quick in their descriptions of the movements and their hand didn't leave the frame long enough for us to get a good view of what our picture needed to look like. We found ourselves pausing and rewinding the video a few times in order to get the next step accurately.
I would recommend this series to anyone that is a little older, and a little more advanced in the art of drawing than my two children. That being said, it is great to watch and he certainly had a great time trying. She felt her picture was "a complete disaster", which it was. But her mermaid and Gregosarous came out ok so I think the instruction was just too much for her.
You May Also Like…
Best Shoes for Disney World & Theme Parks 2020 Men, Women & Kids
Everything You Need to Know About Going to Disney World
Disney World Mobile Photography Hot Tips for Theme Parks