Last Updated on May 9, 2020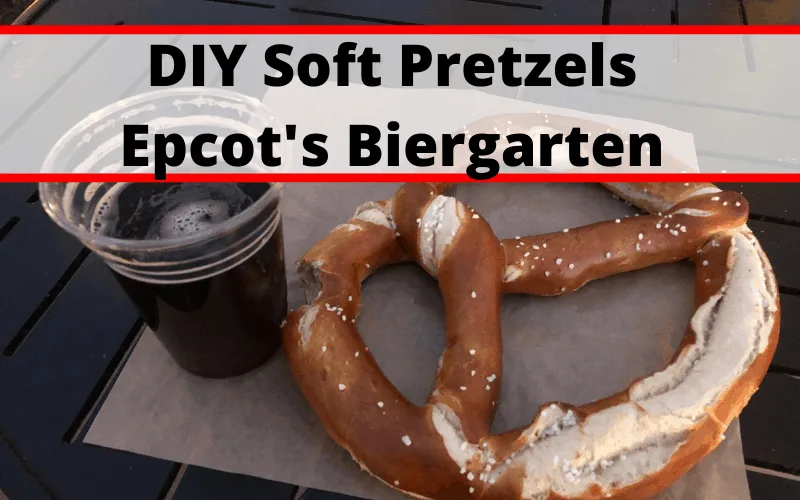 Who doesn't catch themselves daydreaming about their favorite Disney snacks? And one salty treat that you write to me about over and over are those amazing Soft Pretzels that you can get in the Germany Pavilion in Epcot!
We took the time at home to go through a few of our favorite Disney snacks list and attempted to recreate a few of our tops must-haves. So far, we have done a Strawberry Wine slushie and Mickey Donut Cookie. Today is pretzel time.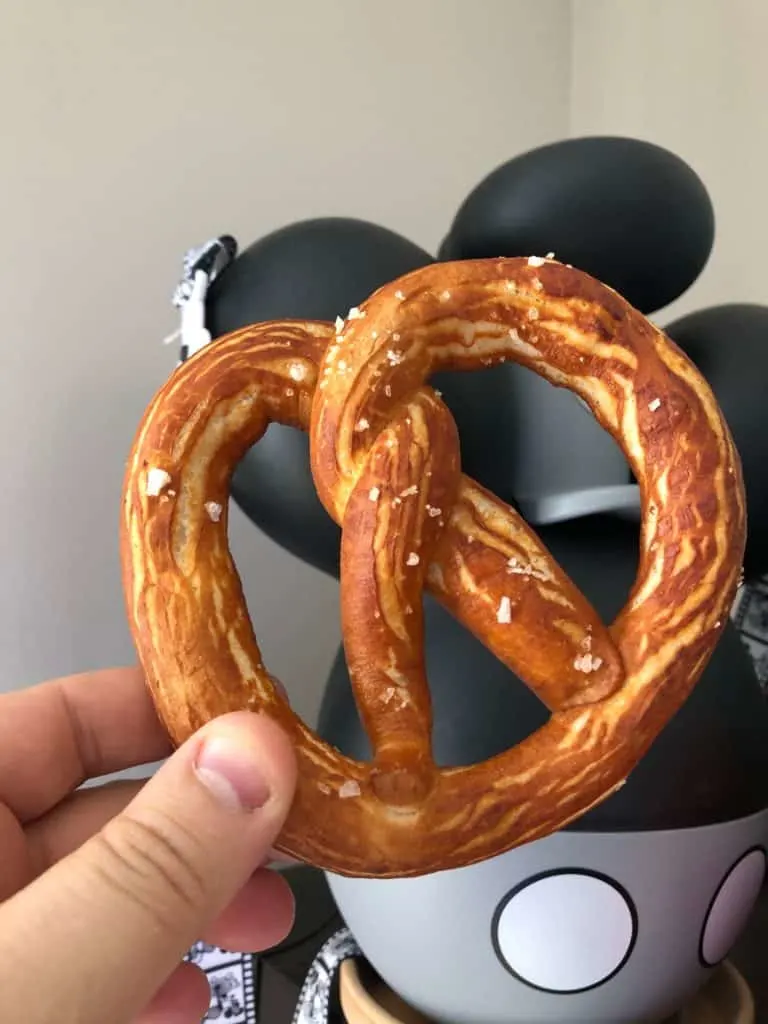 We actually started with a completely separate recipe, and while it was amazing and soft, we just couldn't get the tops to golden. There was too much flour and not enough proofing.
Upon more research, this particular recipe, with a few changes of our own, is much more authentically German and resembles the Biergarten soft pretzel more.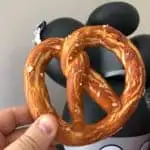 Print Recipe
Soft Pretzel from Germany Pavilion and Baseline Tap House
Ingredients
Pretzel Dough
3

tbsp

White Sugar

2 1/4

tsp

Active Dry Yeast

Or 1 package

1

cup

Warm Water

2 1/2

cups

Flour

1

tbsp

Melted Butter
Topping
4

cups

Hot Water

1/4

cup

Baking Soda

1-2

Tbsp

Sea Salt
Instructions
In a large bowl, whisk together the sugar, yeast and warm water. Let sit for 10 minutes. The mixture should become foamy.

Add the flour adn melted butter to the yeast mixture.

Lightly flour a clean work surface adn knead the dough for 2-3 minutes until it comes together into a nice firm ball.

Lightly grease a large bowl with butter. Put the dough into the greased bowl adn cover with a dish towel. Let rise somewhere warm for 1 hour until it has doubled in size.

After proofing, punch it down and remove from bowl. Cut into 8-10 pieces. Roll into roughly 17" long ropes. Shape into a pretzel form.

Heat over to 400F (200c). Line baking sheets with parchment paper

For the baking soda bath, heat the 4 cups of water in a medium pot until it reaches a light simmer. Stire in the baking soda, it will foam a lot.

Place the pretzel on a slotted spatula then dip into the baking soda bath for 5 seconds. Now place the dipped pretzel on the prepared baking tray and sprinkle with sea salt.

Bake the pretzels for 12-15 minutes until they are dark adn golden. Let cool for 10 minutes before enjoying.
Your Thoughts...
Please share your thoughts in the comments or reach out on social media...We would love to hear from you.
Follow Mouse Travel Matters for Disney Parks news, the latest info and park insights, follow MTM on Twitter, Facebook, and Instagram.
You May Also Like…
Chocolate Chip Cookies from Our Disney Snack Bag
How To Plan A Disney World Vacation Step By Step