Last Updated on June 24, 2023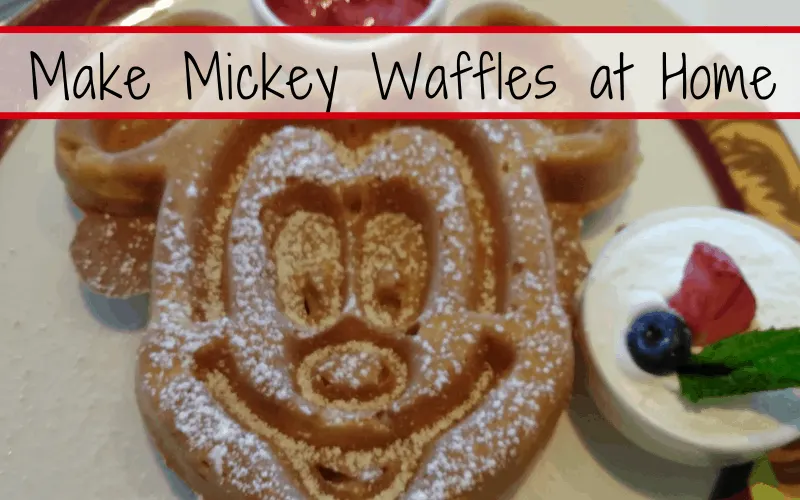 The same Mickey waffles that you eat at your favourite Disney restaurants are now available at home. We're spilling the secrets about How to Make Authentic Mickey Waffles.
Visiting Walt Disney World? Is "Get Mickey Waffles for Breakfast" on your Disney Dining To-Do List? Heck, Ya!
After your Disney Park visit, it would be great to have Disney at Home breakfast options. Here we will discuss making Mickey Waffles (and Minnie Waffles) at home.
Disney fans know there's something super special about Mickey Mouse Waffles. Be it the distinctive Disney flavour or the scrumptious bacon you can get them with. With the right tools, you can make Mickey Waffles at home that taste exactly like the ones you enjoy at Disney Parks.
To make this happen, you're gonna need three things. You're gonna need the right recipe, the right ingredients, and a great waffle maker shaped like Mickey Mouse.
Be sure to follow us on Instagram and join our Facebook group Disney World and Universal Studios
Mickey Mouse Waffle Makers at Home
In order to make Mickey Waffles at home, you need the right recipe. And that starts with Golden Malted Waffle Mix. Believe it or not, Disney World uses a Waffle mix to get their waffles perfectly fluffy each time.
With Golden Malted Waffle Mix, it's easy to make the golden brown Mickey Waffles that you crave. And like any waffle mix, you can make light, fluffy pancakes, too!
So, how do you get this magic deliciousness? Easy – Golden Malted offers a wide variety of gourmet mixes, including Gluten-Free! Golden Malted Waffle and Pancake Mix makes the PERFECT gift for the Disney foodie and makes breakfasts taste like 'Home'!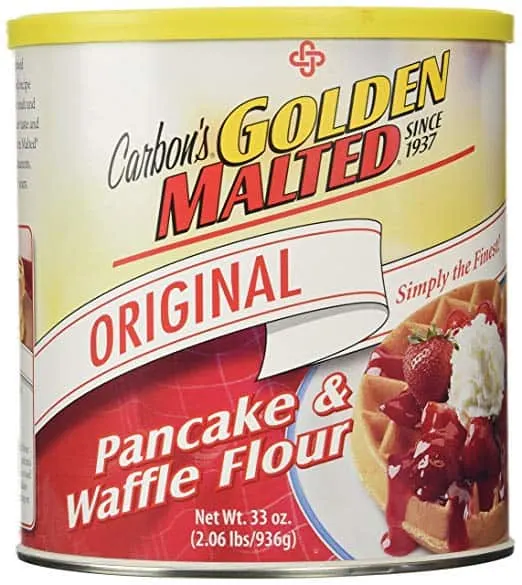 But What About a Waffle Maker?
Here are a couple of our favourites! These ones will yield picture-perfect Mickey Waffles for breakfast, breakfast for dinner — whatever!
Mickey Mouse Red Waffle Maker
There is a whole host of Mickey Red kitchenware available, so why not make your first piece the waffle maker? The Mickey-shaped indicator light even tells you when your maker is hot enough to start pouring.
Mini Mickey Mouse Waffle Maker
So far, all we have been able to find, at a reasonable price, that produces proper thick Mickey-shaped waffles (and are actually in stock) is from ShopDisney. Retailing at $99.99 USD they are more expensive than the Amazon pancake/waffles but they are as close to the real thing as one is going to get available from ShopDisney.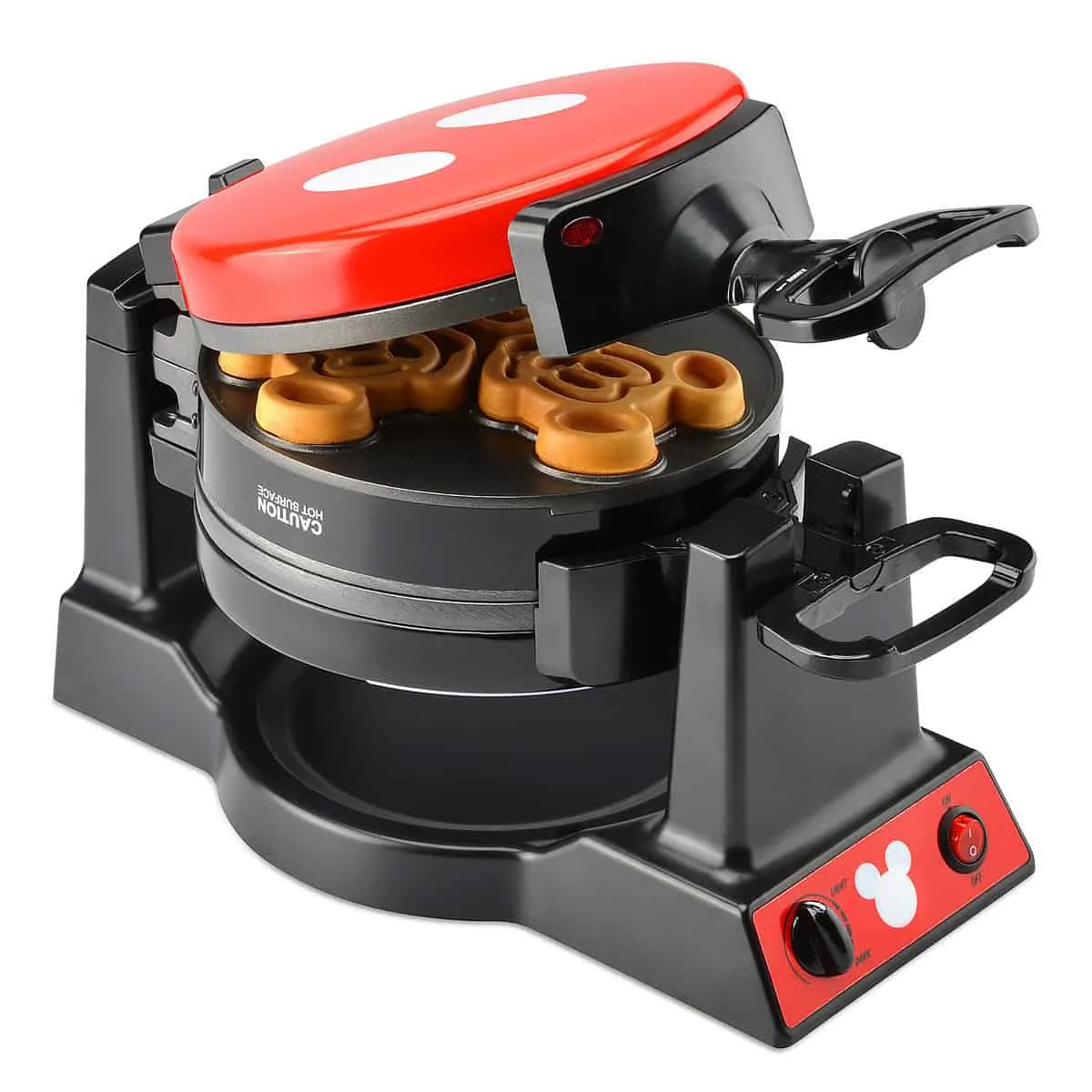 Minnie Mouse Waffle Makers
As with the Mickey waffle maker, these aren't as thick as you would expect from waffles. This is roughly the size of a large pancake, but still in the great shape of giant Mickey's and Minnies.
Waffle Maker Recipe From Scratch
If you are anything like me and prefer to have your waffles made from scratch, instead of premixed (personal preference, no big deal), then here is the alternative recipe for those perfect Mickey Waffles.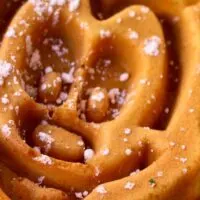 Print Recipe
Mickey Waffles
How to make your own Mickey Waffles from Home!
Ingredients
4

Egg

Separated

1-2

tbsp

Sugar

1

cup

Milk

1/4

cup

Melted butter

1

tsp

Vanilla

2

cups

Flour

2

tsp

Baking Powder

1/2

tsp

Salt
Instructions
Beat egg yolks in a large bowl until the sugar is thoroughly mixed and the yolks are thick and sunny colored. Add the milk, cooled melted butter, and vanilla extract and stir until combined. Then add all at once flour, baking powder, and salt. Mix well, but be sure not to overmix (overmixed batter will be frothy with lots of bubbles). If the mixture is too thick, add more milk until the mixture resembles that of thick pudding.

In a separate bowl, using a mixer, beat egg whites until stiff. Using a rubber spatula, gently fold the egg whites into the batter. DO NOT MIX.

Bake, following the instructions of your waffle maker until golden brown. Please note, these waffles rise and expand considerably so use the least amount of batter needed for desired results. For those using a lock-lid waffle maker, this is especially important. For results that most resemble Mickey waffles as served at Disney World, use a Belgian waffle maker.

Serve with a variety of toppings, including butter, powdered sugar, syrup, chocolate sauce, chocolate chips, whipped cream, strawberries or other fruits, even ice cream and sprinkles.
Your Thoughts...
Please share your thoughts in the comments or reach out on social media...We would love to hear from you.
Follow Mouse Travel Matters for Disney Parks news, the latest info and park insights, follow MTM on Twitter, Facebook, and Instagram.
You May Also Like…
How to Draw Cute Disney Characters Step By Step With These Amazing Artists
15+ Best Additions Coming for Disney World's 50th Anniversary
Chocolate Chip Cookies from Our Disney Snack Bag
How to bring Disney work to you when you can't visit the Parks