Last Updated on April 11, 2020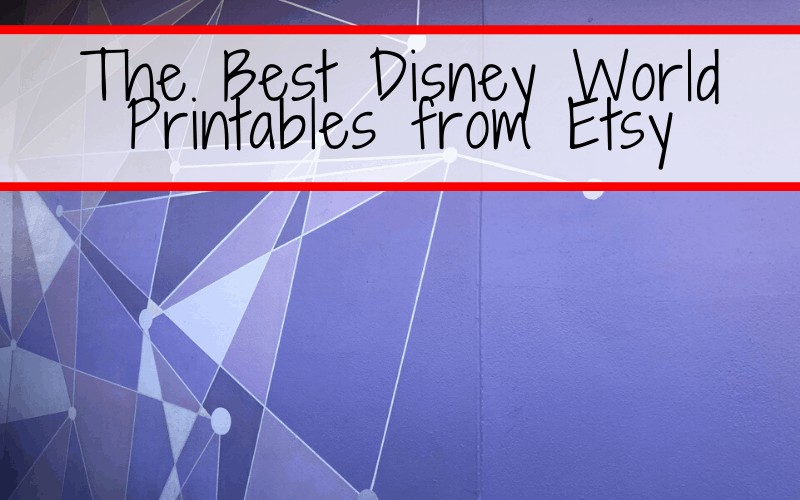 My frequent browsing of Etsy has turned into a beloved pastime, where I favourite everything I can see and buy up every Disney World printables I can find.
I like having distractions for the kids, ready to pull something out of my Disney Park Bag and keep them busy during a long queue. Even better, I love the idea of printing something from home, customizing it, and getting the kids in on all the Disney excitement.
This post may contain affiliate links.
To which I earn a small commission, at zero cost to you!
Find more info in our
Privacy Policy
.
Disney World Surprise Trip – Christmas Gift – Surprise Trip to Disney World
Surprise the kids with a trip to Disney World this Christmas! Print 3 tickets with different names from each page.
You type all your own text into this printable Disney World ticket at home. Just open it in Adobe Reader and type over my sample wording with your own details.
ALL TEXT IS EDITABLE! (except the "Merry Christmas"). Change the headings and all other text. Even change the barcode too.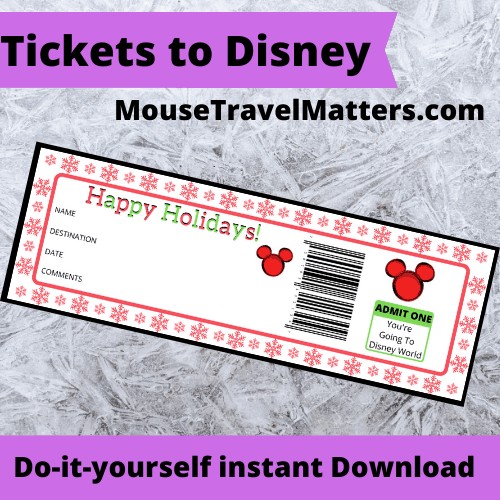 Disney World Travel Journal Bundle
This bundle includes four unique journaling pages specifically designed for adults and kids. Adults and kiddos can use these travel journal pages to record moments as they happen, to reflect at the end of each day, or to reminisce when you get back home.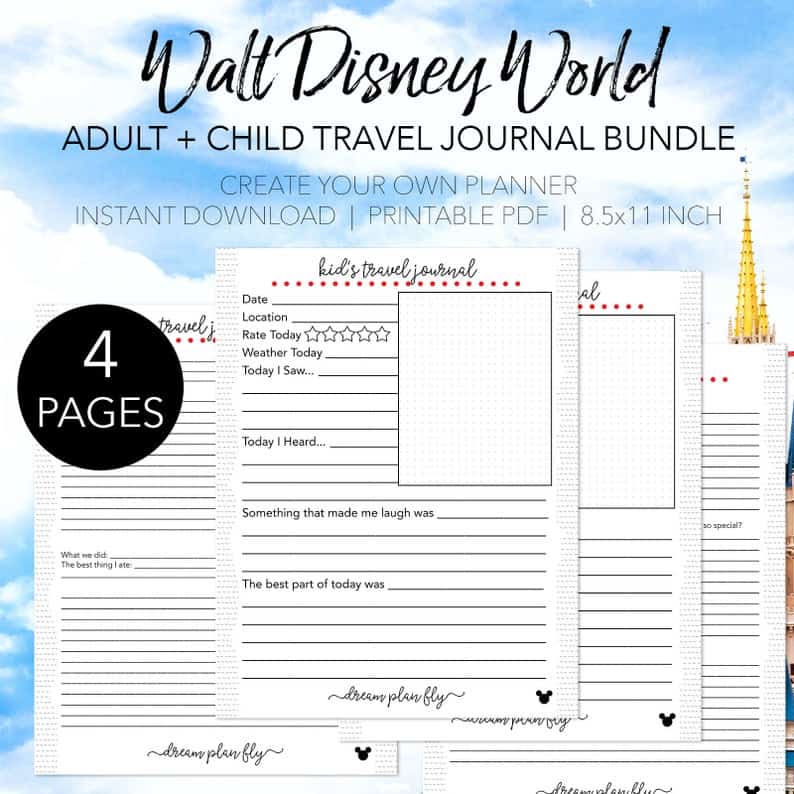 Disney Printable Tickets
Surprise your loved ones with a trip to Disney with a personalized Ticket/Boarding Pass to Disney World or Disneyland!
Easily edit Name, Destination, and Date on the ticket using Adobe Reader (FREE) or Pic Monkey (FREE) and reuse ticket as many times as you need.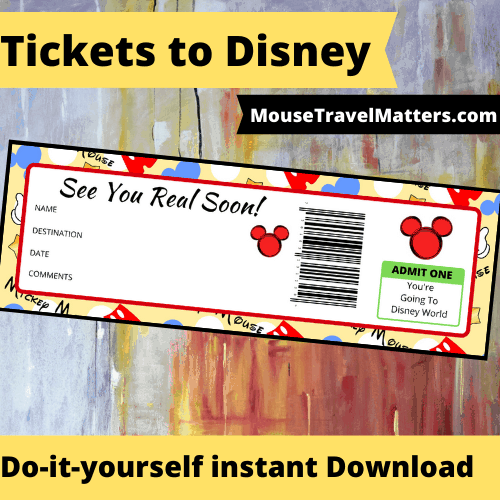 ULTIMATE Bundle Planner | Disney World Planner Travel, Resort, Budget, Agendas+more
Disney Planning Timeline
Complete list of things that should be done for every month before your visit:
Package and room comparison worksheet for your Disney trip.
Disney budget & payment tracker worksheet to keep track of your expected expenses.
Daily day planner worksheet – An overview of your Disney itinerary to keep track of which park to visit each day, and track which reservations you made for Advanced Dining and FastPass+ on those days.
Your Disney Vacation travel and transportation information.
Advanced dining reservation worksheet + dining credit tracker + list of all table-service restaurants by park, and list of table service restaurants outside of the parks.
FastPass+ reservation worksheet + list of all FastPass+ rides by park, and suggestions for which rides are popular and should be chosen first.
Disney Packing lists with packing suggestions for mom, dad, kids, and extras to bring, + blank sheets for you to customize for your Disney trip.
Make your own Disney world park touring plan with Disney itinerary worksheets.
Specific Park planners. Includes a daily Disney itinerary worksheet, ride and attraction guide, character guide, restaurant guide and more!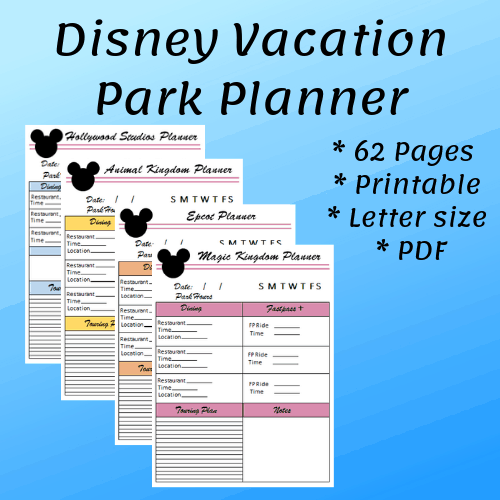 Disney Vacation Savings Tracker Coloring Page
Do you have some really big savings goals in mind? Perhaps something like a magical Disney vacation? 😊
This cute Disney Vacation savings tracker will give you the motivation to reach your financial goals! Whether you are saving up for a trip to Disney World, Disney Land, or even a Disney Cruise, this savings tracker will help you stay motivated and focused on your savings goals.
Break your Disney vacation savings goal into 10 steps and write on each level of the Mickey. Colour in each level as you reach it, plus all the other fun doodles on your colouring page!
Good luck with saving for your Disney vacation! You got this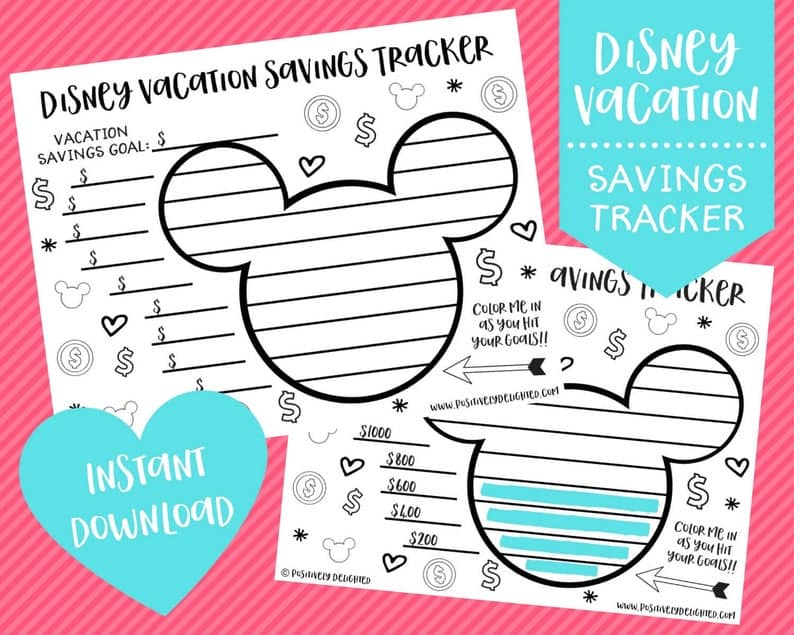 Drink Around the World Passport, Printable Epcot Drink Passport
Don't go Drinking Around the World in EPCOT without this passport! It will help you keep track of the drinks you get in each country.
The back of this passport lists all of the countries in the World Showcase in order (starting in Mexico) with a checkbox for each, plus room to write down which alcoholic beverage you tried at each country.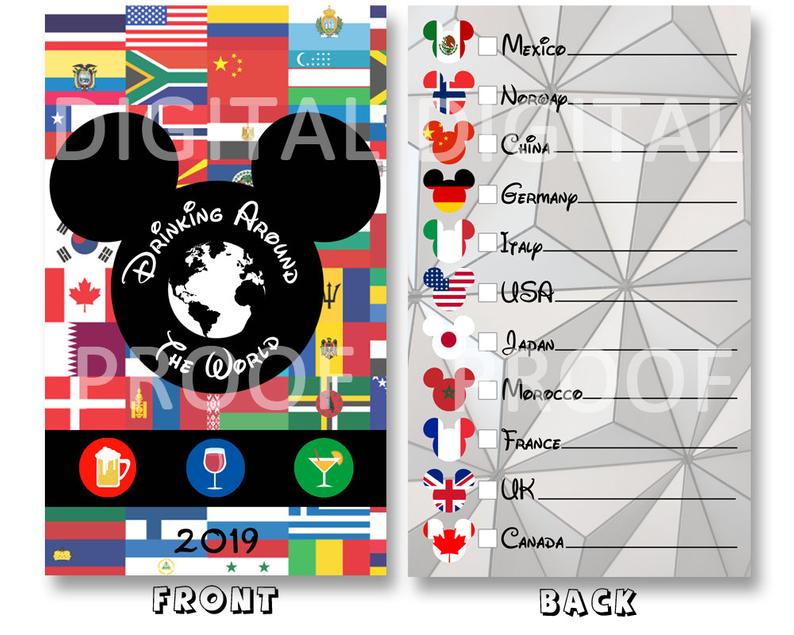 Who Said It Game?
Heading to Disney World or just looking for a fun Disney game to play?? Check out this fun game, "Who Said It? Disney Edition"
Here's what you get:
-Instant Download of "Disney: Who Said It?"
-Each card measures 2×3.5 inches
-8 cards per page for a total of 60 cards
-Best fits 8.5×11 paper size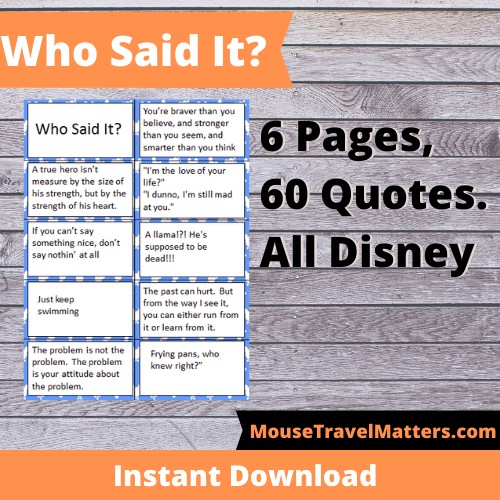 Disney Vacation Countdown Printable
Countdown the days to your magical Disney trip with this easy to use printable!
Colour in or mark off each of Mickey's ear as the days get closer and closer to your vacation!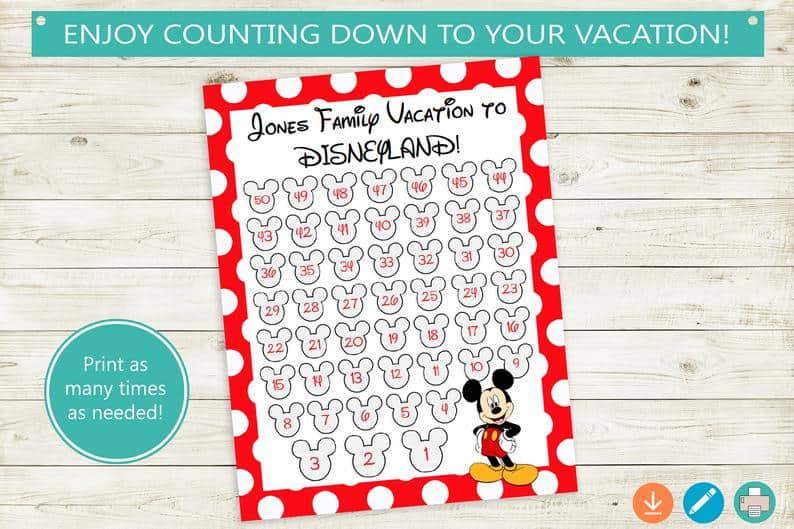 Disney Autograph Printable Pages with Quotes
Create your own personal Disney Autograph Book or simply use these beautiful pages for your very own custom photo album. Each Autograph page comes with a picture and an inspirational quote from the movie or even Walt Disney himself. The Characters at Disney love to read them! It's a great conversation starter!
Some examples of these quotes are:
Rapunzel: "I promise. And When I promise, I never, ever break that promise. Ever."
Tiana: " The only way to get what you want in this world is through hard work"
Cinderella: "Have Courage and Be Kind"
Ariel: "I just don't see how a world that makes such wonderful things could be bad"
Once you download these files, if there is a different quote you would prefer to have on one of the pages just let me know and ill be happy to customize it for you!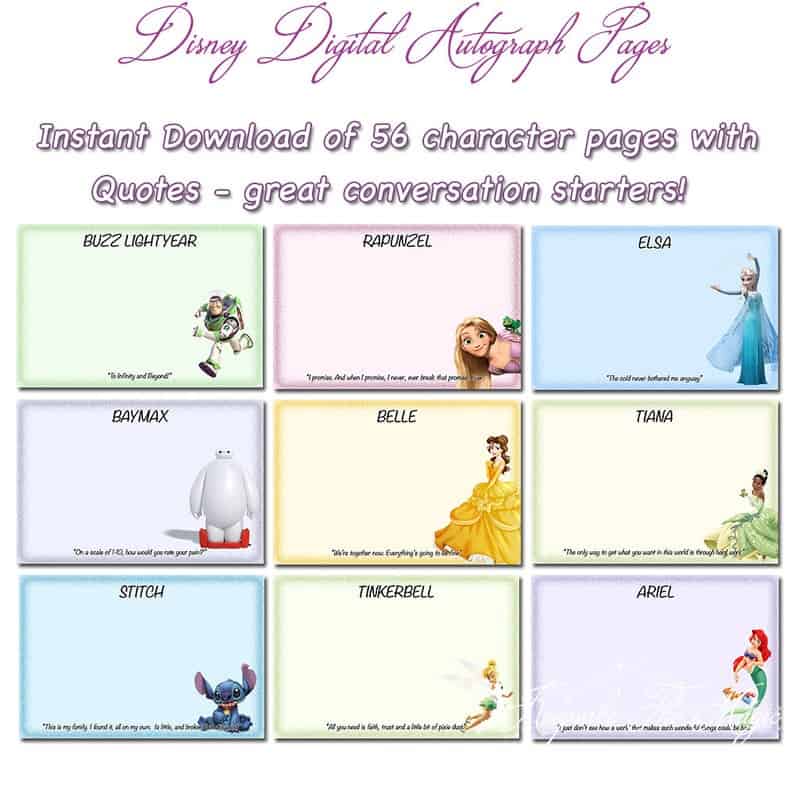 Disney Trip Reveal Letters
Reveal your upcoming Disney trip with these special letters from Mickey and Minnie Mouse!
You can edit the text, create your personalized letter, and print from home immediately after purchasing.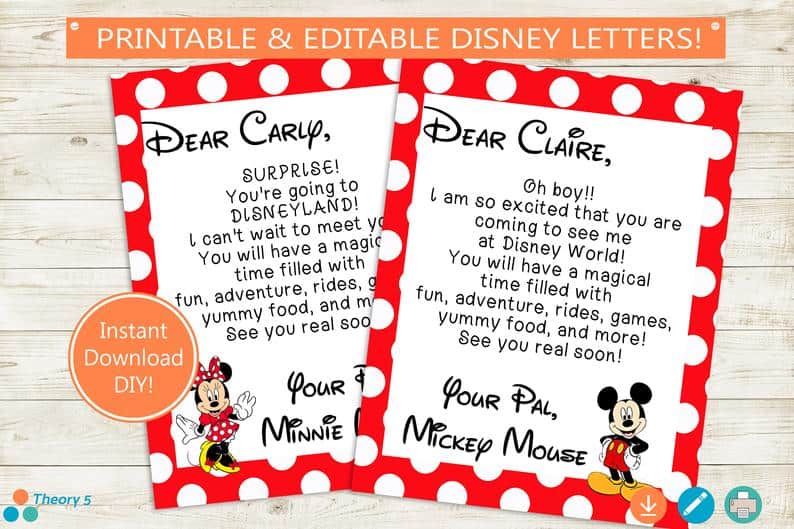 Ultimate Disney Bundle; Crossword and Word search digital downloads
A printable pack of Crossword, Word Search and Answer Key
As always, your financial support allows me to continue providing positive materials for families via my blog and social media channels.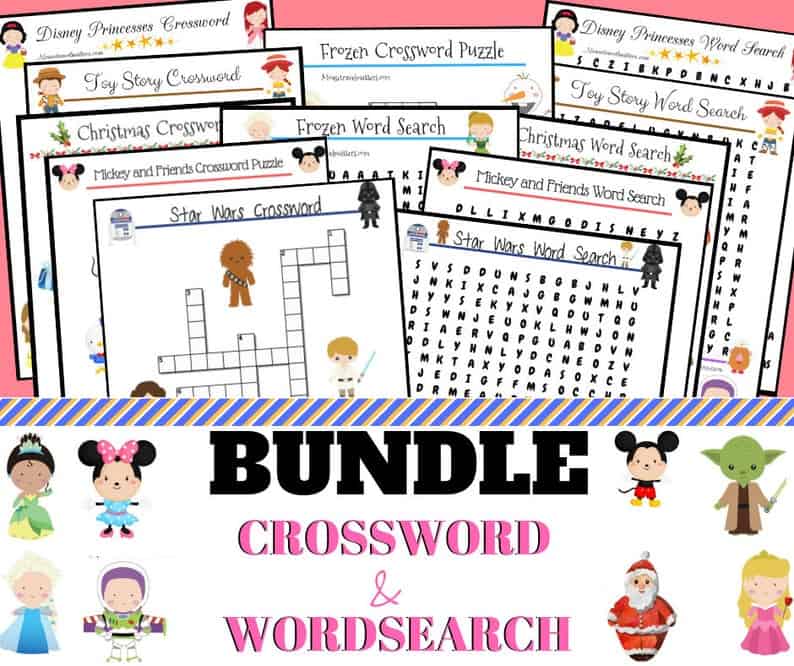 EPCOT Around the World Country Booklet
This mega-pack is a bundle of 11 of my country booklets for lower elementary grades! These booklets would be a great resource for younger students who are learning basic facts about countries around the world.
Booklets included in this purchase are:
United States of America
Norway
Canada
China
Morocco
England
France
Germany
Italy
Japan
Mexico
Each page has a basic fact and illustration (outline format) that is ready to be coloured like a mini-colouring book. Enjoy!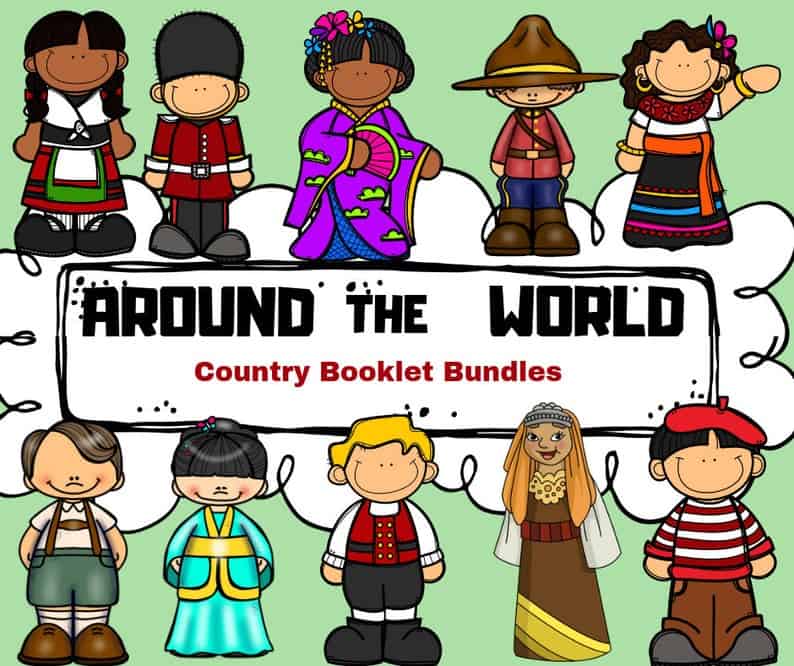 Your Thoughts...
Please share your thoughts in the comments or reach out on social media...We would love to hear from you.
Follow Mouse Travel Matters for Disney Parks news, the latest info and park insights, follow MTM on Twitter, Facebook, and Instagram.
You May Also Like…
MTM created a planner!: The Ultimate Walt Disney World Vacation Planner
10 Ridiculously Beautiful Disney Prints From ETSY
2018 Disney Parks Trip Planning Guides
Things to do with kids while waiting in line at Disney