Last Updated on February 6, 2020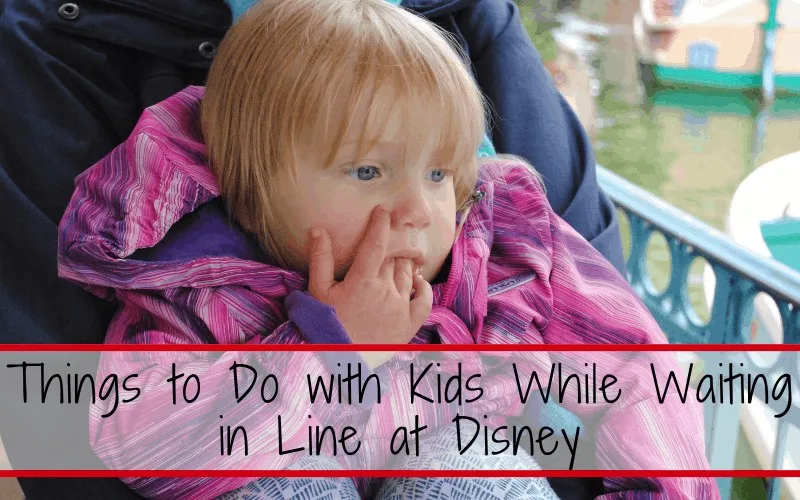 Waiting in line is never easy for young kids, after a long day of fun and excitement at Disney, those lines can be especially challenging.
Be prepared with some simple activities the kids can do while waiting.
Games & Apps
Sometimes the lines are too long to just stand around and not long enough to really get into a game. Or they just have zero interest in talking to you and just want to mindless watch/play something before flipping out from over-stimulation.
This post may contain affiliate links.
To which I earn a small commission, at zero cost to you!
Find more info in our
Privacy Policy
.
This was the case when we lined up for Mickey and the Magician at Disneyland Paris. It was almost her nap time so holder her was not an option – but we did want to get in line early enough to get good seats.
Out came the iPhone with a beefy data plan and no roaming fees across the European Union. I opened YouTube and played a few episodes of Peppa Pig and everyone was happy. We even caught the attention of a few other children and they all started to gather around my little 5.5 inch iPhone screen. It certainly had a quieting effect for the kids.
Bubble Fun
We always have small bottles of bubbles stowed in our touring bag. It doesn't need to be big, just large enough entertain for 30-45 minutes while in the queue.
Though I would suggest, only using them when outside in the queue, or in a covered outdoor queue. Blowing bubbles inside can lead to stickiness and overall a poor experience for others.
Hidden Mickeys
You will find Hidden Mickeys throughout the Disney Parks. In fact, there's a whole guidebook devoted to finding them in obscure places. Even if there isn't one near you or in your queue, let them look and make up their own.
Take & Look at Pictures
Interactive and themed queues are amazing to look at and we love taking pictures of everything in the lineup. It's also great to take pictures of the kids in the queue or the wall art itself.
The kids will also probably be curious about all those pictures you have been taking throughout the day and this is a great time to go through them and free up some space by deleting the bad images.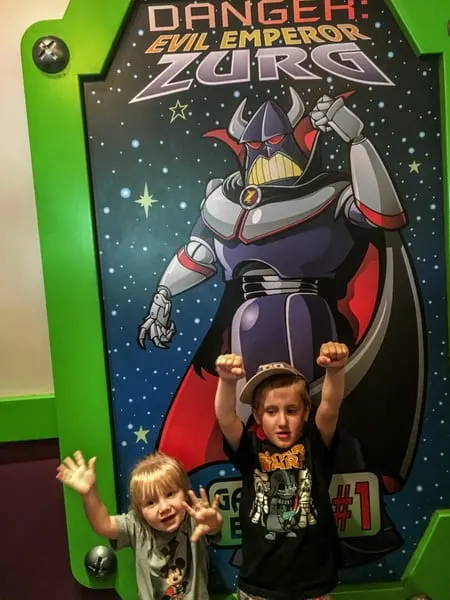 Study Your Paper Disney Map
Even before he could read, he loved to study the maps. He would check out the pictures and try to identify the rides, and ask about each one. If we were travelling more than a few feet to get to the next attraction, we let him carry his own map and "navigate" our way there.
Snack Break Waiting in Line
Kids gotta eat, why not kill two birds with one stone and snack while in the line. This was taken while waiting for the Disneyland Railroad, but we have been known for having them finish their lunch (especially if one or both fell asleep before they could eat), snack on today's purchase of popcorn or whatever I had packed in our lunch bag.
While waiting in line for Ratatouille at Walt Disney Studios, the family in front of us whipped out a massive haul of sweeties and treats for their kids to eat while waiting in the 45-minute queue.
It was the first ride of the day and we didn't feel they needed snacks at this time, 20 minutes later they said there was a problem and we would have to wait a little longer before boarding… those snacks started to look pretty appealing.
Lucky for us, we did have something in our Disney park bag (more details here), popcorn bucket the rescue. This avoided the "Why is she having a snack and we can't?" question.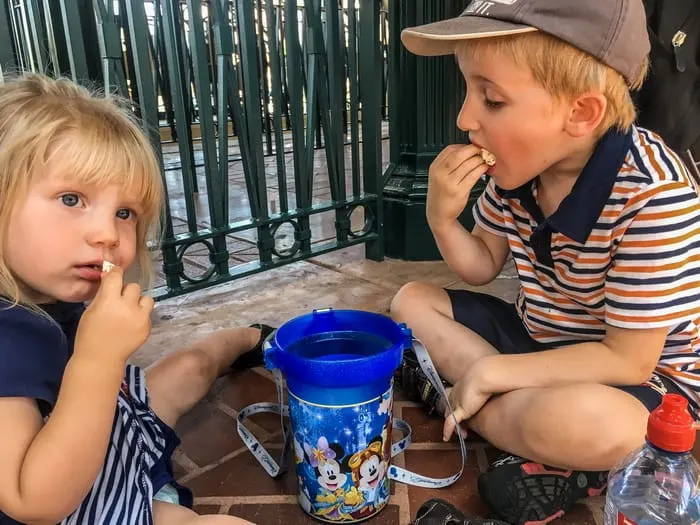 Interactive Queues
There are several Magic Kingdom attractions with interactive queues. My two favourites are Pirates of the Caribbean and Star Tours.
The kids have something to focus on, and the lines tend to move fast enough that they aren't bored with the one scene before it's time to move on to another. Buzz Lightyear Ranger Spin comes in at a close 3rd place; they love Toy Story!
Light-up Toys (for nighttime)
Once the sun goes down, it's time to bring out the light-up toys. Everyone is going to have some sort of toy or glow stick so there is no way to get away from that conversation – by providing your own from home, you can save a little money.
Reapply Sunscreen Right!
So this one is pushing it a little but it needs to be done. Check out our suggestions for best sunscreen for kids while your on that train of thought.
Play a Disney-Themed Game
There are a handful of games that will keep the kids' busy using their imaginations, it requires little to no prep. Pictionary, for example, requires only a piece of paper and a pen, which will also come in handy if you are planning on journaling.
I have a set in my bag at all times for writing down thoughts, ideas, and notes. Perfect also for when the kids want to draw something.
Who Am I?
Another great game to play with the kids; describe a character from a movie they have seen and see how long it takes for them to guess correctly.
Journal Your Memories
If the kids are asleep in the carrier or they are interested in helping out (or have their own journal to colour in), why not record your thoughts and memories before you forget. There is so much to see and do in any single day that it can all start to blend together even by the end of the night.
Printable Games to Keep the Peace
Disney-Inspired word search and crosswords can be a great distraction from the boredom of waiting in line. You can find a handful of them in the shop.

Plan Your Next Meal
If you haven't made Advanced Dining Reservations for each meal, take this time to ask the kids when and where they would like to have their next meal or snack. A little food quiz time with the kids will allow you to plan your own bucket list food item stops.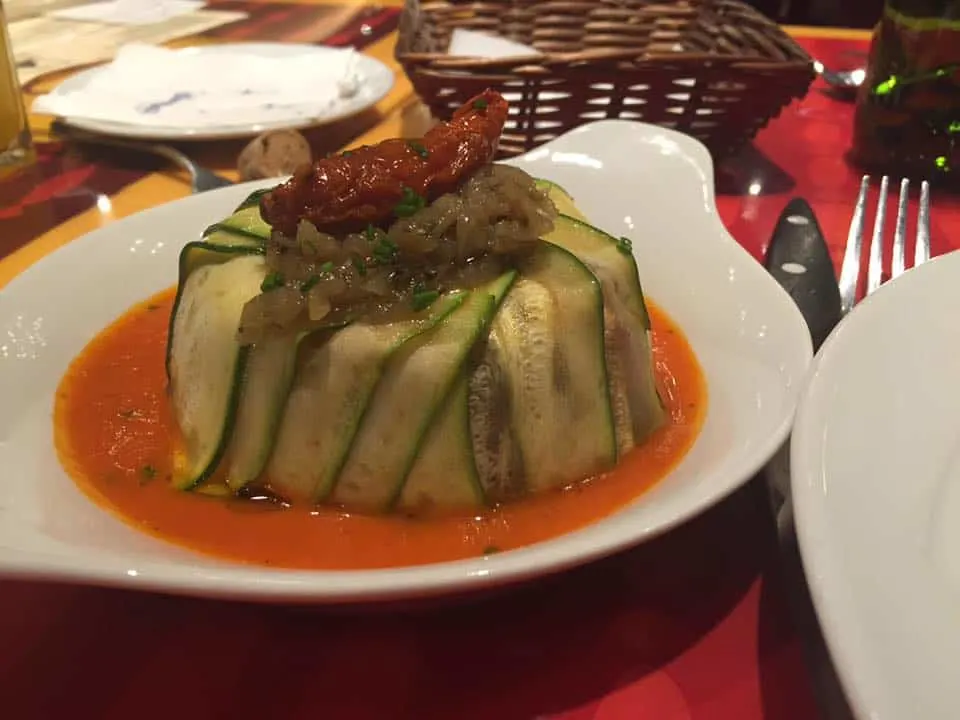 You may have already made a decision, in which case, reviewing the menu and even doing some Mobile Ordering is a great way to pass the time and save time later.
Naps for the Little Ones?
Depending on the expected length of the queue, and the gear you have brought along with you, it is completely reasonable to allow a little one to nap while in long lines. Ideally, one would have a soft carrier and front carry the toddler.
Play with Toys Waiting in Line
I know that I have always said that we leave lovey's in the hotel room but sometimes little cheap toys manage to find their way out of the room. They hide out in mommy's park bag until they are desperately needed, then go right back in just before boarding the attraction.
Minimizing the amount of time the toy is out of the bag greatly reduces the chances that it will be lost. This does, however, increase the chances of another child wanting to play too.
When he was only 2 years old, we took him to Disneyland Paris for the first time. We bought him a Jake and the Neverland Pirate figurine set, Captain Hook pictured below. Between the store and the hotel, we decided to ride the Disney Railroad.
The posts and pages of Mouse Travel Matters
do contain affiliate links that we earn a small commission for,
they come at no extra cost to you!
We opened the bag and let out a few of the figures. Another little boy was waiting patiently with his family sans entertainment. It didn't take long for him to make his way over to use and ask to play along. Surprisingly, mine didn't have a problem with sharing and they played very well for the 20 minutes it took for the train to arrive.
He can share with a stranger but not his sister?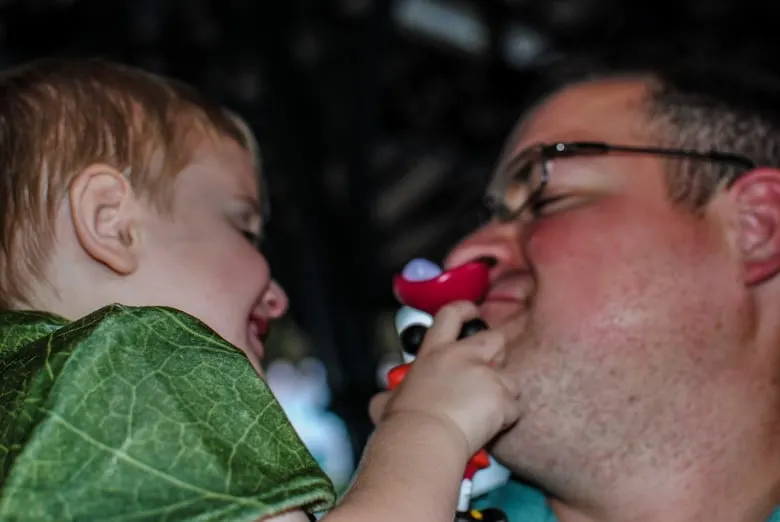 Available for download is this free PDF Checklist. All the ideas in one place, enjoy.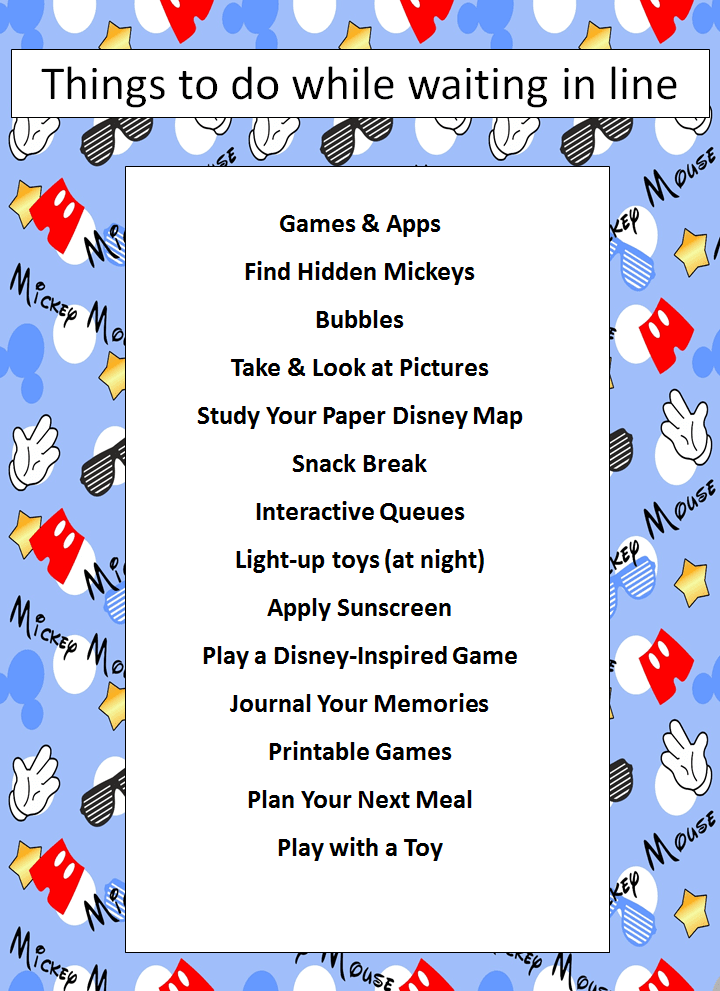 Your Thoughts...
Please share your thoughts in the comments or reach out on social media...We would love to hear from you.
Follow Mouse Travel Matters for Disney Parks news, the latest info and park insights, follow MTM on Twitter, Facebook, and Instagram.
You May Also Like…