Last Updated on April 27, 2021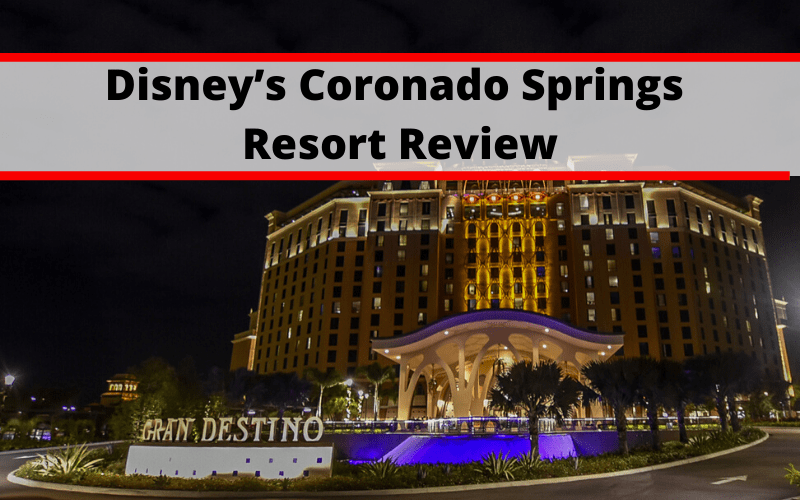 Disney's Coronado Springs Resort is a sprawling, upper-middle-range property that falls into Disney's Moderate Resort Hotels category. Centered around a giant lake, the hotel's meticulously kept grounds feature fake boulders, adobe-style buildings, and plenty of cacti, reflecting its southwestern theme.
Why a Moderate resort?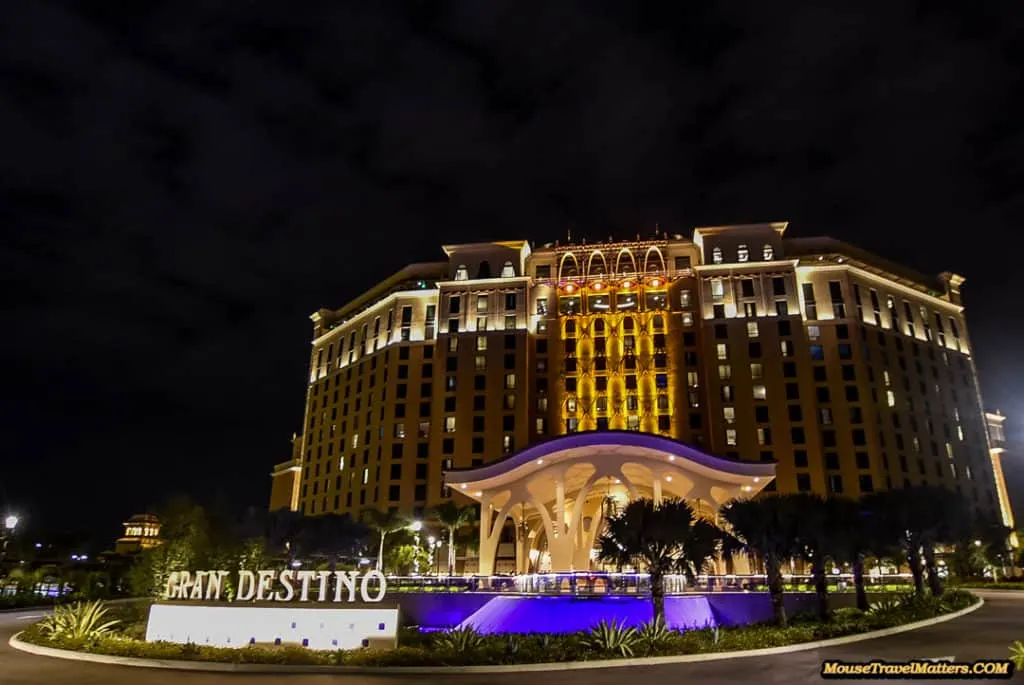 A moderate resort is the halfway point between Deluxe and Value. It's a little spoiled, without being overpriced. It's classy, without being posh.
We had stayed at most of the Value resorts before, except for POP Century but it was sold out for our dates and wanted to experience something new (mostly so I could write a new review about it, but who's counting).
Since we had a Bounce Back offer from our August stay at Art of Animation, the cost to "upgrade" from Pop Century to Caribbean Beach was about $32/night. At a total of $224 USD, we wanted to give it a try.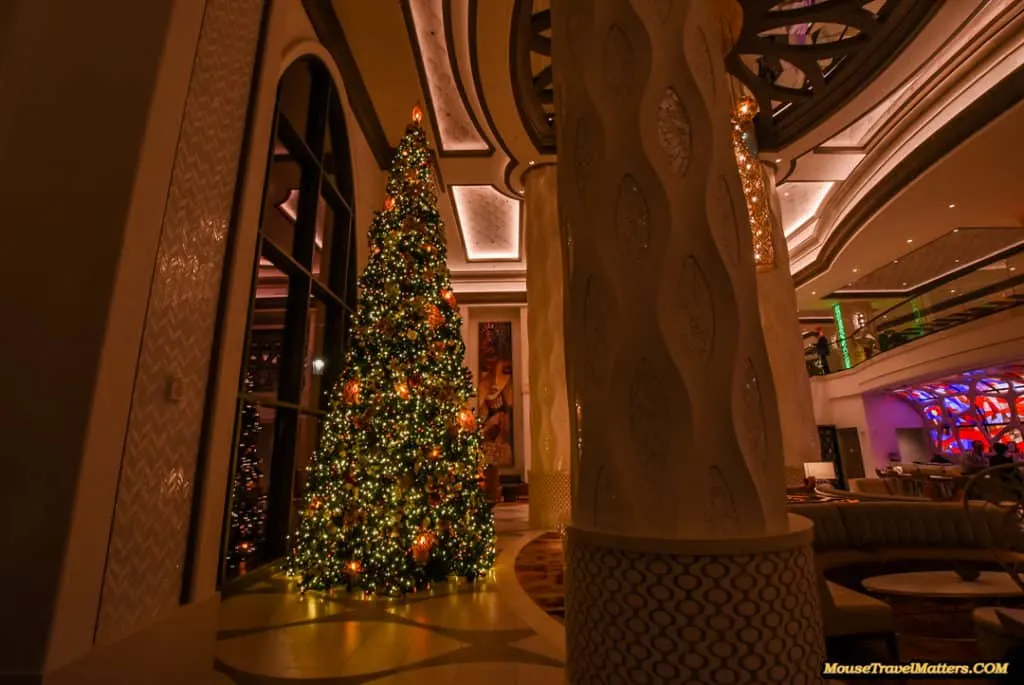 Disney's Coronado Springs
Gran Destino Tower at Coronado Springs is a stand-alone hotel that shares some amenities with the rest of Disney's Coronado Springs Resort
Disney's Coronado Springs is centrally located less than 10 minutes from each of the Disney World theme parks. What makes it slightly less convenient is that you really can't walk to any of the parks. Coronado Springs isn't a monorail resort and won't be served by the new Disney Skyliner. With no waterways nearby, that leaves buses as the only free method of transportation to various Disney World attractions.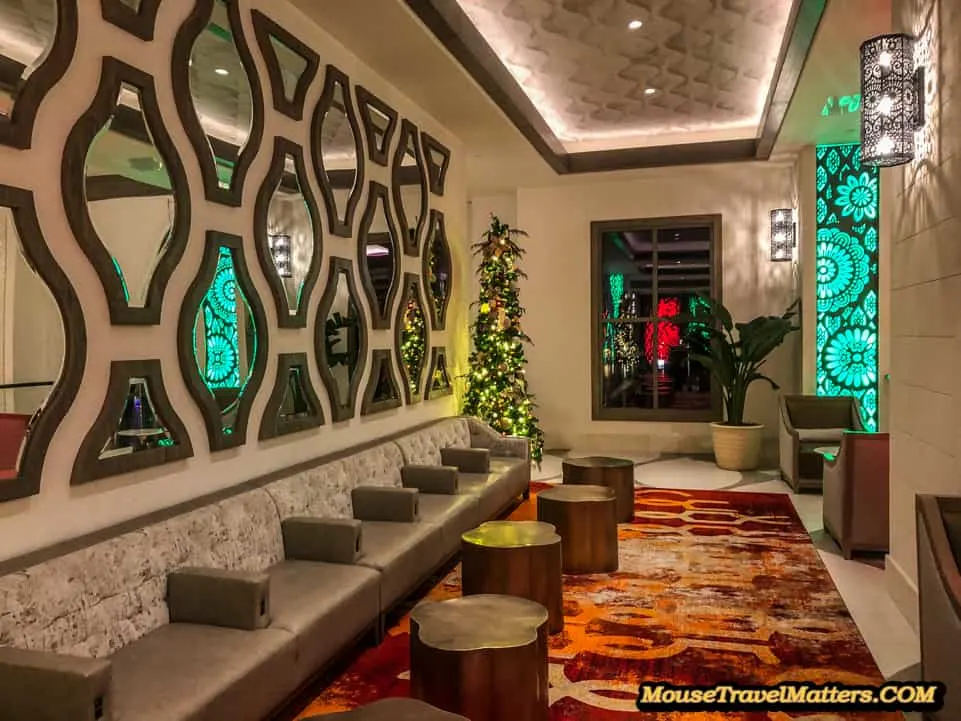 The guest rooms at Disney's Coronado Springs Resort have all been recently refurbished. With the exception of the new hotel tower, the property consists of a number of two- to four-story buildings with exterior corridors. That's a popular style for some of Disney World's older resorts, especially in the Moderate and Value resorts.
Cornado Springs Guest Rooms
Our stay was in a standard guest room with 1 king bed. Standard rooms at this property have either one king or two queen beds. If you're looking for heavy Disney theming, these rooms are not the right fit for you. You won't find a lot of references to Disney characters in the room unless you turn on the TV and watch some of the free Disney content playing all day long.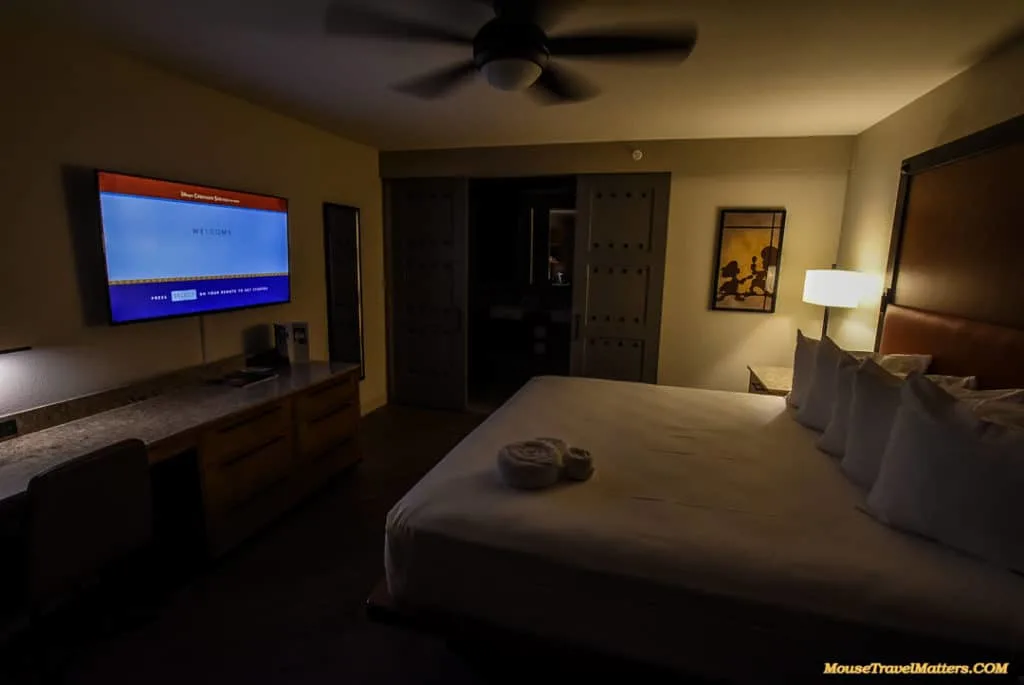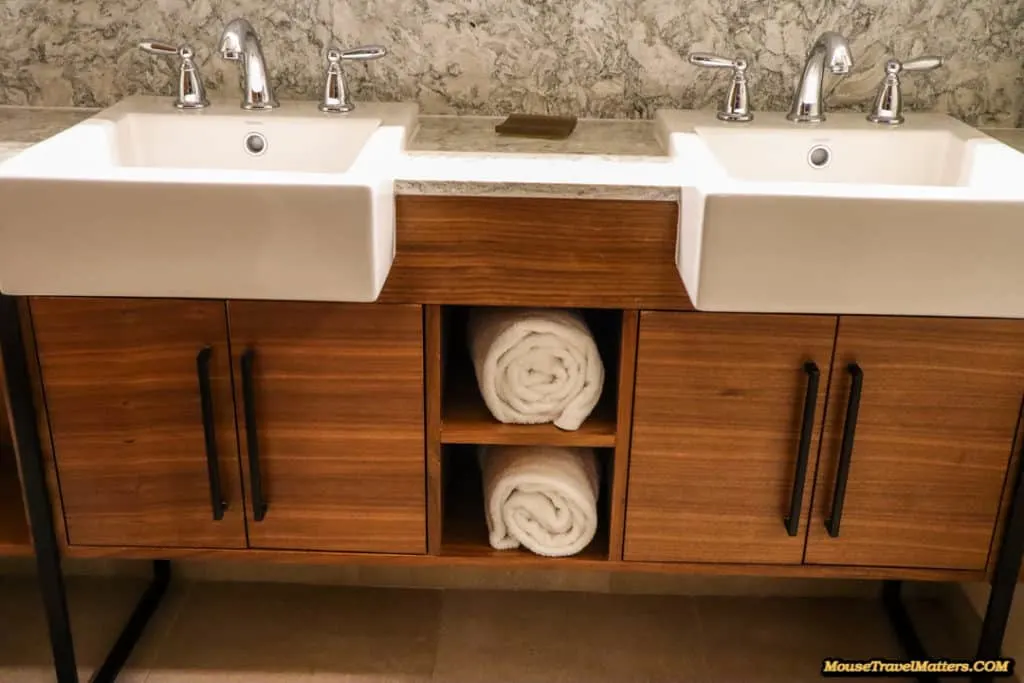 The bathroom is separated from the room with a set of sliding doors. The toilet and shower are in a separate room beyond that. The sliding doors make it easy for a parent to get ready for bed or grab a shower while little ones are sleeping. And, the double vanity is also helpful for a family of four. The bathroom isn't overly spacious but there is a small area for hanging items and a cabinet to store toiletries. An extra perk is a bit of an extended amenity package, with aloe gel and mouthwash.
Mousekeeping
Mousekeeping is the fun Disney name for housekeeping. They are a great group of people that work tirelessly to make your room perfect before you come back for a mid-day nap with the littles.
It is possible to decline mousekeeping for any given reason, be it for privacy, not needing the towels replaced, or the beds being refreshed. For those that choose to decline mouse keeping, you will be given a $10 Disney e-gift card per day of your stay, excluding the last day. So a 5-day stay will get you a $40 gift card.
Considering the heat and often the two of us would be showering, we decided $40 wasn't worth the hassle of constantly calling down for more towels.
It should also be noted that declining mouse keeping doesn't keep Disney out of your room during your stay. Due to secure reasons, Disney will have a member of security check your room at least once per day, at an unspecified time, and take a quick look around. Even if you are in the room at the time, they will insist on being allowed in. "Room Occupied" or "Do not disturb" signs do not affect this service, only housekeeping themselves.
Bus Access from Gran Destino Tower
Not only has Disney brought out a whole new line of buses, equipped with USB ports no less, but their service as a whole has greatly improved since the last time I intentionally paid attention to the service.
Being so close to the beach, had us a fair distance from our bus stop. Thankfully we spent most of our time at Epcot and Hollywood Studios, and thus were able to use the Skyliner, but there were a few days when we needed to board a bus to access the parks or Advanced Dining Reservation.
Don't forget, in America, strollers need to be folded when getting on the bus. Don't overpack your stroller just because it has enough pockets. And consider how you are going to get the kids on and off the bus should they fall asleep.
Disney's Magical Express
Arriving from the Orlando International Airport (MCO) was a little more eventful than we had planned. This seems to be a common theme with Magical Express and our family.
Practical Matters
Check-In/Out Time: Check-in time at Art of Animation is 3:00 PM, and check-out time is 11:00 AM.
Online Check-In: Art of Animation participates in Disney's Online Check-In program, which allows you to you provide your name, address, and credit card information up to 60 days before your arrival. If you've completed online check-in and have your MagicBand, you may go straight to the room bypassing the lobby altogether.
Laundry: Washers and dryers are in laundry facilities next to each pool. The cost is $3 per wash and another $3 per dry cycle. The machines take credit cards. A small selection of soap, fabric softener and dryer sheets are also sold, for around $1 each. A typical wash cycle takes 20 to 30 minutes, and a typical dry cycle takes 40 to 50.
Lost and Found: If you lose something during your stay, contact Disney's Lost and Found department by calling (407) 824-4245.
Your Thoughts...
Please share your thoughts in the comments or reach out on social media...We would love to hear from you.
Follow Mouse Travel Matters for Disney Parks news, the latest info and park insights, follow MTM on Twitter, Facebook, and Instagram.
You May Also Like…
How do I get a Gift Card for Declining Housekeeping Services at Disney World?
Everything You Need to Know About Going to Disney World
Hotel Rooms that Sleep 6 Guests: Walt Disney World
Disney Parks Shared Their Famous Dole Whip Recipe to Bring the Magic Home During Quarantine