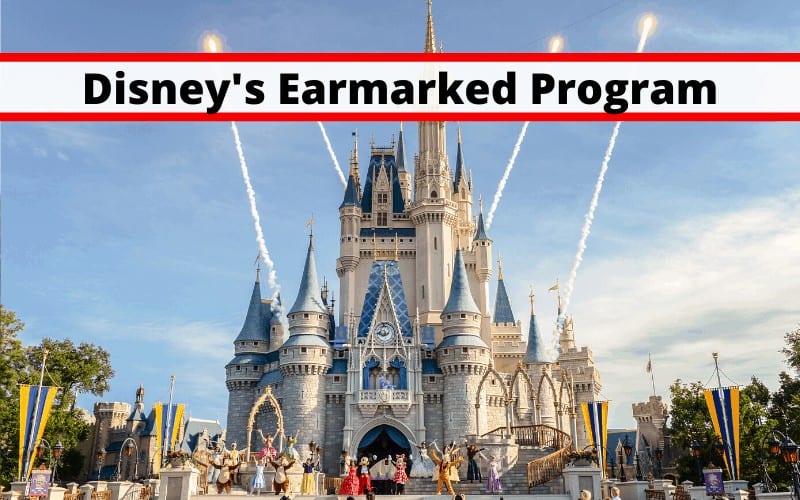 Disney's Earmarked Program. What is an authorized Disney vacation planner? How does it work for you?
As Disney travel tips go, first-timers are encouraged to use a travel agent. I believe in this point as well, mostly because I believe in the value of using a travel agent.
Most Disney travel internet advice comes with the added verbiage – "only work with an Authorized Disney Vacation Planner." But what is an authorized Disney vacation planner, how does the agency get this ranking and what does it mean if an agency isn't Earmarked by Disney?
Today we take a deep-diving into the world back-end of Travel Planning politics and break down exactly what all of these programs mean for you and the agency you have hired to plan your vacation.
What is an Authorized Disney Vacation Planner?
Disney's Earmarked Travel Agencies
Disney's EarMarked Program is reserved for those agencies that have met Disney's strict requirements, and have demonstrated a high level of sales and maintain proficiency in Disney curated destination training.
Do other Travel Agencies sell Disney vacations?
Yes.
All travel agencies with IATA credentails can apply to the Disney Travel Agent system to sell Disney vacation.
To be clear, maintaining proficiency in Disney curated destination training is also a requirement for any Travel Agent or Agency wishing to sell Disney vacations. You do not require Disney's Earmarked status to sell Disney vacations.
An agency that is not Earmarked is NOT selling Disney illegally.
Travel sales are also a big part of a travel agency's general licence renewal requirements, in any province or state. If an agency is not laser-focused on Disney destination sales, this could be the only reason they are not Earmarked.
Authorized Disney Vacation Planner VS. General Travel Agencies
General Travel Agencies
General Travel Agencies will book you an amazing holiday, and make any changes to your reservation should you need them, but that's where their services usually end. You are in charge of your touring plan, ADR and FP+ reservations in the MDE system.
Authorized Disney Vacation Planner
Authorized Disney Vacation Planners are often Disney fans who exclusively plan Disney travel. And, because they are passionate about Disney, they actually know a lot about Disney.
Authorized Disney Vacation Planners are only becoming more useful thanks to providing services and answers to increasingly complex Disney vacation planning. Passionate fans are just what one needs for tackling Disney planning. They do it all, from ADR to FastPass selection. They also monitor for new eligible discounts and promotions.
Disney College of Disney Knowledge
In order to sell Disney vacations, all agents are required to be Disney College of Disney Knowledge graduates. The College of Disney Knowledge is an in-depth comprehensive course that allows agents to develop their expertise regarding the Disney Destinations – knowledge that consumers can take advantage of when planning a Disney vacation.
That's it. Every licenced Travel Agency in the world has equal access to the College of Disney Knowledge and this is the only requirement to access Disney's exclusive booking system.
Whether they have 20 agents or 2, earn 1 million dollars a year in commissions or just enough to pay the mortgage, every agency has the same basic education in order to sell Disney holidays.
Being a graduate of the College of Disney knowledge, I would definitely call this basic information. There is more information in these hours (upon hours) of educational videos than most will learn researching the internet for weeks on end, so it isn't nothing. But I would feel more comfortable with a planner that has a little more experience in the planning process, as well as the actual execution of a Disney touring plan.
How agencies become Authorized Disney Vacation Planners
Being an Earmarked Travel Agency simply means that Disney has recognized that agency for producing over a certain amount of dollar volume in sales over a given period of time. Disney doesn't publish what this volume is, but they will reach out to the Agency and invite them to be Earmarked.
Therein lies the confusion to the general public.
These agency's were amazing at their job before being Earmarked, hence they were recognized for their efforts and rewarded with the Earmarked status in the first place. To say that Disney guests should never use an agency that isn't part of the Earmarked program seems a little disingenuous.
After all, an agency is only the sum of its parts. If an Agency owner is lucky enough to have 20-30 agents under their wings, it will be that much easier and faster to hit Disney's monetary benchmark vs a Mom and Pop agency that doesn't want the headache of employees. Either way, you will be working with a single person, and your experience with that agency solely depends on the educational level of that agent, regardless of how much the agency as a whole earned last quarter.
If you really want to make sure you are working with a good travel agent, with all the education, information and expertise that you need as a first timer, consider asking them these questions;
Are they a College of Disney Knowledge graduate (otherwise, they are a consultant and not an Agent – there is a difference)
When was the last time they visited a Disney property
When was the last time they visited the Disney property you are looking to book
Can they be both a professional champion of the destination and also able to articulate the realities of travel and special requests?
Why is Earmarked so important?
There are many agencies that have zero interest in being Earmarked. These are agencies that are happy with their daily level of clients, receive enough income to be comfortable and generally don't have the overhead/patience to employ the number of agents that it would require to earn Disney's monetary bench mark.
These agencies are more than happy to devote their time to selling holidays to whichever destination their clients ask for. Similar to an agency in the mall, these agencies can also work from home and are happy to have clients working with them and earning an income. They aren't interested in specializing, and therefore turning away some clients in order to free up the day to work with targeted destinations.
Conversely, being Earmarked is the Business Plan of many agencies around the world and there is nothing wrong with that. Master of one destination/ Stay in your lane, and whatever other figures of speech that applies to this situation. With every level of Earmarked an agency gets promoted to, the higher commission level they earn for the same vacation. High earnings beget higher earnings.
The difference between an "authorized" (Earmarked) Disney vacation planning agency and any other professional agency is the volume of sales that the agency produces for Disney.

hkluxurytravel
Why use a Travel Agent that specializes in Disney?
There are many reasons why my parents have been visiting the same travel agent for the last 10 years to book their vacations down south. Sure, they could just as easily do it themselves, it is 2020 after all and they are more than capable of using the internet, and yet they still use their beloved Patricia to make all of their holiday arrangements.
The same is true for Disney vacations. Be it your first time or 100th time, there is always a reason why using a Travel Agent is the best use of your time.
Offer the chance to build a rapport with the SAME person, trip after trip
One-stop for all things Disney: rooms, tickets, dining, cruises, ground transportation, VIP services and much more!
Specialize in Disney vacations, so we spend our time researching everything there is to know about the parks, resorts, cruises, beach resorts, and Adventures by Disney
Help you with All Disney destinations
Wake up at 6 AM (or earlier) to make dining and FastPass reservations so you don't have to
Keep track of all your important dates
Paid commission straight from Disney so there is no extra cost to you
At the end of the day, I have nothing but great things to say about using a Travel Agent. My only issue comes when those that have struggled and risen to the top start discounting the work of new members in their profession and forget where they came from.
Read reviews, interview your Agent and Agency (because the boss is just as important as the Agent you are working with), and decide if they are the person for you. Their Earmarked status, as it turns out, has nothing to do with their quality of service, but their quantity of bookings. And as we all know, quality is everything.
Everything is based on a simple rule: Quality is the best business plan, period.

Steve Jobs
Authority Bias to the Agency
The distinction of being named an "Authorized Disney Vacation Planner" brings a certain level of Authority Bias to the agency. Why would I use just any agency when I can use an Authorized Agency?
Authority bias is the tendency to attribute greater accuracy to the opinion of an authority figure (unrelated to its content) and be more influenced by that opinion.
In short, we want all potential guests to Walt Disney World, and any other Disney property for that matter, to use a Travel Agent that specializes in Disney vacation planning. Be they Earmarked or not, they must first and foremost be knowledgeable in the destination and competent enough to communicate that knowledge with clients and Disney representatives. Their Agency's Earmarked status only shows off the collective works of all employees involved, should this be part of their overall business plan.