Last Updated on May 18, 2021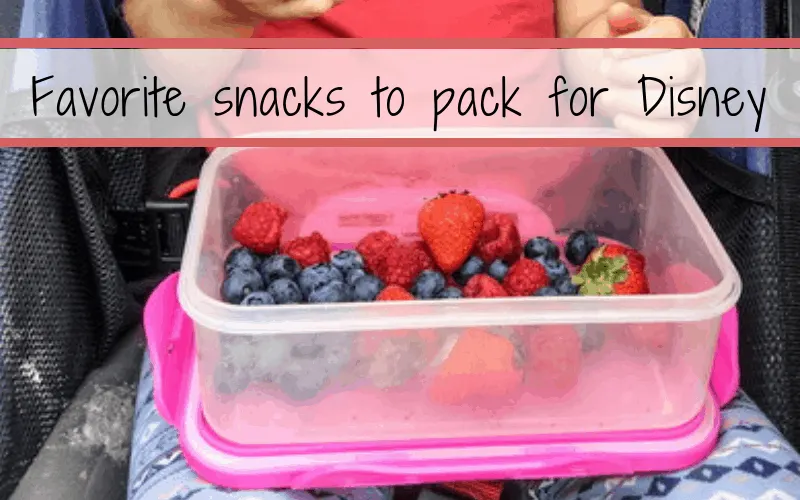 Deciding on which snacks to bring to Disney can be about as challenging as what to pack in your day bag. Here is our list of favourite snacks to pack for Disney Parks that are not full of sugar, empty calories or prone to ruining appetites before dinner.
When choosing Disney snacks without a Disney Dining Plan, your options can seem overwhelming.
Rundown of our Favourite Snacks for Disney
Goldfish Crackers
A road trip favourite, we have yet to go on an adventure without a pack of goldfish in the car. They are the resident favourite amongst the children and parents alike and are not very messy. The crumbs that are left behind are dry and easily wipe off strollers and clothes.
This post may contain affiliate links.
To which I earn a small commission, at zero cost to you!
Find more info in our
Privacy Policy
.
Granola Bars
If going during the warmer months, we suggest either getting the 'naked' kind (not coated in chocolate) or eating these for the first snack break. And bring plenty of wet wipes, either way. It can get messy, but oh so yummy.
Trail Mix
Trail mix is a type of snack mix, specifically a combination of granola, dried fruit, nuts, and sometimes chocolate. As someone that doesn't like nuts, or feel the need to bring nuts into a public space as busy with children like Disney, there is a nut-free alternative such as dried fruits. These include raisins, dates, prunes, figs, apricots, peaches, apples, and pears.
Fruit Snacks
One of the least healthy options on this least, it also happens to be the most loved option by the children. Fruit snacks like gummies, fruit roll-ups and fruit cups do have their place on vacation.
Pringles
While most people would suggest just a bag of chips, these can get easily crushed in a park bag or amongst the rest of the snacks. Pringles are in a solid tube that protects them from being squished. Not so much from shacking, but it's a start.
Rice Cakes
Again, either eat them early or don't get the coated kind.
Raisins
Raisins are another great snack to feed kids as they aren't too filling, and don't make much of a mess. They are, however, a great laxative. Fruit, especially dried fruit, is loaded with fibre and is one of the foods that help relieve constipation. If your little one is newly potty trained, I would hold off on this snack, and give only a single serving per day, regardless of how much they ask for more.
On the other hand, new foods, the constant sitting in a stroller and standing around in a queue can upset little tummies and mess up their toilet habits. Keep that in mind when deciding on the best snacks for the day.
Belvita
Packed with oats, this is another great breakfast supplement or mid-day snack that children love. They come in a number of flavours.
Fresh Fruit
This can come from the breakfast buffet (they are usually pretty good about little ones taking one or two pieces, but not a whole family emptying a container) or from a recent grocery store run.
I find the best fruit to take into the parks are apples, oranges, pears, and bananas. While strawberries and blueberries are tempting, they are messy, stain easily and get mushy once cut. Grapes are another great snack but be sure to cut them length-wise before serving.
Baked Goods
Depending on how far you are driving, there is the potential for bringing your own baked goodies from home. When we last drove, I made a double batch of Chocolate Chip Cookies, breakfast banana muffins, and shortbread shaped cookies. With the average shelf life of baked goods being about 5-7 days, depending on humidity and temperature, they were eaten well before they expired.
Ask the front desk for a mini-fridge to store any temperature-sensitive snacks and drinks.
Pro Tip: Avoid bringing snacks into the parks that have nuts in them. You never know what or who your child will touch. Especially when visiting a country that has a high rate (and growing) of nut-allergies in children, it is best to be on the precautious side if it can be helped.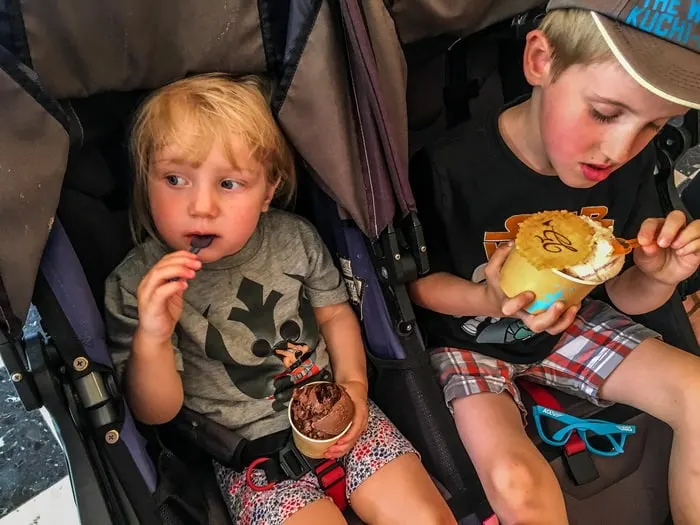 How to Transport Snacks to Disney
There are a number of ways to bring snacks to your Disney hotel.
Drive
Buy at home. Everything near and around Disney will cost that much extra for convenience. Bringing everything from home not only guarantees you will have exactly what you are looking for but for a price that you are comfortable paying.
Flying
Order from Amazon and have it delivered to your hotel room. Wherever you are in the world, open an Amazon Prime Pantry account for the country you are visiting, not the country of origin.
Park Snacks for Disney Parks
Not traditionally one to bow to peer pressure, there are a time and a place for park snacks. When every child waiting for the fireworks is chowing down a box of popcorn or relieving the heat with a nice bowl of ice cream, it is time to put away the snack bag and roll with the punches.
Know which snacks will be on display within the parks, in stands or by street vendors, and which will be hidden within the stores. Make a deal with the kids that they are allowed one paid treat per day, or they must pay for any treats with their own personal money.
Whatever way you work it out, just know that they will see it everywhere and will want it. Be prepared to have that conversation.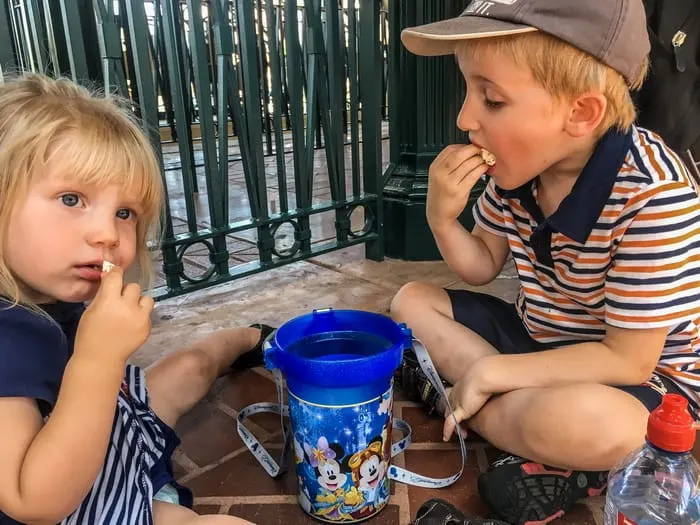 Snack Containers for Inside Disney
Many would suggest packing each individual person's snack packs beforehand, dated and sealed. While this is some commendable Type A organization, this is a lot of wasted packaging and extremely time-consuming.
We live by a very simple motto; "Work smart, not hard". While this isn't a lazy approach to life, it isn't the hardest working approach either. What does this have to do with snacks at Disney?
Visit your local Costco or any big-box store, including Amazon, and grab the largest box of that particular snack. In Canada, it is now the law to have sales tags with the cost per unit. Check this out and make sure the larger box does end up being the cheaper option, but it would seriously surprise me if it didn't.
Next, get a handful of refillable snack containers or a single box of snack-size Ziploc bags. These can all easily be washed in the hotel sink, will save you a ton in snack costs and help the environment by wasting less. As part of the bedtime routine or morning routine, get everyone's snacks into their respective containers and potentially their own park bags.
Snack Tricks
Disney allows lunch bags but they do not allow coolers. When taking snacks and drinks into the parks, think about the temperature of the park, the mess the items will make in sed temperature and how the tummy will react to the snack in the potential heat. Milk, mayo, egg or similarly based snacks do not go well with heat and high-energy draining activities.
Your Thoughts...
Please share your thoughts in the comments or reach out on social media...We would love to hear from you.
Follow Mouse Travel Matters for Disney Parks news, the latest info and park insights, follow MTM on Twitter, Facebook, and Instagram.
You May Also Like…
Refillable Popcorn Buckets at Walt Disney World
Tips for Dining with Disney Characters at Walt Disney World
5 Reasons To Get The Disney Dining Plan
Disney Dining Plan landing page