Last Updated on April 30, 2020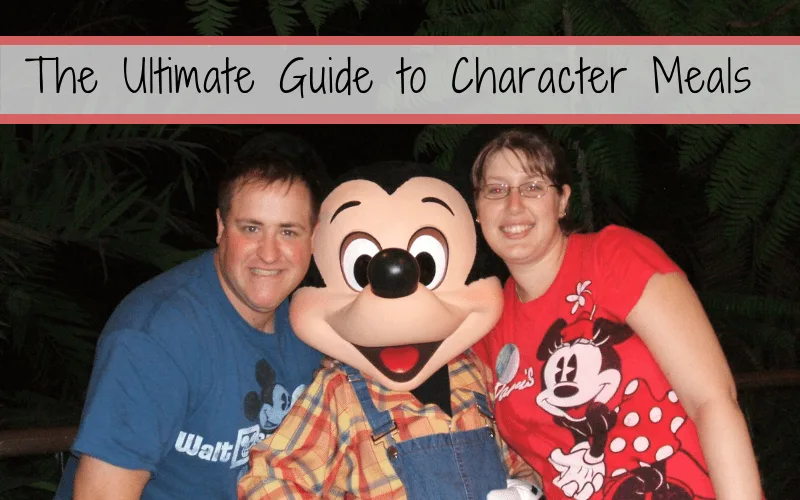 Character dining is one of the easiest ways to meet a whole host of characters and fill up for (or wind down after) a fun-filled day in the parks.
Use these tips to determine the best character dining at Disney World for your family, where to find the best Disney characters, and more!
This post may contain affiliate links.
To which I earn a small commission, at zero cost to you!
Find more info in our
Privacy Policy
.
What's a Disney Character Meal?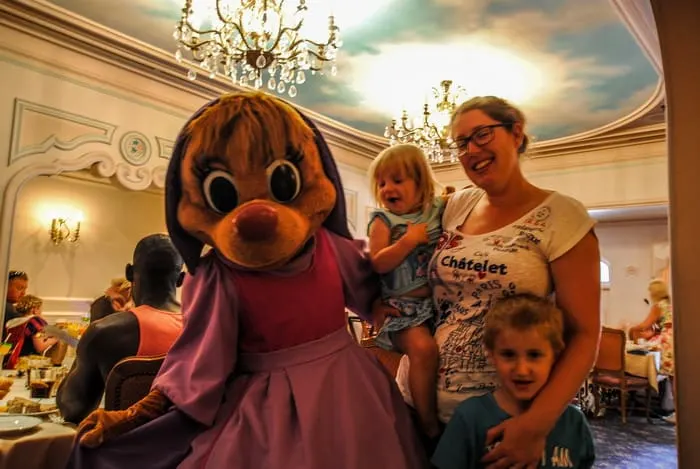 There are hundreds of options for dining at Disney World, some are fantastic and some are…less so. One type of dining that is completely unique, and a favorite of many tourists, is character dining.
While you eat your meal, a few select Disney characters go table to table for hugs, high fives, photos, autographs, and general merriment. They stop by one at a time and continue to circulate the room for the entirety of your meal, although they only spend a minute or two at each table.
How do I make arrangements for Disney Character Dining?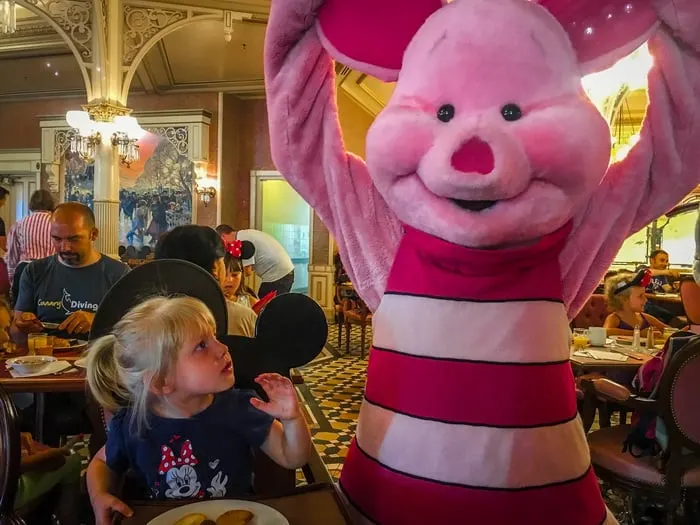 The theme parks and Disney Resort hotels at Walt Disney World Resort offer a variety of Character Dining opportunities. See below for all Character Dining venues.
Character Dining is very popular, and we strongly recommend that you make reservations in advance. It is a bit of a process so we suggest you read up on our how to make advanced dining reservations. Don't forget to check out the planning calendar to know exactly which day your booking window opens.
The Advantages and Disadvantages of Character Dining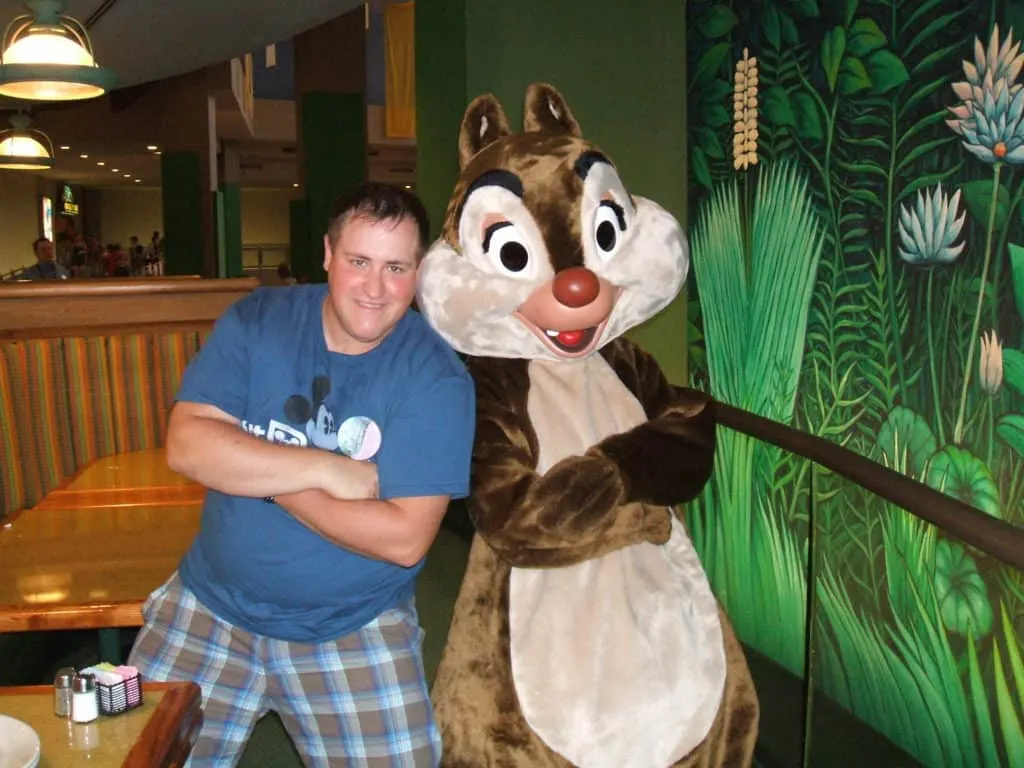 Nothing is without its pros and cons. The trick is to weigh the two and see which one comes out on top.
Pro – Your family needs to eat. If you or your children are intent on meeting the characters and you were planning on a sit-down meal you can maximize your time by doing both at once.
Con – They are not cheap. All of the character meals are fixed-price: either buffets, select menu or family-style and the adult prices range from $30 to $58. While there are more expensive meals at Walt Disney World, character dining is not the way to go if you are on a strict budget. Maybe get a Disney Dining Plan?
Con – The time commitment involved in character meals is another drawback. If you have a lot to see, taking an hour or 90 minutes out of your day for a meal may not be ideal. This is why we always suggest having your character meals in the morning if there are Late Magic Hours or in the evening if there are Early Magic Hours.
Every negative has a solution.
Disney Character Dining Restaurant Options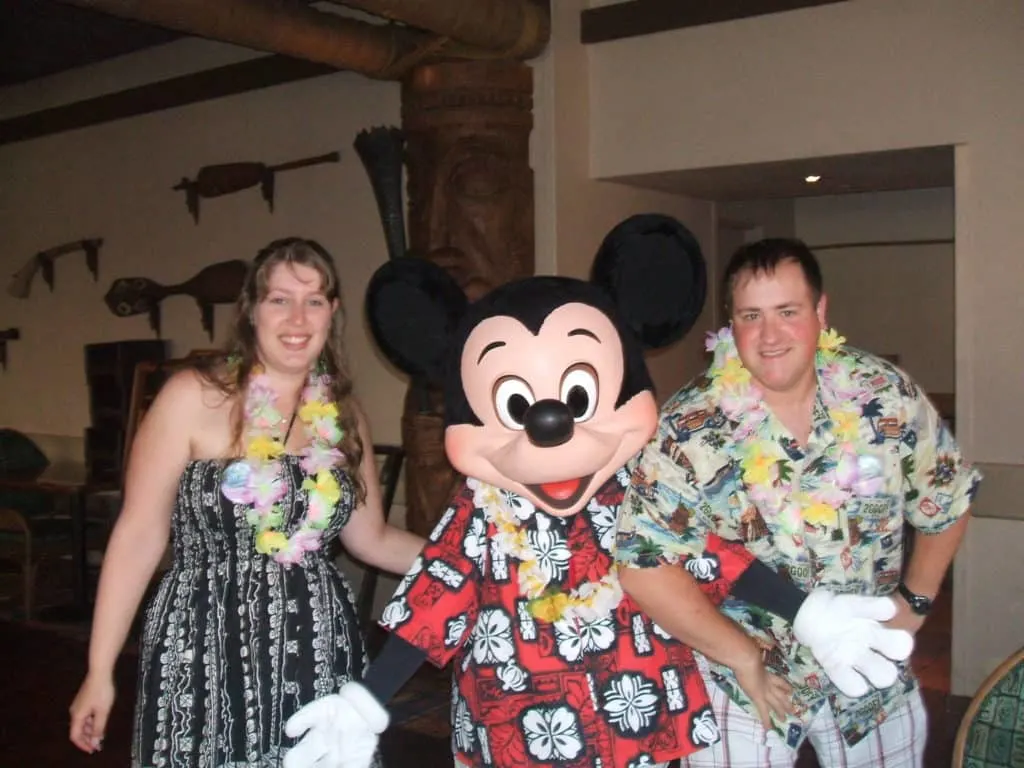 1900 Park Fare Disney's Grand Floridian Resort
Akershus Royal Banquet Hall EPCOT World Showcase
Cape May Café at Disney's Beach Club Resort
Chef Mickey's Buffet Disney's Contemporary Resort
Cinderella's Royal Table Magic Kingdom
Donald's Safari at Tusker House Disney's Animal Kingdom
Garden Grill EPCOT Future World
Garden Grove Disney's Swan Hotel
Hollywood and Vine Disney's Hollywood Studios
Mickey's Backyard BBQ Fort Wilderness Resort & Campground
Ohana's Best Friends Breakfast featuring Lilo and Stitch Disney's Polynesian Village Resort
Perfectly Princess Tea Party Disney's Grand Floridian Resort
The Crystal Palace Magic Kingdom
Bon Voyage Adventure Breakfast at Trattoria al Forno at Disney's Boardwalk
Storybook Dining at Artist Point with Snow White at Disney's Wilderness Lodge Resort
Wonderland Tea Party Disney's Grand Floridian Resort
Disney character dining with toddlers: Tips and tricks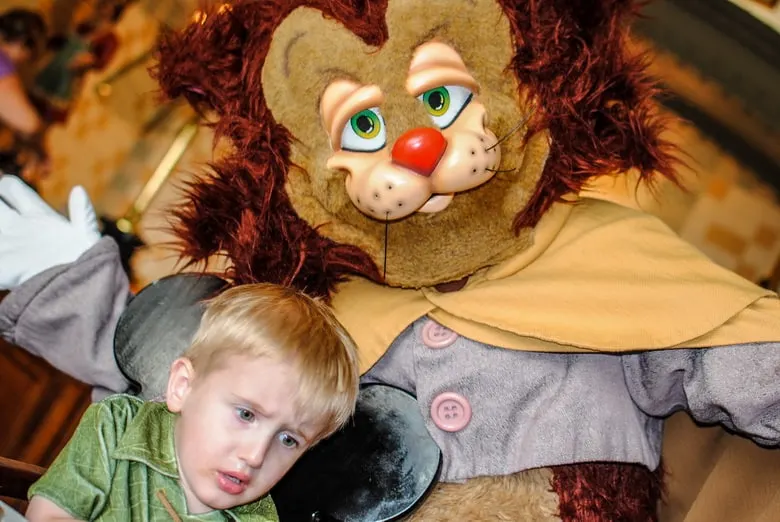 Get your toddler involved in the planning process – if they are able to communicate which characters, theme and even menu item they prefer, there is a greater chance of success. Reviewing the menu in advance also gives you an idea of how much your child will or won't eat.
Set your camera on continuous shot – why take 1 photo when you can take 100? Kids have the great ability to smile and leave within seconds; much faster than your trigger finger and shutter speed. Review in the evening and delete the bad ones, but there is no sense wasting a perfect shot opportunity.
Skip the free Disney transportation to get to your reservation – Free transportation has its ups and downs and there is never a guarantee that traffic will be on your side. Or what if the bus is full. Call Minnie Vans, Uber, or drive yourself because otherwise, there is a high chance that you will be late.
Be realistic with your expectations – sometimes the kids want nothing to do with the characters, and that's ok too. Get an idea of how they will react to large customed characters and set your goals accordingly. If they don't like it, have a table neighbor take your picture with the characters and leave the kid alone.
Schedule according to the bigger picture – Don't have a late night followed by an early morning. Even photoshop can't turn that frown upside down.
Character dining procedures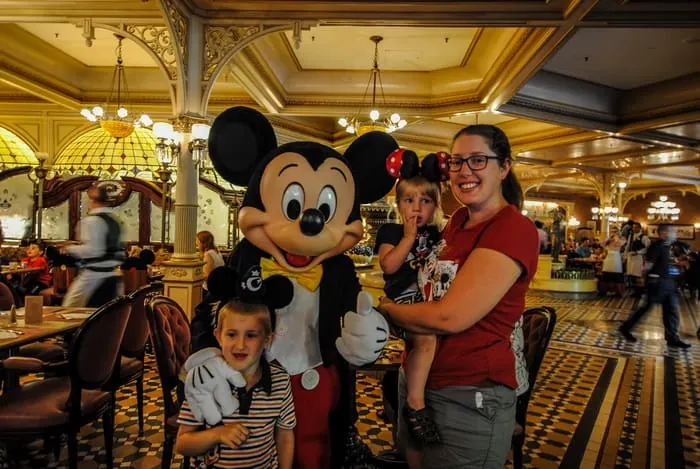 Turn on your camera and make sure your settings are right – while you are waiting patiently for your first character, get the settings sorted out according to the lighting in the restaurant. Practice a few snaps with the kids to make sure all goes according to plan… then leave the camera ON while its sits nicely on the table.
Talk to your kids and encourage them to get excited – if the kids are on the fence about the characters, don't freak them out by being too excited, but don't be too upset about it either. Stressing them out will only make it worst (well, it won't make it better; that's for sure). Remind them who the characters are, what is their backstory, how much fun these characters are. Get them excited, without going crazy.
Move kids to the seats that are accessible to the character's paths – make sure the kids, or at least the biggest fan of these groups of characters, are sitting in an accessible place. Set them up for success by allowing the kids to easily go in and out of their chairs with ease.
Get autograph books and pens ready to sign – Have autograph books and pens out and on a blank page, waiting for the next character. Remember, the larger the pen, the easier the characters can write with them.
Be excited, enthusiastic, and encouraging about meeting the characters – even if the kids want nothing to do with characters, after all of the poking and prodding and prepping, still keep the energy alive at the table. Maybe the last character is the one that finally breaks the ice. Again, just because the kid doesn't care, doesn't mean it's over. This is your character meal too.
Your Thoughts...
Please share your thoughts in the comments or reach out on social media...We would love to hear from you.
Follow Mouse Travel Matters for Disney Parks news, the latest info and park insights, follow MTM on Twitter, Facebook, and Instagram.
You May Also Like