Last Updated on February 23, 2022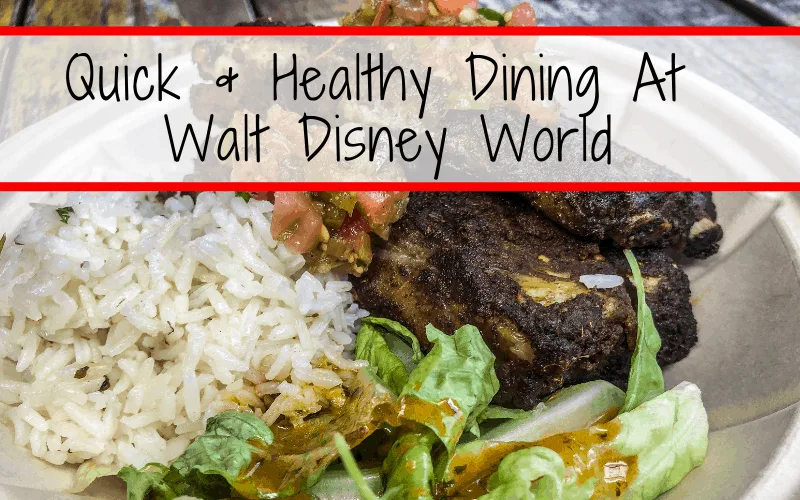 Gone are the days of eating burgers, fries, and pizza just to save a few dollars. Recently, Disney has put a lot of effort toward increasing Healthy Dining at the Quick Service level, including increasing allergy- and special-diet-friendly menu options.
This expands the availability of healthy snacks, and introducing "Mickey Check" meals that meet specific nutritional guidelines for children.
We've put together a guide to healthy eating at Quick Service Dining locations that we think will help you out in the parks. This guide will provide you with info on what we believe is the overall healthiest location at each park, as well as good choices at other restaurants. Disney World's menus have become so diverse, you're sure to find a great option anywhere you go.
A Guide to Eating Healthy at Disney World Quick-Service Spots
Just about every Disney restaurant will have at least one dish that's both healthy and tasty. But there are a few restaurants that are exceptionally good when you're trying to eat a little healthier.
Healthy Options At Disney's Animal Kingdom Park
There are so many restaurants with healthy options that it can be a little overwhelming which one to visit on your single day in the Park. These are our choices for overall healthiest restaurants in Animal Kingdom. They have the largest healthy eating options:
Satu'li Canteen
Flame Tree BBQ
Tamu Tamu
Restaurantosaurus
Yak & Yeti Local Food Cafes
Harambe Market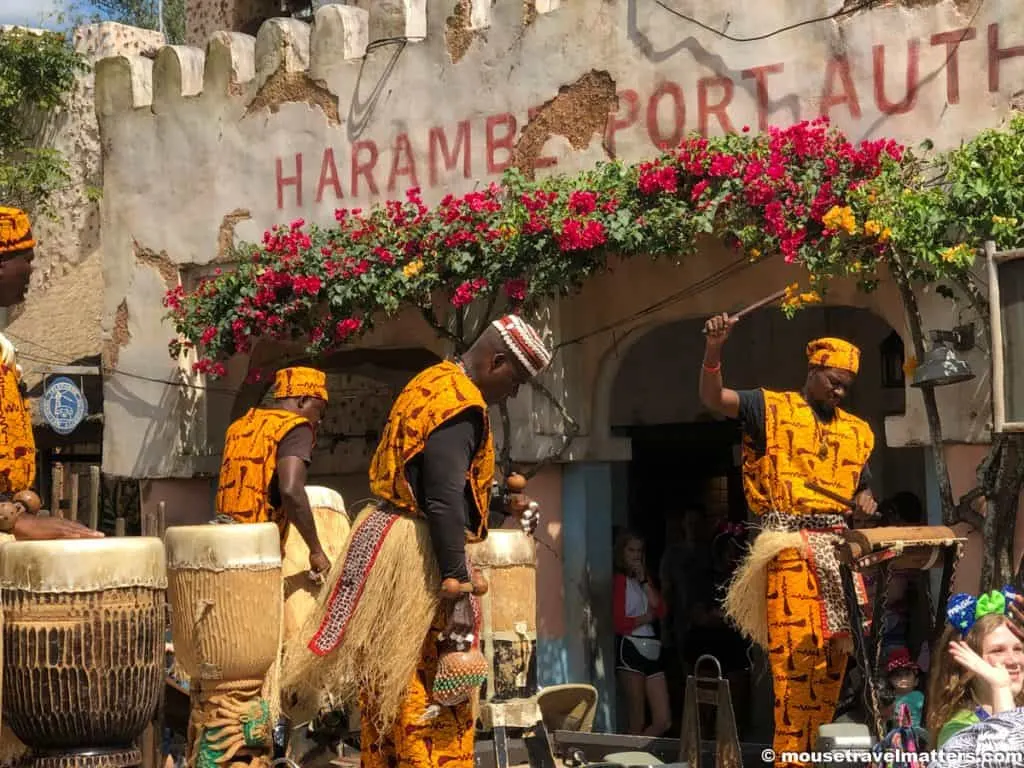 Among the remaining quick service restaurants, there are a lot of alternatives for sides, as well as lesser known entree options for those looking for healthier options at Disney's Animal Kingdom.
Flame Tree Barbecue – The St. Louis Ribs and Pulled Pork Sandwiches sure are good but some healthier alternatives may be the marinated, slow-smoked chicken, Roasted Chicken with Mixed Greens Salad, and the Watermelon Salad.
Harambe Market – Lots of healthy options here like the grilled chicken skewer with roasted broccoli and tomato salad, or the grilled vegetable stack with herb pesto served with chickpea salad. The nearby Harambe Fruit Market has lots of healthy fruits and veggies to choose from.
Gardens Kisok – Hummus with vegetables, gluten-free snack items, and fresh fruit cups.
Kusafiri Coffee Shop & Bakery -fruit cups, yogurt and a hot breakfast wrap made with egg, sausage, spinach and goat cheese.
Pizzafari – Heart of Romaine Salad with Chicken or Shrimp and Mediterranean Flatbread.
Restaurantosaurus – Black Bean Burger or Roasted Chicken with Mixed Greens salad.
Yak & Yeti Local Food Café – Roasted vegetable couscous wrap, Ginger Chicken Salad or an Asian Chicken Sandwich served with Sun Chips.
Healthy Options At Disney's Hollywood Studios
Please note, these are the options on the menu, but often restaurants have ways to make things healthier that aren't always on the menu, so be sure to ask the chef if there's something more you're looking for:
Overall healthiest restaurants:
ABC Commissary
Anaheim Produce
Sunset Ranch Market
Backlot Express
Again here, you can see that while many quick service restaurants still thrive on burger/fries sales, they are expanding to include at least one healthy food option.
ABC Commissary – Vegan Burger, Land and Sea Platter, BBQ Rib Platter, Mediterranean Salad, Coleslaw, Green Beans and more.
Anaheim Produce – Fresh fruit and veggies.
Backlot Express – Galacti Chicken Salad, Cuban Sandwich, Southwest Salad with Chicken, Caprese Sandwich. Carrot sticks are available as an alternative to french fries with other meal options.
Catalina Eddie's – Caesar salad with chicken, and Pizza.
Fairfax Fare – Fairfax salad with romaine lettuce, Mojo Pulled Pork Sandwich, chili, tomato, roasted corn, sweet peppers, and Monterey Jack cheese or 1/2 chicken with black beans and corn.
Dockside Diner – Barbecued Pulled Pork Sandwich.
Min and Bill's Dockside Diner – Sushi vegetable roll served with edamame salad, marinated tomatoes and cucumbers, and chocolate cake.
Pizza Planet Arcade – Vegetable pizza and antipasto salad.
Rosie's All-American Café – Vegetable black bean burger or the soup of the day.
Starring Rolls Bakery (Lunch only) – Turkey sandwich, spicy tuna and salmon sandwich, sushi sampler, soup and salad, roasted vegetable sandwich, mixed greens salad and assorted whole fruit.
Studio Catering Company – Greek salad, or grilled vegetable wrap.
Don't forget to follow us on Facebook and Instagram for more exclusive content.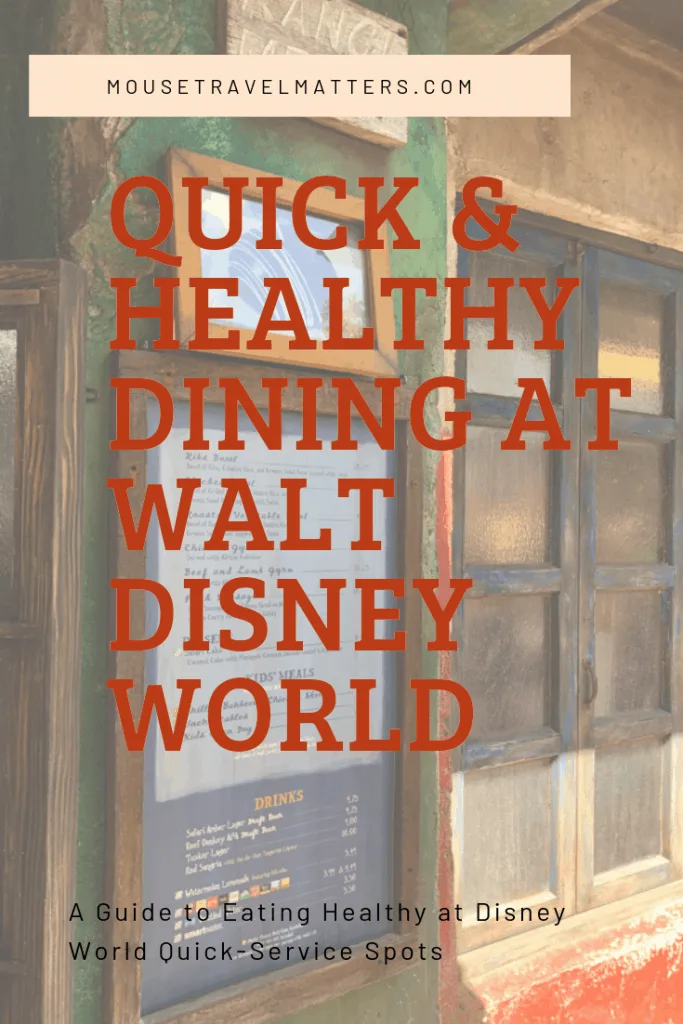 Healthy Options At Epcot
Epcot, but more specifically, World Showcase is a fun and educational way to learn about the cultures and sample the flavors of countries from all corners of the globe. Because each of the park's 11 pavilions has at least two options for food, World Showcase is probably the most restaurant-packed area in all of Walt Disney World.
Overall healthiest restaurants:
Sunshine Seasons
Electric Umbrella
Liberty Inn
Tangierine Café
Lotus Blossom Cafe
La Cantina de San Angel
Katsura Grill
Boulangerie Patisserie les Halles
Kringla Bakeri og Kafe
Future World:
Electric Umbrella – Mojo Pulled Pork Burger, Brisket Sandwich, Vegetable Quinoa Salad, Energy Salad with Roasted Chicken, and Mixed Fruit Cup.
Sunshine Seasons – Asian Noodles Shop, Oak-grilled Rotisserie Chicken, Slow-Roasted Pork Loin, Salmon with Cheesy Grits and Andouille-Corn Succotash, Rotisserie Turkey Breast Club Sandwich, Soups & Salads Shop, and Chicken Pot Pie.
World Showcase:
Kabuki Cafe / Japan Pavilion – Futomaki Big Roll, California rolls and sushi.
Katsura Grill / Japan Pavilion – California roll, spicy tuna roll, vegetable roll, udon, teriyaki salmon, teriyaki chicken, sushi, Japanese curry rice, chicken cutlet curry, miso soup, edamame, and steamed vegetables.
Kringla Bakeri og Cafe / Norway Pavilion – Norwegian club sandwich, vegetable torte, Norwegian meatballs, Salmon and Egg Bagel, Ham and Apple Sandwich, mixed greens, and fruit cups.
Les Halles Boulangerie & Patisserie / France Pavilion – Brie, apples and cranberries in multi-grain bread; chicken sandwich with cheese, tomato, red onion and pesto; country bread with grilled eggplant, peppers and goat cheese, bleu cheese salad, nicoise salad, and quiche Florentine,
La Cantina de San Angel / Mexico Pavilion – Chicken tacos, Pollo Cascabel, Tacos de Barbacoa, Empanadas con Queso, Ensalada Mexicana with Beef Barbacoa, fruit popsicles, and refried beans.
Liberty Inn / America Pavilion – Southwest chicken salad, Fried Shrimp Basket, Barbecue Pork Sandwich, freshly grilled vegetarian "chick'n" breast with corn salsa, and Red, White and Blue Salad with Grillled chicken.
Lotus Blossom Café / China Pavilion – Hong Kong Style Vegetable Curry over Rice, Sesame Chicken Salad, and vegetable egg rolls. Note: you can probably get better Chinese food at home.
Outpost Snacks – Seasonal fruit cup and frozen yogurt waffle cone.
The Tangierine Café / MoroccoPavilion – Mediterranean Wraps, Vegetarian Platter, hummus, tabbouleh, and CousCous salad.
Yorkshire County Fish Shop – Fish and Chips, and Chicken & Mushroom Pie.
Healthy Options At Magic Kingdom
There are so many restaurants at the Magic Kingdom, and many of them are burgers and fries quick service, but it's not impossible to find healthy options. These are our choices for overall healthiest restaurants at the Magic Kingdom. They have the largest healthy eating options:
Overall healthiest restaurants:
Pecos Bill's Tall Tale Inn and Cafe
Be Our Guest
Liberty Square Market
Pinocchio's Village Haus
Columbia Harbor House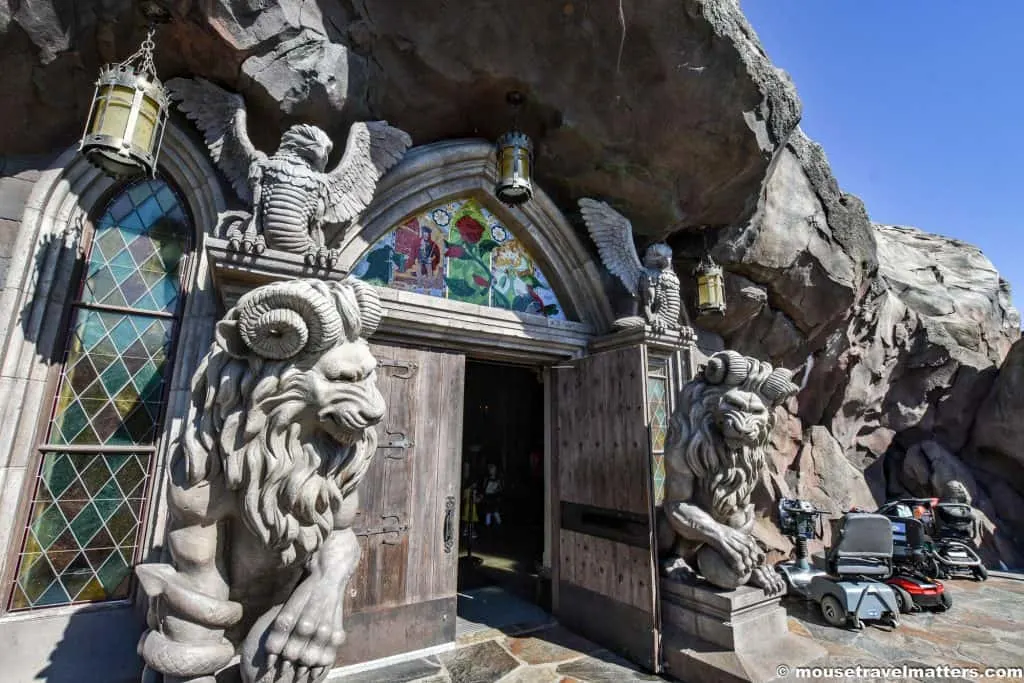 If you are looking for more appetizer options while the rest of your party indulges in Burgers and fries, here are the healthy options for each restaurant at Magic Kingdom;
Aloha Isle – Fresh cut pineapple spears.
Auntie Gravitie's – Fruit smoothies and whole fruit.
Be Our Guest – This is a quick-service location for breakfast and lunch only. French onion soup, potato leek soup, tuna or chicken Nicoise salad, quinoa salad, vegetable quiche, and assorted sandwiches.
Cheshire Café – whole fruit.
Columbia Harbour House – Lobster Roll, Chicken Pot Pie, Hummus Sandwich with tomato & broccoli slaw, grilled salmon with couscous and broccoli, broccoli peppercorn salad, garden harvest salad, clam chowder, vegetarian chili, and steamed broccoli.
Cosmic Ray's – Rotisserie chicken, vegetable burger, grilled chicken sandwich, turkey sandwich, vegetable sandwich, Greek salad, and cucumber salad, Pulled Pork Sandwich with Slaw.
The Diamond Horseshoe- Mixed green salad, portobello salad, portobello sandwich, tuna salad with croissant, turkey sandwich, and mixed fruit cup.
Westward Ho – Sweet and Spicy Chicken Skewer
Friar's Nook- Vegetable and chips with hummus and fruit.
Gaston's Tavern – Mixed fruit cup, mixed vegetable cup with dip, and hummus and chips, Mini Babybel® Snack Cheese.
Main Street Bakery – Smoothies and flavored green tea.
Pecos Bill's Tall Tale Inn and Cafe – Southwest Chicken Salad, vegetable burger, and corn on the cob, Fajita Platter, Southwest Salad with Pork Carnitas, Jerk Chicken Lettuce Wraps, Veggie Nachos.
Liberty Square Market – Apple Slices, Grapes, Whole Fruit, Dannon® Greek Yogurt, Trail Mix and mixed vegetables.
Pinocchio Village House – Caprese flatbread, Mediterranean salad, Caesar salad with chicken, and tomato basil soup, Chicken Parmesan Pasta, Antipasto Salad, and Meat Lovers Flatbread.
Prince Eric's Village Market – Apple slices, mixed fruit, watermelon, grapes, pineapple cup, whole fruit, hummus with chips, mixed vegetable cup with dip, juice, teas, and lemonade.
The Lunching Pad – Sliced Roast Beef Sandwich
Sleepy Hollow – Waffle with strawberries, and Nutella and fresh fruit waffle sandwich.
Tomorrowland Terrace Restaurant – Citrus shrimp salad.
Tortuga Tavern – Chipotle Barbecue Short-Rib, Black Bean Chips, and Pepper Jack Pretzel.
Healthy Option At Disney Springs
Overall healthiest spots
Each one of these restaurants has a wide array of healthy choices that it would too much time to list the specific menu options. Visit these restaurants with your family for a mixed variety of indulgences and healthy options;
Wolfgang Puck Express
Blaze Fast-Fire'd Pizza
Chicken Guy!
D-Luxe Burger
Earl of Sandwich
Cookes of Dublin
Morimoto Street Food
Polite Pig
Disney Food Trucks
The Smokehouse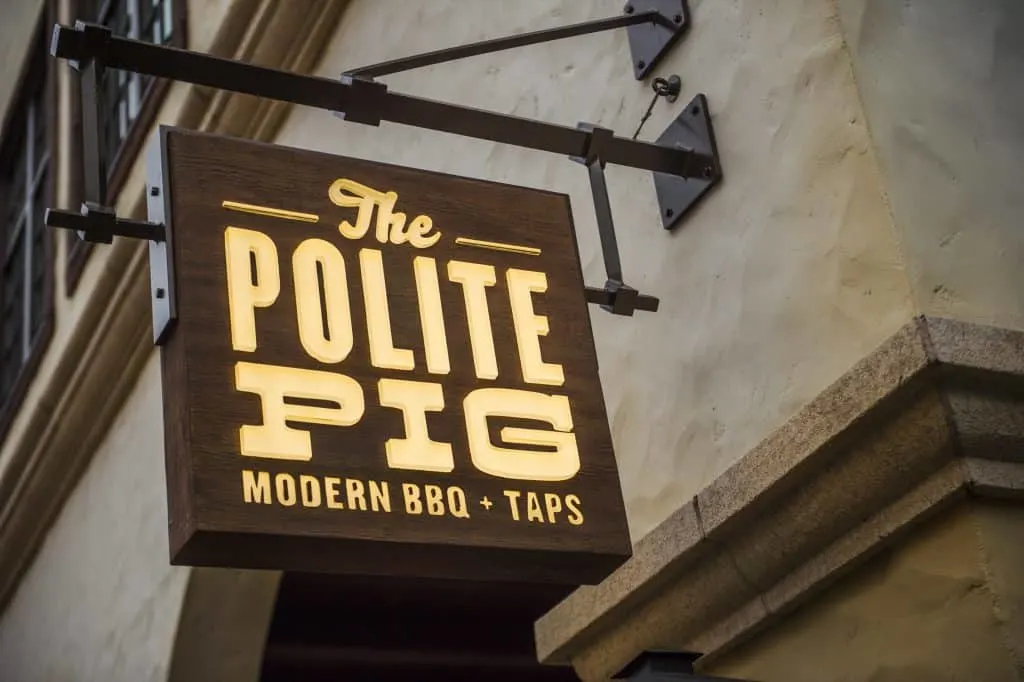 Save time and money by having healthy snacks, bottled water and other food items delivered directly to your resort by Garden Grocer – Click HERE for more information.
Your Thoughts...
Please share your thoughts in the comments or reach out on social media...We would love to hear from you.
Follow Mouse Travel Matters for Disney Parks news, the latest info and park insights, follow MTM on Twitter, Facebook, and Instagram.
You May Also Like