Last Updated on July 13, 2020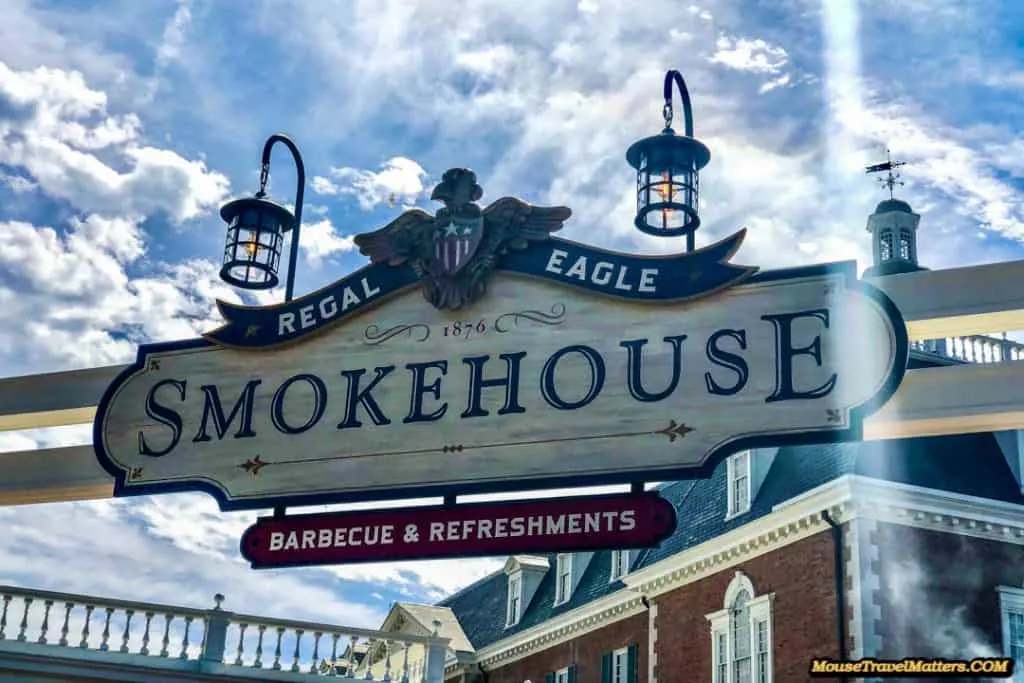 Its time for a Regal Eagle Smokehouse review. One of the latest additions to quick-service dining establishments to open in the EPCOT World Showcase, in Disney World.
Regal Eagle Smokehouse Review
Pre-COVID-19
In March of 2020, a new counter-service restaurant opened in the American Adventure Pavilion in EPCOT's World Showcase. Its 'proprietor' Sam The Eagle from the Muppet's franchise is a pleasant addition to this themed establishment. In our Regal Eagle Smokehouse review, I will tell you about my dining experience as it happened shortly after its opening. Enjoy my thoughts on food, decor, and see some pictures.
The Disney Dining Plans is available here, with this counter service credit an opportunity for some value can be found. With the options available and the cost per entree, it could also make sense to pay out of pocket at this restaurant.
The Regal Eagle Smokehouse does not accept Tables in Wonderland.
Mobile ordering is available here and we love it for the great time-saver it is. Shortening the amount of time you wait for your food.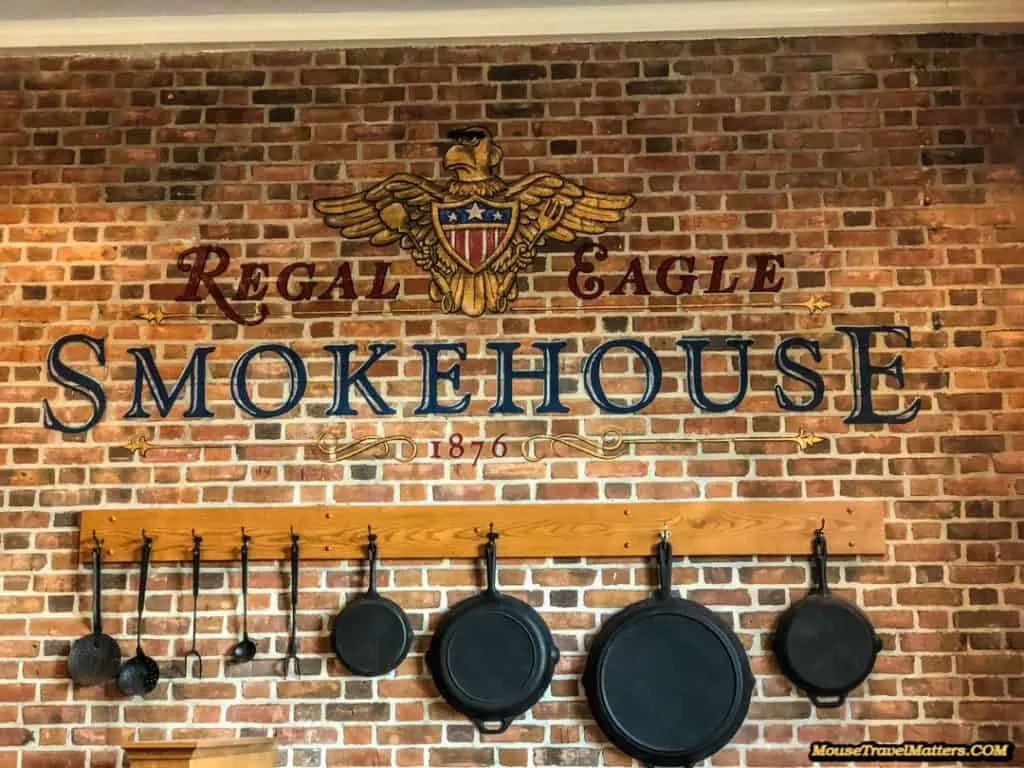 American Platter
So for my food review, and get the best sampling of everything I went with the American Platter for my Regal Eagle Smokehouse review.
The American platter is served with your choose of 3 meats. Your options are:
Smoked Sausage
Smoked Pork Butt
Dry-Rub Pork Ribs
Smoked Half Chicken
Sliced Texas Beef Brisket
BBQ Chicken Leg (from the Kid's Meals)
From my selections:
Sliced Texas Beef Brisket
The sliced Texas beef brisket was a shock to me as it was well preserved in the kitchen and maintained a juicy quality to it. I found the extra BBQ sauce added to it a bit over the top, but quite good for a quick service offering.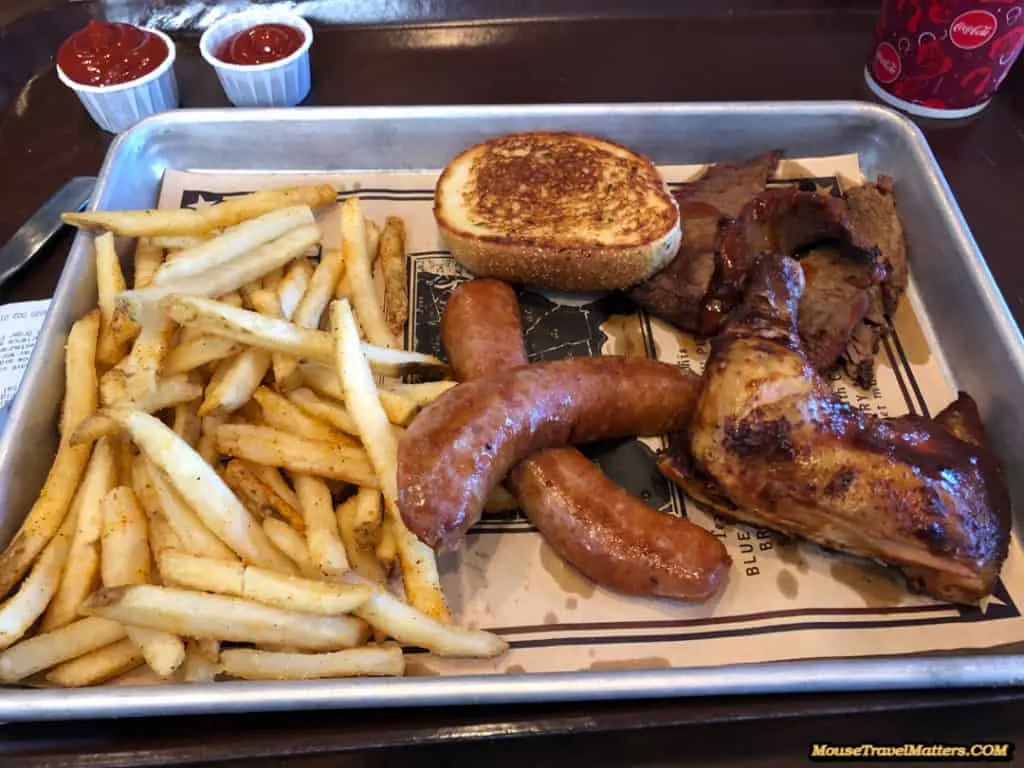 Smoked Sausage
It's just smoked sausage. The sausage had a very light smokey taste on the outside, but there was really noting going on inside the sausage it was real quite bland, in this reviewers opinion. The Savory Spice Sauce helped for this one.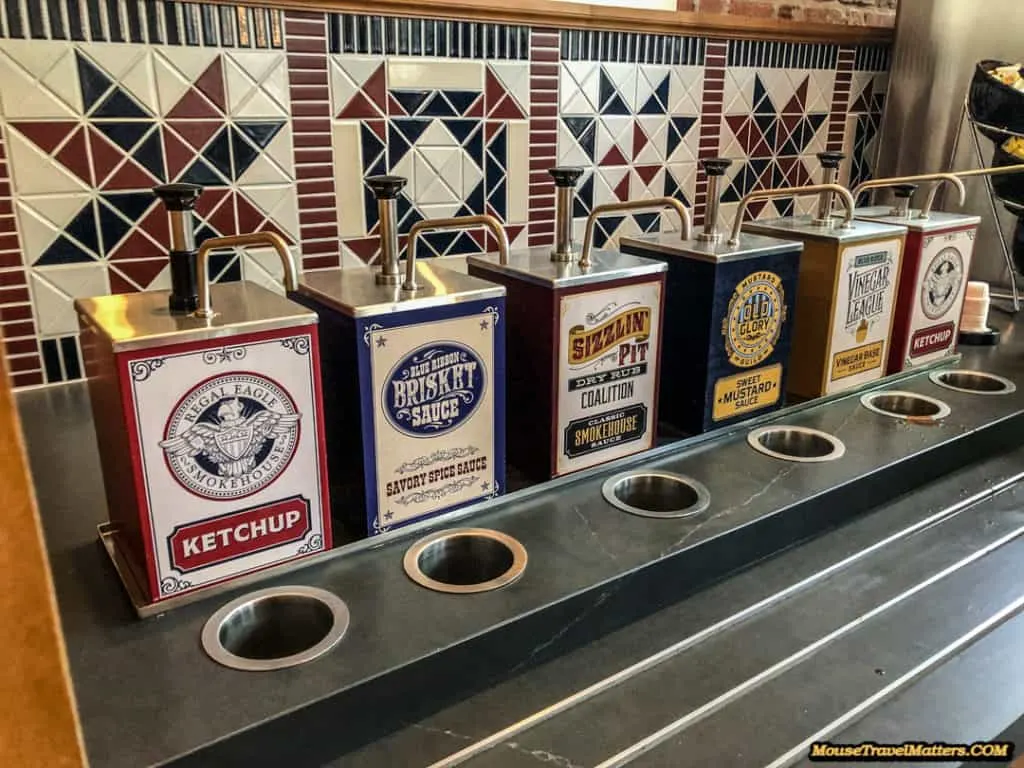 BBQ Chicken Leg
Straight up a BBQ Chicken Leg, nothing fancy. It was nicely cooked and was not dry.
Regal Eagle Smokehouse Photo Review
Atmosphere Outside
Regal Eagle has a great Walk-Up bar, smoker pit.
Atmosphere Inside
18th-century Americana
Regal Eagle Smokehouse Review Reaction
With the very boring chicken and awesome beef brisket, I am very excited for a return visit to the Regal Eagle Smokehouse. The Muppet integration really sells it for me I love to see the Muppet's extending their visibility into another park. Some of said they would like to see a little less old Liberty Inn, but for some good BBQ I'm okay with it. Flame Tree Barbeque is however my favourite BBQ joint in Walt Disney World.
Regal Eagle Smokehouse Review Final Thoughts
Was our Regal Eagle review helpful, we hope so? This is another great addition to EPCOT.
For more options for dining have a look at our consolidated restaurant reviews page.
Your Thoughts...
Please share your thoughts in the comments or reach out on social media...We would love to hear from you.
Follow Mouse Travel Matters for Disney Parks news, the latest info and park insights, follow MTM on Twitter, Facebook, and Instagram.
You May Also Like…
EPCOT Fastpass Tips and Itinerary for Families
Best 8-day Itinerary Disney World for Families