Last Updated on September 15, 2019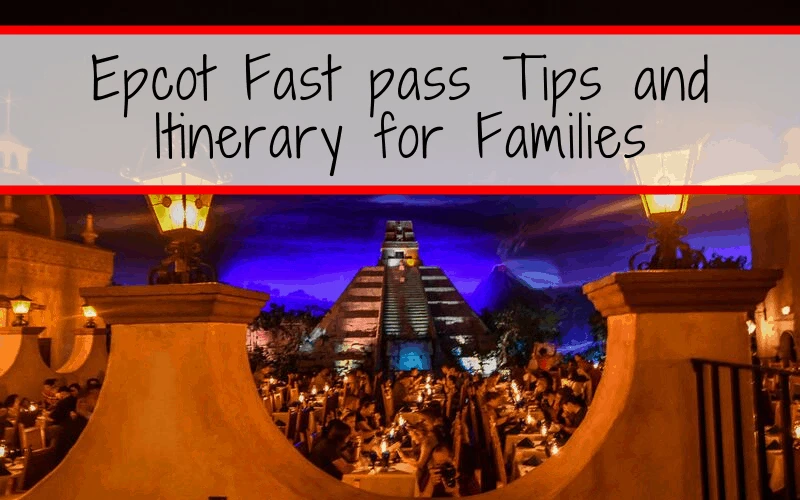 Visiting Epcot with kids is a completely different beast than visiting as just adults. This article will review how and where to make FastPass+ reservations in Epcot with kids.
This post may contain affiliate links.
To which I earn a small commission, at zero cost to you!
Find more info in our
Privacy Policy
.
Epcot isn't just for adults – you and your kids can have a great day at Epcot! Epcot is a great place for the whole family – including preschoolers! It is true that Epcot is different than the other parks but that's not a bad thing.
There are very few rides at Epcot that will exclude members with height restrictions. Instead, there are lots of interactive opportunities to engage the senses and hold the interest of almost every age group.
This accompanies our FastPass+ Overview for Walt Disney World Resort.
About Epcot
Epcot is a lot different than the other 3 parks at Walt Disney World. For starters, there aren't as many rides and not nearly as many characters to meet. There are 2 sections to Epcot; Future World and World Showcase.
Future World is all about technology and innovation. It also has two of the most popular attractions: Test Track & Soarin'. It is also set to open a Guardians of the Galaxy attraction in 2021 for Epcot's 50th anniversary.
In World Showcase, you can travel around 11 countries, exploring their food, drinks, and buildings. The World Showcase has amazing dining and a few attractions. They also have the Frozen Ever After attraction and the Anna and Elsa Meet & Greet.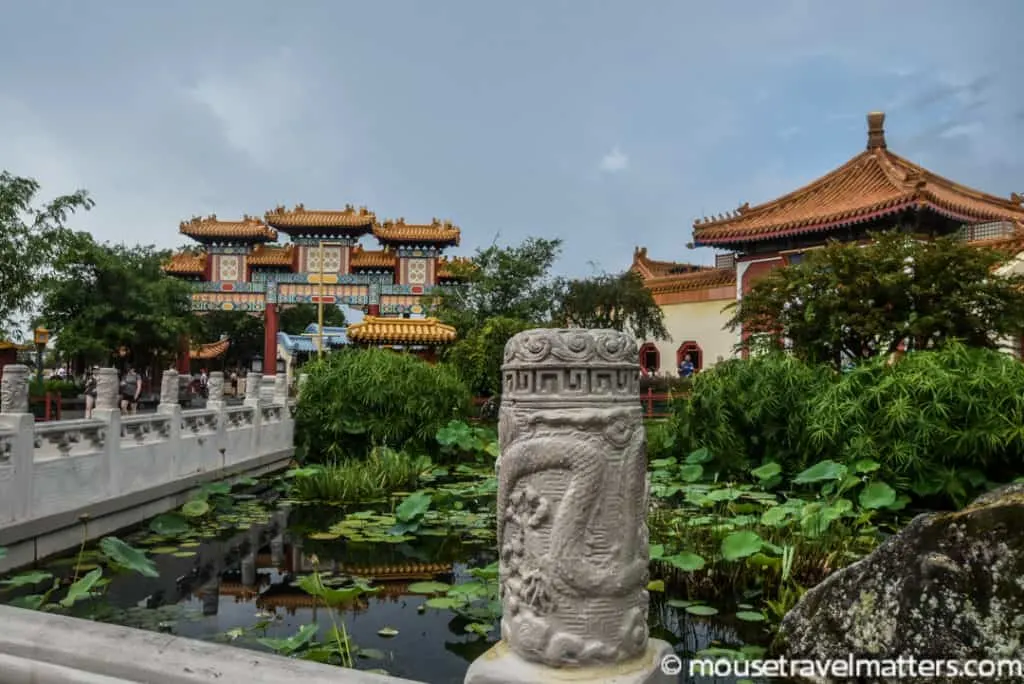 What are the Epcot rides that take Fast Pass?
Choose 1 from Group A
Test Track
Frozen Ever After
Soarin'
IllumiNations: Reflections of Earth
Choose 2 from Group B
The Seas with Nemo and Friends
Journey Into Imagination with Figment
Disney and Pixar Short Film Festival
Living with the Land
Mission: SPACE
Turtle Talk with Crush
Spaceship Earth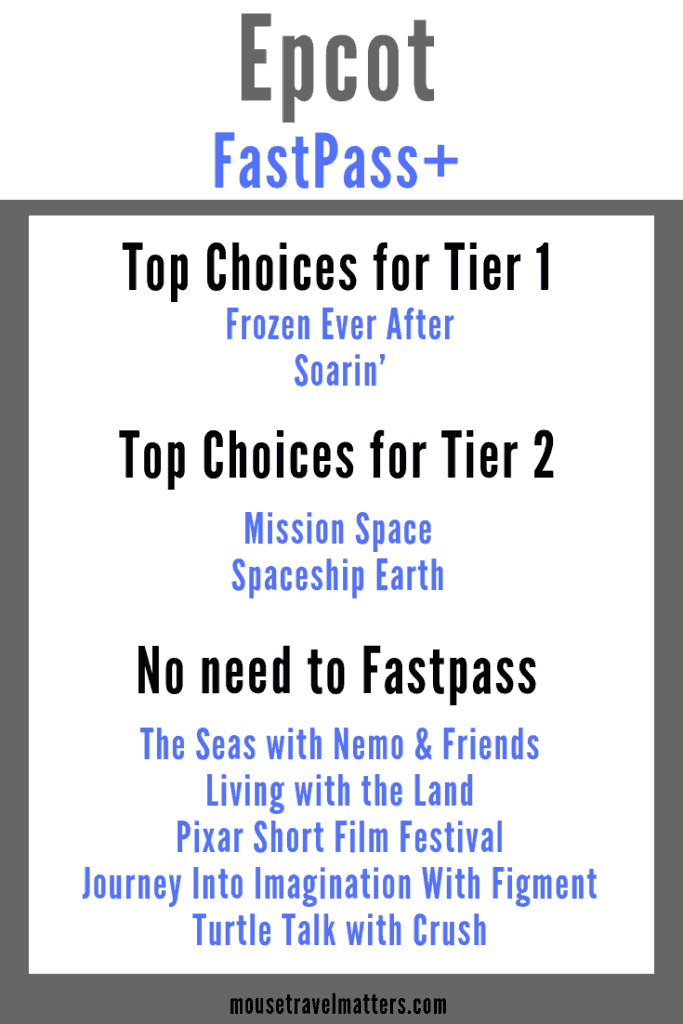 Epcot FastPass Recommendations
#1 Choice for Tier 1
Frozen Ever After is among the most popular Fastpass reservations in Walt Disney World, and the line is consistently long. If you can't get Fastpass tickets for this attraction, then you need to run for it during Rope Drop or the line will take ages to get through.
Frozen Ever After is located in the World Showcase. If you booked a 10:00 am- 11:00 am FastPass you could ride Test Track or Soarin first and then walk back to Frozen Ever After.
#1 Choice for Tier 2
With lines averaging 10 minutes, up to 30 minutes during peak times, I wouldn't suggest getting FP+ tickets for Spaceship Earth. Mission Space, on the other hand, can get a little wild in the afternoons so those should be a high priority for anyone tall enough to ride (or rider swap when the little ones are sleeping).
How Many FP+ Reservations May I Make?
Before heading to Walt Disney World, guests are able to make an initial 3 reservations. Once you have used these 3 pre-selected FastPasses, you can then make additional FastPass+ reservations, one at a time, while you are at Walt Disney World, through your smartphone app or at an available Kiosk.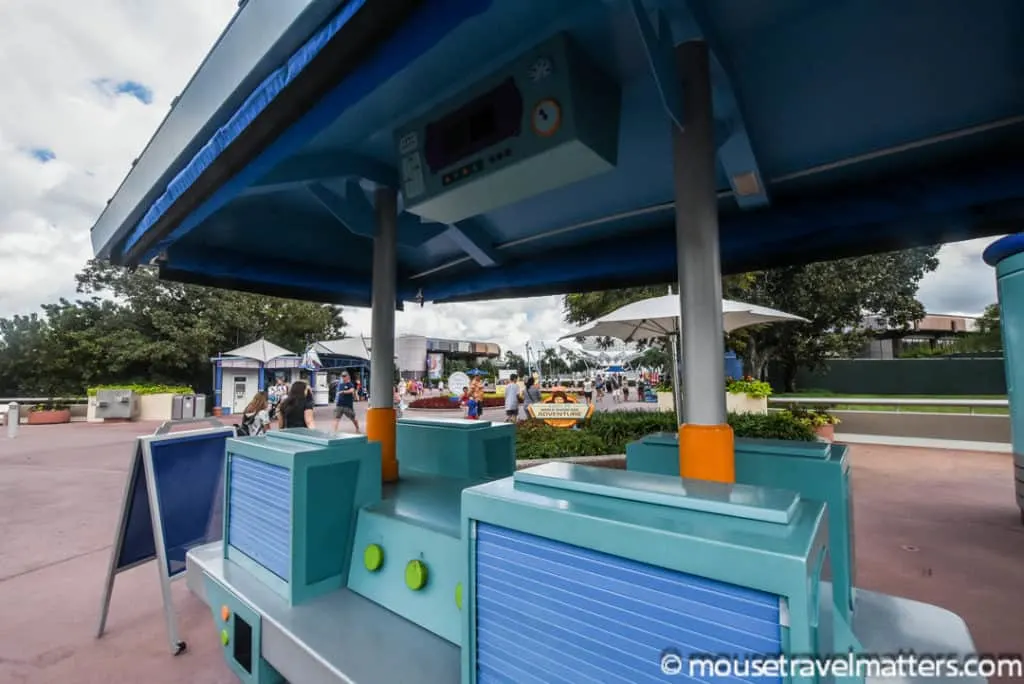 Epcot Itinerary for Families
Epcot isn't known for opening the gates earlier than scheduled so there is no sense arriving too early, but when rope dropping, 30 minutes to 1 hour ahead of park opening is usually a good time to start.
Again, you will want to bring your breakfast with you if you aren't interested in waking up at the crack of dawn for a resort meal.
Future World opens at 9 am and World Showcase doesn't open until 11 am. This means you have a whole 2 hours to complete Future World without the distraction of thinking about World Showcase.
Assuming you have your fast passes in order, you won't be needed to rope drop anything else after 9 am.
Test Track
Soarin'
The Seas with Nemo and Friends
Spaceship Earth
Journey Into Imagination with Figment (Fastpass 10:30 am-11:30 am)
Lunch: 11:15 am Chip 'n' Dale Harvest Feast at Garden Grill (Need Reservations)
Living with the Land (FastPass 12:30 pm – 1:30 pm)
Start World Showcase in Mexico
Frozen Ever After (FastPass 1:30 pm – 2:30 pm)
Finish World Showcase
Epcot Forever
There is a lot to unpack here so we will start with Future World.
Future World.
Since World showcase doesn't open until 2 hours after Futureworld, and you can only pick 1 attraction from tier 1, the ultimate goal for a morning at Epcot is to get through two of the three Tier 1 rides: Test Track, Soarin', and Frozen Ever After.
Test Track and Soarin' may not appeal to everyone, and there is a 40inch height restriction (the height of your average kindergartener), but the rides are fast and high off the ground. It is enough to make me think twice so Rider Switch and Single Rider Line with Test Track maybe your best option in this case. But then again, I am a big wimp.
There is a lot to see and do at The Seas with Nemo and Friends so don't take this time for granted. If you can't see yourself dedicating the time now, come back before the nighttime show when the queues are shorter.
Get my checklist of must-pack items (including lunch!) and other day bag essentials that are necessary to have the most enjoyable Disney day.
Chip 'n' Dale Harvest Feast at Garden Grill
If you are on the Disney Dining Plan, Garden Grill will cost you 1 TS credit.
This is a family-style buffet, in that you receive a large plate of all kinds of goodies, and they replenish that plate should you require more. It is also a Character dinner, so you are not only spending the time relaxing after a big morning, as well as eating, but you are meeting Disney characters in their best farmers costumes.
For those wanting to watch the nighttime spectacular, Epcot Forever, there is no need to make a Fastpass reservation. When selecting Garden Grill from the reservation menu, be sure to request the Epcot Forever dining package. This is also available through Rose & Crown Fireworks Dining should you want to have dinner there instead lunch at Garden Grill.
For those not with the dining plan, the dining package is an extra cost. For those on the dining plan, it is included in the credit voucher and does not cost extra for the reservation.
World Showcase
There is no right or wrong way to tour World Showcase, despite what many on twitter would have you believe. Our preference for Mexico stems from the children's ability to stay awake and active.
There are rides in Mexico and Norway, but not in the United Kingdom or Canada. If they were to fall asleep before reaching the end, sleeping your way through Canada isn't the end of the world. I can see children of all ages enjoying the Gran Fiesta Tour Starring the Three Caballeros in Mexico.
KidCot
While you are touring Epcot, don't forget to grab an Epcot Passport at any of the souvenir shops or simply start them off with Ziploc KidCot. They will love looking in each pavilion for the stations, as well as learning a few new things about each country.
We at Mouse Travel Matters have created our own colouring books to go along with Epcot World showcase. They are only a few pages long each but they have great information to teach younger children about each country. This is a great little tool to keep them occupied while at dinner, waiting in line, or even while they are being pushed in the stroller.
Take a look;


Festivals
Throughout the year Epcot is a host to many festivals and events.
Your Thoughts...
Please share your thoughts in the comments or reach out on social media...We would love to hear from you.
Follow Mouse Travel Matters for Disney Parks news, the latest info and park insights, follow MTM on Twitter, Facebook, and Instagram.
You May Also Like…