Last Updated on July 18, 2020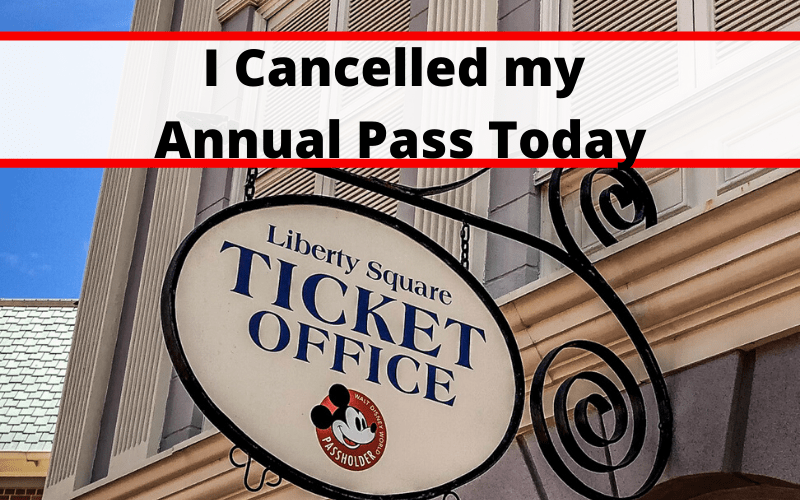 I purchased a Disney Platinum Plus Pass in August of 2019, today July 16th I cancelled my Annual Pass. Here is my Walt Disney World Annual Pass refund story.
Purchasing a Disney Platinum Plus Pass in August of 2019 was a very big deal for me, it was my first time ever being a Walt Disney World Annual Passholder plus I live in Canada so it was a big commitment to travel for the blog to Florida during the year to get our ' money(s) worth'.
I knew that between our August trip to report on the opening of Star Wars: Galaxy's Edge and our Family Christmas visit, that we would break even in terms of tickets, merchandise discounts and enjoy access to exclusive Passholder merchandise.
Disney World 2020
I visited Disney World twice in 2020 for the Mouse Travel Matters blog, in February I visited Disney World for the EPCOT International Festival of the Arts. And as luck would have it made another quick trip to Florida in March for the opening of Mickey and Minnies Runaway Railway as well as the first day of the EPCOT International Flower & Garden Festival.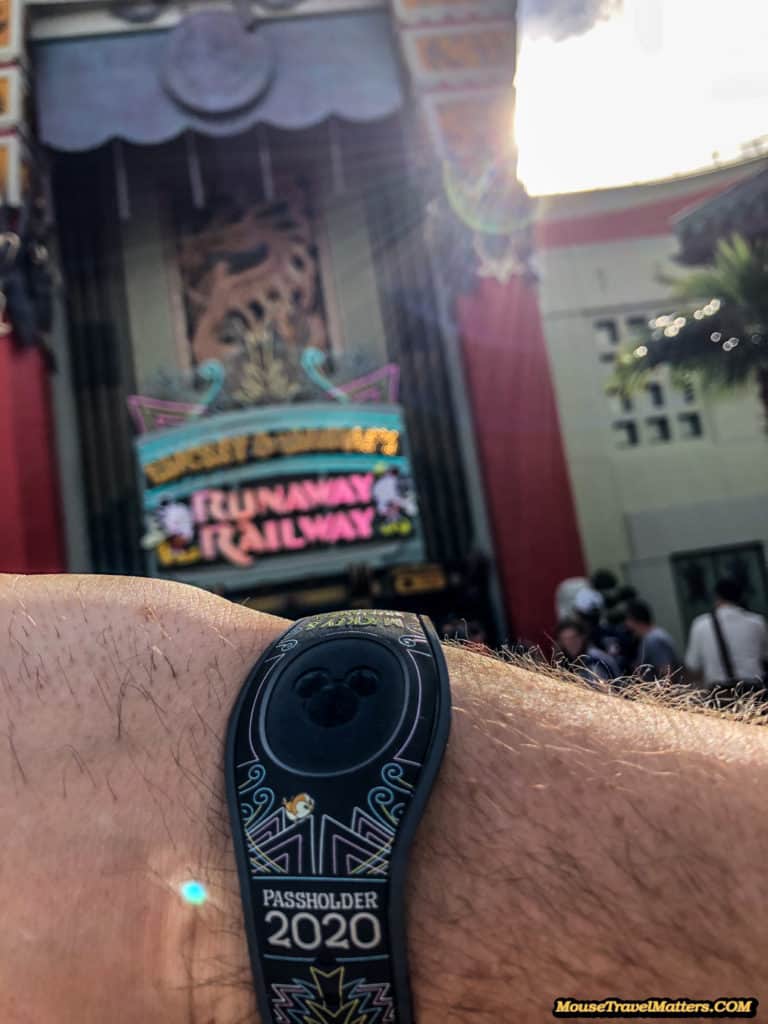 Having flown back to Canada March 9th, this was the week that everything went to sh*t. Basically landed in Canada two to three days before the lockdown and Declaration by the WHO of a Global Pandemic (March 11th).
Advantage Breaking Even
We absolutely took advantage of our Disney World Annual Pass and only visited when we could find cheap flights out of Ottawa, plus utilizing AP room discounts at Disneys Value Resorts. This was our best effort to cultivate Mouse Travel Matters with the latest first-hand info.
Moving Forward
We had hoped that getting back to the parks would be just a matter of time and doing our part to stay safe for everyone would help move things along.
With the failures and confusion around the world fueled by things beyond our control and well Canada is doing well currently in Phase 3 reopening in Ontario, Canada. Others are not close to safe reopening of there national borders.
The border closure between Canada and the United States continues for non-essential travel, it's fair to say that our November reservation at Disney's Caribbean Beach Resort isn't looking all that great. We even had all the Disney Park Passes reserved for this visit.
We have decided that it makes business sense to request the partial refund option, cancel our resort reservation and flights. We will try again next year when borders open, lock-downs are lifted. If everyone does there part, and perhaps a vaccine is released things will be much safer.
If we lived in Florida I can tell you right now we would visit the parks. In our opinion and from what we've seen Disney World has a robust reopening plan and strong safety measures in place. I have zero issues with following simple common sense procedures.
Now that the Parks are open, there are many temporary restrictions, limitations and overall changes to the Disney experience, that it doesn't seem worth the 14-day Self-Isolation that my province requires when returning to Canada.
How to cancel your Disney World Annual Pass
Last week, Disney World Annual Passholders were offered a complimentary month extension or a partial refund. All Passholders were extended for the time Disney was closed, regardless of the choice they make.
Within the email, we followed the link to this page. It appears Passholders have until August 11, 2020, to register their choice.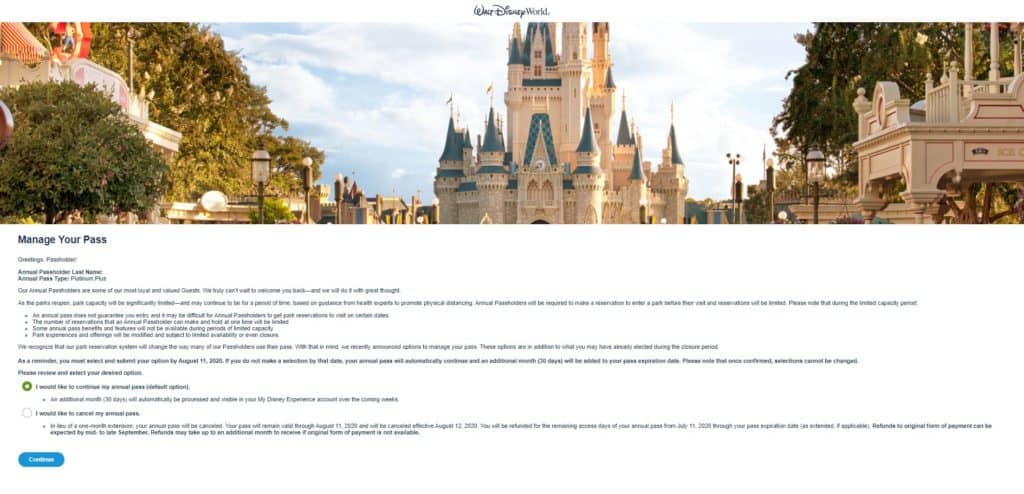 From here, the language is a little confusing but basically, you are not getting a refund from March, because you have already been given an extension from March to July when the parks reopen.
So, our Annual Pass was supposed to expire on August 24, and it was been extended to December 24, 2020. Our refund, according to the language, will be from August 12-December 24. Cancelled Annual Passes are valid until August 11, 2020.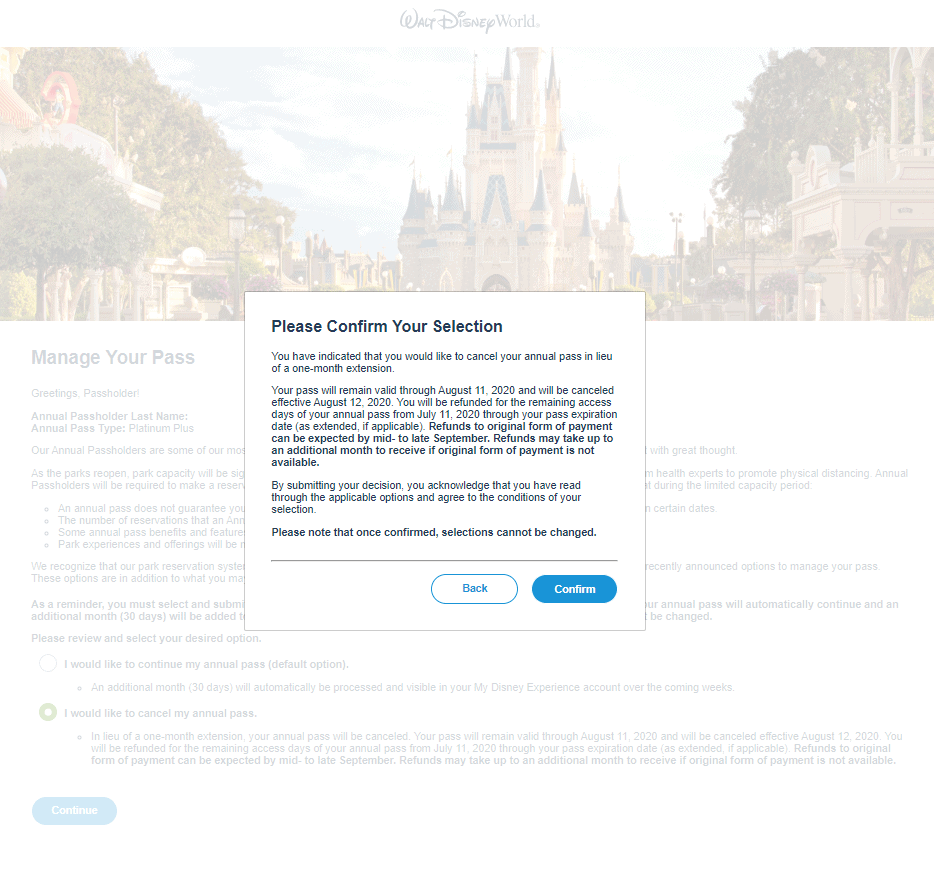 If Disney processes their refunds the same way they do on resort cancellations, it should take 3-4 weeks before we see it on our credit card. Also, Disney will refund it on the same payment form that it was purchased on so double-check the original credit card.
If Annual Passes were purchased with Gift Cards or cancelled credit cards, you will need to call in your cancellation and discuss your options with Disney Cast Members.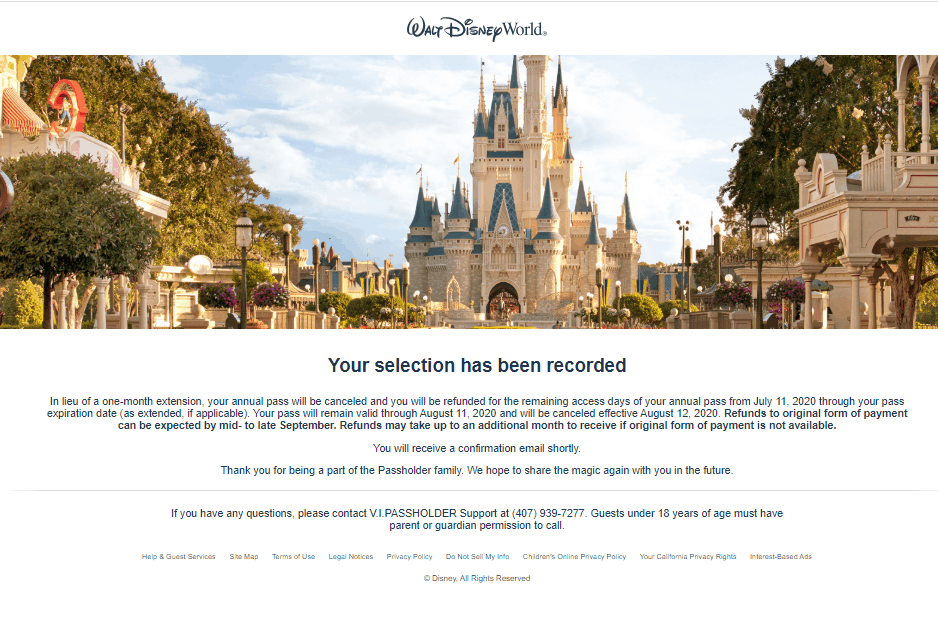 Looking Ahead to 2021
With the state of affairs around the world I can only hope we as humans sort ourselves out. And get back to doing what use to be normal travel. And maybe just do what it takes to slow and maybe stop the spread.
#StayHealthStaySafe
I Cancelled my Annual Pass
In conclusion we will visit Disney World again. It may take some time but we are certainly staying in the loop on whats going on in the parks.
Your Thoughts...
Please share your thoughts in the comments or reach out on social media...We would love to hear from you.
Follow Mouse Travel Matters for Disney Parks news, the latest info and park insights, follow MTM on Twitter, Facebook, and Instagram.
You May Also Like…
How to Receive Refunds on Disney World Annual Passes
2021 Disney World Vacation Packages
Regal Eagle Smokehouse Review: Craft Drafts & Barbecue