Last Updated on May 18, 2021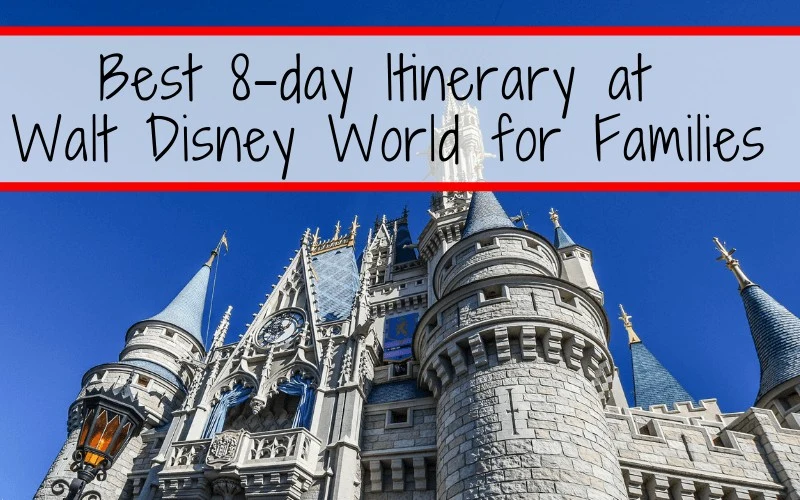 The best 8-day Disney World itinerary for families (where to stay, dining suggestions, how to tour)
Disney World in Orlando, Florida is a pilgrimage many families make sooner or later. Primetime for visiting tends to be when kids are four through 10 — old enough to remember the trip, yet young enough to be thoroughly absorbed in the magic.
But the sheer number of ways to experience that Disney magic can be overwhelming, especially for first-timers. With four theme parks, two water parks, a shopping, and entertainment district (Disney Springs), and kid-approved pools at the Disney resorts, it can be intimidating to plan an itinerary.
There is so much to see and do at Walt Disney World that it can be easy to feel overwhelmed in the planning stages. Taking kiddies along for the ride and you can start to feel trapped by their slow pace and need for naps.
Here we will show you how to make the perfect Disney World itinerary for families, including where to stay, what to eat and how to tour.
If you are going on a Disney Vacation with kids or considering one, make sure to check out all of the posts in our Toddler series.
How to tour
Keeping in mind that your 8 days at Disney consist of an arrival day, departure day and at least 1 rest day, that leaves you with 5 park days. Deciding which day you want to explore each Park, when to balance your break and still get the most out of your time can be challenging.
The itinerary below is just an example. You'll need to rearrange your days according to the best parks on your days. Many of the things mentioned below are quite popular and should be booked 180 days in advance.
Suggested Tour Itinerary
Day 1 – Arrival Day
Take it easy, explore the resort.
There are so many character dining experiences at one of Disney's resort restaurants, why not take this opportunity to explore at least one of them and make this a terrific start to your Disney Vacation. Head to Storybook Dining at Artist Point for dinner to kick off your trip with classic characters. (This reservation should be made 6 months in advance.)
Take a spin on the monorail, do some resort hopping and then head back to your resort to get ready for your first day in the parks.
For more arrival day click here.
Day 2 – Magic Kingdom
Head to the Magic Kingdom bright and early for an 8:00 breakfast at Be Our Guest. This is only a Quick Service restaurant in the mornings but still requires a 6-month reservation.
If you have reservations for Be Our Guest (BOG) before park opening, you can queue for Seven Dwarfs Mine Train before the gates are even open. This means you will literally be amongst the first to ride, and you didn't have to sprint across the parks at rope drop.
This only works if you visit when Extra Magic Hours is NOT at the Magic Kingdom. As a whole, we tend to avoid the parks that are offering EMH that day.
After breakfast, head to Fantasyland right when the park opens. While everyone, in general, tour from right to left in the great Hub that is the Magic Kingdom, we don't suggest going against the grain this time. The kids will want to have some sort of immediate satisfaction, and the lines for Fantasyland rides can get a little crazy in the afternoon.
Have FastPass+ reservations made in advance for Winnie the Pooh or Peter Pan's Flight, Jungle Cruise and most definitely for Buzz Lightyear Ranger Spin.
Fantasyland
Seven Dwarfs Mine Train
Under the Sea ~ Journey of The Little Mermaid
Dumbo the Flying Elephant
The Barnstormer
Casey Jr Splash n' Soak station
The Many Adventures of Winnie the Pooh
Popcorn and Mickey's Royal Friendship Faire at 10:30 am
Peter Pan's Flight
Mickey's Philharmagic
We were finished with Fantasyland and ready to each by Noon exactly.
For lunch, you might want a Quick Service restaurant after having a big breakfast. Pinocchio Village Haus and Columbia Harbour House are good choices that are nearby.
We bring a stroller on all of our Disney trips, whether the kids think they need them or not. Find a central parking spot, lock the wheels together (not to the frame of the parking lot, that's a major Disney no-no) and get it a little later when the kids are tired.
Many people will take this high-crowd period to head back to the resort for a nap/swim. That is also an option, though we tend to have the children nap in the stroller and we use rider swap/single rider for adult rides.
Tomorrowland
Carousel of Progress
Buzzlightyear's Ranger Spin
If someone needs a nap, right after Buzz is a great time. This should take you to around 1:30 pm and take the stroller over to Main St for a decent spot at the parade.
If others want to keep going, Tomorrowland Speedway and Tomorrowland Transit Authority Peoplemover will have lower lines during this time.
The daytime parade, Disney Festival of Fantasy Parade, starts at 3 pm but takes roughly 15 minutes to get to Main St USA.
Adventureland
Swiss Family Treehouse
Walt Disney's Enchanted Tiki Room
Mobile Order Dole Whip
Pirates of the Caribbean
The children should be getting hungry at this point, it's dinner time. Pecos Bill and Tortuga Tavern are great Quick Service options in the area.
In the evening stay for fireworks, Happily Ever After. The show starts at 8 pm every night and lasts about 15 minutes. Since the park doesn't close until 10 pm on most nights, there is still plenty to do afterward, but many guests will be leaving right away.
After this, you are welcome to stay a little longer and try to get a few night time shots of the Castle while the crowds are leaving. The shops are also open for about an hour afterward, but they can get crowded as everyone tries to buy last-minute souvenirs.
We found that even leaving the parks with everyone else, the buses aren't Super full. The All-Star resorts share a bus so they will be crowded but all other resorts have their own bus.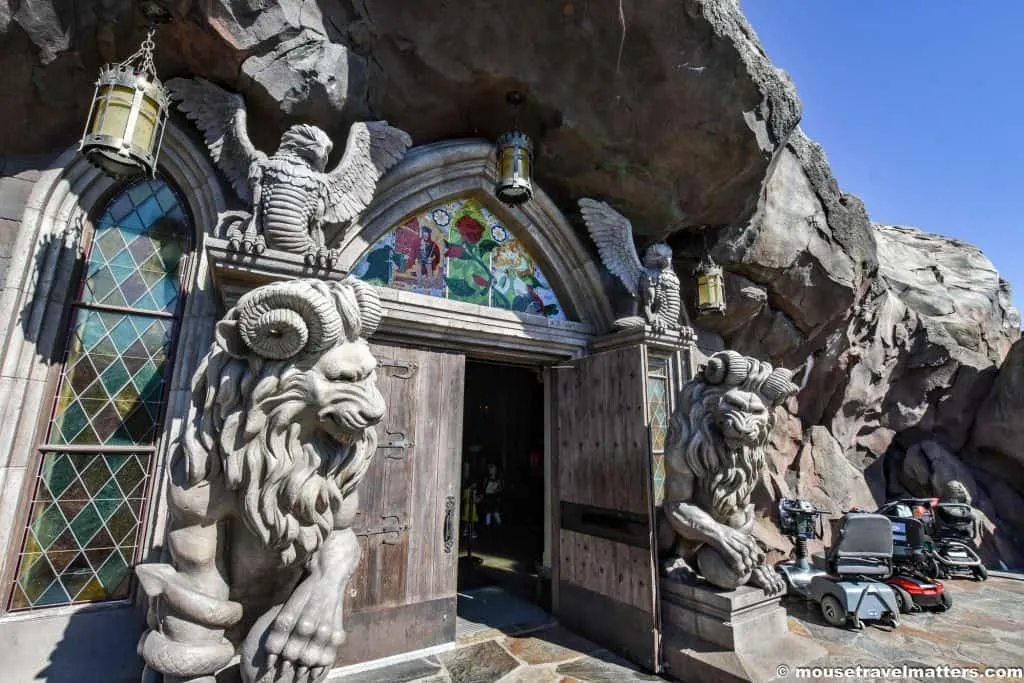 Day 3 – Disney's Hollywood Studios
Hollywood Studios is a tricky one. With Rise of the Resistance opening and boarding groups being filled shortly after opening, you will want to get there at least 1-2 hours before the gates are scheduled to open.
We say this because Disney has been opening Hollywood Studios early every day this month due to crowds. And all guests wanting to join a boarding group need to be scanned into Hollywood Studios before gaining access to the system. For more information on joining a boarding group for Rise of the Resistance, check out our latest article.
If you have no intention of getting up that early for a single ride, which many people aren't, then feel free to sleep in a little and enter Hollywood Studios around 9 am. This will give you plenty of time to signup for Jedi Training while making your way to Star Wars: Galaxy's Edge.

Don't forget that Jedi training registration is available and offered on a first-come, first-serve basis. You can register your kids at the Indiana Jones Adventure Outpost located between the Indiana Jones Epic Stunt Spectacular! and the 50's Prime Time Café, and they must be between 4 and 12 years of age to participate.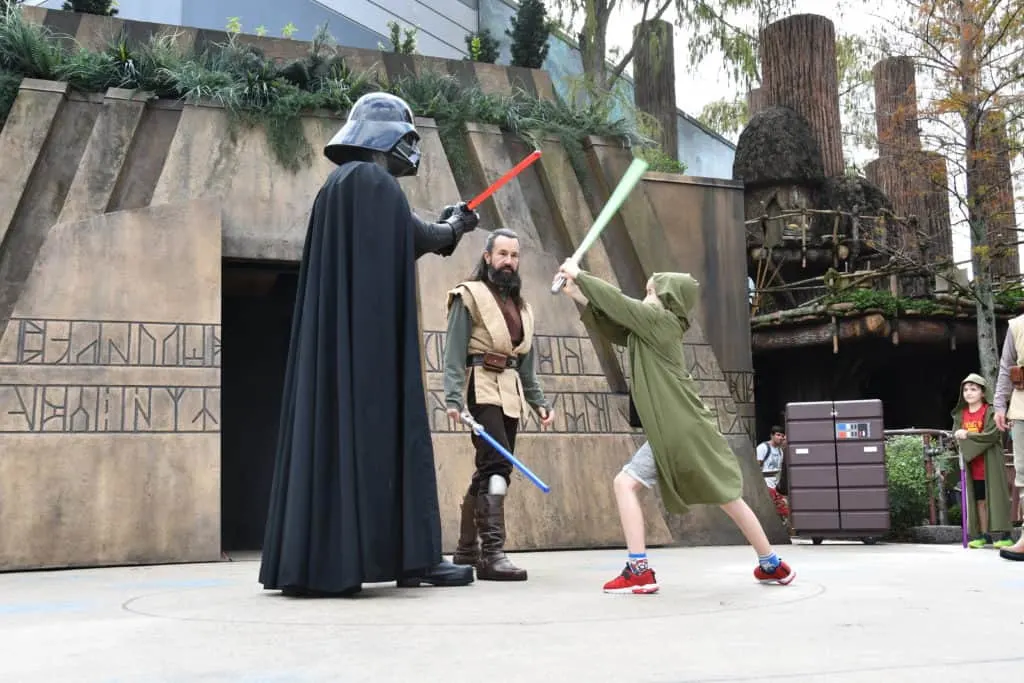 Jedi Training has timings throughout the day but you need to be back for robes and check-in at least 30 minutes before your scheduled training session. We choose the 1 pm training, so we had to be back at Indiana Jones for 12:30 pm. Grab some Galactic popcorn on your way out.
Jedi Training
Star Tours
Muppet Vision 3D
We scheduled lunch for 2 pm at Hollywood and Vine (with the Fantasmic and Pixar dining package) in order to make sure we have plenty of time to explore Grand Avenue and Galaxy's Edge without doubling back.
Why are we pushing character dining so hard? Because the kids will be waiting in line long enough as it is for rides, they don't need to add character meet and greets to their laundry list of things to wait for. And you need to eat, and rest your feet/brain. Why not do it all and save yourself some time in the process.
You will have made FastPass+ reservations ahead of time for Slinky Dog Dash, Rock 'n' Roller Coaster
Just a reminder, Hollywood Studios has a 2 tier Fastpass system and guests can only get 1 attraction in the Tier 1 category.
Slinky Dog Dash
Toy Story Mania
Alien Swirling Saucers
Rock 'n' Roller Coaster (also has single rider)
Tower of Terror
Toy Story Mania and Alien Swirling Saucers tend to have smaller lines, roughly 30 minutes each, so we strongly recommend trying to get Slinky Dog Dash as your single Tier 1 Fastpass.
There aren't a crazy number of attractions at Hollywood Studios but there are a lot of shows and the queues for Toy Story rides do take up a lot of time. Try out Woody's Lunchbox for a quick snack while you are there.
Plan on having the big rides during your kids' general nap time, or shortly after lunch, when their bellies are full. Rider swap is a great invention. We were pleasantly surprised at how much the kids loved Slinky Dog so don't automatically discount the rollercoasters just yet.
For dinner, you can go one of two ways; quick service at ABC Commissary or another sit down at Sci-Fi Dine-In Theater Restaurant. There are other restaurants, of course, but the kids won't nearly be as interested in the theming and therefore it's money lost.
On your way out, don't forget to stop by An Incredible Celebration and have a visit with Edna Mode.
End your Hollywood Studios day by viewing Fantasmic! or Star Wars fireworks. Unless there is a second showing for Fantasmic!, there is a good chance you will have to choose one of these nighttime spectaculars, as they are timed too close together to physically see both on the same night.
Day 4 – Rest morning, Hollywood Studios afternoon
That was an incredible 2 days at Disney World and your feet need a break. Sleep in, enjoy the morning and take it easy.
Once the fog has lifted and the children are awake, head over to Bon Voyage Adventure Breakfast at Disney's BoardWalk. This is probably going to be a late breakfast reservation, but that's ok because they are open from 7:30 AM – 12:05 PM.
From here, you need to make a choice; Water Park, Disney Springs, or Resort pool day. With little ones, they want to buy and touch everything so Disney Springs is potentially a tantrum and bankruptcy waiting to happen. And in terms of water parks, if they don't know it exists, they will be more than happen to explore the pool area of your resort and save yourself a few hundred dollars in entrance fees ('cause that's not included in your Magic Your Way package).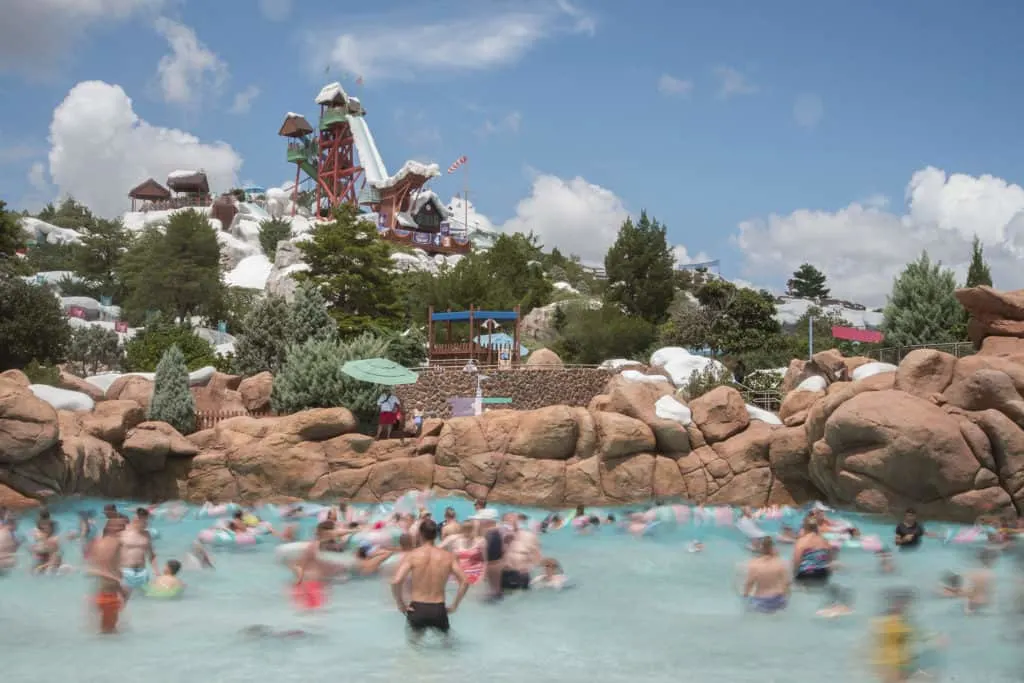 There are so many things to do outside of the theme parks, we dedicated an entire article about it; 40 things to do outside the theme parks without park tickets.
This is also the perfect opportunity to check out Animal Kingdom Lodge. They have great restaurants; table service and quick service, as well as scavenger hunts and such. You don't even need to be a guest of this hotel to enjoy.
If resting for a full day isn't your style, then head back to Hollywood Studios and finish off Animation Courtyard. With all that waiting in Toy Story Land, there wasn't much opportunity to see the Disney Junior characters before they went home for dinner.
Disney Junior Dance Party
Animation Courtyard character greetings (this is 4 separate queues, but they are fast)
Launch bay character meet (again, 4 queues, but still fast)
Voyage of the Little Mermaid
Beauty and the Beast – Live on Stage
If you haven't tried 50's Prime Time Café yet, now is a great time to visit. The kids will love dining in Grandma's house and the food is incredible.
Frozen Singalong is also another great Tier 1 option. They are limited to a handful of showings per day, but the kids will love it. Morning – 10:30 AM, 11:30 AM Afternoon – 12:30 PM, 1:30 PM, 2:30 PM, 3:30 PM, 4:30 PM Evening – 5:30 PM, 6:30 PM, 7:30 PM
The Star Wars fireworks are going to be projected onto the Chinese Theatre, so the area does tend to get fairly crowded. We found the best place to wait was along the back wall, just off center stage. It is far enough to get a good view of the fireworks and the kids can stand on the stone ledge/seating area without blocking anyone's view.
Day 5 – Animal Kingdom
Tusker House is available for an 8 am breakfast reservation if you want to have breakfast with the characters instead of lunch. This is a great way of getting your feet in the door before everyone else. You won't be missing too much of rope drop time but then you will not be stopping for 1.5 hours in the middle of the day for lunch either.
This experience is available for the Rivers of Light dining package (for a small extra fee when paying out of pocket) or covered with your Disney Dining Plan. And don't forget to check out our Tusker House dining review.
If 8 am is too early for your blood, don't worry. We have your back. Quiet breakfast in the room, arrive at Animal Kingdom for 9 am ish.
This is also a great time to stop by the Wilderness Explorers main station on Discovery Island. They will explain the process and give your booklet and first sticker/badge.
Africa
Gorilla Falls Exploration trail
Rafiki's Planet Watch
Kilimanjaro Safaris FP
The Festival of the Lion King
This is where the schedule gets a little choosey – if you decided to sleep in and have Tusker House lunch, that's 1-1.5 hours out of your schedule. Something is gonna have to be taken off the list. Rafiki's Planet Watch is cool, but it takes time. We recommend sacrificing this in order to catch the Festival of the Lion King.
Your other option is to stop at Harambe Market for a Quick Service lunch and have it all. Forgoing Tusker House altogether.
Asia
Kali River Rapids FP
Expedition Everest (single rider available)
Maharajah Jungle Trek
If there is no time to keep up with the schedule, we suggest eliminating the Maharajah Jungle Trek. It is a self-guided walking tour to see the Asian animals and is honestly very cool, but it does take a lot of time and energy from the children.
Asia is a very quick Land to pass through and the children won't be too interested in the architecture.
Dinoland
The Boneyard
Dinosaur
Finding Nemo – The Musical (this is a 40-minute show)
We aren't a huge fan of Dinoland, mostly because it's all carnival rides and the ones the children will like most require vouchers at an extra expense. If they haven't seen it, or don't know it exists, feel free to skip this land.
Finding Nemo – The Musical is a long show and ends fairly early in the day (the last showing is 4:30 pm) so I would add this to the MAYBE list if there is time.
Discovery Island
Adventure Outpost (9 am – 7:30 pm or 5:30 pm on Tuesday and Wednesday)
Don't forget to Mobile Order from Flame Tree BBQ while waiting in line for Mickey and Minnie. The queue for characters is also never as long as they claim it to be; 20 minutes turned out to be second in line.
If you have planned on skipping Dinoland USA, then this is an early dinner and you will have plenty of time to visit Pandora before Rivers of Light. Choose the second showing (7:45 pm) and you won't have to rush your way through Pandora.
Pandora
Flight of Passage – FP (44inch height restriction)
Navi River (only if the queue is short, not worth 1-hour wait)
Grab some popcorn on the way back and head back to Rivers of Light. The Fastpass entrance is in Asia, 39a on the map. While Dining Package entrance is in Dinoland, across from Finding Nemo, 39b on the map. You may enter 30 minutes before the show starts.
If you didn't take advantage of the Rivers of Light dining package or Fastpass, then maybe the Rivers of Light desert party may be of interest. Of all the dessert parties, this one looks to be the most worth your money and most enjoyable by adults and kids alike.
Why all the bells and whistles for seats to the show? The majority of the seating here is reserved for guests with FastPass+ reservations and Dining Package reservations. There is a section for standby guests but this can be hit or miss, depending on the crowd level and if there are two showings (there are only two showings during the high season summer months).
Unlike Epcot Forever and Happily Ever After, there is a clear front to the show and not much can be seen outside of the sitting area. The bridge perhaps, but you and your kids are going to want to sit and be comfortable without having to wait an hour in line to get it.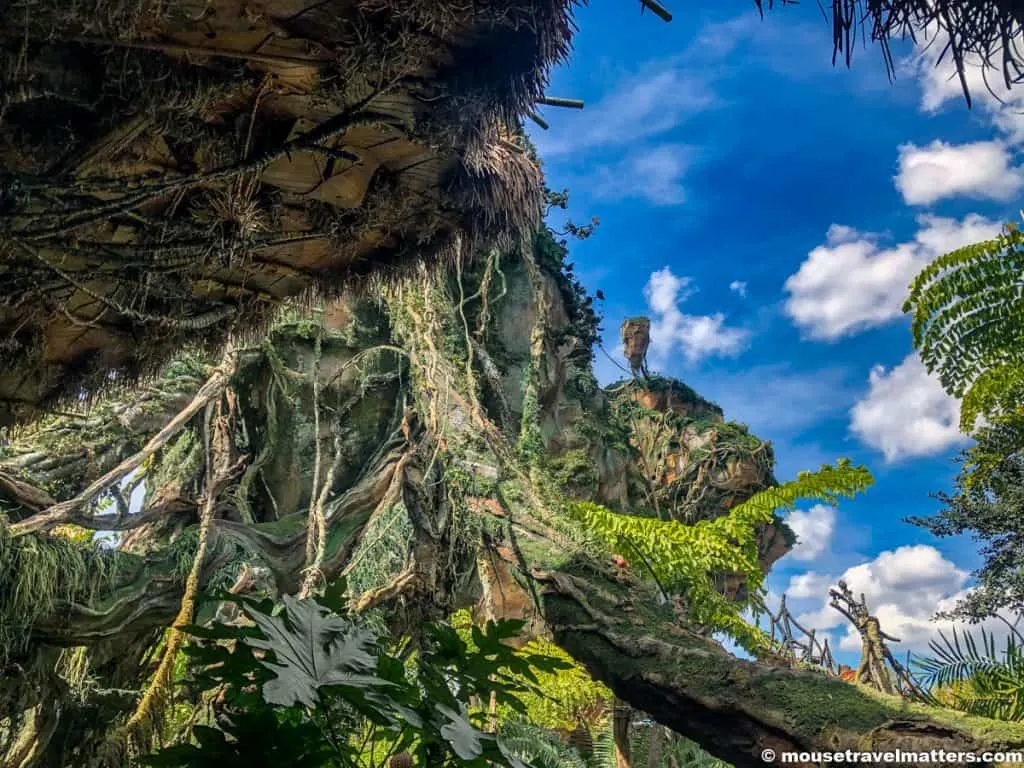 Day 6 – Epcot
You will want fast passes for Frozen Ever After, and Epcot Forever. Sadly, both are Tier 1 Fastpass options that can not be booked 60 days in advance. However, after using your initial 3 fast passes (reserving and using), then you are able to select Epcot Forever for that night. We, on the other hand, decided to have 2 Epcot days and spread out our Tier 2 selections accordingly.
Normally, we would suggest eating in the hotel room or at a Quick Service location like your hotel or Sunshine Seasons for breakfast. But every once in a while there are special occasions at Epcot that warrant a change of pace. During holidays and special festivals, Epcot releases Dining Packages with its many Table Service restaurants. This is no additional charge while on the Disney Dining Plan but does cost a few extra dollars if paying out of pocket.
This is when we would suggest Garden Grill Character breakfast first thing in the morning. Scheduling breakfast for 9 am during low-season means you will be out within 45 minutes, having been visited by all 4 characters and still enough time to ride both Living with the Land and Soarin' without much hassle.

It's still early, so head out to The Seas with Nemo and Friends and check out Seabase. There is a small playground where the kids can play in a sunken ship and take a photo with Bruce.
On the other side of Future World, ride Mission; Space. If it's early enough in the morning, the queue will be fairly short. Don't forget to grab some merch at Mouse Gears (and have it sent to your room).
Recap
Living with the Land
Soarin'
The Seas with Nemo and Friends
Seabase
Mission: Space
After you have completed Future World, grab some popcorn and head over to World Showcase, starting with Mexico, and make your way around the Pavilions.
Feel free to download the Play Disney Parks app or stop by a kiosk to sign up for Phineas & Ferb: Agent P's World Showcase Adventure. Note that this does take a bit of time within each pavilion and can easily suck up your phone's battery life. May we suggest Kid Cot instead.
World Showcase
Kid cot in every pavilion
Grand Fiesta Tour
Meet Anna and Elsa at Royal Sommerhus
Frozen Ever After – FP
Snack at Norway bakery
Sommerfest lunch in Germany
Gelato and wine in Italy
The American Adventure
For Lunch, snack your way through the World Showcase. Especially during festival time, there is so much to eat and snack on that you won't have much time to do anything else.
America Pavilion is halfway through World Showcase and is a great time to call it quits. This is probably going to be around 5 pm if your kids run around as quickly as ours do. During festival times, there will be a second evening show, Candlelight Processional for example, that you will want to schedule into your touring plan.
Head back to Italy for some nice Pizza at Via Napoli for dinner. Have a swim in the pool and take the evening off.
Find a nice restaurant, either Coral Reef or the new space-themed restaurant they are building near Mission Space. Dinner is a nice time to have forced rest with the kids and let them recharge before heading back out for Illuminations or anything else planned for the evening. They can also have a little nap in their chairs if they are so inclined – sadly, strollers are not allowed into the dining hall and we don't recommend leaving your child unattended at the entrance (pretty sure that's not legal).
From here, you can continue on your Epcot journey and schedule a second Tier 1 Fastpass for Epcot Forever, or you can use your Day 7 free-day and have a much more relaxed Epcot part 2.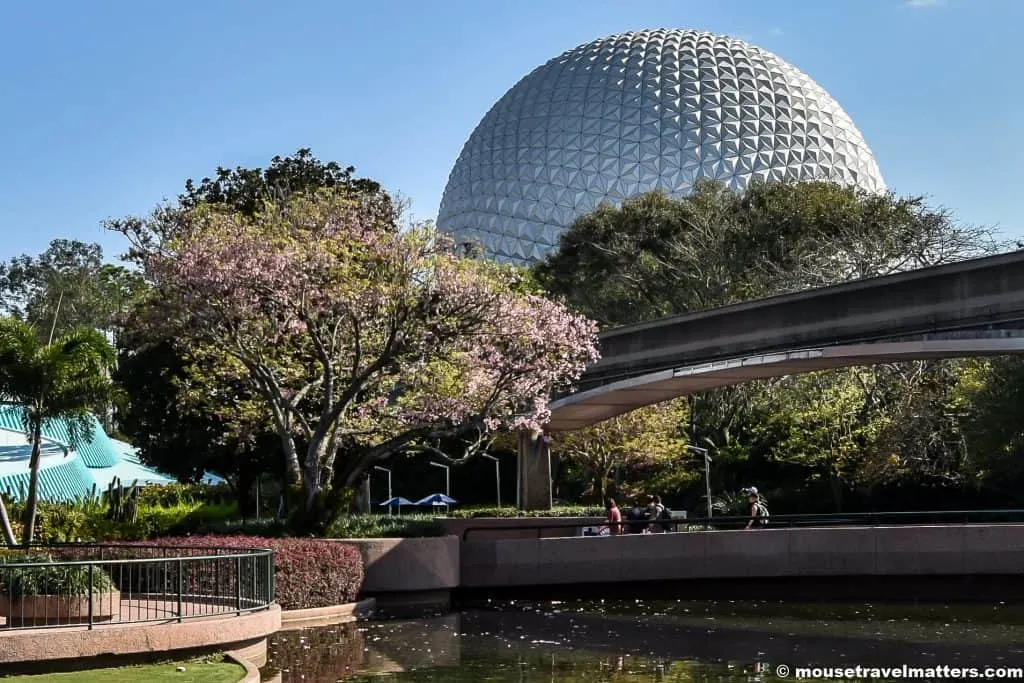 Day 7 – Repeat your favourite park – probably the Magic Kingdom or Epcot
Day 7 is a big day. It is your last full day in the parks, your last Park Ticket and you have already experienced each of the Parks once. This can be another Non-Park day or a chance to re-explore your favourite park and do a few rides over again.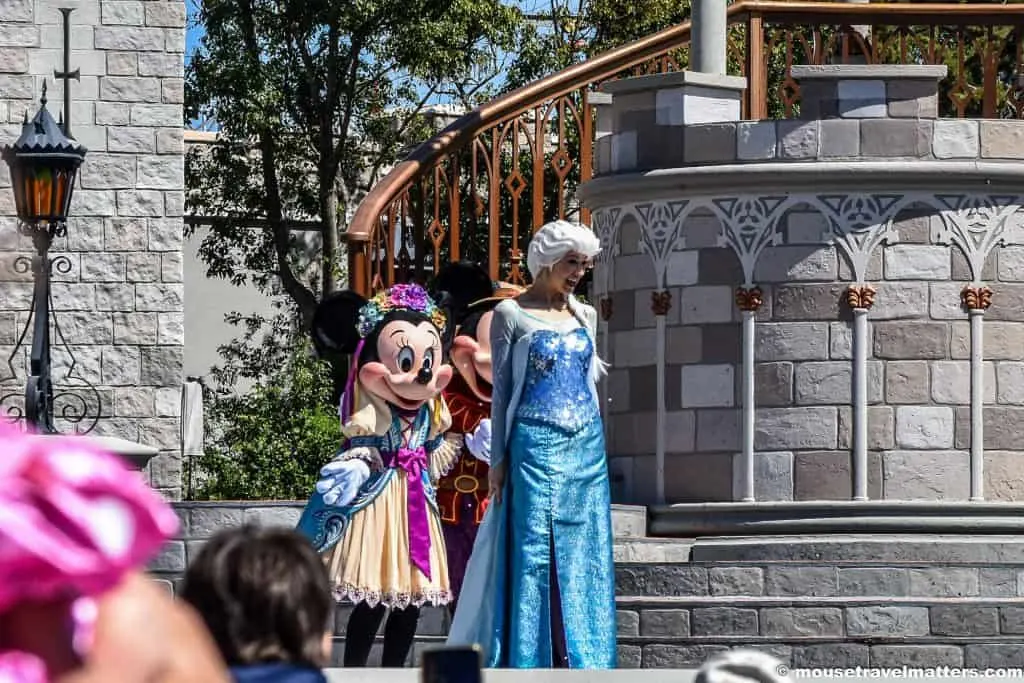 Magic Kingdom Option
On the other hand, if your kids are fairly young and want to explore Fantasyland again, why not. You don't need to be super early but early enough that you beat the majority of the crowds. (You can always split up and do what you want independent of your spouse and let the kids decide which parent they want to tour with today, it's your vacation).
Since this is a repeat day, I have no problems suggesting you leave the park for a break or meal at a nearby resort. Both Parks are near enough to Disney's Contemporary Resort that Chef Mickey seems like a great way to end the day.
Epcot Option
Instead of staying out too late, we left the schedule open to having a second day at Epcot.
Take the Skyliner and arrive through the International Gateway. Characters start arriving at 9 am but since World Showcase is closed from the other side until 11 am, this is a fairly quiet spot until then.
International Gateway character
Grand Fiesta (because the kids like it so much)
Japan, Morocco look around
Les Halles Boulangerie Patisserie in France
Yorkshire County Fish and Chips for lunch
Canada: Far and Wide (coming January 17, 2020)
This is a slow day and without many rides. Feel free to visit Journey into the Imagination (it closes at 7 pm). Head back to the resort for a nap or a swim. Being back for 6 pm means you now have time for a quick eat at Electric Umbrella, ride Spaceship Earth and check out the Epcot Experience before queuing for Epcot Forever.
Day 8 – Departure day.
On your departure day, pack your bags and head out for one last Disney experience. If your flight is late enough, take in a late morning character breakfast at a resort restaurant.
Just a reminder that Disney's Magical Express takes you to the airport 3 hours before your flight. A 3:30 pm flight leaves Disney at 11:45 am. Be sure to have any reservations starting at or before 9:30 and give yourself some room for late entrance into the restaurant.
'Ohana is a great choice. Lilo, Stitch and Polynesian Mickey make their appearance and the Polynesian resort has a lot of great offerings. But any resort restaurant will do.
Like any system, Disney buses are only as good as the people around them. Crowds and traffic happen. We suggest taking an Uber or Minnie Vans to and from your breakfast reservation unless they are in your resort or walking distance.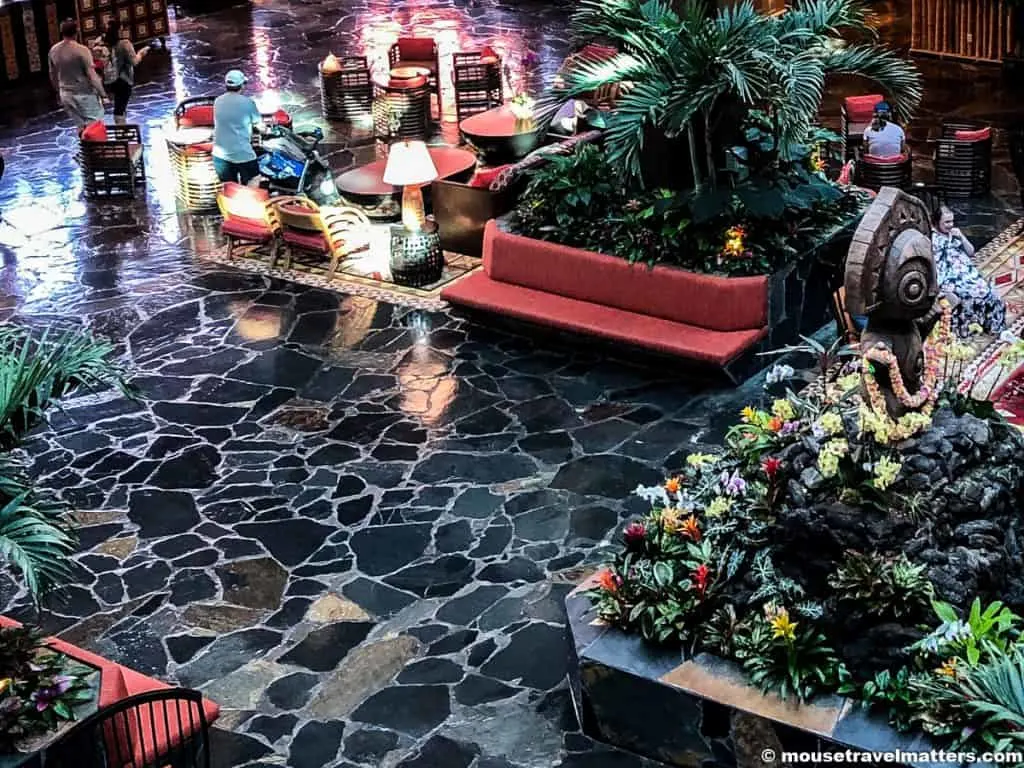 You can also head down to Disney Springs for one last shopping spree, or visit the Disney's Character Warehouse. It's not on the resort so you will need to find alternative transportation but they have last year's merchandise for a steep discount.
As you can see, we have no paired two large parks together before having a rest, and there is a little something for everyone.
Have you been to Disney with kids? Share your photos with us on Facebook.
Your Thoughts...
Please share your thoughts in the comments or reach out on social media...We would love to hear from you.
Follow Mouse Travel Matters for Disney Parks news, the latest info and park insights, follow MTM on Twitter, Facebook, and Instagram.
You May Also Like…