Disney World in Orlando, Florida is a pilgrimage many families make sooner or later. Prime time for visiting tends to be when kids are four through 10 — old enough to remember the trip, yet young enough to be thoroughly absorbed in the magic. But the sheer number of ways to experience that Disney magic can be overwhelming, especially for first-timers. With four theme parks, two water parks, a shopping and entertainment district (Disney Springs), and kid-approved pools at the Disney resorts, it can be intimidating to plan an itinerary.
There is so much to see and do at Walt Disney World that it can be easy to feel overwhelmed in the planning stages. Taking kiddies along for the ride and you can start to feel trapped by their slow pace and need for naps.
Here we will show you how to make the perfect Disney World itinerary for families, including where to stay, what to eat and how to tour.
If you are going on a Disney Vacation with kids or considering one, make sure to check out all of the posts in our Toddler series.
How to tour
Keeping in mind that your 8 days at Disney consist of an arrival day, departure day and at least 1 rest day, that leaves you with 5 park days. Deciding which day you want to explore each Park, when to balance your break and still get the most out of your time can be challenging.
The itinerary below is just an example. You'll need to rearrange your days according to the best parks on your days. Many of the things mentioned below are quite popular and should be booked 180 days in advance.
We suggest;
Day 1 – Arrival Day.
Take it easy, explore the resort.
There are so many character dining experiences at one of Disney's resort restaurants, why not take this opportunity to explore at least one of them and make this a terrific start to your Disney Vacation. Head to Storybook Dining at Artist Point for dinner to kick off your trip with classic characters. (This reservation should be made 6 months in advance.)
Take a spin on the monorail, do some resort hopping and then head back to your resort to get ready for your first day in the parks.
Day 2 – Magic Kingdom
Head to the Magic Kingdom bright and early for an 8:00 breakfast at Be Our Guest. This is only a Quick Service restaurant in the mornings but still requires a 6-month reservation.
Rumour has it, if you have reservations for Be Our Guest (BOG) before park opening, you can potentially queue for Seven Dwarfs Mine Train before the gates are open. This means you will literally be amongst the first to ride, and you didn't have to sprint across the parks at rope drop. This only works if you visit when Extra Magic Hours is NOT at Magic Kingdom. As a whole, we tend to avoid the parks that are offering EMH that day.
After breakfast, head to Fantasyland right when the park opens. While everyone, in general, tour from right to left in the great Hub that is Magic Kingdom, we don't suggest going against the grain this time. The kids will want to have some sort of immediate satisfaction, and the lines for Fantasyland rides can get a little crazy in the afternoon.
Have FastPass+ reservations made in advance for Big Thunder Mountain, Jungle Cruise and most definitely for Seven Dwarfs Mine Train.
For lunch, you might want a Quick Service lunch after having a big breakfast. Pinocchio Village Haus and Columbia Harbour House are good choices that are nearby.
We bring a stroller on all of our Disney trips, whether the kids think they need them or not. Find a central parking spot, lock the wheels together (not to the frame of the parking lot, that's a major Disney no-no) and get it a little later when the kids are tired. Many people will take this high-crowd period to head back to the resort for a nap/swim. That is also an option, though we tend to have the children nap in the stroller and we use rider swap/single rider for adult rides.
In the evening stay for fireworks. After this, you are welcome to stay a little longer and try to get a few night time shots of the Castle while the crowds are leaving. The shops are also open for about an hour afterwards, but they can get crowded as everyone tries to buy last minute souvenirs.
If it's in the budget, we suggest Uber or Minnie Vans to get home. The queue for the bus can be long and cramped.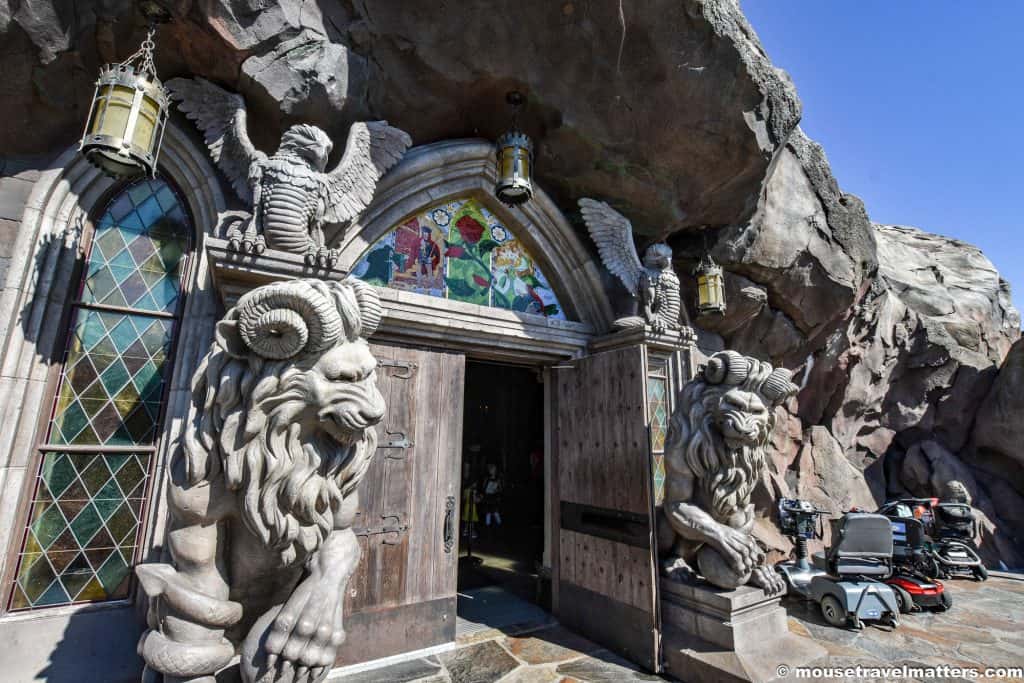 Day 3 – Hollywood Studios
If you are staying onsite, this is one of the few occasions where we highly recommend using your Extra Magic Hours perks. Schedule Hollywood Studios for the first EMH day available and be there at least 45-30 minutes before the gates open (they have been known to open earlier than scheduled). You will probably want to use Uber or Minnie Vans for this trip unless you are staying at a Gondola resort or resort within walking distance (Boardwalk comes to mind).
Star Wars Galaxy's Edge is coming to Walt Disney World in August and it is going to be incredible. Don't believe me? Check out all of these amazing articles we have written and it isn't even open yet. It's going to be massive and we hear that queuing for access isn't going to be allowed, so it is in everybody's interest to get there as early as humanly possible and just wait outside of the gates.

Until we know more about Star Wars and how they will be doing After Hours, Early Magic Mornings and Extra Magic Hours, all we can do is suggest using what is available to you and be prepared.
The kids are going to love it – or not and one of you gets to explore the Land on their own while everyone else sleeps in. Win-Win for everyone. The kids don't even need to be awake for any of this; load them into the Minnie Van, take a stroller, and they wake up when they wake up, preferably with a backpack full of goodies for them to munch on until it's time for breakfast.
Speaking of breakfast, after you have successfully toured Galaxy's Edge (and maybe grab a few of their breakfast items), it's time to let the kids have a little fun. Make your way out of Star Wars Galaxy's Edge and find a nice, quiet Character Diner to regroup. We suggest Hollywood and Vine (with the Fantasmic and Pixar dining package). This is where you will find many Disney Jr characters, some of whom you will not find elsewhere in the parks.
Why are we pushing character dining so hard? Because the kids will be waiting in line long enough as it is for rides, they don't need to add character meet and greets to their laundry list of things to wait for. And you need to eat, and rest your feet/brain. Why not do it all and save yourself some time in the process.
Don't forget that Jedi training registration is available and offered on a first-come, first served basis. You can register your kids at the Indiana Jones Adventure Outpost located between the Indiana Jones Epic Stunt Spectacular! and the 50's Prime Time Café, and they must be between 4 and 12 years of age to participate.
You will have made FastPass+ reservations ahead of time for Slinky Dog Dash, Rock 'n' Roller Coaster (for mum and dad), and Star Tours. These are some of the hardest rides to get on through Standby.
There aren't a crazy number of attractions at Hollywood Studios but there are a lot of shows and the queues for Toy Story rides do take up a lot of time. Try out Woody's Lunchbox for a quick snack while you are there.
Plan on having the big rides during your kids general nap time, or shortly after lunch, when their bellies are full. Rider swap is a great invention.
For dinner, you can go one of two ways; quick service at ABC Commissary or another sit down at Sci-Fi Dine-In Theater Restaurant. There are other restaurants, of course, but the kids won't nearly be as interested in the theming and therefore it's money lost.
End your Hollywood Studios day by viewing Fantasmic! or Star Wars fireworks. Unless there is a second showing for Fantasmic!, there is a good chance you will have to choose one of these nighttime spectaculars, as they are timed too close together to physically see both on the same night.
Day 4 – Rest day
That was an incredible 2 days at Disney World and your feet need a break. Sleep in, enjoy the morning and take it easy.
Once the fog has lifted and the children are awake, head over to Bon Voyage Adventure Breakfast at Disney's BoardWalk. This is probably going to be a late breakfast reservation, but that's ok because they are open from 7:30 AM – 12:05 PM.
From here, you need to make a choice; Water Park, Disney Springs, the Boardwalk or Resort pool day. With little ones, they want to buy and touch everything so Disney Springs is potentially a tantrum and bankruptcy waiting to happen. And in terms of water parks, if they don't know it exists, they will be more than happen to explore the pool area of your resort and save yourself a few hundred dollars in entrance fees ('cause that's not included in your Magic Your Way package).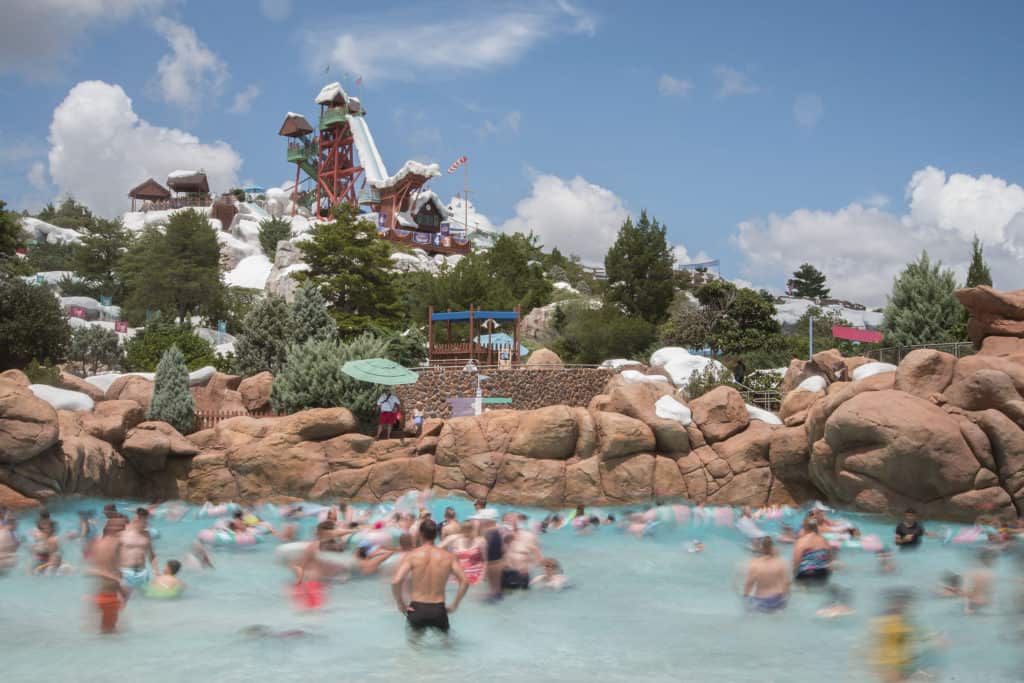 There are so many things to do outside of the theme parks, we dedicated an entire article about it; 40 things to do outside the theme parks without park tickets.
This is also the perfect opportunity to check out Animal Kingdom Lodge. They have great restaurants; table service and quick service, as well as scavenger hunts and such. You don't even need to be a guest of this hotel to enjoy.
Day 5 – Animal Kingdom
Arrive at Animal Kingdom nice and early again.
Tusker House is available for an 8 am breakfast reservation if you want to have breakfast with the characters instead of lunch. This is a great way of getting your feet in the door before everyone else. You won't be missing to much of rope drop time but then you will not be stopping for 1.5 hours in the middle of the day for lunch either.
This experience is available for the Rivers of Light dining package (for a small extra fee when paying out of pocket). And don't forget to check out our Tusker House dining review.
If you do plan on making Tusker House your breakfast choice, we suggest Harambe Market for a quick service lunch.
After lunch, use your fast passes for Kilimanjaro Safaris and Flight of Passage, then watch Festival of the Lion King. After lunch is always a great time to schedule those hard to get Fastpasses and sit down for a show.
If you didn't take advantage of the Rivers of Light dining package, then maybe the Rivers of Light desert party may be of interest. Of all the desert parties, this one looks to be the most worth your money and most enjoyable by adults and kids alike.
Why all the bells and whistles for seats to the show? The majority of the seating here is reserved for guests with FastPass+ reservations and Dining Package reservations. There is a section for standby guests but this can be hit or miss, depending on the crowd level and if there are two showings (there are only two showings during the high season summer months).
Unlike Illuminations and Happily Ever After, there is a clear front to the show and not much can be seen outside of the sitting area. The bridge perhaps, but you and your kids are going to want to sit and be comfortable without having to wait an hour in line to get it.
Day 6 – Epcot
Epcot is a funny one. Future World opens at 9 am and there is generally a mad-dash for Character Spot, and World Showcase doesn't open until 11 am. If you have a Fastpass for Soarin' and have no interest in Character Spot (which is why we love character dining so much) then you are welcome to sleep in a little.
You will want fast passes for Frozen Ever After, Turtle Talk with Crush, and possibly Spaceship Earth.
Normally, we would suggest eating in the hotel room or at a Quick Service location like your hotel or Sunshine Seasons for breakfast. But every once in a while there are special occasions at Epcot that warrant a change of pace. During holidays and special festivals, Epcot releases Dining Packages with its many Table Service restaurants. This is no additional charge while on the Disney Dining Plan but does cost a few extra dollars if paying out of pocket.
This is when we would suggest Garden Grill Character breakfast first thing in the morning. Be sure to secure your Soarin' Fastpass for roughly 2 hours after the reservation is scheduled for – it is suggested that character meals last roughly 1.5 hours and they have been known to take a few extra minutes seating you – and you have a 1 hour window to arrive at your Fast Pass location so there is very little risk in this touring plan. Ride Living with the Land while you are there.

After you have completed Future World, head over to World Showcase, starting with Mexico, and make your way around the Pavilions. Download the Play Disney Parks app or stop by a kiosk to sign up for Phineas & Ferb: Agent P's World Showcase Adventure.
For Lunch, snack your way through the World Showcase. Especially during festival time, there is so much to eat and snack on that you won't have much time to do anything else. Each pavilion also hosts amazing restaurants, quick service and table service if snacks-for-lunch isn't your style, or you really need to sit down for a few minutes.
By the time you get to Canada, you should be ready for dinner. Find a nice restaurant, either Coral Reef or the new space-themed restaurant they are building near Mission Space. Dinner is a nice time to have forced rest with the kids and let them recharge before heading back out for Illuminations or anything else planned for the evening. They can also have a little nap in their chairs if they are so inclined – sadly, strollers are not allowed into the dining hall and we don't recommend leaving your child unattended at the entrance (pretty sure that's not legal).
If you feel up to it, explore the Boardwalk area and then consider getting a taxi or Uber or Minnie Van to get back to your hotel to avoid a really long commute by bus.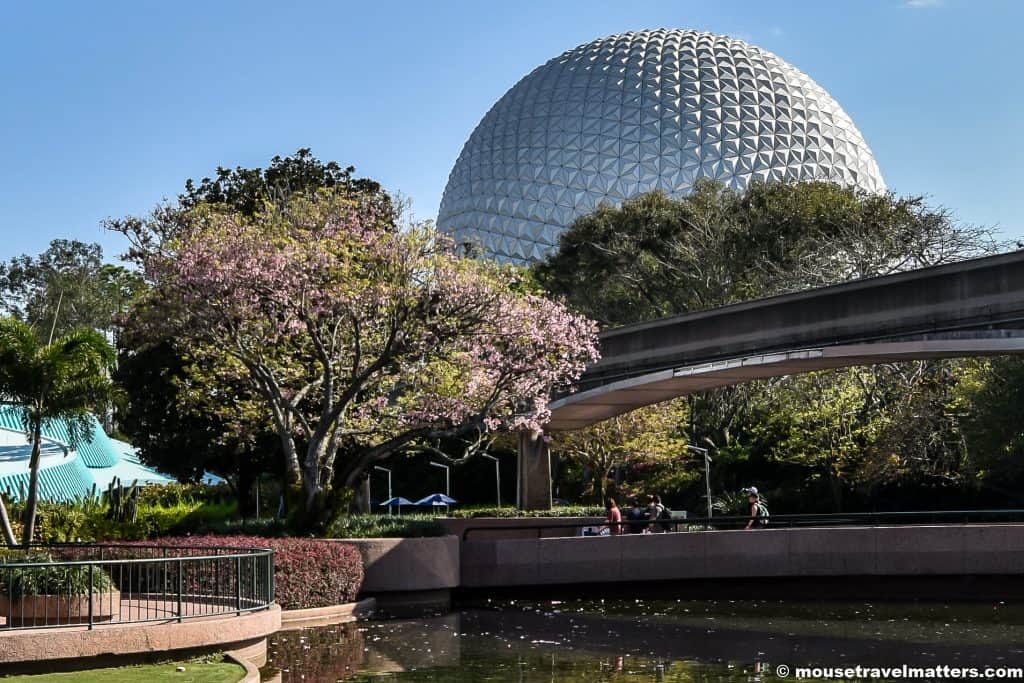 Day 7 – Repeat your favorite park – probably Magic Kingdom
Day 7 is a big day. It is your last full day in the parks, your last Park Ticket and you have already experienced each of the Parks once. This can be another Non-Park day or a chance to re-explore your favorite park and do a few rides over again.
If Epcot is having a festival, this may be a sign that you will want to avoid that Park. Many locals will be visiting Epcot after work and on the weekends and it can be fairly crowded. Animal Kingdom doesn't usually sway the children into wanting a second trip, so that leaves Hollywood Studios and the Magic Kingdom.
If you are a big Star Wars or Toy Story fan, you may want to revisit Hollywood studios and spend more time there. If you spent all day in Galaxy's Edge, maybe it's time to explore Toy Storyland or Hollywood blvd. There are two nighttime shows in Hollywood Studios and unless there is a second showing of Fantasmic that night, it is near impossible to see them both since once starts barely 10 minutes after the first one ends (and it will take you twice that long just to leave the theatre).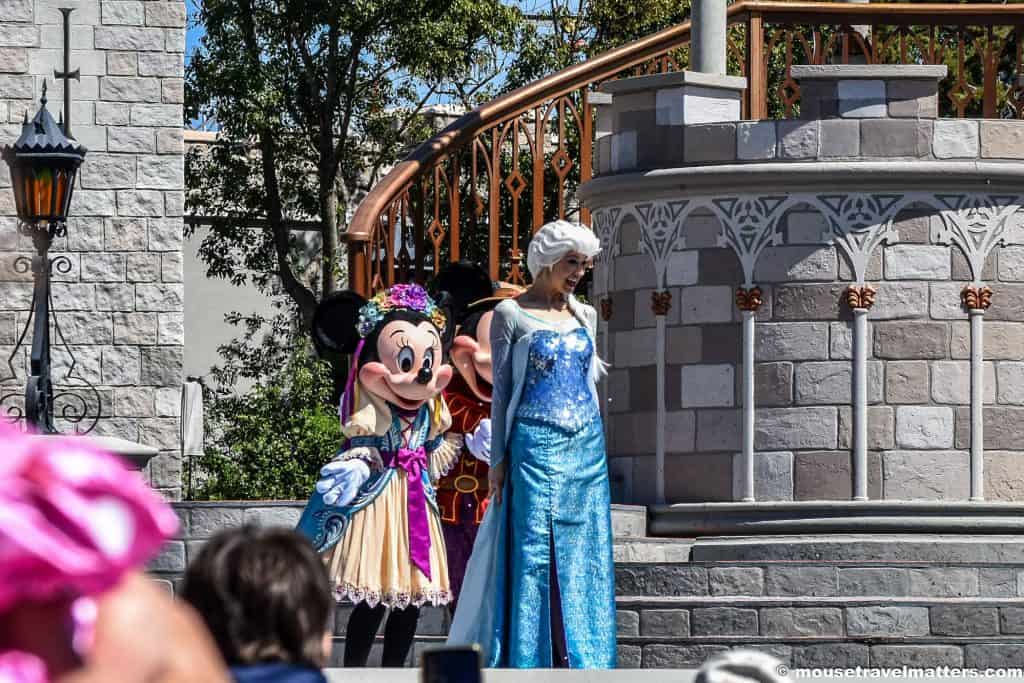 On the other hand, if your kids are fairly young and want to explore Fantasyland again, why not. You don't need to be super early but early enough that you beat the majority of the crowds. (You can always split up and do what you want independent of your spouse and let the kids decide which parent they want to tour with today, it's your vacation).
Since this is a repeat day, I have no problems suggesting you leave the park for a break or meal at a nearby resort. Both Parks are near enough to Disney's Contemporary Resort that Chef Mickey seems like a great way to end the day.
Day 8 – Departure day.
On your departure day, pack your bags and head out for one last Disney experience. If your flight is late enough, take in a late morning character breakfast at a resort restaurant.
'Ohana is a great choice. Lilo, Stitch and Polynesian Mickey make their appearance and the Polynesian resort has a lot of great offerings. But any resort restaurant will do.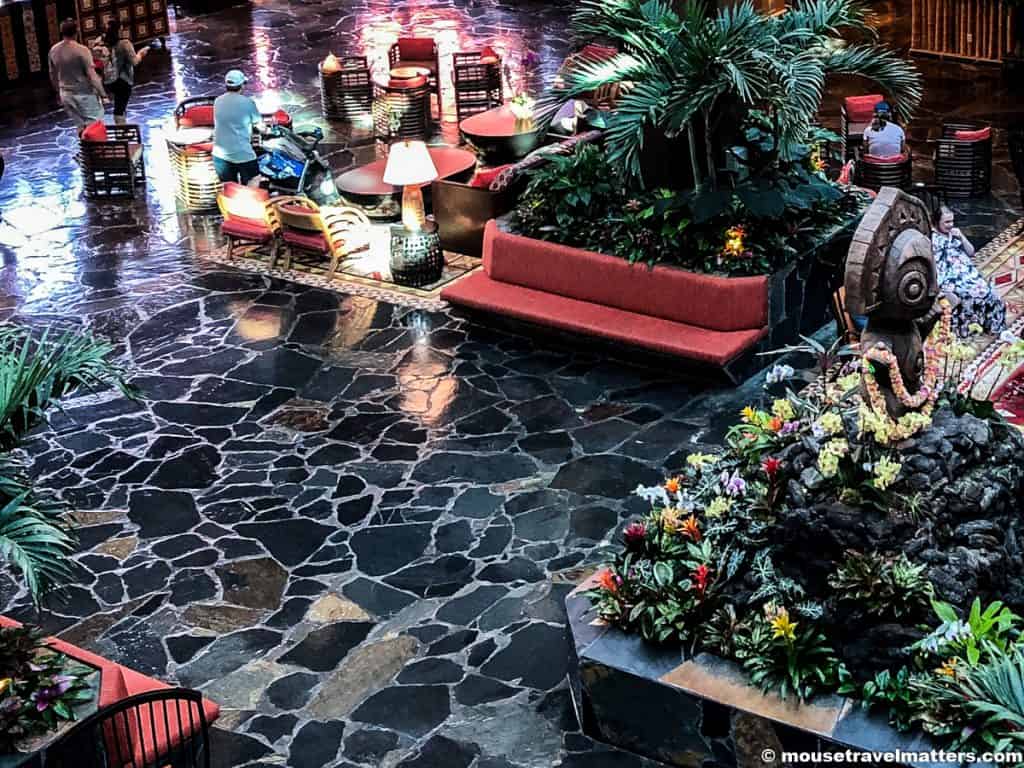 You can also head down to Disney Springs for one last shopping spree, or visit the Disney's Character Warehouse. It's not on the resort so you will need to find alternative transportation but they have last years merchandise for a steep discount.
If you're getting back to the airport using Magical Express, it'll pick you up 3 hours before your flight so be sure to allow time for that.
As you can see, we have no paired two large parks together before having a rest, and there is a little something for everyone.
Have you been to Disney with kids? Share your photos with us on Facebook.