Last Updated on December 30, 2020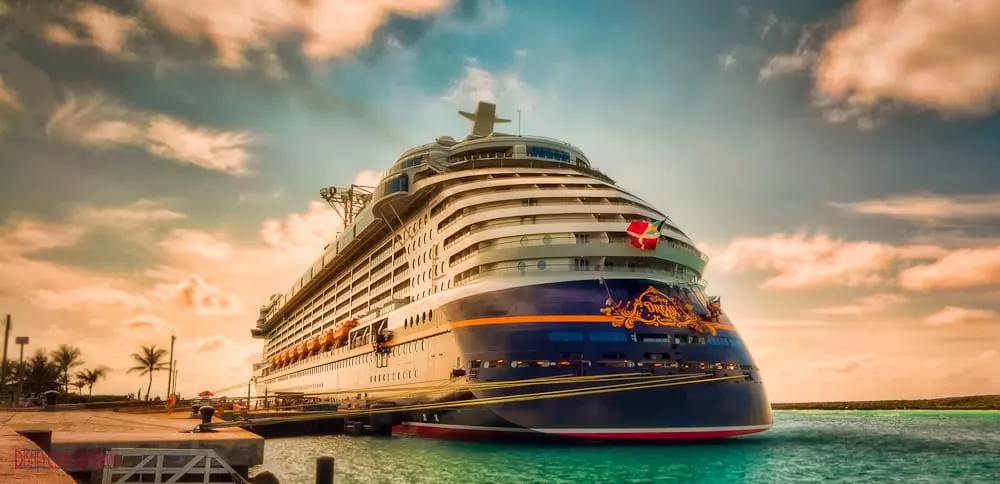 Disney Cruise Line (DCL)
Disney Cruise Line is a luxurious way to have a Disney Holiday at Sea, with all the top-level service you expect from Disney.
This Disney Cruise Line guide provides tips for planning your voyage on the Disney's ships, including thoughts on packing, recommendations for dining, as well as insight for Disney's private island Castaway Cay, and much more.
Naturally, the Disney Cruise Line ships have a branded service model and delivery – no casinos, great childcare, lots of character meet and greets, and a very kid-friendly crew. Each ship has its very own theme and twists on some old favourites. These can be seen throughout the ship and the design elements are integrated seamlessly for all tastes. This takes into account the requirement of regular guests and hardcore Disney fans.
The cost of a Disney Cruise can intimidate the most hardcore of Disney fans. We won't sugarcoat the facts, it is pricey, even for the standard package. But when you consider everything that is included, and the quality of the experience, which is arguably higher than industry standards, it is easy to see why so many people have decided to make Disney Cruise Line their only cruise line of choice.
This post may contain affiliate links.
To which I earn a small commission, at zero cost to you!
Find more info in our
Privacy Policy
.
Best Disney Cruise Ships
Disney Magic
The Disney Magic first sailed in July 1998, and in 2013 it went into drydock for a complete "reimagining," with big changes in pretty much every area. It now offers adjoining rooms, which is great for large families and includes dividers on its verandahs. In this way, you can create one large verandah for your entire group. One of the biggest improvements guests have mentioned is the slightly taller bed frames, so you can more easily slide your suitcase underneath.
The top deck now has a new thrill slide called the AquaDunk, which is much shorter and simpler than the similarly-named AquaDuck on the Disney Dream & Fantasy.
Disney Wonder
The Disney Magic and the Disney Wonder were the very first Disney Cruise Line ships and are almost identical in their layout. Both have 11 public decks, can accommodate 2,700 passengers in 875 staterooms,and has a crew of approximately 950.
Disney Dream & Disney Fantasy
The Disney Dream and Fantasy are newer and larger: two decks taller than the Magic and Wonder, with 1,250 staterooms (4,000 passengers maximum) and a crew of around 1260.
Let's have a look at the room options available to get you started planning your Disney Cruise.
Disney Cruise Room Types
Between Disney Cruise Lines 4 ships, there are 10 stateroom types, ranging from Category 4 to Category 11. They consist of Inside Staterooms, Oceanview Staterooms, Oceanview with Verandah, and Concierge. Consider the room layout and your family's needs when making your booking.
The rooms offer a generous luggage allowance, they are very comfortable and have lots of space to move around. Having cruised with a few different companies, the staterooms with Disney Cruise are larger than the industry standard and they make better use of the space that they do have.
Price, Deals, Packages & Discounts: Booking a Disney Cruise
Booking with a

Disney Certified Travel Agent
There is a lot to be said for having someone else do all the hard work for you. Not only does a Certified Disney Travel Agent have exclusive access to many Disney promotions in advance of the rest of us, they have been doing this far longer than we have. A Disney certified Travel Agent knows about Disney and will work tooth and nail to get their clients the best deal there is. Another great reason – they are free! To you anyways, Disney pays them so you don't have to.
But enough of that. What does a Disney certified Travel Agent do exactly? Depending on the promotion being run and total cruise cost, Travel Agents may be able to offer onboard credit. There are many more advantages of using a travel agent to plan your cruise besides onboard credit, though. They assist with all of the details for port excursions, dining, character meet and greets, tips and tricks for departure day as well as tons of helpful information for each of the ports they are going to.
A great example of what a Travel Agent is able to do; if your flight is delayed, or luggage lost, or general unexpectedness occurs, they are the first person you call to help get you out of a pickle. Like a personal assistant, they will bend over backward to get you to your vacation on time, and with a smile on your face. They take care of the stress so they don't have to.
If you are thinking of sailing on the Disney Cruise, we always suggest contacting a Disney Authorized Travel Agent. Their services are free and you may even get a discount!
How to Get the Best Deal on Your Disney Cruise
There are early bird specials for passengers who book early; this often includes onboard credit and better room options and availability. Be sure to do your research regarding room types, noise levels and traffic in the halls around certain areas of the ship.
Supply and demand would dictate that the later you wait to make your reservation, the fewer options that are left available and the more expensive those options become. If you aren't sure you can truly afford the cruise or are still waiting to cement the dates with your employer, book early and remember to make any changes before the final payment is due – between 120 days and 75 days before sailing.
Disney launches its military discount on Disney Cruise Line reservations nearer to the sailing date. Many times, these are only useful for those waiting until the last minute to make a reservation, as booking earlier without military discount will still be cheaper than booking last minute with a military discount; remember, service members are getting a discount on the inflated price, not base price. Options are even more limited to a select few categories as well.
What does the price include?
The fare includes your room, meals in the main dining hall, free access to the buffet, room service, use of the pools and access to live theatre shows, and a movie theatre. The kids' clubs are also free of charge.
Other great included features are unlimited refills at the soda fountains and ice cream bars. Who wouldn't want to fill up on ice cream before heading to a 5star dinner with Mickey and Friends?!
While Disney Cruise may pride itself on being an all-inclusive cruise, there are a number of restaurants, pubs, and activities available on each Disney Cruise ship for an extra fee; such as the spa. This can be for legal reasons or just plain economics, but there are a few expenses aboard Disney Cruise that guests need to consider – many of these can be avoided so don't feel like you are being "played".
Disney Cruise Alcohol Policy
Alcohol is on the top of this list. During meals, at the bars or on Castaway Cay, alcohol is never included in the fare. This is also true of onboard activities that involve alcohol, like the wine and whiskey tastings. These are per reservation only and require a small fee.
Disney Cruise Line Guests 21 years and older may bring a maximum of 2 bottles of unopened wine or champagne (no larger than 750 ml) or 6 beers (no larger than 12 ounces) on board at the beginning of the voyage.
They are pretty strict with this policy though, stating that any alcohol found in checked baggage will be removed, stored and given back to you at disembarkation.
Disney Cruise Kids Club & Child Care
While the kid's clubs, like Oceaners Club & Lab, Edge and Vibe, are covered under the cost of the cruise, the nursery is not. This is for many reasons; as the nursery is meant for children under the age of 3, as well as 3-year-olds that are not yet potty-trained (since they need to be fully and independently potty trained to join the Oceaners Club), this requires more staff, more staff training, and more facilities to care for the little ones. The sheer ratio of staff to babies in the nursery is enough to warrant $9/hour extra. Don't forget to book your little ones stay when planning your onboard activities and shore excursions, allocation fills up quickly.
Spa
The spa and other special amenities are not included in the cost of the cruise.
Food & Restaurants
Specialty restaurants throughout the ships do come at an extra cost. While you won't be paying $100-$200 per plate like you would on land, they will set you back $30-$50 per person for lunch, and $30-$80 for dinner.
Disney Cruise Tips
Gratuities are also not included in the price of the cruise. As an American cruise, crew and guests are expected to follow American traditions in terms of tipping culture. This can cost you upwards of $12 per person, per night, to cover all of the employees tending to you and your party. They can be paid using a special envelope at the end of the cruise, or taken directly off your credit card at the Disney rate.
Getting to Your Disney Cruise Line Ship
While each Disney Cruise ship has a handful of starting points, the most common for first-timers and more frequently used by Disney Cruise Line is Port Canaveral, Florida. Once you have flown into Orlando International Airport, there are 3 ways to get to your port for embarkation; hire a car, take a non-Disney shuttle, or take a Disney shuttle. All of these come at a price, as none are included in your cruise ticket.
Taxis and Ride Services
Hiring a taxi or share-car to take you from the airport or Disney hotel to Port Canaveral will mean arriving on your time, even allowing for a pit stop at a grocery store or department store for last-minute supplies. This will set you back roughly $100 (USD) but this is for a car full; 1 person or 4, it's still $100.
Bus Transfers
Disney's transfer bus costs $35/person one-way from either the airport or any Disney hotel it is the easiest option. Depending on how many are in your party, there are other options to consider as well. You are also on someone else's schedule, which could have you leaving Walt Disney World earlier than expected, or arriving at the ship later than desired. We personally would spend our time in Disney Springs.
Shuttle Services
The Port Canaveral shuttle service is available to transport guests from the airport to the cruise. All tickets include a return shuttle to the airport or airport hotel, and start at $55 per person, and get incrementally less expensive when more guests are added to the reservation.
Car Rentals
Many have suggested renting a car for the day. Considering how many rental agencies there are at the airport, there is bound to be one in your price range. This would require guests to have a one-way rental, dropping the car off at the port and taking the shuttle from the car-return area to your Disney Cruise. There have been mixed reviews of this process, and prices can range from $15/day to $150/day.
As with any cruise, we strongly recommend flying in the night before. Even if it is a late landing, you have plenty of time to recover while onboard. There are too many variables to count and even if they were covered by your insurance. Watching the boat leave without you because your plane landed a few hours too late, or you embark without your luggage because something was lost in transit, is not a great start (or End) to your Disney holiday.
Online Check-In
Before embarkation, you will have the option to check-in online and choose an early arrival time. Disney will ask you to select a port arrival time and give you an opportunity to schedule your transportation to the pier. Your cruise documents may say that the ship leaves at 4 pm, but check-in typically begins at 11 am and embarkation begins around noon. Choosing an early arrival time means you can start your vacation several hours before the ship sets sail, thus getting more fun for your money.
Arrival time does not equal embarkation time; this is just the time you are expected to arrive at the terminal and begin the boarding process. Once you have been processed and cards issued, you will be given a card with a boarding number on it. You will have to wait in the terminal for the boarding process to begin. That is usually around 11:30, but it can vary slightly depending on when the ship is cleared by US Customs and is deemed ready for guests. At that time, they will start announcing boarding group numbers. Usually 1 every 3 to 4 minutes. When your boarding group is called, then you can head toward the gangway to board the ship. If you have a 10:30 arrival time, don't expect to show up, check in and get on the ship right then and there.
If you do end up having time to kill in the terminal though, you can get your photo taken with Captain Mickey or First Mate Minnie and check out the amazingly detailed model of a Disney Cruise Line ship.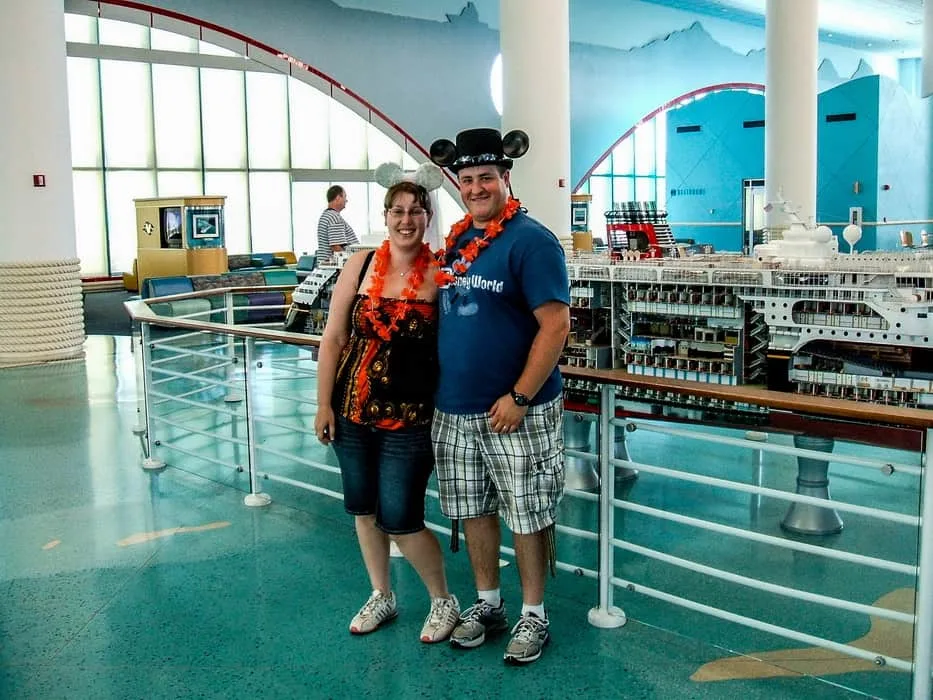 Ship Security
There is a security checkpoint when you enter the port terminal. You pass through a security checkpoint with a metal detector similar to what you find at an airport. Keep this in mind when loading up your pockets.
Arrival Tips & Tricks
Inside the terminal, you'll line up to finish checking in and get your stateroom key cards. You'll need your cruise documents, passports, and a credit card handy. This is also when your kids will get special wristbands for the children's clubs.
Disney Cruise Photos & Videos
While boarding a Disney Cruise, there will be photographers and videographers after the check-in point, documenting your family's boarding process. These photos can be purchased the next day on board the ship, and the video will be playing on a loop on the tv. We suggest arriving in comfortable yet photogenic attire.
Lunch On A Disney Cruise
Once you've boarded the ship on embarkation day, you can either head to the top deck for a buffet lunch or you can have lunch in the ship's main dining room that is open for lunch. This is another great reason to have an early embarkation timing; why pay for lunch off the ship when you can receive a 'free' meal once onboard.
During your cruise, the benefits of signature Concierge service begin with priority check-in and boarding at a dedicated check-in station. An onboard Concierge team will meet you at a private welcome reception—exclusive to Concierge Guests—and will be available to attend to your needs, questions and special requests.
Travel Tip.

Photograph each piece of your luggage before you arrive at the terminal. If any pieces are misdirected en route to your cabin, photographs will help the searchers.
Disney Cruise Pools
This is also a great time to visit the pool area. Since staterooms and luggage will not be ready for some time, these areas tend to be near empty. Pack your swimsuit in your personal carryon or wear them under your clothes for a quick and easy change, then head out to the popular spots before they become crowded and grab some amazing photos.
Considerations for Pregnant Passengers
As with most cruise lines, Disney Cruise Lines has a very strict pregnancy policy. They do not allow women who have entered their 24th week (168 days) of pregnancy to board the cruise and neither a doctors note nor a waiver of liability change this. They do, however, mention that Disney Cruise Lines is not responsible or liable for any complications relating to pregnancy at any stage.
This is one of the many reasons why we have always advocated for comprehensive travel and trip cancellation insurance. While many guests purchase Disney Cruise reservations up to 1 year in advance, they become nonrefundable starting at 75 days before departure (up to 120 days for 10-night cruises or any cruise that embarks or debarks from a non-U.S. port).
Cancel For Any Reason – Provided by Disney Cruise Line – Receive a future cruise credit up to 75% of the cancellation fee amount to apply toward a future Disney Cruise Line sailing if you need to cancel for any reason not covered by the insurance portion of the plan. Credits are valid for one year from issue date, are not transferable, and have no cash value. Certain restrictions apply. This benefit is provided by Disney Cruise Line."
Disney Cruise with Kids
Disney Cruise Children's Activities
There are several children's clubs and activities meant for the whole family that we could write an entire article about it (give us a few weeks). To be brief, we will outline each centre, on each boat and show you just how a family can enjoy a relaxing cruise vacation together and apart.
Starting with the little ones, It's a Small World is the onboard nursery, hosted by Huggies. This is specially designed for little ones aged 6 months to 3 years old (1 year to 3 years on transatlantic cruises). Advance reservations are required and can be made online on your opening date, depending on the stateroom level you have chosen. Reservations can also be made on a first-come, first served basis during the open house on Embarkation Day or anytime throughout your cruise. The going rate is $9 an hour, and $8 an hour for additional children. Little ones aren't required to be potty trained and naps are taken care of.
Up next is the Oceaneer Club and Oceaneer Lab. Kids 3 to 12 will find lots to enjoy in both Disney's Oceaneer Club and Disney's Oceaneer Lab play areas located aboard every ship. The main difference between the 2 youth centres is the themed spaces and activities they offer. While each activity has an age-range recommendation, there are no restrictions on which ones the children may participate in. And since the areas are connected, children are free to explore both venues to find the activities they enjoy most. These interactive play areas are safe, self-contained environments where kids can let their imaginations run free, while under the supervision of trained Disney youth counsellors. The themes vary depending on the ship and the activities are always subject to change.
Disney's Edge is exclusive to tweens, kids that are not quite kids but not teenagers either (11-14). From ship-wide scavenger hunts to imaginative role-playing, these high-energy interactive games are designed to inspire creativity, bonding and teamwork. For specific activity dates and times, check the Personal Navigator newsletter or Disney Cruise Line Navigator mobile app while on board the ship
Finally, Disney's Vibe allows guests aged 14-17 a separate space to be themselves and just hang out. On top of being sans parents, Vibe offers teens a private lounge with juice bar, gaming room, and private pool deck. Teens even have access to their own spa; Chill Spa. While the experience is not included in the price of the cruise, it is definitely a perk many teens will want to spend their hard earned allowance on.
Disney Cruise With Teenagers
Sailing with the Disney Dream or Disney Fantasy has one more perk for teens and tweens. Mid-ship Detective Agency Game; You take a self-guided, electronically-aided journey using this fun and interactive game through almost the entire ship. With the help of Mickey, Donald, and Goofy who have compiled a list of suspects, you will tail suspects, examine their stories and alibis and slowly check the bad guys off the list until you've discovered the criminal.
Scheduling an early embarkation timing allows everyone the ability to walk around the ship and get acquainted with its layout. It also gives guests the opportunity to check out the kid's clubs and take photos before they officially "open for business", as you will not be allowed afterward.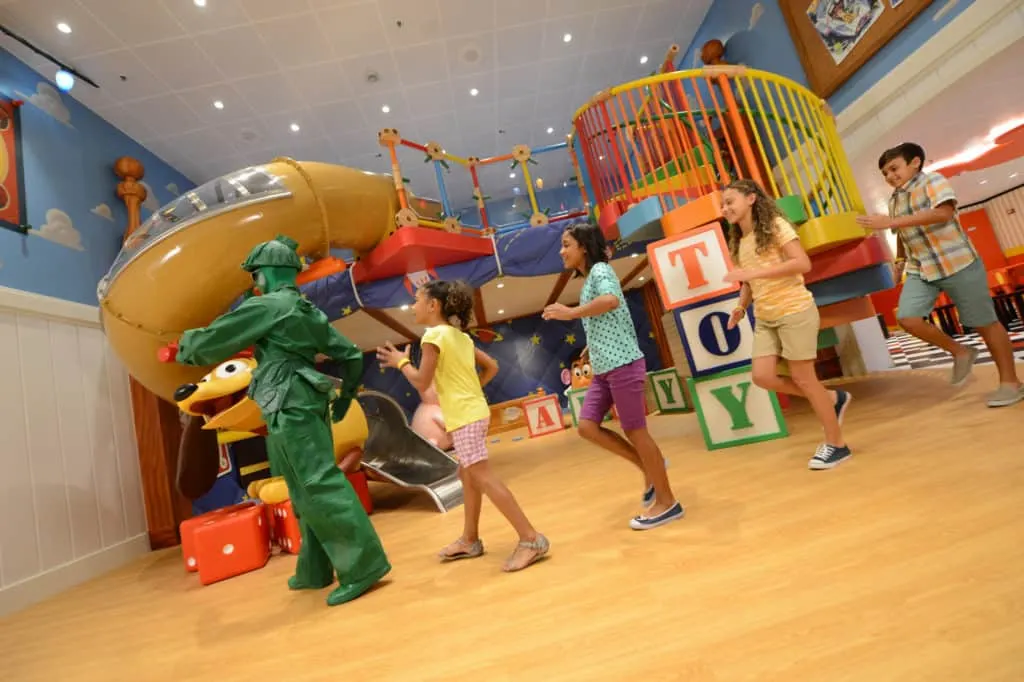 Disney Cruising with kids dinner suggestions
There are two dinner sittings onboard Disney Cruise; 5:45 pm and 8:15 pm. Many families with young kids go for the early seating because it's closer to their regular dinner time. The first sitting also has a more family feel, as there are so many more families with little ones present. Sitting first also means get to bed at roughly the same time they would at home.
On the other hand, the later seating allows you to see the shows first, and then enjoy a quieter dinner. The second sitting has a more mature feel to it, as there will be older kids or cruising couples dining. Another bonus: Parents can check their kids in for evening youth activities without leaving the dinner table. Counsellors magically appear partway through the second seating to whisk the kids away to the clubs while adults finish dinner, through the "Dine and Play" program.
The "Dine and Play" program is a complimentary (yes, FREE) service offered to families with children. During dinnertime, guests can tell their servers that they'd like their children to participate in "Dine and Play". While parents are enjoying their appetizers, children will be served their main meals. Afterward, Disney Cruise Line's youth activities counsellors will arrive to escort children to Disney's Oceaneer Club and Oceaneer Lab on Deck 5 for a night full of fun! Parents can then savour their meals at a leisurely pace while grabbing an after-dinner cocktail or taking a romantic evening stroll along the ship decks. Note that "Dine and Play" offerings only occur during the second seating.
Disney Cruise Line Alcohol Policy
One big one for the adults: BOOZE! That's right, you can take alcohol aboard the Disney Cruise Line in your carry-on bag when you board the ship or return from port.
Disney Cruise Line Guests 21 years and older may bring a maximum of 2 bottles of unopened wine or champagne (no larger than 750 ml) or 6 beers (no larger than 12 ounces) on board at the beginning of the voyage and at each port of call. These beverages must be packed in carry-on (not checked) bags or luggage.
Onboard Credit
There are many ways to obtain onboard credit. As mentioned before, you can book with a travel agent and they may offer onboard credit as an added incentive to use their services.
Guests can also obtain onboard credit by booking a placeholder cruise. This is like a bounceback offer; booking your next cruise while on your current vacation will serve two purposes; get you an additional discount on your next cruise, as well as securing any available onboard credit.
Disney onboard credit can be spent anywhere on the ship. It is placed on your account and will be used to reduce the price of your onboard charges. Any remaining balance, however, will be lost and is not transferable. If your group has a significant onboard credit, keep tabs and ask Guest Services for a balance nearer to the end of the cruise. You may be forced to go shopping or have a few extra drinks in the evening. What a horrible way to travel.
Placeholder Discounts & Offers
There are two types of placeholders. The first is a standard bounceback offer, and the other a downpayment on a future cruise, which can get a little more intricate to plan.
For your standard bounceback placeholder, guests simply pick the date they want from the already published schedule and place a deposit it on it. When you select your date, you will get 10% off the final cruise price (there are some blackouts and Concierge is excluded) and an onboard credit of $100 on 6 or fewer night cruises or $200 on 7+ night cruises that will appear in your account on the future sailing you have booked. You also will only pay a 10% deposit on 7+ nightlong cruises instead of 20%.
The future cruise offer, as mentioned, is a little more intricate to plan but still well worth your consideration. While itineraries are only published 18-months in advance, future cruise offers allow you to book up to 24-months in advance while securing an onboard credit and purchase discount. When you book through this option, you have 24 months from the date the reservation is booked to complete the cruise you select.
There are a few stipulations, namely that the placeholder guest must also be on the reservation and placeholder reservations are non-transferable. You also have 30 days from making the placeholder booking to transfer the account to a Travel Agent, if you didn't use one this time or want a new Travel Agent, this option is for you.
Life Onboard a Disney Cruise
What to Expect When Your Cruising
Disney Muster Drill
On the first day of the cruise, typically around 4 pm, all passengers must attend a 10-minute muster drill and learn what to do in case of an emergency. Plan to be in your stateroom at least 15 minutes before the drill. You'll find directions to your drill station on the back of your stateroom door. Attendance is mandatory.
Sail Away Celebration Deck Party
Just before the ship leaves the pier, grab your camera and head up for a top-deck celebration that includes music, dancing, and all your favourite Disney characters decked out in their sailor uniforms. It's a fun way to officially start your cruise.
Disney Cruise Dress Code
Formal or relaxed, the cruise has a little something for everyone. The daily itinerary will mention what the dress code is for that evening. There is one formal and one semi-formal night per 7-night cruise.
Formal.
Evening wear consists of an evening or cocktail dress or smart trouser suit for ladies. A tuxedo, dinner jacket or dark suit with appropriate neckwear for men or guests wear formal national dress and military uniform.
Informal.
Evenings would consist of a required jacket and optional tie for gentlemen, whilst ladies should wear cocktail dresses, stylish separates or equivalent. No jeans or shorts.
Travel Tip.

If traveling after disembarkation, have one piece of luggage just for your cruise attire, this is preferable to spreading it out amongst all the pieces. This way the other luggage can be stored under the bed and forgotten for 7 days.
On the other hand, there are still a few things that can not be worn on casual days inside the main dining halls. Their new dress code policy, released in 2013 removed shorts from its list of discouraged dining room attire.
Previously, shorts, along with swimwear and tank tops were considered unacceptable dining attire. Shorts may be worn in any of the ships' main dining room, including on formal nights. Shorts are not acceptable in the specialty restaurants Palo and Remy.
Speaking of swimsuits, there is no formal dress code when it comes to the types of swimsuits guests are allowed to wear, or where they can wear them (except within the main dining halls). While it would be considerate (for both men and women) to cover up when away from the pool deck, like in line for the buffet or walking back and forth to the staterooms, there are no official rules.
Disney Shutters
The Disney Shutters package is similar to the Memory Maker package at Walt Disney World; professionals take your picture around the ship, in the dining hall, and with characters. The images are saved to the database for guests to review and purchase. Long gone are the days of printing every single image and tossing the ones that are not purchased; now, everything remains digital. Guests can purchase the digital images on CD or request prints. Nothing is printed until after the order is complete.
Also, The Shutters digital photo packages are sold per stateroom. This means extended families divided into multiple staterooms will have to purchase multiple photo packages. They do not charge extra for immediate families divided into multiple rooms, however. Thank goodness for small favors. If one person from a stateroom is in a photo, then that photo will appear on that stateroom's CD. If two people from separate staterooms are in a single photo, then that photo will appear on both accounts and be made available for purchase by both account holders.
Furthermore, you must purchase your photos while on the ship. Once you leave the ship, Shutters claims that you will no longer have access to your unpurchased photos or the ability to buy them. You can purchase them either at the Shutters counter or at one of the Shutters kiosks on the ship (note: the kiosks are only operational during Shutters' operating hours).
Payment Onboard Ship
As with many cruises, electronic transactions are the most convenient and often only method of payment on the ship. Your credit card will be placed on file and your Keys to the World card will serve as a charge card. This way, everything is charged to your card, and it will be billed on the night before disembarkation.
Don't have a credit card or want to pay cash? When it comes time to settle your onboard account, you are able to settle your bill in cash at the Guest Services. The ship operates on USD, American Dollars.
International travellers are best to secure a good exchange rate with a bank and travel with some American dollars. Be sure to settle everything before the last night on board, as this is typically when everything is billed to the customer cards.
If you don't register a card ( credit or debit ), you will need to deposit an amount of cash to your onboard account at the start of your cruise.
Mobile Phone Access
While aboard the ship and on Castaway Cay, reach out to your fellow travellers via Wave Phone—an option that allows you to text and call without using your personal cell phone. From your Wave Phone, you can call any shipboard phone, stateroom phone or other Wave Phone, making it easy to connect with your travel party or new friends.
In your stateroom, you'll find 2 Wave Phones. Additional phones are available at a fee.
Wifi Wireless Internet Access
Unlike other cruises, Disney Cruise prefers to charge you for what you have actually used, not what you think you will use. You can also share your connection with other mobile devices by login to Connect@Sea package. All rates will be measured on a single meter and can be monitored via the browser window. Once you've boarded, access the DCL-GUEST Wi-Fi network to learn about the different offerings and specific pricing for your cruise.
Note that there is no cost for connecting to the ship's Wi-Fi network when used only for the Disney Cruise Line Navigator app.
Smoking
Effective November 2013, Smoking will no longer be permitted in staterooms, even e-cigarettes. Smoking will be permitted in designated outside areas including parts of decks, 4, 9 and 10 on Disney Magic and Disney Wonder and decks 4, 12 and 13 on Disney Dream and Disney Fantasy.
Pet Policy
No animals are allowed on board the Disney Cruise ships except for service animals. Disney Cruise Line must be notified at least 72 hours prior to sailing if a service animal is to be brought on board the ship. Many ports of call have strict entry requirements for animals, and you must ensure that your service animal complies with all requirements of each destination. Disney Cruise Line is not responsible for your inability to visit a port of call due to your failure to comply with any such entry requirements.
Laundry
Some ships offer both professional service (for a very high price) or self-serve facilities on board. They are limited to a handful of machines per floor so getting there early and staying until the job is done is recommended. Not everyone stays, mind you, but the cruise is not responsible for lost or stolen property and too many times I have witnessed guests removing clothes from the machine before it was finished.
It will be the longest 2 hours of your life; bring a book and have your partner bring you a drink, you deserve it – you are literally watching clothes dry
Pirate Night – Pirates in the Caribbean
Throughout the day, you will find pirate games and activities all around the ship. There will even be costumes available for sale in many of the shops, for anyone that has forgotten to bring their own on board.
As you may imagine, there is much concern about second seating and the pirate night festivities. Rest assured, Disney would never purposefully leave out half of their guests. Everything has been accounted for.
Guests will gather on the top deck for games, a dance party with Mickey's crew, and an epic showdown with a band of pirate thieves. The main event takes place after second seating (8:15 p.m dinnertime) so you can head back to your rooms and get dressed without a rush. Do give yourself enough time to prepare for the Buccaneer Blast Fireworks & scour the deck for a good watch post.
Arriving at the show early will make it easier to get a good standing view of the extravaganza but you can always bring towels to sit on the deck. Truthfully, every view is a good view.
There will be a late night buffet on the top deck, be sure to grab a few things while they are still available. Festive dinners options include Jolly Rogers Barbecue Rib Salad or Pirates Gold-en Pot Stickers or even Chilled-to-the-Bone Honeydew Melon and Watermelon Soup.
After everything is said and done, there is still more to do on the top deck. "Club Pirate" is an all-ages pirate dance party that is bound to get you movin' and shackin'. This is also the time when guests start to head back to their staterooms so there will be more than enough room for everyone to enjoy themselves. Enjoy the vibrant light show, live music from the guest DJ, and grab a cocktail of the day while you're at it. It is the pirate thing to do, after all.
Disney Cruise Dining, Bars & Lounges
Main dining
The Disney Cruise Line ships feature rotational dining, plus adults-only fine-dining restaurants like Palo and Remy, and an assortment of quick service options so that you can grab food on the go or eat while lounging around on the main deck.
Seating:
Each night, there is a Main Seating and, Second Seating for dinner. In general, the Main Seating begins between 5:45 PM and 6:15 PM and the Second Seating begins between 8:00 PM and 8:30 PM, though these times may vary based on itinerary.
Casual Dining
Buffet. Cabanas is the most popular of the buffet areas. This is also where you will be having breakfast and lunch. Everything is included in the price of your cruise, save any cocktails you may order. Casual dining is a great way to munch before your second seating dining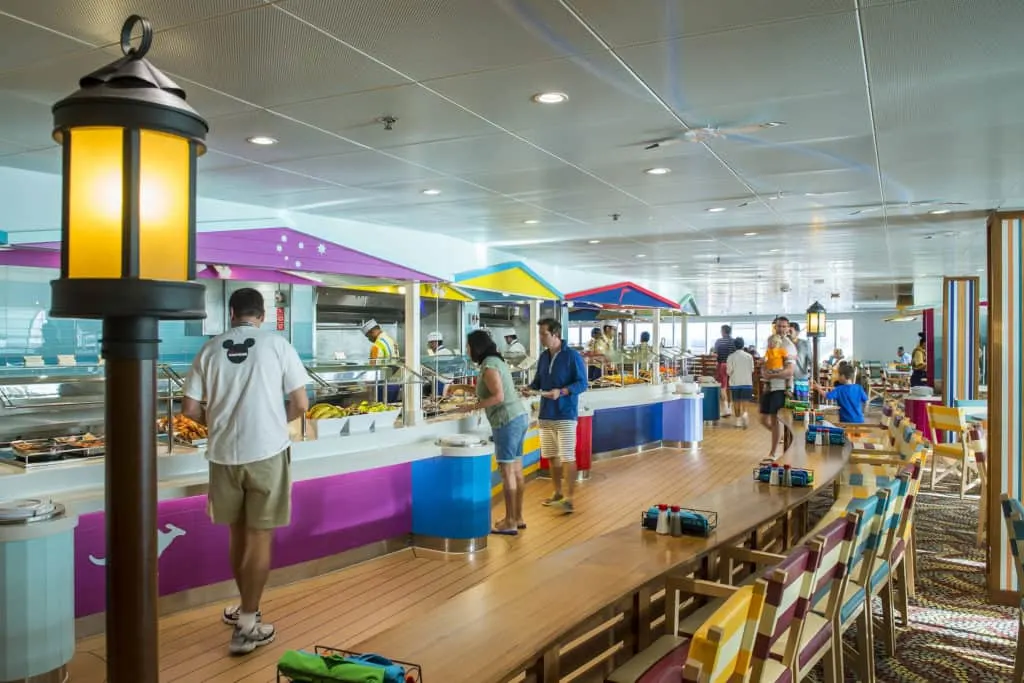 Room Service. As with most of the food on a Disney Cruise, room service is free of charge. Just don't forget to tip. Because there is set dining times and the buffet closes after hours, room service really is the only way to get food later in the evening.
Adult Exclusive
Remy (on the Disney Dream and Disney Fantasy) and Palo (on every ship) are the sole adult-only dining experiences aboard the Disney Cruise Line. Guests may only book ONE dinner at Remy in advance, however, for guests that make an online reservation for a Remy Dinner for the very first night of their Disney cruise, they may also reserve a second Palo and/or Remy on one other night during their cruise. Guests are asked to "preserve the ambiance of this fine dining venue.
Bars and Lounges
There are several bars and lounges throughout the ships. Each one of them has a different theme and caters to a different audience.
Each day you will also find the featured Drink of the Day on your Personal Navigator. As of January 2017, the drinks are $4.75 plus tax and 15% gratuity, which make them $5.46. The non-alcoholic drinks of the day are $4.25 plus tax making them $4.89.
The Beer Mug
For $16.95 you can buy a 22 oz. Disney Cruise Line, glass beer mug with the beer of your choice. For the remainder of your cruise, you can have it refilled for the price of a 16 oz! The bars will exchange the mug for a beer mug token when you are finished to take the weight and responsibility of the glass mug off your hands until you are ready for a refill. It is also nice at the end of your cruise to exchange for a clean mug to pack in your luggage.
Disney Cruise Line Wine and Dine Packages
At the beginning of your cruise, you will have the opportunity to buy a wine package to accompany your dinner.
Enjoy a special vintage every night of your cruise! Save up to 25% when purchasing one of our wine packages from our classic offerings. Choose a bottle from an exclusive wine list selected by our onboard sommeliers to pair with your food each night. The wine of your choice will be served at your table.
Disney Cruise Line allows guests to remove 2 bottles of sealed wine off the ship, per person. So if you can't finish your package by the end of the cruise, just bring them home. On the other hand, you are also able to order more than one bottle per night. The package is so many bottles over so many nights. If you would like more, simply purchase an additional package. If you don't finish your bottle at the table, take it back to your stateroom or have it rolled over onto tomorrow's meal.
Don't let the name confuse you, you are not required to buy 7 nights just because you are on a 7-night cruise. Guests are welcome to buy 3, 4, or 5-night packages if that is all you think you will drink.
Disney Cruise Line Entertainment
There is a Daily Programme sent out each morning and delivered to your stateroom. It includes showtimes, activities, as well as evening dress requirements. This makes for a great souvenir and a quick way to plan your day.
Live Shows
One of the great included features of any Disney Cruise is their live shows. There are a total of 10 different shows being offered by the 4 ships; the Golden Mickeys has been playing on the Disney Wonder for over 8 years now.
There are 2 performances in the evenings so you will have plenty of time to have a relaxed evening meal and attend the showing that corresponds with your seating time; early seating, later shows; later seating, early show. See how Disney hasn't left anything out.
Deck Parties
There are more deck parties than just the Pirates Night and Sail Away Celebrations. Depending on the ship, and the itinerary, there are up to 10 different deck party options. They range from Marvel Day at Sea, Pixar Pals Party (Alaska cruises only) and Frozen Deck Party (on select 7-night Disney Wonder and Disney Magic sailings).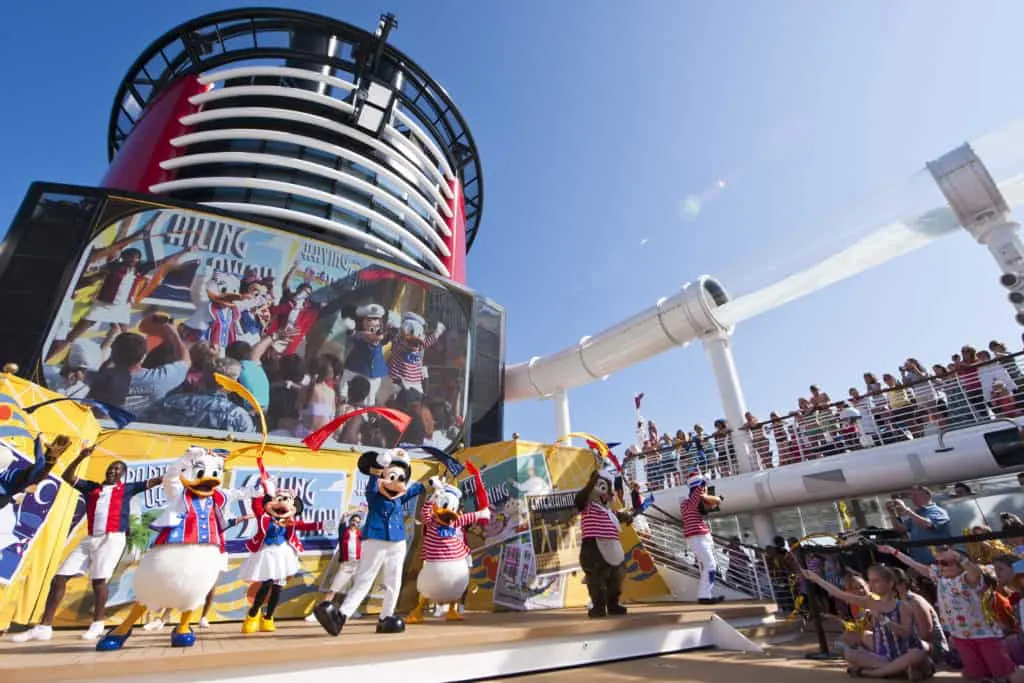 First Run Movies
Enjoy the opportunity to screen the latest movies currently still in theatres, as well as all-time Disney favourites, screen daily in the Buena Vista Theatre. Family-friendly films play during the day, with more current releases in the evening. On occasion, guests are even treated to movie premieres at sea.
While on board, you can check your Personal Navigator newsletter or Disney Cruise Line Navigator App for movie listings and show times.
Character Meet and Greets
Throughout the ship, there will be ample opportunity for character meet and greets. You may think that meeting Mickey on the cruise is the same as meeting Mickey in the Parks… and you would be mistaken. Not only is his backdrop different, but his costumes change throughout the duration of the cruise. So just because he is scheduled to appear 4 times in 7 nights, doesn't mean you need to stop visiting him after the first meeting. They all count as a check in the box.
There are a handful of rare and popular characters that require advanced reservations in order to meet them. Their place of meeting is usually hidden within a restaurant. Once your cruise is paid in full, you can make reservations online within your advance booking window.
Since space is extremely limited, only one reservation per ticketed event per voyage is allowed. Consult your Personal Navigator or the Disney Cruise Line Navigator app for times and locations to meet your favourite Characters.
Princess Gathering
Frozen Meet and Greet
Disney Junior Character Breakfast (select cruises only)
Disney VIP Character Breakfast (select cruises only)
Royal Court Royal Tea (select cruises only)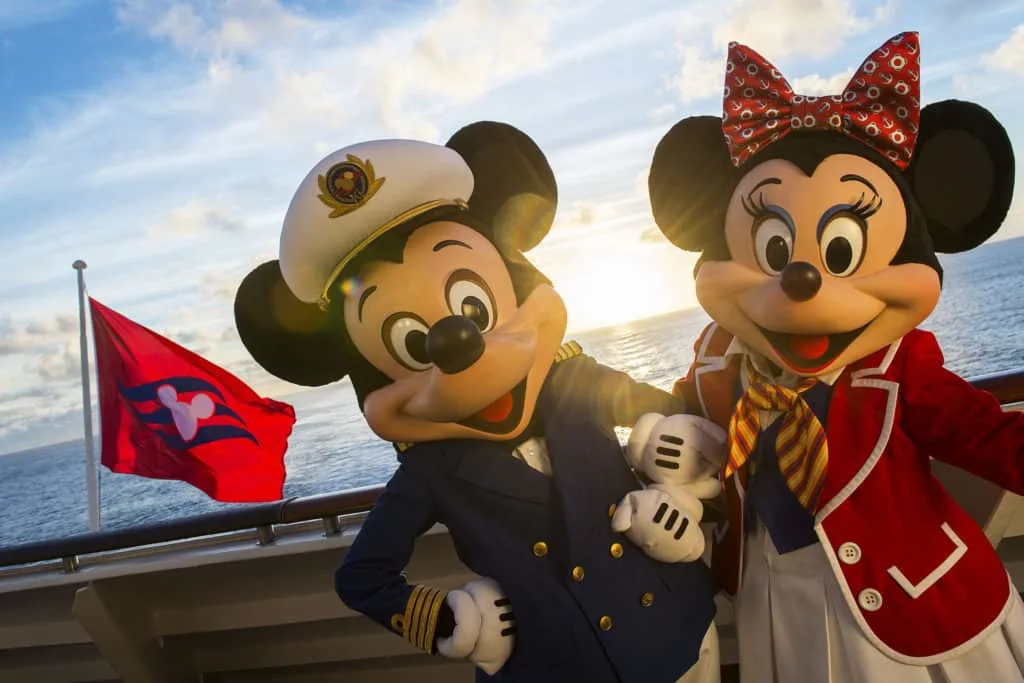 Disney Cruise Line Recreation
Pools
There are numerous pools and splash pads throughout each of the ships, and each is surrounded by a myriad of buffet options, sweets bars and Disney themed … everything.
Each Disney Cruise ship has a wide range of family pools, adult only pools, and teen pools, accessible only through the Vibe teen lounge. Disney has started to become much more strict about their own age policies; as your Keys to the World card will have your age on it, guests will be 'carded' if staff believe they are in the wrong area.
Please do not take your children to areas in which they are not permitted, even if that teen is turning 18 in a few weeks.
Swim Diapers
The United States Public Health Service requires that only children who are toilet trained are permitted to enter swimming pools and spas aboard cruise ships. Children who are not toilet trained are welcome to enjoy the kids' wet play areas and splash zones, where they must wear swim diapers.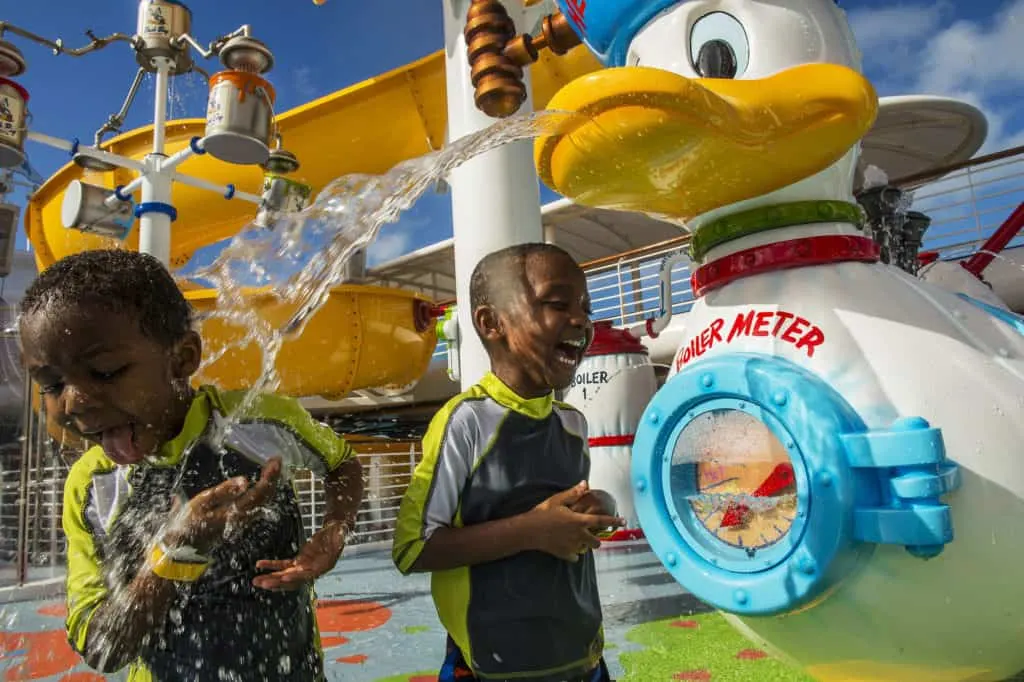 Pool vests and other accessories.
Complimentary pool vests are available at the pool decks aboard all ships. These vests may be worn by children only in swimming pools and are not allowed ashore at ports of call, including Castaway Cay. Pool vests are also not a substitute for life jackets or parental supervision.
Swim goggles are only permitted if they are the style that fit around the eyes only. And they are not allowed on the AquaDunk or AquaDuck slides. Floats, rafts, and fun noodles cannot be brought onboard and are not permitted in the pool area. And finally, snorkel tubes are not permitted for use while on the ship but can be used on shore excursions, such as Castaway Cay.
Kids Clubs
As mentioned above, the kids' clubs aboard Disney Cruise are incredibly detailed and free of charge. If parents want an afternoon of relaxation, or the kids simply want to blow off some steam with their new friends, there is plenty of opportunities for everyone to spend quality time apart.
Sport and Fitness Centres
Disney Cruise ships offer a modern, state-of-the-art fitness centre featuring cardiovascular equipment and weight machines as well as a number of classes for yoga, Pilates, stretching and more. Fitness centres are open to Guests 18 and older only. There is no extra charge for use of the facilities, but an additional fee is required for group classes and reservations are recommended. You can also schedule a one-on-one 60-minute session with a personal trainer.
What to Pack
Aside from the standard cruise packing list, there are a handful of extras you may want to think of when packing for a Disney Cruise. Check out these quick reminders;
You might want to consider the Frogg Togg Super-sized Chilly Cooling Towel for putting on your lounge chair to keep cool around the pool or on Castaway Cay. The beating sun can make any surface hot to the touch, and you should be relaxing on this holiday, not worrying about hot lounge chairs.
If you plan on getting into the pirate spirit for the Pirate Night deck party, we recommend buying some random pirate accessories before the cruise. There are always things to purchase on the ship but you will pay a premium for Disney Cruise logos and convenience.
Two more things that might seem obvious: swimsuits and sunscreen. You can buy both of these things on the cruise, but you will pay a significant premium. Make sure to take your sunscreen off the ship at Castaway Cay, as they will really price-gouge you if you need to buy it there!
Do pack a ready-for-fun carry-on. When you give your luggage to the porters, you'll keep your personal carryon with you. You may not receive your luggage until mid to late afternoon, so be sure to pack everything you'll need for the first several hours, including medications, identification, eyeglasses, sunglasses, sunscreen, and swimsuits. Speaking of which, do have small bills handy. When you get to the port, you'll hand off your luggage to the porters; it's customary to tip $1 to $2 per bag.
Enjoy Your Disney Cruise
There is some much to discover on each Disney ship. The possibilities are endless, from the exquisite meals to the fancy dress. All the comforts you can imagine are available on a Disney Cruise. We hope you enjoy your sailing and found this information useful for planning your Disney cruise.
The posts and pages of Mouse Travel Matters
do contain affiliate links that we earn a small commission for,
they come at no extra cost to you!
We will update this guide after our next Disney cruise.
Your Thoughts...
Please share your thoughts in the comments or reach out on social media...We would love to hear from you.
Follow Mouse Travel Matters for Disney Parks news, the latest info and park insights, follow MTM on Twitter, Facebook, and Instagram.
You May Also Like…