Last Updated on May 11, 2022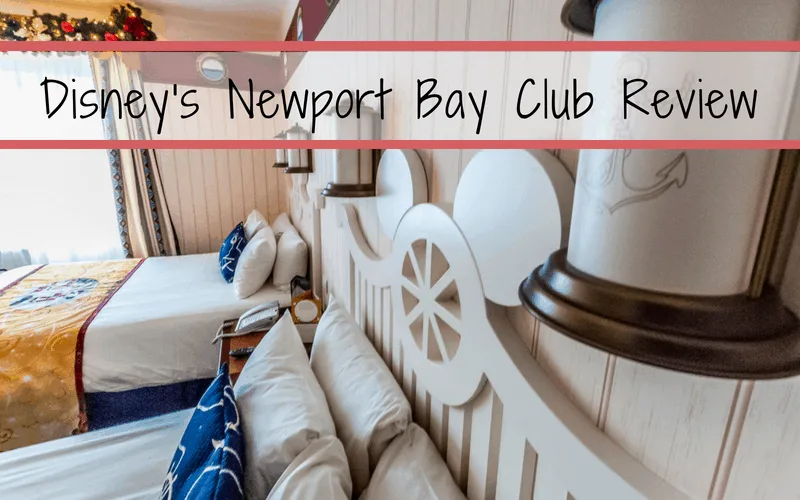 Disney's Newport Bay Club in Disneyland Paris is an incredible experience for families. The room sizes, impressive breakfast spread and a chance to meet characters in the privacy of the hotel lobby, is a terrific incentive to stay at this 4-star hotel. While a private shuttle is available (although not as frequently as some of the offsite hotels), it's proximity to the parks means a quick 10-minute walk through Disney Village will get you to your room just as quickly.
This post may contain affiliate links.
To which I earn a small commission, at zero cost to you!
Find more info in our
Privacy Policy
.
Completely renovated as of Spring 2016, this 4-star hotel will immerse you even further into a luxurious coastal experience.
Enjoy the charm of this 1900s coastal mansion nestled next to Lake Disney. Awash with maritime romance, this Hotel is just a 15 minute walk from the Parks, only a few minutes by free shuttle, and you can even enjoy extra magic in the Disney Parks
While I am not immune to the lure of a budget hotel, like Radisson Blu or Algonquin Explorers, I did find the perks of an onsite reservation to be rather alluring. Between the Early Magic Time (no longer called Early Magic Hour as it is now 1.5 hours long; 8:30-10am), Dining Plan availability and proximity to the parks, we choose and recommend onsite hotels each and every time.
Check-in
Check-in starts at 3 pm and takes about 10-15 minutes to complete. Some say this is an exorbitant amount of time, but with all the information they have to pass along, I would rather spend a few extra minutes now than constantly returning and asking more questions.
We were given our room key (be sure to ask for a second key, as it is not automatic), the hotel charge card "Easy Pass", Tickets, Programs, Park Maps, and a rough outline of this week's activities. The Cast Member took me through the program and highlighted a few not-to-miss shows and reminded me of the parade times and park closure.
Why this can't all be programmed into a single card or a Magic Band, I have no idea. Here's hoping for a change in the near future.
Standard Room at Disney's Newport Bay Club
Is a standard room large enough for a family of 4?
Absolutely! When booking, they asked for the ages of the children and how many people would be in a single room. Unlike my unfortunate encounter with Hotel Explorers, this agent knew all of our details and made sure we had an appropriate room. There were two double beds, a dresser, and a desk. The pack play was hidden under the closet, in the vanity, and was waiting for us when we checked in. We brought the Travel Cot for the Munchkin, as he had already expressed his distaste for co-sleeping. Fair enough.
We also decided to leave the stroller open. Since we have a Bob Revolution Stroller, it is slightly wider than your traditional stroller and doesn't fold as nicely. I also didn't want to bother with it, open it remained.
Because of the Christmas decorations (more on that further down the page), we decided to leave the Travel Cot between the two beds and I would co-sleep with the baby. Opening the Pack 'n Play would have made the room a little too cozy.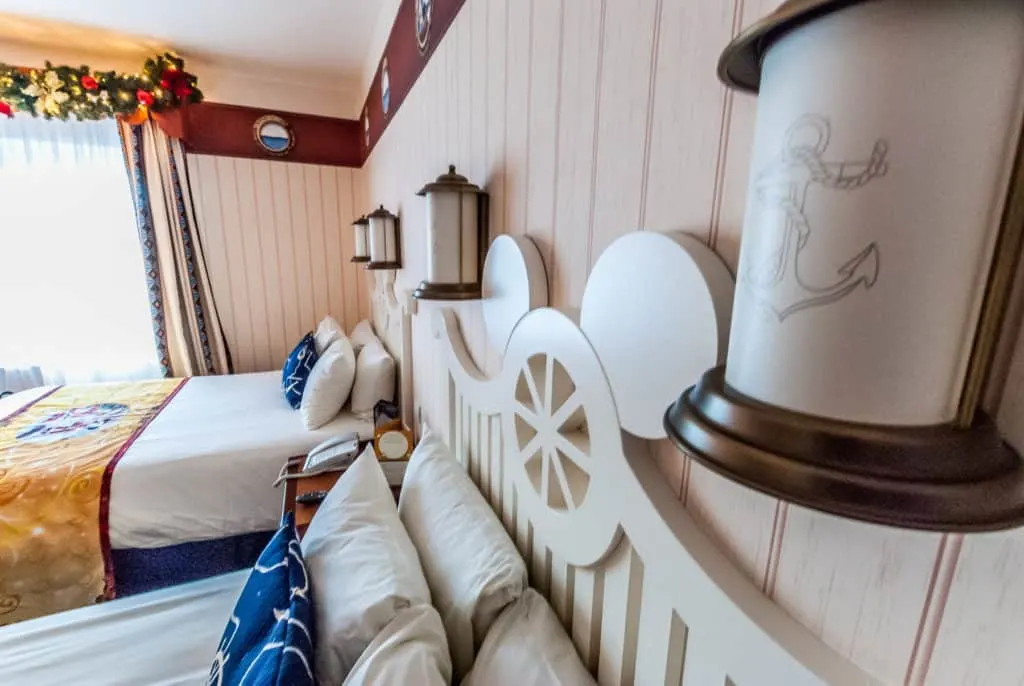 Disney's Enchanted Christmas Themed Room
Because I am crazy about Christmas, I decided to surprise the whole family with a special Christmas-themed room celebration.
When I booked the hotel and ticket package, I asked if this was an option. The agent immediately said 'yes' and quoted me 99 € for a tree and decorations. Like everything else Disney-related, I already knew this was expensive but sounded totally worth it. I was not wrong! And, there was even a little surprise in it for me.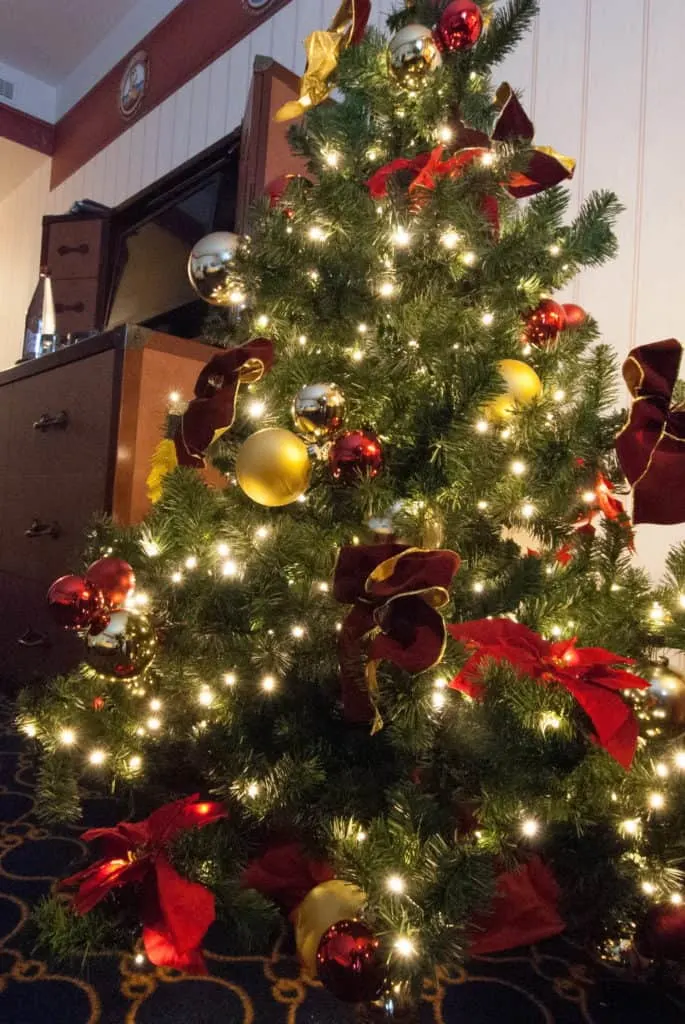 And the Magical gifts left for mum and dad. This is the part that I was not aware of, and definitely made the price tag worth it, as the gifts alone cost half of the upgrade charges. The mugs and chocolates were a great perk and an amazing souvenir.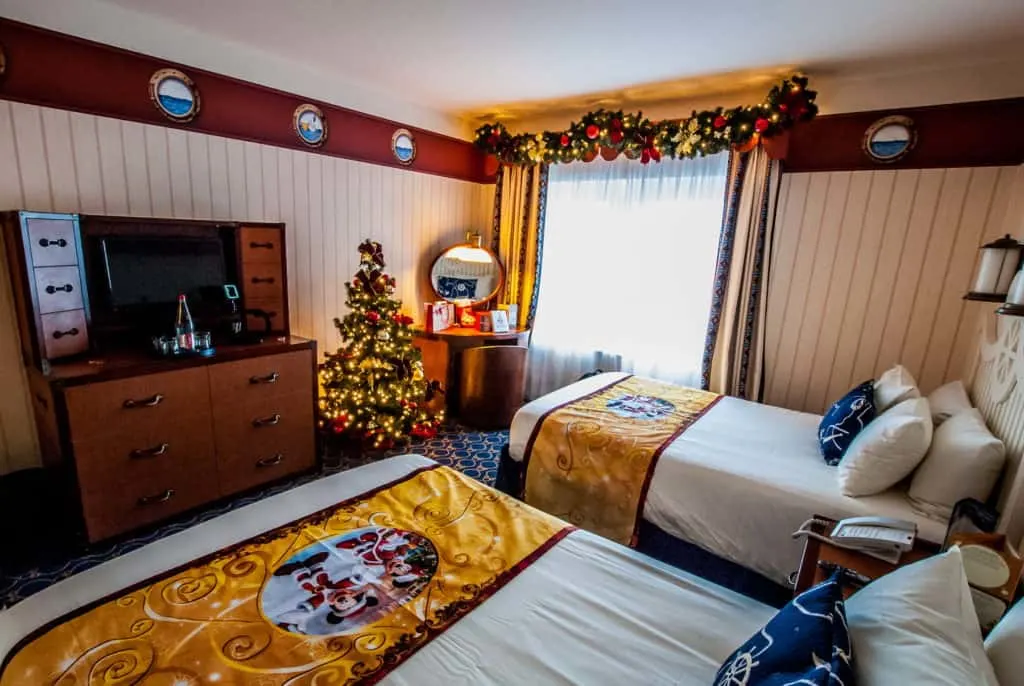 Breakfast at Disney's Newport Bay Club
Breakfast no longer comes as part of the hotel reservation. Guests are now required to pay out of pocket or purchase a dining plan that includes Hotel Breakfast (not to be confused with the Free Half Board Plus promotions where breakfast is only available in the parks).
While the spread was amazing; Crepes, pancakes, waffles, cereals, pastries, bacon, eggs, sausage etc (we could be here all day listing everything they offered). We didn't feel it was worth the 25€ per adult (23€ per child) surcharge.

Overall Experience
We had a great time at Disney's Newport Bay Club. Everything looked like we were on a Disney Cruise Line ship; the rooms were spacious and the service we received at the front desk was spot on. The Boutique on the main floor was open each time we walked by and the breakfast spread was incredible.
The only thing we did not enjoy was the price of breakfast (out of pocket) or that Disney has decided to remove the meal from its reservation altogether – but this is common amongst all Disney onsite hotels and not the fault of this specific hotel.
At the end of the day, we would recommend Disney's Newport Bay Club Standard Level Rooms to any family wishing to have the 4-star experience without breaking the bank. The distance to the Parks without being forced to take the bus was a great perk too.
Your Thoughts...
Please share your thoughts in the comments or reach out on social media...We would love to hear from you.
Follow Mouse Travel Matters for Disney Parks news, the latest info and park insights, follow MTM on Twitter, Facebook, and Instagram.
You May Also Like…