Last Updated on December 1, 2021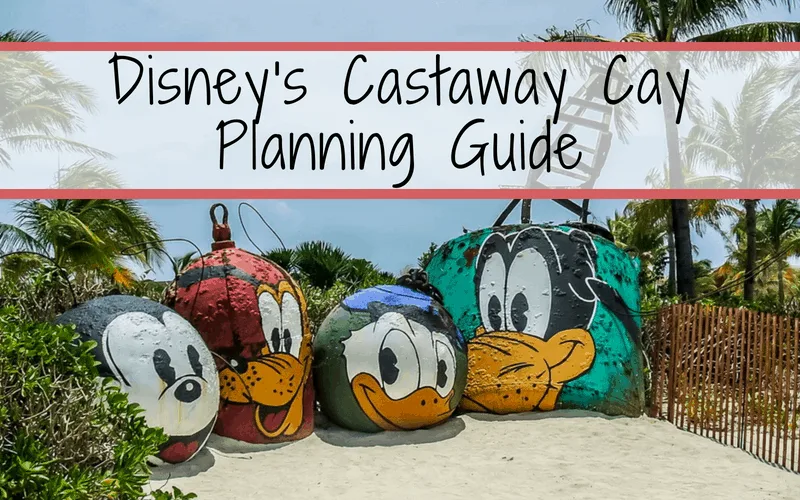 Castaway Cay is the jewel port of call for any Disney Cruise Line Fanatic. All Disney Caribbean cruise itineraries include at least one day at this private island paradise.
While spending the day at a private beach sounds like any family's dream come true, there are a few things you need to know about Castaway Cay before cementing any plans. The most important of all is being aware that there are planning possibilities available to cement. Mouse Travel Matters Disney's Castaway Cay Planning Guide will help you set sail for great times with Disney Cruise Line.
Disney really knows how to accommodate all of their guests on the island. There is something at Castaway Cay for every member of your family, regardless of its makeup. This guide provides tips for visiting Castaway Cay, including things to do and not to do and how to make the most of your time on the island.
A Little History of Castaway Cay
The island formerly known as Gorda Cay was owned by the Bahamian government, contrary to popular belief. In 1997, the Walt Disney Company signed a 99-year lease, just one year before the Disney Magic was launched. set to expire in 2096, Disney now has the exclusive control over the guest experience on the island.
The company spent $25 million while construction took 18 months This included dredging 50,000 truckloads of sand from the depths of the Atlantic Ocean. Castaway Cay is the first private island in the cruise industry where the ship docks alongside so guests do not have to tender to land.
(Check out the Disney version of Castaway Cay's history "The Legend of Castaway Cay")
Here is a quick gander at the many offerings ashore on Castaway Cay:
A buffet-style barbecue lunch
Coffee, tea and soda
All-you-care-to-eat ice cream
Beaches, including a family beach and adult-only beach
Beach chairs, umbrellas and hammocks
Beach towels
Island entertainment
Clubs for kids and teens
Hiking trails
Beach sports
Yoga classes
A splash zone
Pelican Plunge waterslide
Tram transportation
Castaway Cay 5K with finisher medal
This post may contain affiliate links.
To which I earn a small commission, at zero cost to you!
Find more info in our
Privacy Policy
.
Disembarkation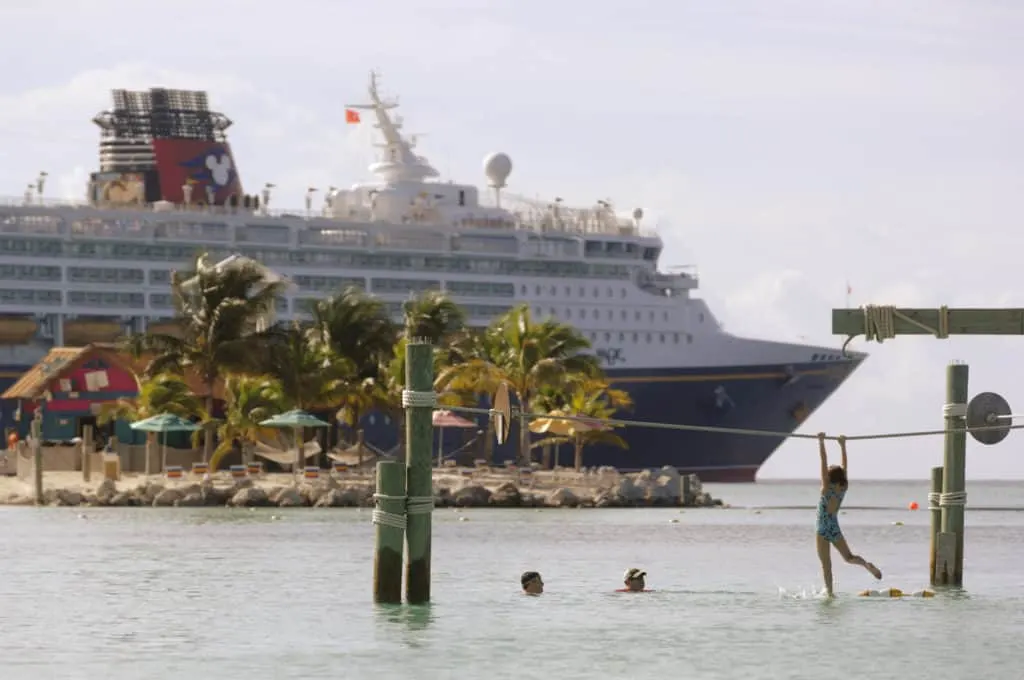 It is incredibly easy to disembark from any Disney Cruise line ship. There is limited time on Castaway Cay so it is suggested to start the day early and disembark as soon as is allowed.
Don't forget to take your 'Keys to the World Card' with you. This is the only way to get back on the ship and to make purchases while on the beach. To be clear, the 'Keys to the World Card' is the only form of payment available at Castaway Cay, other than the post office…in which exact change is strongly recommended.
A lanyard with ID holder is for us the most essential item for Disney's Castaway Cay! For a Mouse Travel Matters look at items for the Best Gear for Disney Cruise & Holidays at Sea << Check It Out.
There is no need to bring too much off the ship with you; just your hat, waterproof sunscreen (to reapply after a few hours of swimming or exercise), and possibly a waterproof camera or your cell phone. You will see a stack of towels near the disembarkation point, and throughout the beaches. Castaway Cay also offers other useful amenities that guests may require; these include free stroller rentals, wagons as well as jogging strollers for those participating in the early morning Castaway Cay 5K.
There is also a Disney Castaway Cay Post Office. The Bahamian government has created a special stamp for this particular post office. While you aren't likely to receive the letter until after you have arrived home, it is still a nice souvenir and something to look forward to after your holiday has ended.
Which Beach to Explore?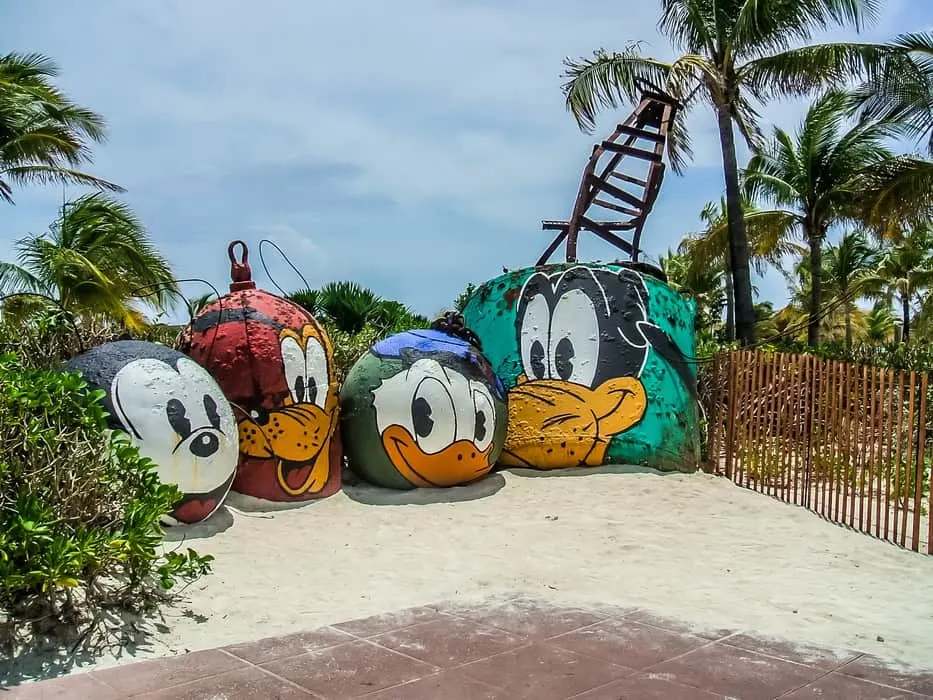 Castaway Cay isn't your typical beach. There are 4 beach options at Castaway Cay; Island Adventures Await, Castaway Family Beach, Serenity Bay "Adults Only" Beach, and the Sports Beach. There are also 3 Barbeque dining options, children's supervised centres, shopping huts and countless adventure opportunities to be had, with or without children.
This is more than enough room for everyone to spread out and find their favourite spot on Castaway Cay. Each beach is created for a different type of vacationer and therefore each has its own specific set of amenities.
Castaway Cays Family Beach is the closest beach to the ship and allows for quick access to many amenities. It is the most popular of all the beaches and covers the most space on the island. It is human nature to not venture too far from the ship, and therefore the beaches further from the ship are less populated.
Furthermore, as the day progresses, the beaches tend to get more crowded. However, the Disney Magic and Disney Wonder have a lower guest capacity, for those that prefer to avoid crowds, or other guests, in general.
Castaway Cay is "open", on average, from 8:30 am to 4:45 pm. Be sure to arrive early to capture that great spot on the family beach. This is where "beach etiquette" comes to play; there are no hard and fast rules about how to save a lounge chair or spot on the sand but there are a few things that are frowned upon by other guests. Placing towels on 10 chairs for a 10 party group when you spend the majority of your time in the water is a no-no.
The same goes with 'reserving ' a set of chairs under a canopy/umbrella when guests rarely return to them. Please be considerate of others and mark what you reasonably plan on using.
Speaking of which, guests also have a tendency to leave the beaches up to 2 hours before embarkation. If you can't get a hold of a decent lounge chair, or finally want to use one, maybe later in the day is a better time to "duke it out" than in the mornings. Once the majority of the crowds have left, you will find there is more than enough space for everyone to relax.
Don't worry, the ship won't leave without you. However, don't be that person that holds everyone up. Guests can safely plan to arrive at the gates 15 minutes before embarkation.
Childfree at Castaway Cay?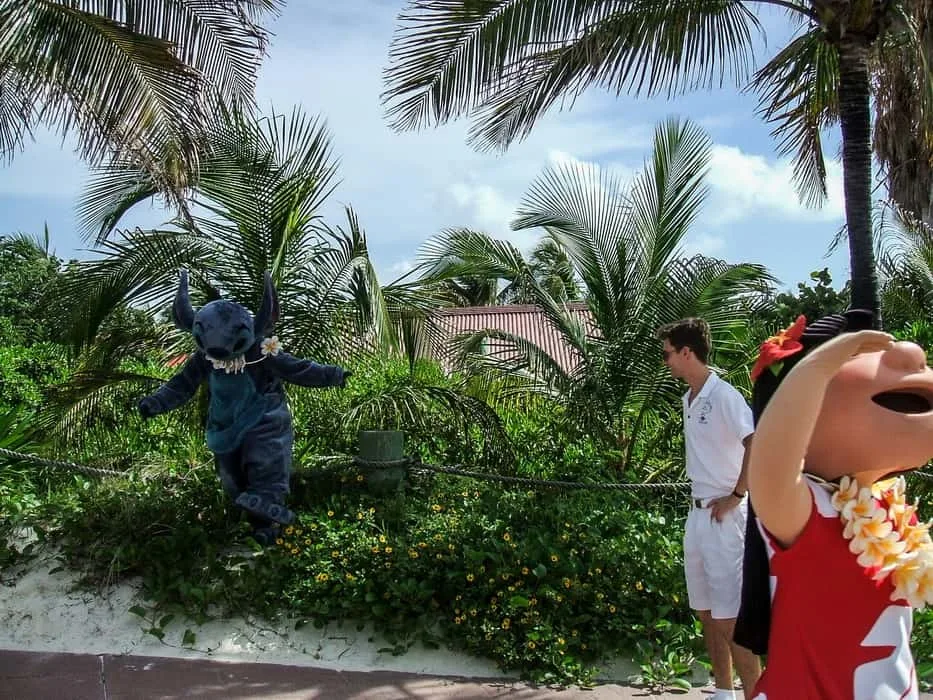 There are a handful of options for guests wishing to remain child-free while on Castaway Cay.
On Castaway Cay day, the Oceaneers Club and Lab are not open on the ship for the period that the ship is docked there. On Castaway Cay, a special kid's play area called Scuttle's Cove (for ages 3-12) is open from 9:00 am to 3:30 pm. There are plenty of fun activities planned, including a "dig" and treasure hunt.
Parents can be assured that Scuttle's Cove is not near the water and that kids checked into the program on Castaway Cay will not be taken near the water by the counsellors. Scuttles Cove is included in the price of the cruise and parents do not need to reserve time, like they would on board.
Pro Tip. – Don't book excursions for the middle of the day. It will ruin the flow and your children will not want to leave their sand castles behind, regardless of how much fun Parasailing sounds.
For children under the age of 3, the onboard nursery (either It's A Small World on the Dream and Fantasy or Flounder's Reef on the Wonder and Magic) is available, for a fee. The hours vary, but they do offer services during port stops, whether it be Castaway Cay or another port.
Serenity Bay Castaway Cay is another great way to spend the day child-free. It is an adult-only zone (aged 18 and older), on the furthest beach from the ship. There is also a great bar on this beach, called Castaway Air Bar. The Castaway Air Bar BBQ will also be where Serenity Bay guests have their lunch.
Castaway Cay Cabanas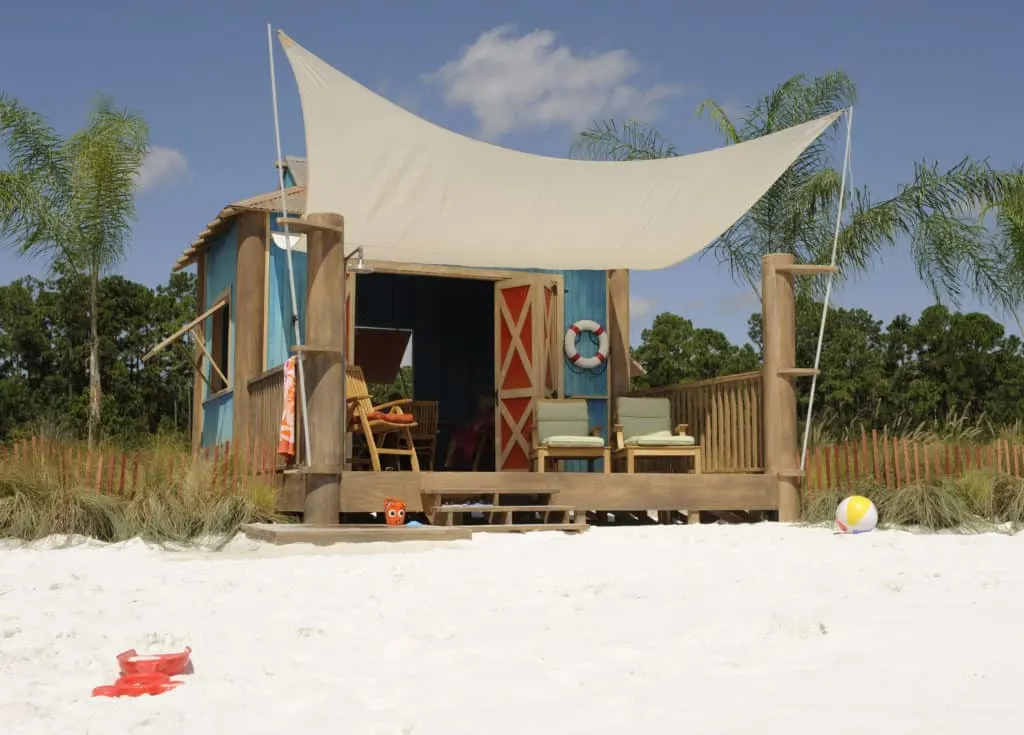 The Castaway Cay Cabanas are the most sought-after commodity on the island. There are only 21 cabanas available and they sell out almost immediately upon becoming available online. In order to get a heads up on the Castaway Cay Cabanas, guests basically need to be Concierge level, which gives access to booking amenities 120 days prior to sailing.
The majority of cabanas are on the family beach, while there is a handful on Serenity Bay.
Why are Castaway Cay Cabanas so popular? Not only do the cabanas provide shade, seating and focal point for the family to gather after exploring the island, there are freebies that come with the purchase. These freebies include rafts, tubes and snorkel gear. There is also a fridge, towels, bottled water, power sockets, a safe, sunscreen and sand toys. There is music available to be played within the cabana, as well as playpens available on request and freshwater showers on site.
Instructions will be left in your stateroom regarding where to go before docking. Guests are also given a special wristband. The wristbands allow access to the cabana area as well as your voucher of sorts for snorkel equipment, floats and bike rental which are all included in the cost of the cabana. Head to the Castaway Cay Cabana Checkin area and you will be taken to your cabana via golf cart.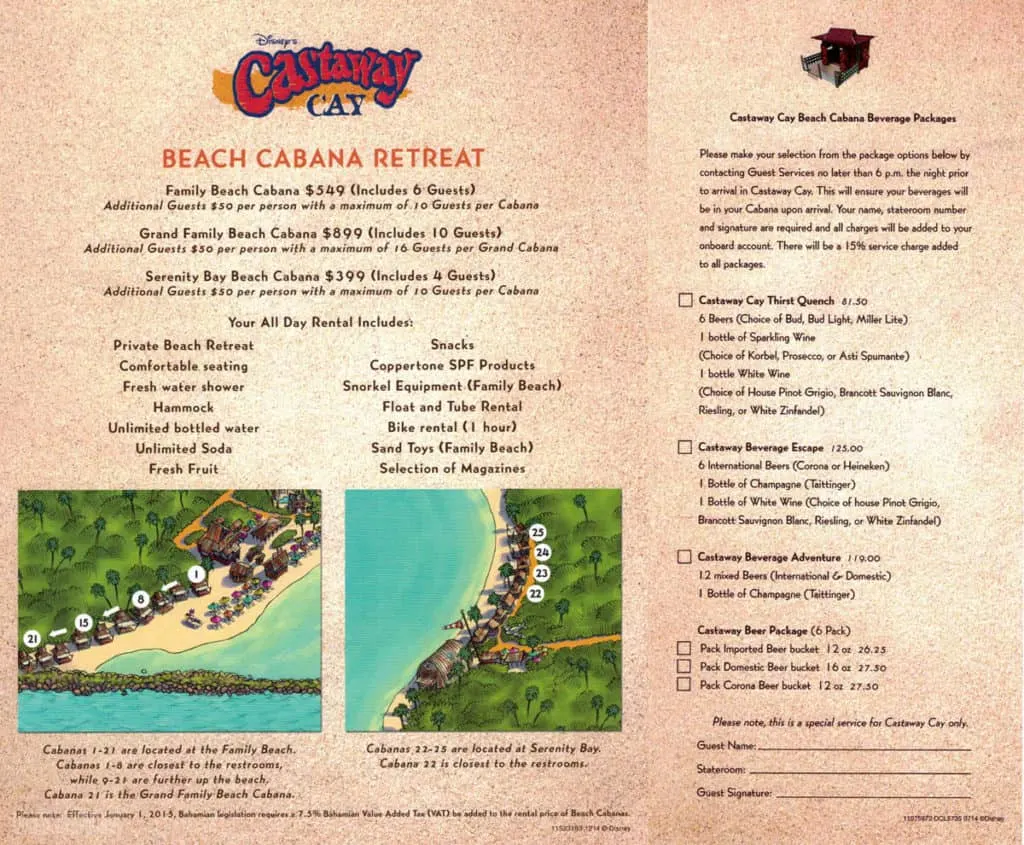 Just how much these cabanas will set you back. Not including the upgrade from standard room to concierge; a Family Beach Cabanas runs $546 for 6 people, Grand Family Beach Cabanas costs $899 for 10 people, and Serenity Bay Cabanas costs $399 for 4 people. There is an additional cost of $50 per person up to 10 people (in total) for Family Beach Cabanas and Serenity Bay Cabanas, or 16 total people for Grand Family Beach Cabanas.
To learn more about Castaway Cay Cabanas, click here.
It is rare, but there have been reports of guests getting last minute reservations when someone cancels. There is also the possibility of being placed on a waiting list at Guest Services. It doesn't hurt to ask.
Activities on Castaway Cay
There are many activities that are available on Castaway Cay. Some are free and some come at an additional fee. Others, as well, are considered Shore Excursions and require pre-booking, like any other activity on any other port of call.
Free Things to Do at Castaway Cay
Of all the activities that there is to do on Castaway Cay, there are a few that are free to all guests.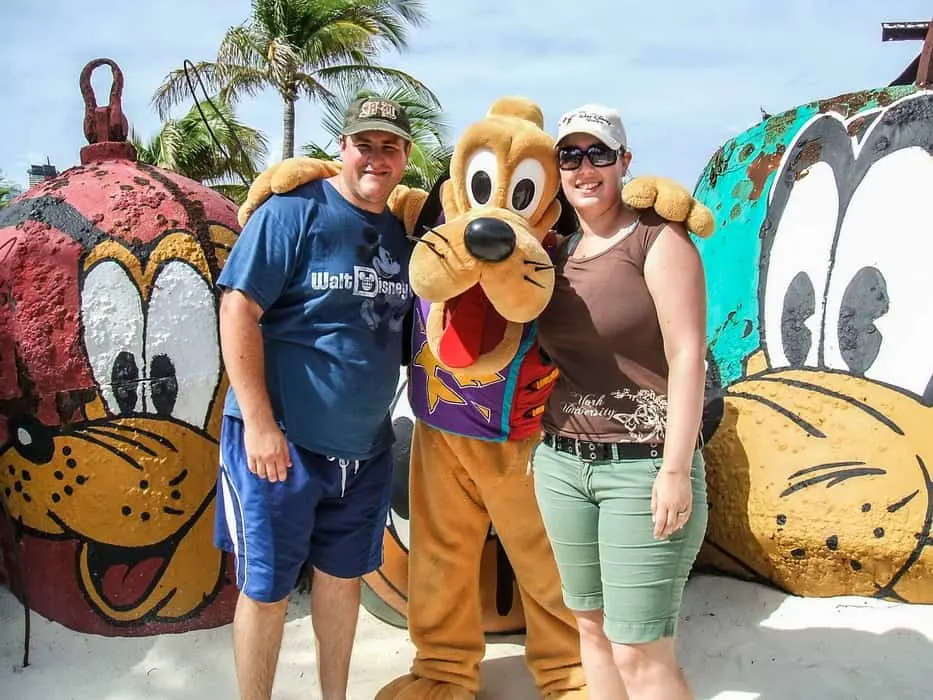 Character Meet and Greets
This is generally the first and last thing anyone thinks of when getting off the ship. Where are the characters and how can I see them all?! Getting out the door as early as possible means beating the crowds and seeing more characters before the sun gets too high in the sky, making it nearly impossible to stay out of the shade or water for too long.
Pro Tip. – don't wait to buy your souvenirs. There is a limited supply and may be gone when you return
Pelican Plunge
This is a 2,400-square-foot floating platform and water-play area. Because the slides throw you straight into the waters, the platform itself needs to be sufficiently far enough away from the beach to be safe. This also means that guests need to swim to the platform. While life jackets are available for those guests that require them, this also means that the platform is not suitable for smaller children without the aid and supervision of their parents.
A very common question is what is the Pelican Plunge Castaway Cay Height requirement? You have to be at least 38″ to go on the Pelican Plunge water slide. If you are between 38″ and 48″ you can ride, but it is compulsory to wear a life vest. You can't ride on the slide with smaller children either. If you do want a smaller child to ride the slide, we suggest that you go down the water slide first and wait for them at the bottom.
Spring a Leak
Spring-a-Leak is a water play area ("splash pad") located on Castaway Cay, Disney's private paradise in the Bahamas. Spring-a-Leak is certainly a paradise for toddlers and preschoolers. There are a handful of rules, however; "Do not swallow the fountain water, it is recirculated", as well as "Children under the age of 12 must have adult supervision". There is also a capacity limit of 55 people within the Spring a Leak area.
Spring-a-Leak on Disney's Castaway Cay is an amazing place to cool off, let your child burn off some steam, or just take a break from the sand and sun. It is an absolute must-see for families
In Da Shade Game Pavillion
At the section of Castaway Cay called In-Da-Shade, there is a roof structure that provides shade over the ping pong tables. There are old-fashioned bicycle wheels near the 'ceiling' of the roof that is shaped like Mickey's ears.
Beaches
The beaches are 100% free of charge. Just find a spot, mark your territory and away you go. Choose from either the Island Adventures Await, Castaway Family Beach, Serenity Bay, and the Sports Beach.
Disney's Castaway Cay 5K Run
Last on our list of free things to do, is the famous Castaway Cay 5k run. Not only is it free to enter, but there is a souvenir medal at the end. Register at Guest services beforehand and you will find instructions in your stateroom. You will be given a timing to meet onboard, usually, around 8 am, and taken together to the starting point.
There needs to be a minimum of 10 participants, over the age of 10, in order for the run to happen. It is also a family event, remember those free stroller rentals I mentioned above. Or drop the little ones off at Scuttle's Cove and make it a day date.
There is no sense in returning to your stateroom to change and shower if you plan on visiting the island after the race. Simply bring a change of clothes with you, grab a beach chair early and leave everything there. The beach is fairly safe for your belongings, just don't leave anything of value.
Don't forget to take your camera. The trail is amazing. And don't worry, no one is timing you. It's all for fun.
Shore Excursions and Equipment Rental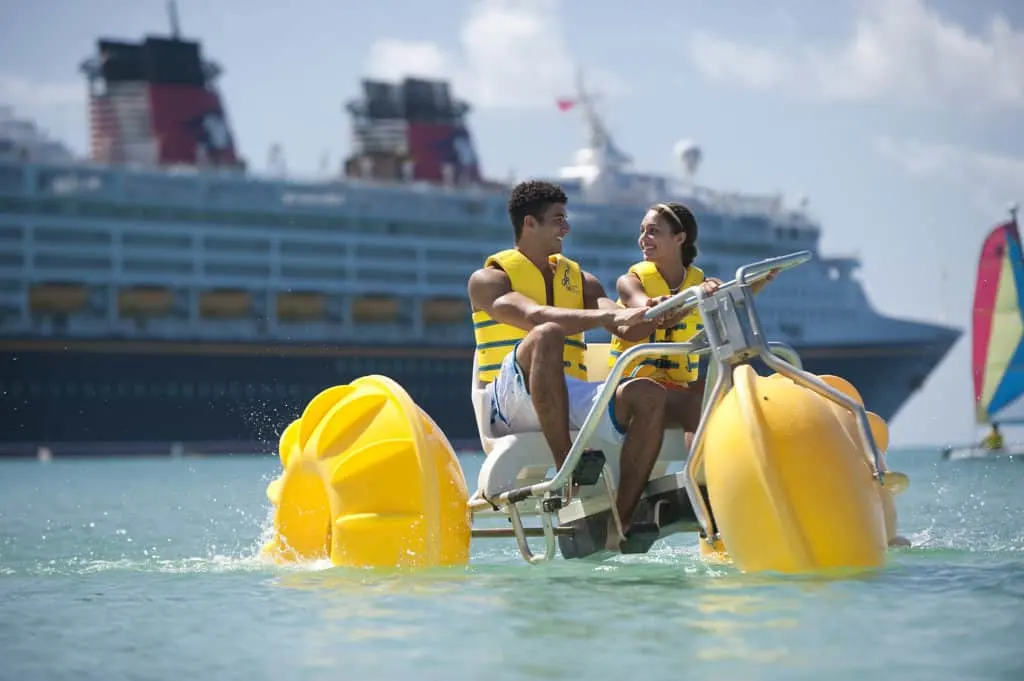 There are many, many options for things to do on Castaway Cay that even the best laid out plan will not have enough time to cover it all. Have a priority list and know that Disney Cruise Line offers bounce back offers – a discount on your next cruise when booked during your current cruise… just sayin'
Equipment rental is available are Marges Barges and Sea Charter Dock. This is where you will rent floats, tube, bikes, snorkels, and flippers.
Snorkeling Lagoon
Make a splash amid tropical fish and Caribbean marine life at the island's 22-acre snorkelling lagoon, located at Castaway Cay's Family Beach. Explore snorkelling trails for beginners and discoverers, and be sure to keep your eyes peeled for hidden underwater surprises as you snorkel further out into the lagoon.
Walking and Kayak Adventure
Explore the island's rural landscape on a 45-minute walk as your guide educates you on the fascinating history of the Bahamas. Next, follow them on a one-hour kayaking adventure, where you'll discover the wonders of the tidal zones and native mangroves. Your guide will explain the function of these extraordinary trees before pulling up to a deserted beach. Depending on tide levels, explore the shallow flats or a sandy beach for approximately 30 minutes, relaxing and enjoying the serenity. No other guests have access to these locations.
Watercraft ski adventure
Follow your guide to 2 stops, weather permitting, as you learn about the fascinating history of the Abacos region, which includes accounts of the area's abundant marine life, unique ecology and even the pirates that once frequented these waters.
Parasailing
Enjoy the unforgettable beauty and serenity as you parasail for approximately 5 to 7 minutes at heights of 600 to 800 feet over the waves before returning gently to the boat.
Glass Bottom Boat Scenic Voyage
Board the glass bottom boat for a voyage out of the protected lagoon to the north side of the island, home to Castaway Cay's barrier reef system
Castaway Ray's Stingray Adventure
Get up-close and personal during a feeding session in which a friendly guide will help you use specially designed feeding trays.
Take our advice and make sure you wear a hat and reapply sunscreen frequently. It's hot out there and you can get burned quickly. Trust me.
Disney's Castaway Cay Dining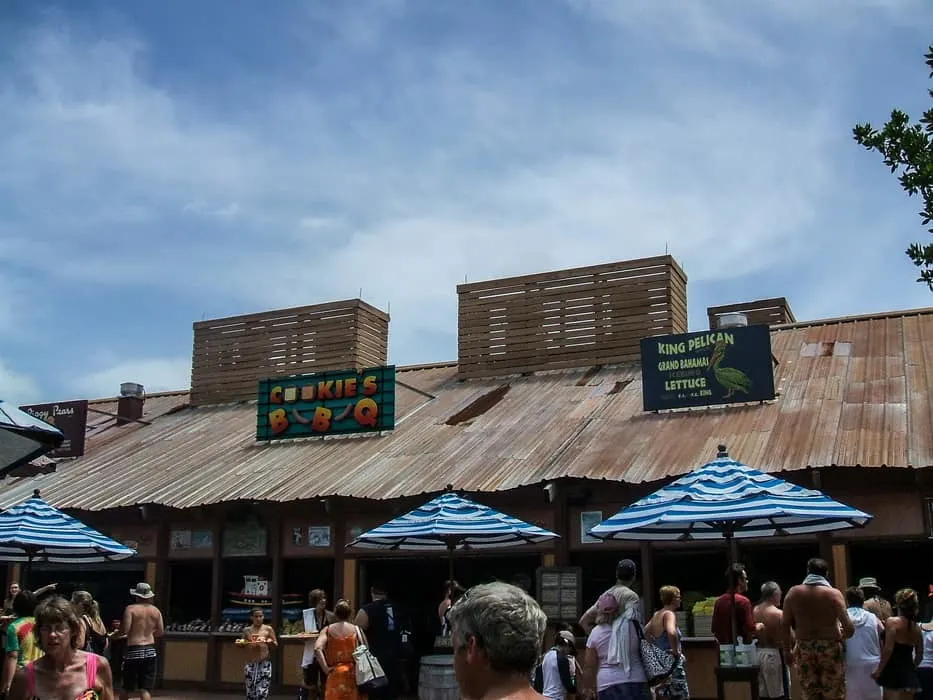 You will find that you are never short of food while on Castaway Cay. While the quality of the food is not nearly as epic as on the Disney Cruise itself (comparison just isn't fair at this point), guests are allowed to return to the ship in order to have lunch. This is also a great way to experience the buffet, and the boat itself, nearly empty.
There are 3 Barbeque locations throughout Castaway Cay; Cookies BBQ, Cookies Too BBQ, and Serenity Bay BBQ. Each location is open from late morning until 2 pm and all have roughly a similar menu.
COOKIE'S BBQ MENU
Lemon and rosemary marinated chicken rotisserie-style
Braised BBQ and honey pork ribs
Flame Grilled Cheeseburger / Hamburger
Cajun spiced, chargrilled Mahi Mahi with a tomato, red onion and lime salsa
New York Hot Dogs with sauerkraut
Corn on the cob
Traditional coleslaw
Couscous taboule
German Potato Salad
Tomato Salad
Garlic bread baguette
Apple and cinnamon-spiced cake
Cookies
Mini Banana bread loaf
Fruit salad
BBQ Potato chips
Plain potato chips
Fresh Fruit
Ice Cream
Castaway Cay Bars

This photo of Castaway Cay is courtesy of TripAdvisor
Each BBQ location has its own drink station for water, juice, tea, and coffee. One of the newest and most popular of these drink stations is the Summertime Freeze, which will offer guests non-alcoholic drink options such as Olaf's Flurry Freeze and Sven's Carrot Delight.
If you are in the mood for something a little stronger (it's 5 o'clock somewhere right?), then Castaway Cay offers 4 bars throughout the island; Castaway Air Bar, Sand Bar, Conched Out Bar, and Head's Up Bar. Please note that only guests aged 18 years and older are allowed sitting within the bar.
Pro Tip. Don't forget to pack your The Perfect Castaway Cay Excursion Bag with all your essentials. You wouldn't want to run out of sunscreen or forget your sunglasses.[
While on Castaway Cay, be sure to try out their signature drinks – "Deep Blue Sea," which includes Bacardi Rum, Blue Curacao, and Sweet Lemon Mix, and Konk Kooler which includes 2 different types of Rum, Passion Fruit, Orange Juice and Pina Colada.
Shop Disney's Castaway Cay
There is limited shopping available on the island but that is to be expected. It's not like Castaway Cay is busting at the seams with thousands upon thousands of guests per day.
There are 3 major shopping huts available; She Sells Sea Shells…and Everything Else, this is where you will find CastaCay-exclusive memorabilia. Don't wait to make your purchases as the shelves can get pretty bare, pretty quickly. The best part about this Disney-fied shopping experience is that everything you buy can be delivered to your stateroom for you.
Buy the Sea Shore is located near the starting line of the Castaway Cay 5k. It offers similar items and also race-related merchandise.
The final shop on our list is Cultural Illusions where you can purchase Bahamian craft items.
The posts and pages of Mouse Travel Matters
do contain affiliate links that we earn a small commission for,
they come at no extra cost to you!
All Aboard | Returning to Your Disney Cruise
Many guests have a tendency of going back to the ship roughly 2 hours before required, this is a great opportunity to lounge around the beaches a little longer. Now that you have explored the island, experienced the shopping and all the excursions you can possibly fit in, it is time to sit back and relax.
Don't be too late, though. You don't want to be THAT person that holds everyone up. Get back to the ship with roughly 20-30 minutes to spare and you will have maximized every moment on Castaway Cay.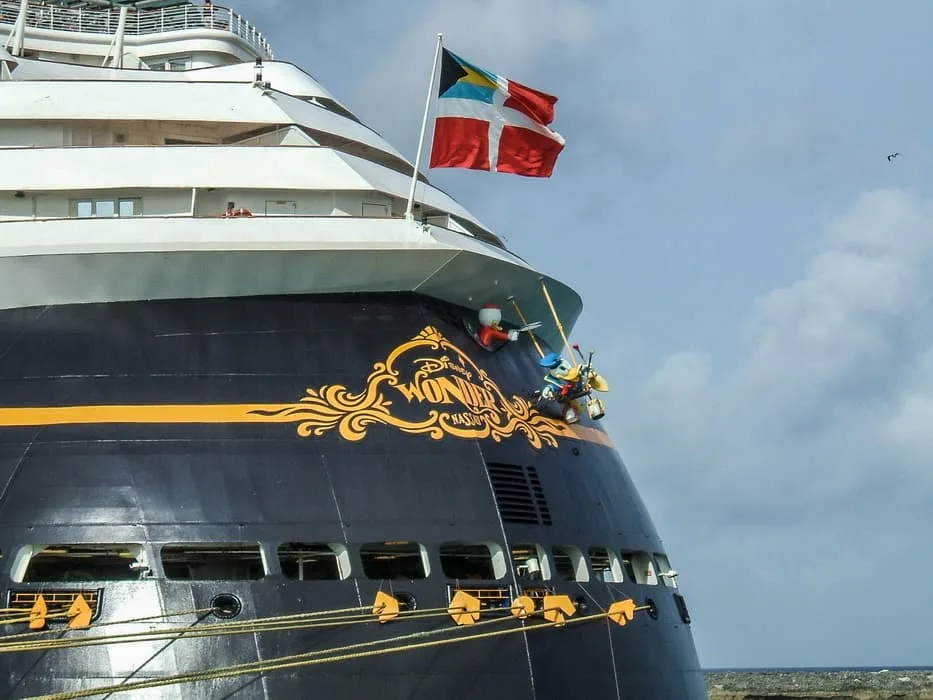 What did we miss? What are your favorite memories from Disney's Castaway Cay
Your Thoughts...
Please share your thoughts in the comments or reach out on social media...We would love to hear from you.
Follow Mouse Travel Matters for Disney Parks news, the latest info and park insights, follow MTM on Twitter, Facebook, and Instagram.
You May Also Like…
Disney Cruise Vacation Planning Tips & Tricks
Dehydration and Heat Stroke on Your Disney Holiday
The Perfect Castaway Cay Excursion Bag
Star Wars Attractions and Experiences Guide for Walt Disney World