Last Updated on July 26, 2020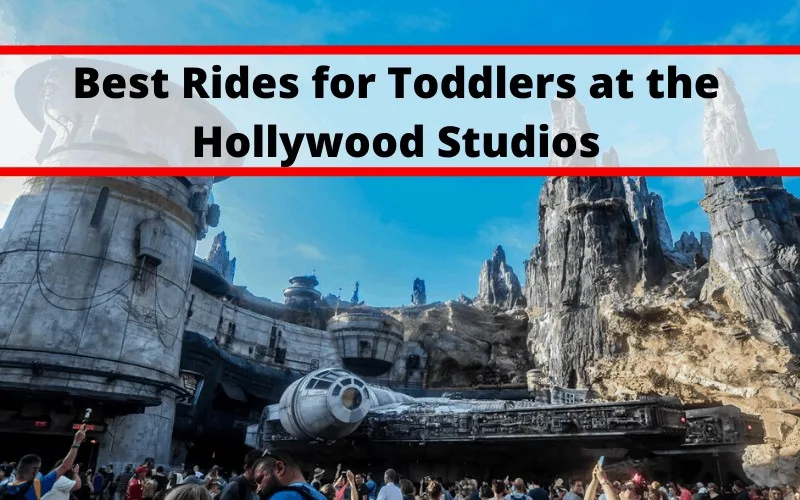 The best rides for toddlers at Disney's Hollywood Studios.
Back in 2010 when we had our Disney World Honeymoon, we absolutely HATED Hollywood Studios. There weren't many rides (even fewer for wimps like me), it was hot and everything had a queue of over an hour. Definitely not the place you would want to bring a toddler.
Fast forward 10 years and Hollywood Studios has made an extraordinary come back. Not only did we spend more time in Hollywood Studios than the Magic Kingdom (by design), but the kids actually enjoyed themselves. There are enough rides to keep them entertained and happy without waiting all day in the sun to access them.
In this post, we discuss the best rides (and attractions) for toddlers at Hollywood Studios.
Here are the Best Rides for Toddlers at Disney's Hollywood Studios
Toy Story Midway Mania!
The arcade-style shooting game is fast and fun for the whole family. Buzz and Woody send us throughout the game world to capture as many points as possible during this short but sweet ride. The kids may have a little trouble pulling the rope and aiming at the same time but they don't you are scoring on their behalf.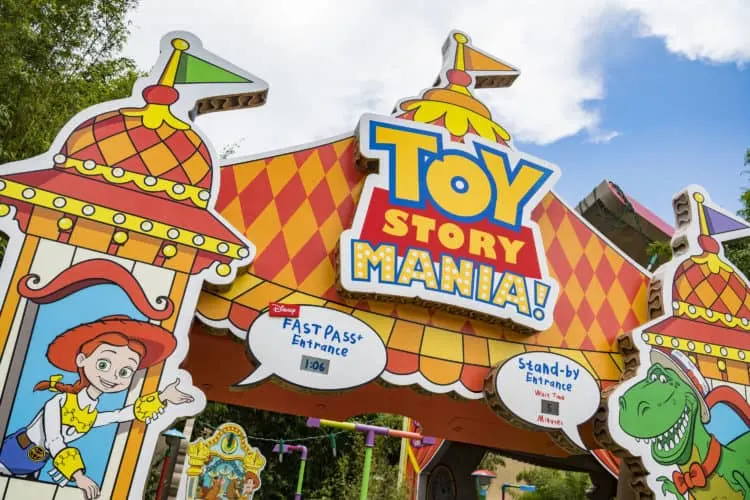 Alien Swirling Saucers (32" height requirement)
It's not overly spinny so you won't get dizzy, and it's fast enough for grown-ups to find fun. A minimum height of 32″ is required, so this is not a ride for lap infants.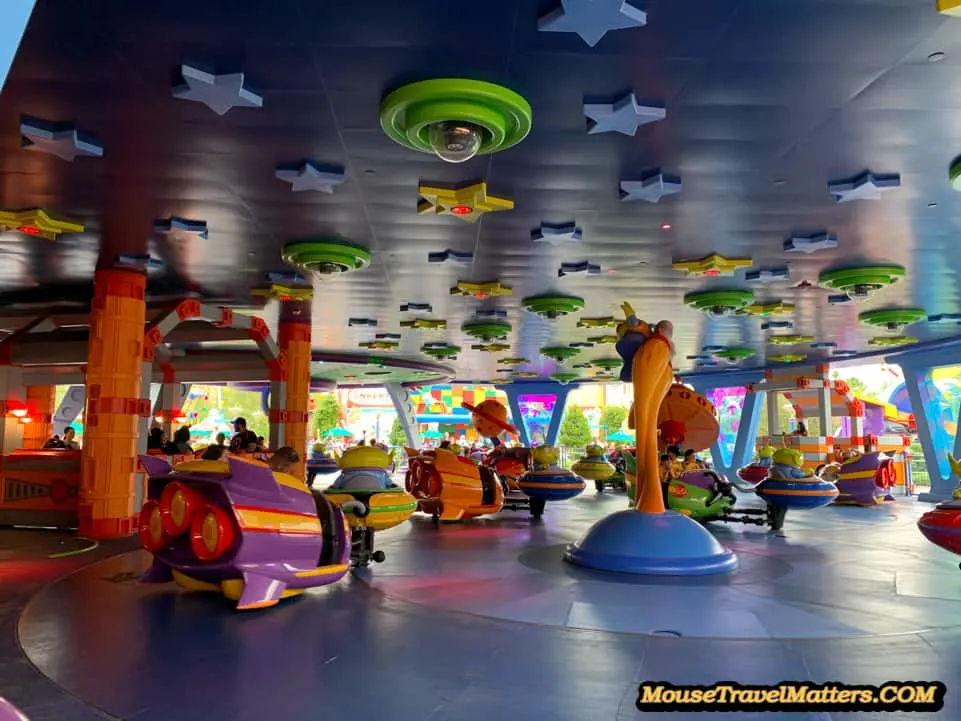 While the children can't maneuver the rocket to spin as fast or slow as they want, the queue is full of fun, oversized toys that they can touch and crank while they wait. The queue is fairly long so we do suggest getting fast pass reservations for Alien Swirling Saucers, or visit later in the evening.
Slinky Dog Dash (38" height requirement)
Slinky Dog Dash is a really fun roller coaster that most older toddlers and preschoolers should be able to handle. A little faster than Magic Kingdom's Barnstormer, it is more akin to Seven Dwarfs Mine Train, if you are trying to gauge how the kids will take it.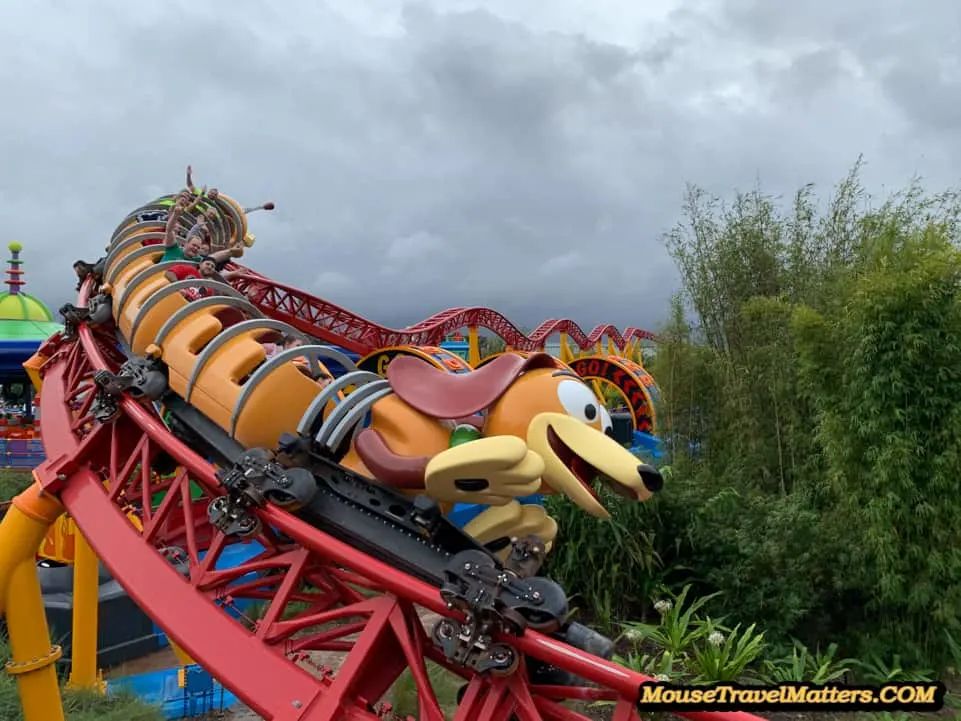 Millennium Falcon: Smugglers Run (38" height requirement)
Another ride with a height requirement, but this time they get to press buttons. While we have been guilty of taking our not-so-good listener 4-year-old on Millenium Falcon, we did refuse her Pilot's license upon boarding – we aren't delusional.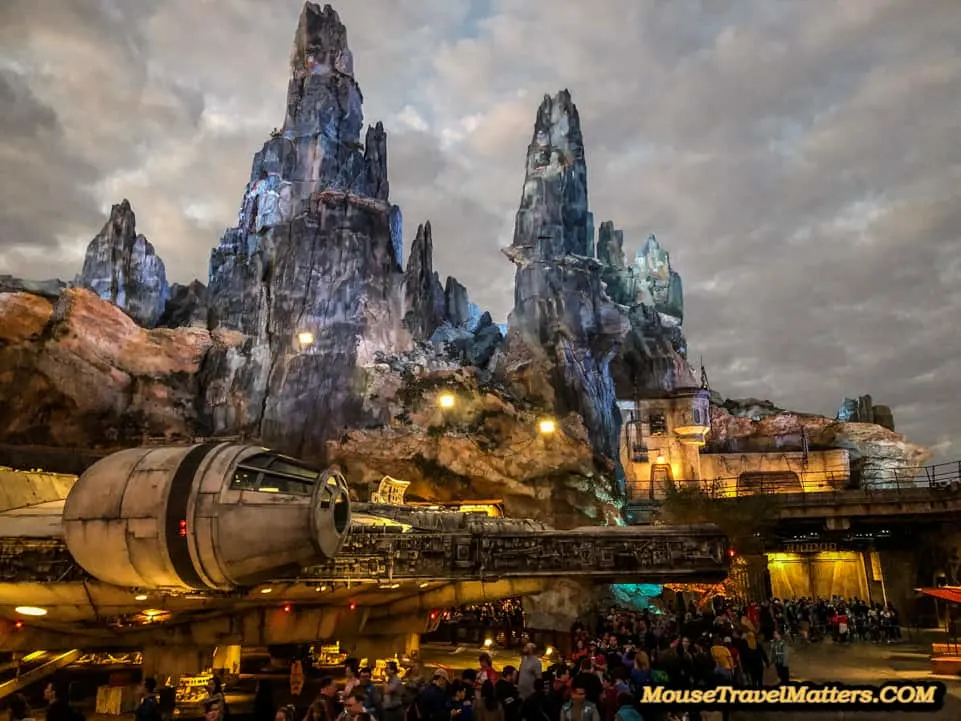 As long as the kids are able to understand the instructions given to them by the simulator, and press the buttons when required, while also hanging on for dear life and enjoying the ride, there isn't a problem.
All jokes aside, the kids love this ride. Star Wars Galaxy's Edge is an instant with everyone that steps foot into the land. Rider swap and Single Rider is also available if your little one backs out.
Jedi Training: Trials Of The Temple (Ages 4 To 12)
Your toddler will not be able to participate in this since the minimum age is four, but it still is fun to watch…for a little while. If you are unaware, the Training Academy is an interactive show where the basic story is that several new Jedi (young park guests) are trained in basic combat. The training is interrupted by Darth Vader, and then the kids take turns battling the Sith Lord.
Find out how to bring your kids to Jedi Training.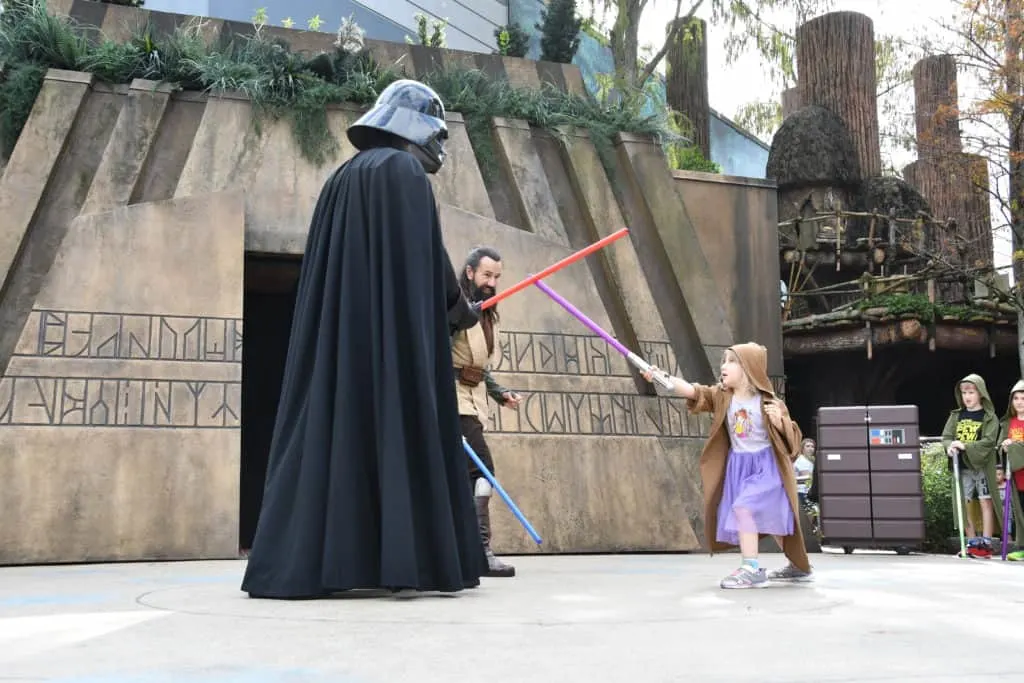 Beauty And The Beast – Live On Stage
Beauty and the Beast: Live on Stage is a Broadway-style musical. Beauty and the Beast Live on Stage premiered on November 22, 1991, which is the day the animated feature film Beauty and the Beast opened in theatres.
The long-running Beauty and the Beast show combines a shortened (but complete) retelling of the story with all of the major musical numbers, with tons of characters and good set decoration. The theatre affords a clear field of vision from almost every seat. Best of all, a canopy protects the audience from the Florida sun (or rain), but the theatre still gets mighty hot in the summer.
The show is so popular that you s2hould arrive at 25–35 minutes early to get a good seat. Fastpasses are also available.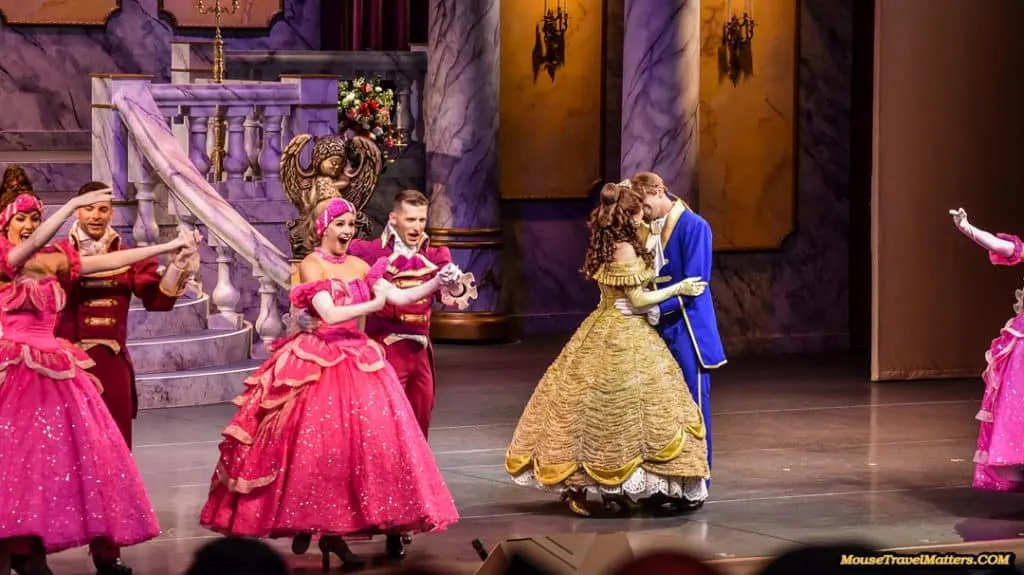 Voyage Of The Little Mermaid
Enchants preschoolers with a glow-in-the-dark hand puppet show with live-action characters and a stage with falling rain. As the show closes bubbles fill the theatre delighting kids of all ages.
As a stage show, the Voyage of the Little Mermaid is a must at Walt Disney World with an infant. In the summer months, this is a great place to cool down from the heat and try to put your little one down for a nap in the parks. In the spring and fall, it works as a refuge from the rain.
Either way, the story is beautifully told, it's short and sweet just like the kids like it, and the queue is never very long. Just how parents like it.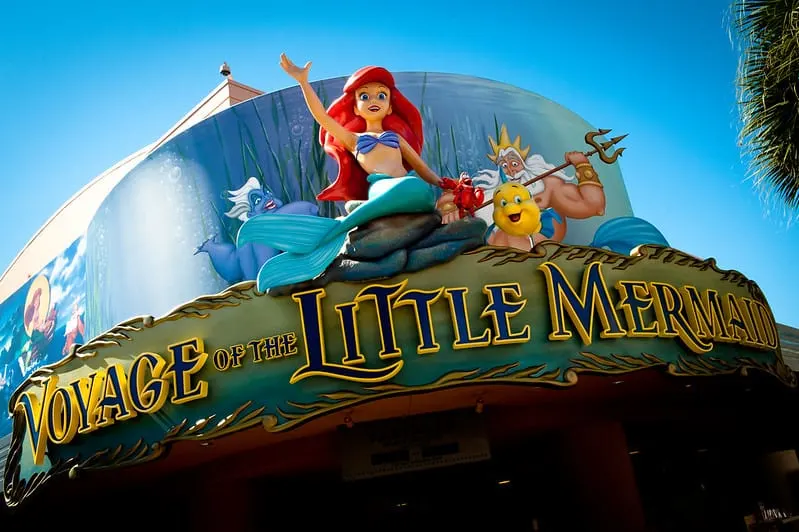 Disney Junior Dance Party
Once called "Disney Junior Live on Stage!", this new version of the show brings in the new characters of Disney Junior – out with Little Einsteins and Jake, in with Doc McStuffins and Vamperina.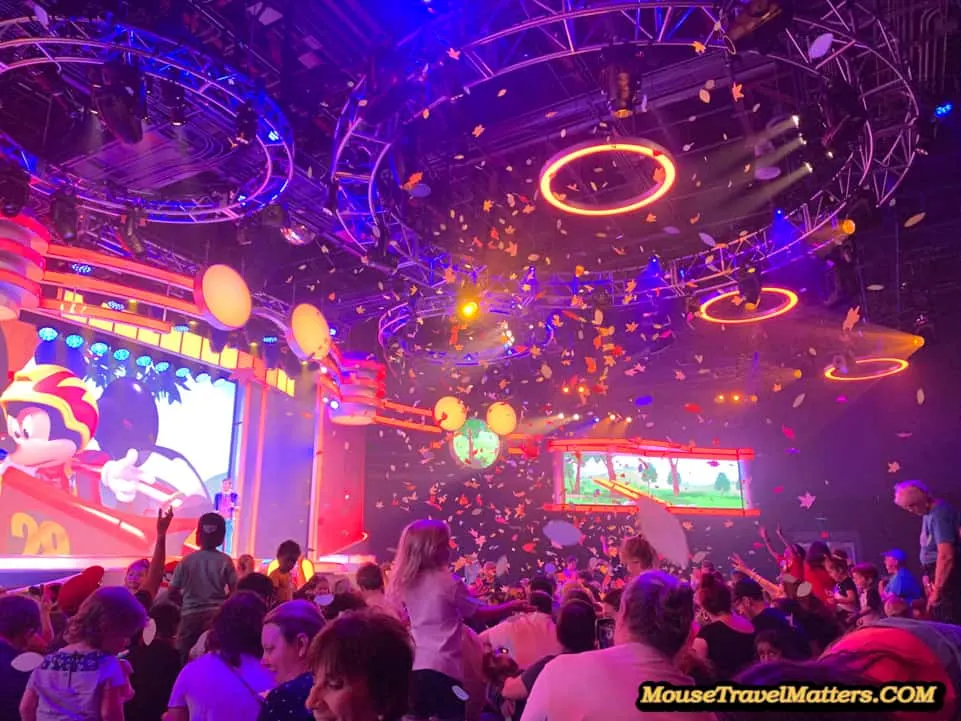 What Characters are at Hollywood Studios?
As soon as Disney Junior Dance Party is over, dart outside and start queuing for your child's favourite Disney Junior character. There are so many to choose from; Doc McStuffin's, Vamperina, Fancy Nancy and Pluto. Also, on the other side of Launch Bay Cargo is the official meet and greet of many of your favourite Star Wars characters; Chewbacca, BB-8 and Darth Vader.
At Disney's Hollywood Studios, you find the following characters:
BB-8
The Incredibles
Olaf
Darth Vader
Kylo Ren
Chewbacca
Stormtroopers
Doc McStuffins
Vampirina
Sofia the First
Mike & Sulley
Buzz Lightyear
Jessie & Woody
Mickey & Minnie
Green Army Patrol
Green Army Drum Corps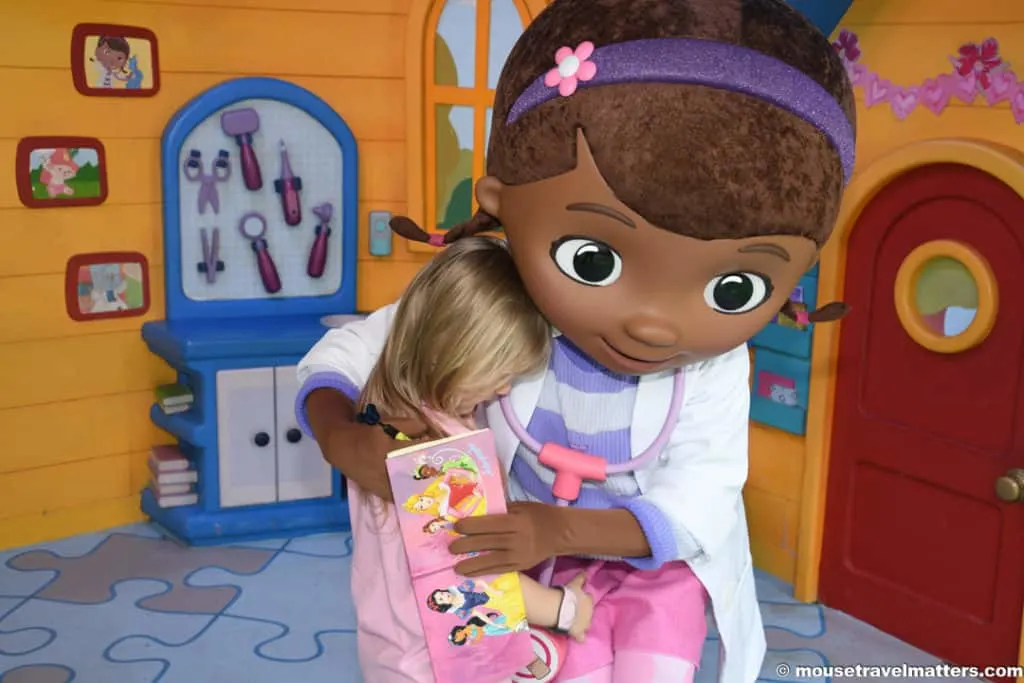 Other attractions for toddlers at Hollywood Studios
Muppet*Vision 3D
Lightning McQueen's Racing Academy
For The First Time In Forever: A Frozen Sing-Along Celebration
Indiana Jones Epic Stunt Spectacular!
Your Thoughts...
Please share your thoughts in the comments or reach out on social media...We would love to hear from you.
Follow Mouse Travel Matters for Disney Parks news, the latest info and park insights, follow MTM on Twitter, Facebook, and Instagram.
You May Also Like…
Best Rides for toddlers at the Magic Kingdom
Best Rides for toddlers at Epcot
Best Rides for toddlers at the Animal Kingdom
Height Requirements and Rider Swap at Walt Disney World