Last Updated on July 26, 2020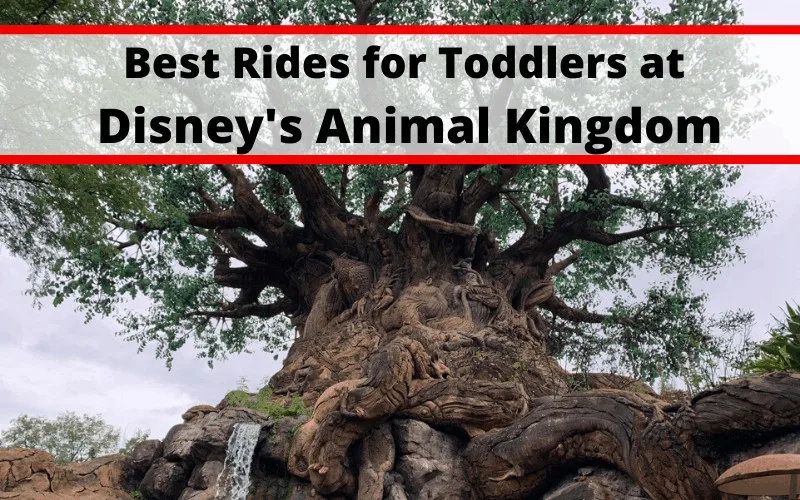 While many call Disney's Animal Kingdom just "like a zoo", this couldn't be further from the truth. Here are the Best Rides for Toddlers at Disney's Animal Kingdom
Sure, there are animals. But their enclosures are incredibly sophisticated, covering 580 acres, and the park itself is dedicated and themed entirely around the natural environment and animal conservation.
This may not sound like a particularly entertaining theme-park, Disney has made sure your little ones will want to come back to see the amazing and unique offerings of the Animal Kingdom. Today we present the best rides at Disney's Animal Kingdom for toddlers.
Best Rides for Toddlers at the Animal Kingdom
The Animal Kingdom has 9 rides and experiences without height requirements; The Boneyard, Rafiki's Planet Watch, Walking Paths, Kilimanjaro Safaris, Stage productions, TriceraTop Spin, Na'vi River Journey, Wildlife Express Train, and Wilderness Explorers.
Regardless of your child's height, these will still be the best rides for toddlers at the Animal Kingdom due to their ability to capture audience attention.
Kilimanjaro Safaris
Explore the Harambe Wildlife Reserve, home to 34 species living in 110 acres of picturesque open plains, shady forest landscapes and rocky wetlands. Your rugged safari vehicle is driven by an expert guide, who helps point out animals and shares fascinating wildlife facts during this extraordinary 18-minute expedition.
The children will love hearing the fun facts about each animal and trying to spot them in the wild.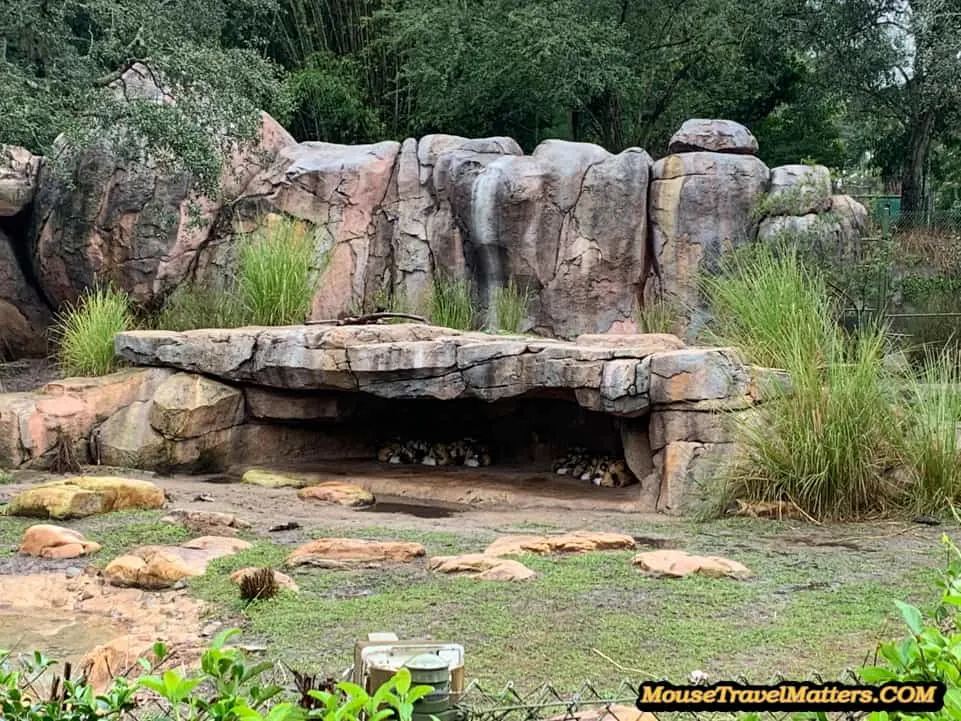 The standby for Kilimanjaro Safaris can be excessive throughout the day and the queue is not very interactive or entertaining. We suggest getting Fastpass reservations for Kilimanjaro Safaris.
The Na'vi River Journey is a slow-moving boat ride through Pandora's bioluminescent rainforest. Guests float past Pandora's exotic animals and glowing plants on their way to the Shaman of Songs. Na'vi River Journey is a 4 1/2 minute cruise through the colourful, glowing jungle of Pandora with a ride experience similar to "it's a small world" or Living with the Land.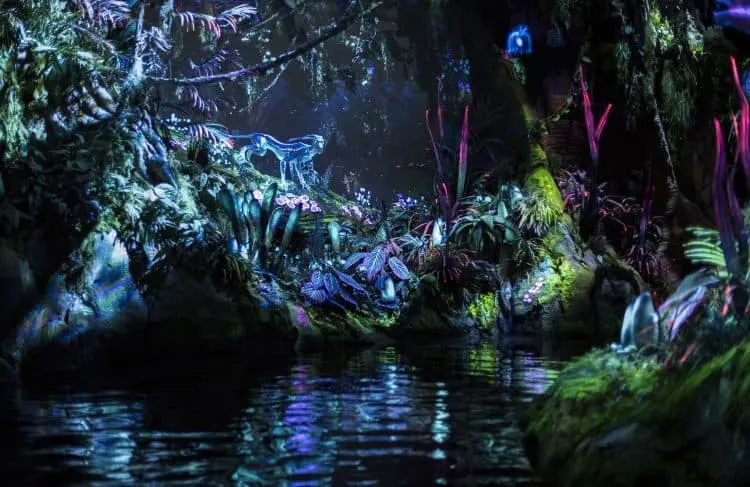 There are no drops or thrills. Instead, the focus of the Na'vi River Journey is its colourful scenery and show elements.
As the wait time can easily start at 90 minutes as soon as the park opens, and reachers 150 minutes closer to the end of the day, a few decisions need to be made. If your family wants to ride Flights of Passage, as well as Na'vi River, we suggest getting a Fastpass for Na'vi river and rope-dropping Flights of Passage.
Not only is the queue more interesting and interactive for Flights of Passage, but you will also find the long wait is more "worth it" for Flights of Passage than Na'vi River. Rider Switch is available for Flights of Passage should your toddler not be tall enough (44inches).
Kali River Rapids (38" Height Requirement)
Kali River Rapids is another ride that is a family-must. The dips aren't crazy, but they are entertaining. You will get wet, you may get soaked; we strongly recommend putting on a poncho while waiting in the queue and placing your Park Bag in the free lockers just before entering the queue.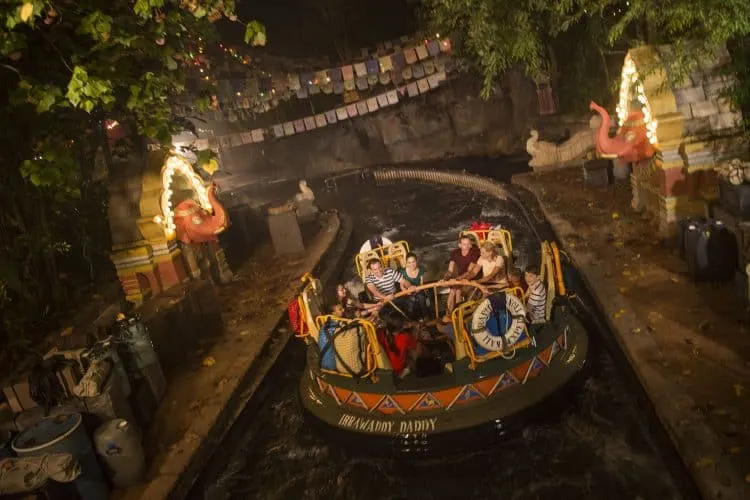 Many guests have gone as far as replacing their park shoes with flipflops just for this ride.
The Boneyard
Each Disney theme park has a child-friendly playground. If walking miles per day wasn't enough to tire them out, they have something to exhaust their minds in order to get them to sleep in the stroller while mom and dad rider switch their way through the Animal Kingdom.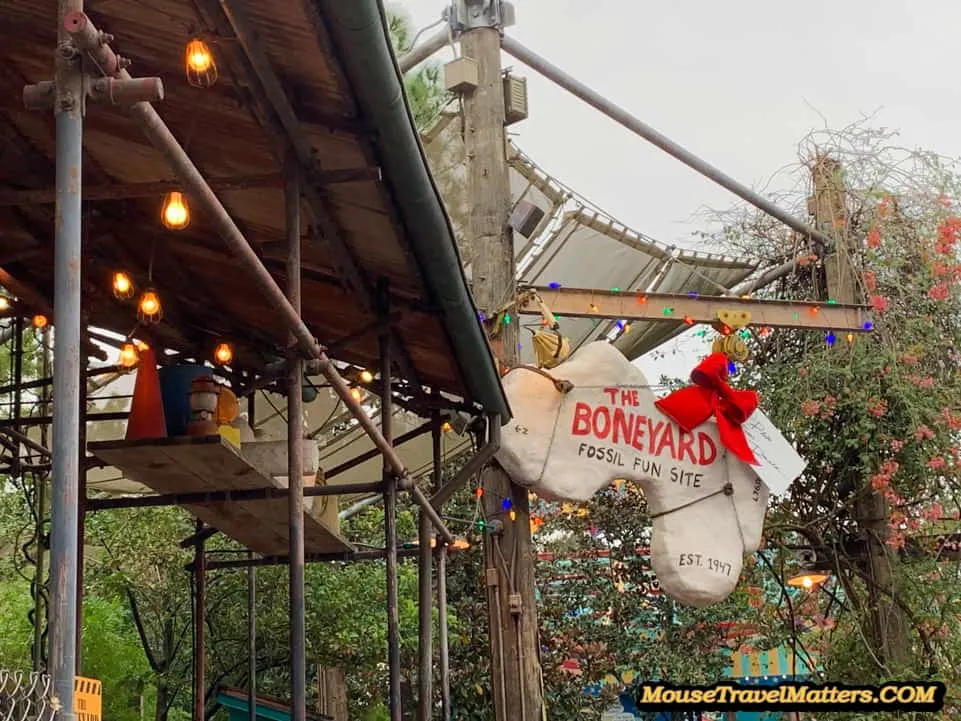 Kids ages 10 and under are invited to clamber across rope bridges, climb through mysterious caves and hurl down twisting slides. At the dig site, help excavate fossils from a Triceratops and a Tyrannosaurus Rex. Discover lots more dino-sized surprises as you have a blast digging up the past.
Parents of busy explorers can enjoy a shaded seating area at the dig site, where large fans help cool things down.
Wildlife Express Train
Board the Wildlife Express Train for a peaceful 7-minute, 1.2-mile journey to Rafiki's Planet Watch, an area dedicated to the preservation and conservation of animals. After your visit to Rafiki's Planet Watch, board the Wildlife Express Train for your ride back to Harambe, Africa.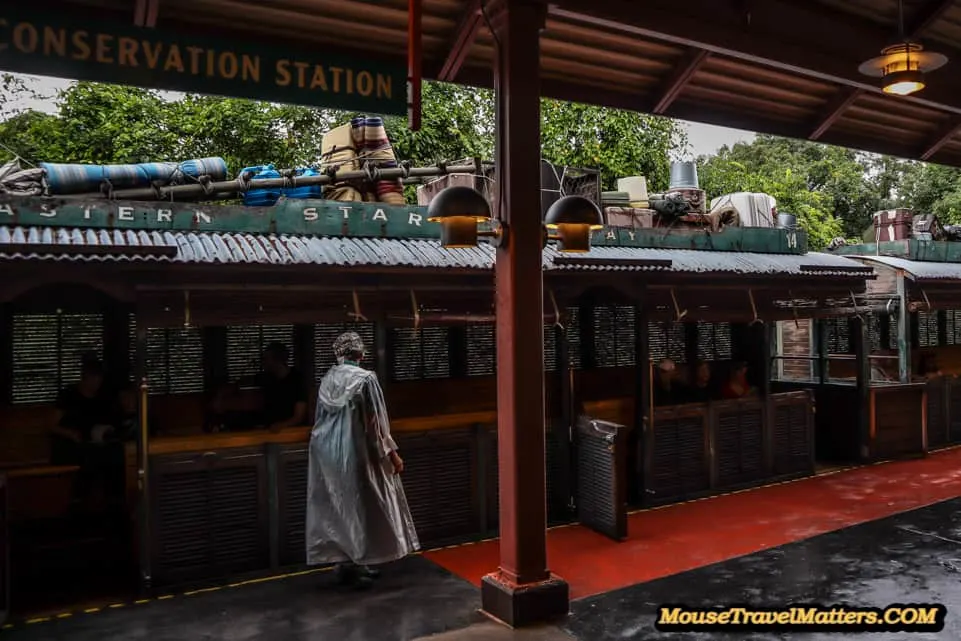 The train is only open on one side and the seats are elevated in the back, so there is no "bad seat" on this train. The Wildlife Express Train runs non-stop beginning 30 minutes after park opening until an hour or two before park closing
Rafiki's Planet Watch
The Wildlife Express Train is the only way to get to Rafiki's Planet Watch. Conversely, it's the only way to return to the main part of the park from Rafiki's Planet Watch. Guests will get a behind-the-scenes look at several of the animal housing and care areas as well as the savanna where rhinos, elephants and other animals spend the night.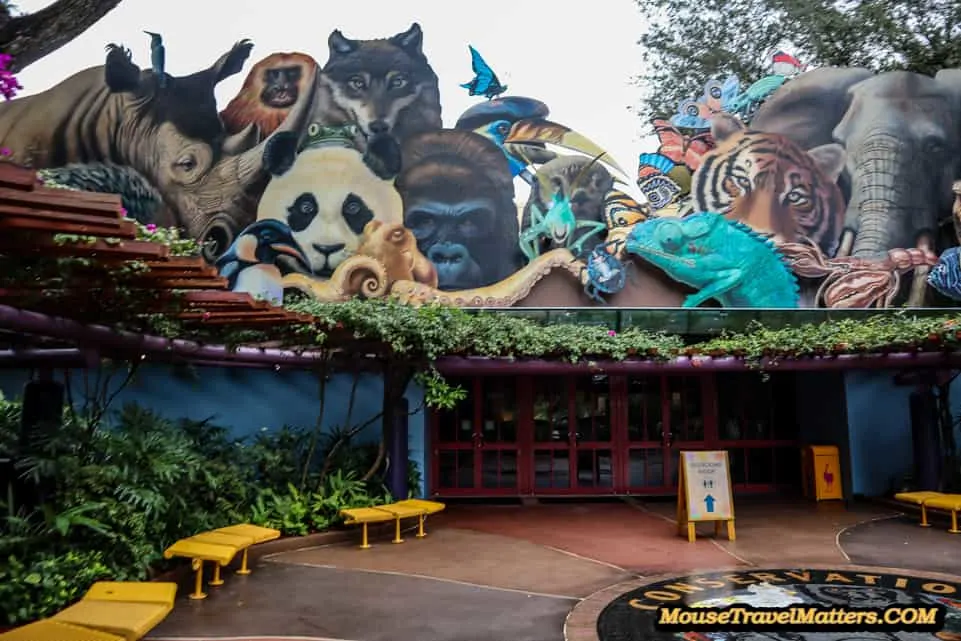 Conservation Station showcases the various conservation efforts supported by The Walt Disney Company. It also gives a behind-the-scenes glimpse into Disney's Animal Kingdom's animal care facilities, including a veterinary examination room complete with a two-way communications system so the veterinary staff can answer guest questions. Outside, Affection Section is a petting zoo that features goats, sheep, and other domesticated animals.
Between the train ride and exploring the Conservation Station, we suggest planning 1+ hours for this experience.
Festival of the Lion King
The most popular live show at Disney's Animal Kingdom is Festival of the Lion King. You'll hear some of The Lion King's most popular music performed by magnificent singers. Zany trampoline acrobatics are supplied by the Tumble Monkeys. The spectacular finale includes a heart-stirring rendition of the "Circle of Life."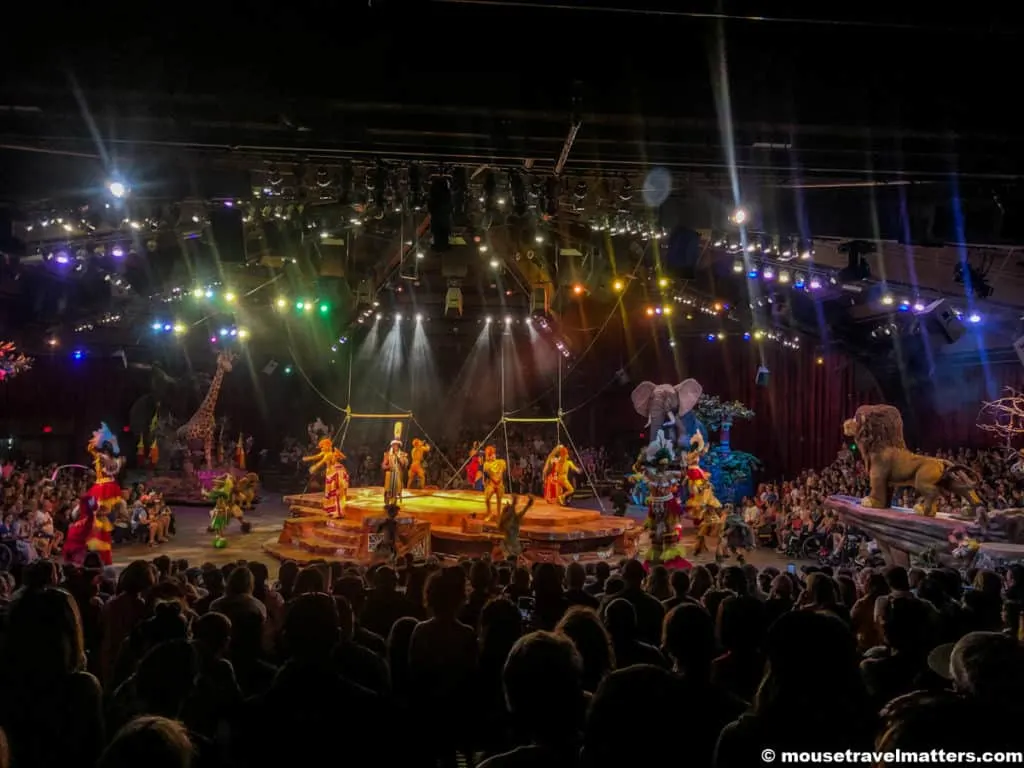 The queue fills up fast and the theatre only holds 1500 people so we suggest either lining up early or securing your seat with a FastPass reservation.
Wilderness Explorers
While this may be a day-long adventure, it will capture your children's attention and help them move along your touring plan with little fuss. "No we can't check out that gift shop, we have to find your next badge", and away they go searching for a Wilderness Explorers post sign.
Sure, they will learn a lot and explore the entire Animal Kingdom, but they are collecting stickers, and that is what matters to them. Oh, stickers.
Many of these toddler-friendly rides and activities are next to Wilderness Explorer stations, giving them a great reason to move it along and continue the journey.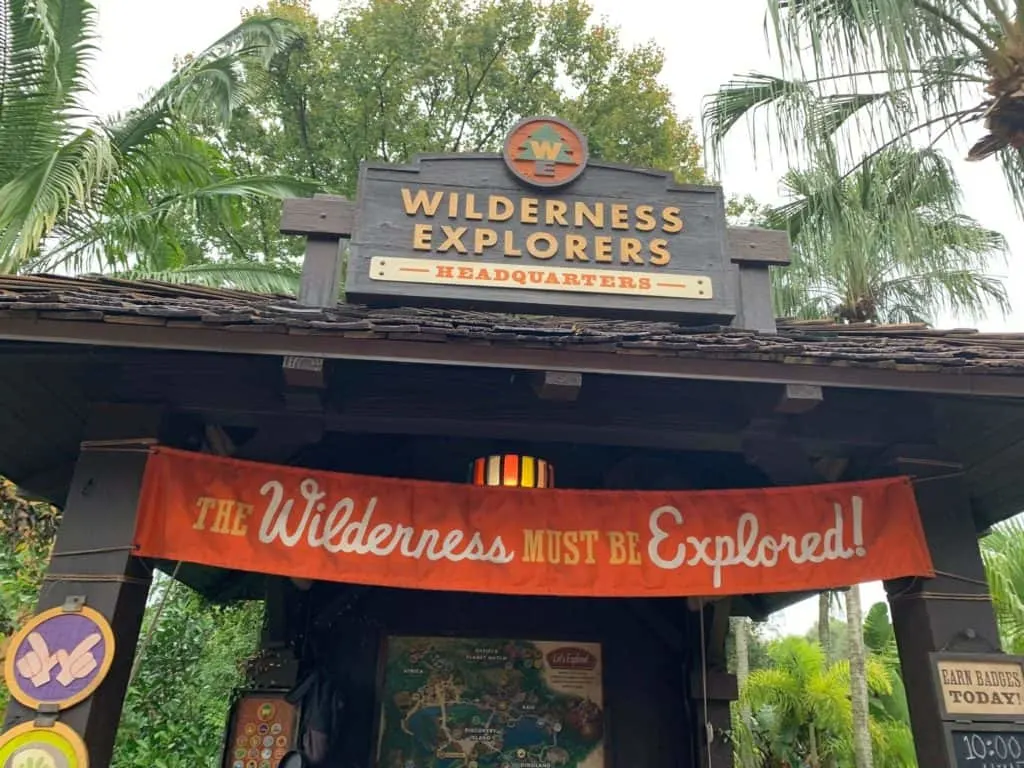 We've created a Wilderness Explorers centred Animal Kingdom touring plan – hitting up all the major attractions with your kids, while also getting all of those badges before sundown. Check it out here.
Rivers of Light – nighttime light and laser production
Rivers of light is approximately 15 minutes long, with a 15-minute preshow, so your total entertainment time is roughly 30 minutes. Fast Passes and Dining packages are available for Rivers of Light and they will grant you access to priority seating, as well as avoiding the queues.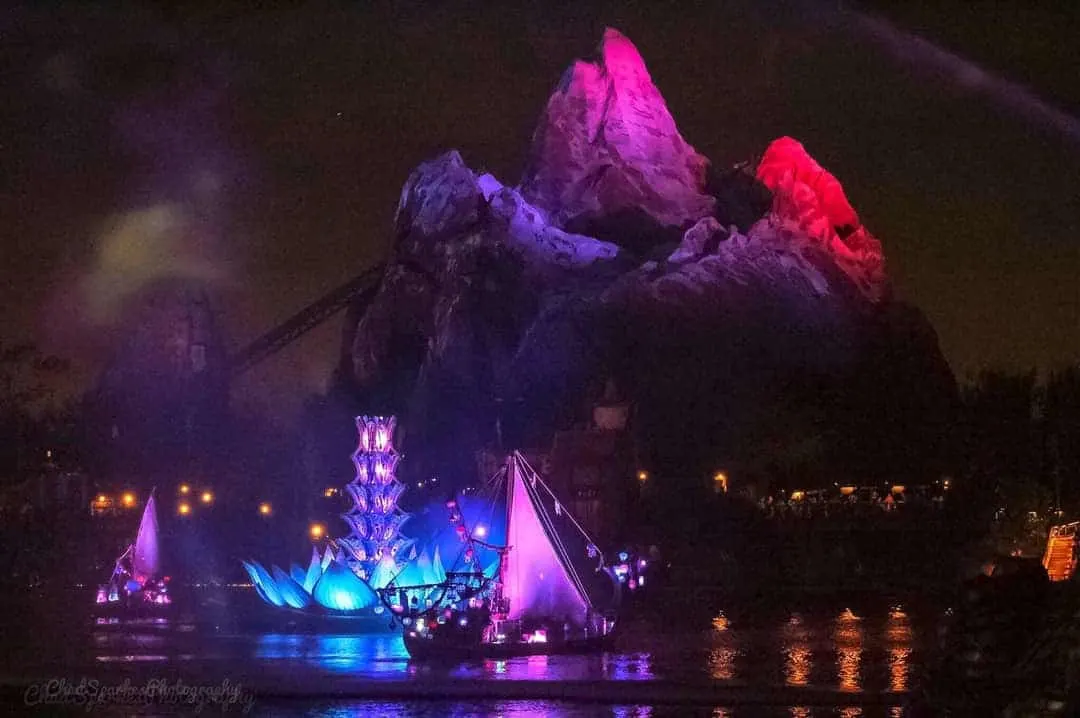 While the show itself is relatively tame, the waiting around can be a little much for the kids. Be sure to bring something for them to do while they wait; be sure to check our suggestions of things to do while waiting in line, as well as our own shop of printables and educational colouring books.
Walking paths with Animal Viewing
This is the closest thing to a zoo that Disney's Animal Kingdom will ever get. Children will love being able to walk around freely – because they don't leave our sides when in the rest of the park – and just looking for more amazing animals.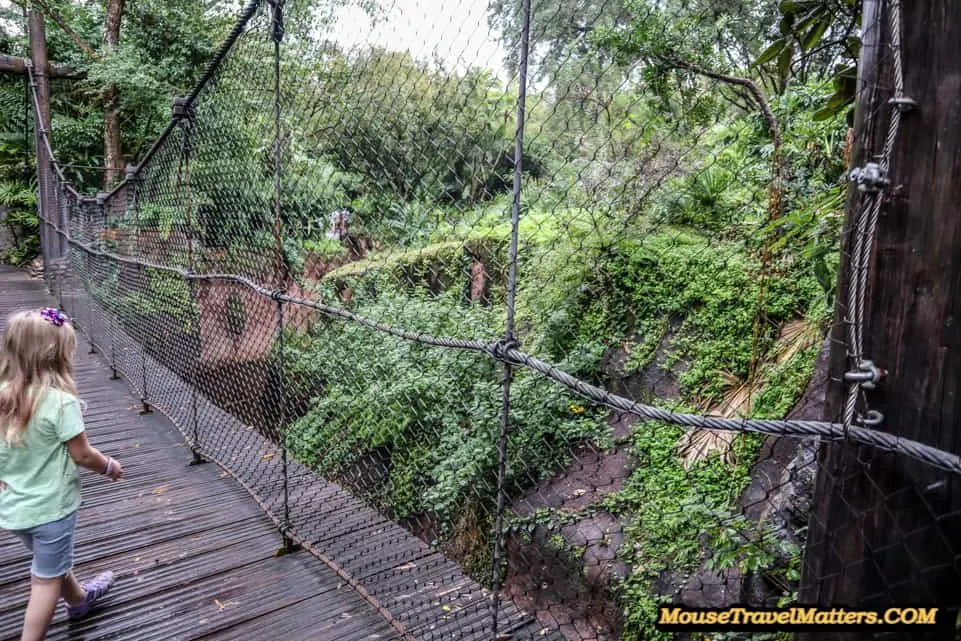 The freedom, fresh air, and exotic looking plants and animals are enough to brighten the spirits of even the most exhausted child.
Other attractions for toddlers at Hollywood Studios
It's Tough To Be A Bug
Stage Shows At Animal Kingdom
Streetmosphere At Animal Kingdom – Check the Times Guide or Entertainment section of the My Disney Experience app to find some of the lesser-known entertainment offerings, with Dino-Riffic Dance Party! and Hakuna Matata Time Dance Party being particularly good for kids.
Character meet and greet
Your Thoughts...
Please share your thoughts in the comments or reach out on social media...We would love to hear from you.
Follow Mouse Travel Matters for Disney Parks news, the latest info and park insights, follow MTM on Twitter, Facebook, and Instagram.
You May Also Like…
Best Rides for toddlers at the Magic Kingdom
Best Rides for toddlers at Epcot
Best Rides for toddlers at Hollywood Studios
Height Requirements and Rider Swap at Walt Disney World