Last Updated on November 10, 2019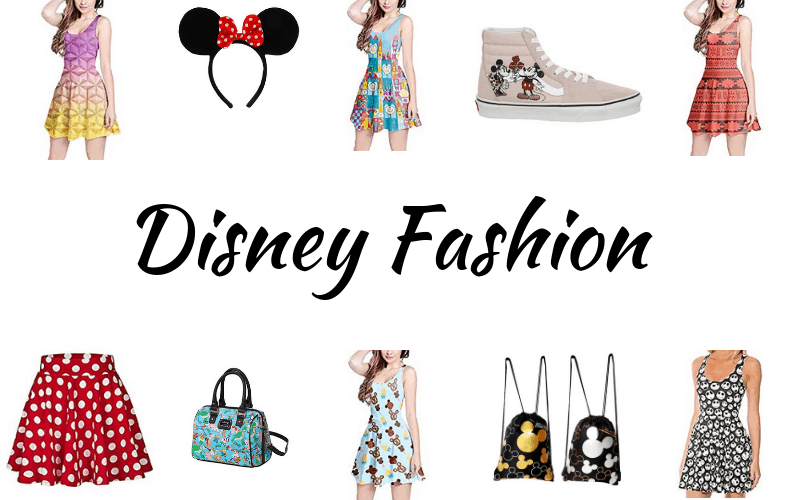 What to wear to Disney Parks is a common question among first-timers. In this post, we cover tips for stylish and practical Disney Inspired Dresses to wear during an active day on a Disney vacation.
Adults can't wear full costumes within the Disney Parks. The adults can still have a little fun with there wardrobe. Below you will find beautiful dresses for your Disney day. And some comfy shoes for the parks.
This post may contain affiliate links.
To which I earn a small commission, at zero cost to you!
Find more info in our
Privacy Policy
.
Women's Short Sleeve 'Patchwok' Floral Dress
With 8 different colours available, this lightweight dress is a breeze to run around Disney in. It's festive, comfortable and relaxed, and doesn't scream Disney so it's perfect for a day at the office as well.
And it has pockets!!!
Minnie Mouse Inspired Skirt
Pair this with a great white Petty coat and black tank and you have yourself a Minnie Mouse Disney Bound outfit. Don't forget the ears.
Disney Inspired Skater Dresses
Nightmare Before Christmas
An essential option for your Disney wardrobe anytime after August. This Nightmare Before Christmas skater dress is a fan favourite for its stretchy material, light fabric and overall great design.
Its A Small World Inspired Sleeveless Flared Skater Dress
This beautiful fit & flare dress is available in sizes XS-5XL. The length varies with the size, smaller sizes are a bit shorter than larger sizes, but on average, it's around mid-thigh long.
Snack Goals Disney
One of the best things about visiting the Disney parks are the iconic snacks! This design celebrates the Mickey Icecream Bar, the Dole Whip, the Minnie Candy Apple, and the Mickey-shaped Pretzel. Hand drawn in a cute kawaii style on a pretty blue background!
Epcot Spaceship Earth
Inspired by the iconic Spaceship Earth ride in Epcot, Disney World, this design shows a geometric design with hues of purple, pink, and yellow – just like what Spaceship Earth, the big golf ball, looks like when lit up at night! This beautiful fit and flare dress is available in sizes XS-3XL, from soft fabric that is stretchy and will hug your shape
Lilo Hawaiian Dress
This beautiful Lilo inspired dress is just enough Disney to make it through the Parks in style, while still respecting their 'no costume' rule. Perfect.
Moana Inspired Disney Sleeveless Flared Skater Dress
Yet another great character inspired dress. Moana-bounding makes her appearance here in the tribal-inspired patterns.
Best Shoes for Disney Inspired Skater Dresses
This one took a lot of soul searching and Facebook discussions. I hate shoes. I want them to be functional, stylish and affordable, yet I can never decide what that means.
Taking into consideration the best shoes to wear at Disney, because comfort is key when walking over 13 km per day, we looked at which pairs would go great with these styles of dresses, but can also pair well with shorts, capris or anything else you plan on wearing during your Disney vacation.
Tennis shoes
Not high on our list of best shoes for Disney, these tennis shoes do happen to work extremely well with a number of these dresses. Try the pink pair for the light coloured dresses.
Sketchers
If the colour scares you, they are available in Black as well. But these shoes have been at the top of our Best Shoes for Disney for a while now and they have yet to disappoint. They are stretchy enough to accommodate swollen feet and yet sturdy enough to still give ample arch support when needed.
Vans Disney
This collection brings a super twist to their classic range of sneakers, apparel and accessories, with 11 designs that capture Mickey Mouse's spirit and evolution spanning from his introduction in the late 1920s to present day.
The Sk8-Hi is transformed, featuring a canvas with Mickey & Minnie Mouse details, accentuated by suede trimmings around the toe box, ankle support and along the 8-eyelet lace-up. Complete with white Vans stripe and "Off the Wall" logo. Waffle grip Padded collar
Space Ranger Circle Skirt
This Buzz Lightyear inspired Space Ranger Circle skirt features a full cotton circle skirt with acrylic felt appliqués machine sewn into it. The skirt base is made of 100% cotton which is breathable but a nice medium weight.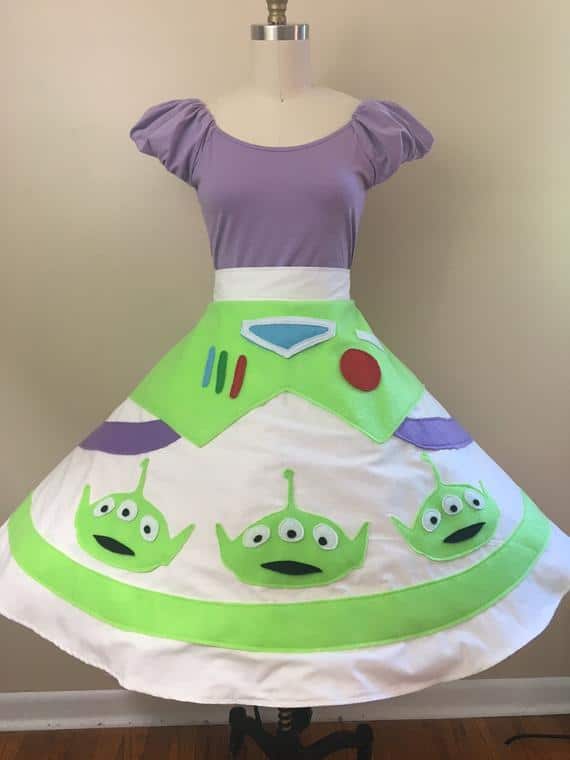 This particular dress, and many more like it, can be found on Etsy.
Your Thoughts...
Please share your thoughts in the comments or reach out on social media...We would love to hear from you.
Follow Mouse Travel Matters for Disney Parks news, the latest info and park insights, follow MTM on Twitter, Facebook, and Instagram.
You May Also Like…