Last Updated on May 22, 2021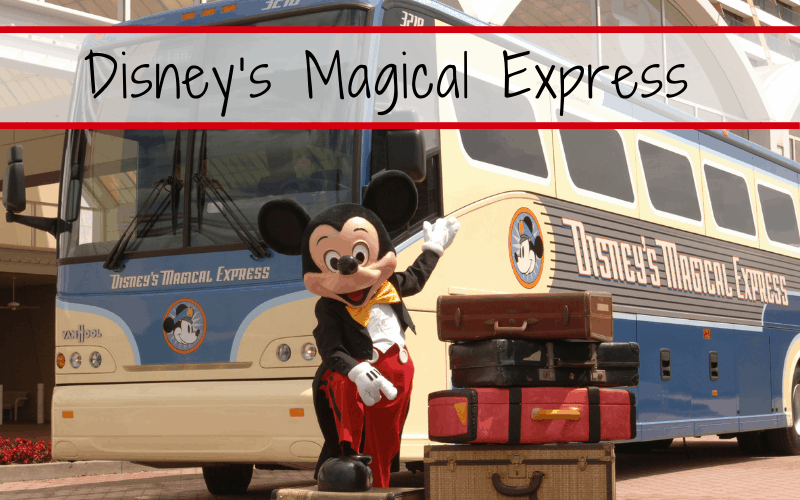 Disney's Magical Express is a private ground transportation and luggage delivery service for Walt Disney World. Providing transit to and from Orlando International Airport and Disney's Resort Hotels, for guests with a reservation at Walt Disney World hotels only.
This post may contain affiliate links.
To which I earn a small commission, at zero cost to you!
Find more info in our
Privacy Policy
.
NOTE: Disney's Magical Express will no longer be running as of Jan 1, 2022. This is being replaced with Mears Connect! connecting the Orlando International Airport to the Disney resort area. You'll be able to make your reservation starting in May 2021! Mears has not yet released information on pricing but reservations are available to be booked starting May 2021. Currently, the Mears shuttle transfers between Orlando International Airport (MCO) and Disney World-area resorts are $39 roundtrip for adults (12 and older) and $30 for kids ages 4-11, plus tip.  Kids 3 and under are free.
Who can use Disney's Magical Express?
Registered guests of Disney-owned hotels are eligible for Magical Express Service. These hotels are:
Art of Animation
All-Star Movies, Music, & Sports
Animal Kingdom Lodge & Villas, Jambo & Kidani
Beach Club & Villas
BoardWalk & Villas
Fort Wilderness Cabins & Campgrounds
Caribbean Beach
Contemporary & Bay Lake Tower Villas
Coronado Springs
Grand Floridian
Old Key West
Polynesian
Pop Century
Port Orleans French Quarter & Riverside
Saratoga Springs
Wilderness Lodge & Villas
Yacht Club
How do I set up my Magical Express ride?
When you make your Disney hotel reservation, you will be asked if you want to use Magic Express. Say yes. To make a Magical Express booking, you'll need to provide your flight information and resort confirmation number.
Luggage Tags
A few weeks before your trip, you will be mailed a set of special Disney's Magical Express luggage tags. These are to be placed on every checked bag in conjunction with your airline luggage tags. These let Disney Cast Members know which bags belong to their guests, and which hotel to deliver them to.
Disney tends to only send 1 luggage tag per guest. Should you require more, don't hesitate to call Disney and ask for more.
Luggage Delivery Service
As I just mentioned, Disney will collect your bags from the luggage carousel and bring them to your hotel room for you. This also means you will not have access to them for a few hours after you arrive at the hotel. It is best if you pack everything you need for arrival day and checking-in into your carry-on bag.
Last-minute bookings usually mean there is no time for Disney to mail you luggage tags. This simply means you have to retrieve your own bags at the carousel and join the Magical Express line a little later. Don't worry. There is plenty of room on the bus to hold everything.
From the Walt Disney World website: "If the Orlando International Airport is your first point of entry into the United States, please follow the U.S. Customs & Border Protection process and claim your luggage upon disembarking the airplane. Once you have completed this process you will give your luggage back to the airport officials and proceed to the Disney's Magical Express Welcome Center on B side, Level 1. Disney's Magical Express service will recollect your luggage and deliver it directly to your Walt Disney World hotel room within 4 hours after you check-in at the resort. For international Guests arriving after 10:00 p.m., please retain your luggage with you or pick it up in the baggage claim area and then proceed to the Disney's Magical Express Welcome Center. Your luggage will accompany you on the motorcoach. If you have already completed the U.S. Customs & Border Protection process in another U.S. city, proceed directly to the Disney's Magical Express Welcome Center on B side, Level 1. For airport arrivals after 10:00 p.m., collect your luggage for transport on the motorcoach."
If you reside in the US or Canada and you make your Magical Express booking more than a month in advance, then you will get an envelope in the mail that includes a Magical Express voucher booklet and yellow ME luggage tags. All other International guests must claim their own bags in order to proceed through Customs.
Pro Tip – If you haven't received luggage tags or don't have enough, simply give Disney's Magical Express personnel your airline luggage tag information and they will retrieve your bags for you. This is more work on their part, so it is not advertised, but it can be done.
Does Disney's Magical Express have specific hours?
The Magical Express buses run 24 hours a day. Whatever time you arrive at MCO, there will be a bus to take you to your hotel.
While the bus service runs all day, the luggage delivery service does not. If your flight arrives after 10:00 p.m., because it was scheduled to do so or because of a delay, then you must collect your luggage from the carousel on your own and bring them with you to the Magical Express check-in desk.
Is there entertainment on the bus?
After watching short clips about what to expect at Walt Disney World, you will be shown a variety of Disney shorts.
Do I need a car seat?
No. Florida law does not require car seats on buses, nor is there any mechanism to attach a car seat to the bus seat. Your baby can sit on the seat next to you or on your lap. If you happen to have a car seat with you, your driver can stow it underneath with the luggage.
How long will it take me to get from the airport to my hotel using Magic Disney Express?
The first thing to remember is that it often takes a minimum of 30 minutes after the plane lands to get to the point where you're ready to leave the airport.
From there, you are looking at about 25 minutes to load the next shuttle bus, plus 35 minutes to reach the first hotel. Considering the Magical Express is known for stopping at numerous hotels during a single run, you could be looking at roughly 75 minutes total drive time.
If this seems a little much, consider that a cab one-way from MCO to a Disney hotel will be at least $70.
What's the process for taking Disney's Magical Express home?
Departure from Walt Disney World
The day before you depart, you'll get a note either on your room door handle or under your door telling you what time the Magical Express bus will pick you up. The pickup spot is always right outside the hotel main entrance. The note you will receive includes a bar code that will function as your bus ticket/voucher.
For domestic flights, Disney's Magical Express pickup is generally about three hours prior to your flight departure time. This may be four hours in advance for international flights. This is to give ample time for traffic-based delays, as well as security and luggage handling at the airport.
Will the resorts hold luggage on the day of check out if your flight doesn't till that evening.
Bell Services at your Disney Resort hotel will hold your luggage for you after you check-out from your room. You can even call Bell Services from your room to get assistance in transporting your luggage from your room to their desk. They will check your luggage securely for the day and give you a ticket which you can use to retrieve your luggage when you are ready to depart Walt Disney World Resort.
This is also a great service to use if you opted to bring your bags to the Magical Express instead of allowing them to collect it for you.
Late evening flights
If you have a late evening flight and check out is at 11 am, you can still enjoy a day out in The World. Simply bring your bags to Bell Services and have them tag everything. Be sure to arrive at least 15-20 minutes before your scheduled Bus departure time to reclaim your luggage.
If security is an issue, let Bell Services know that there are valuables in your luggage, such as camera gear or medical equipment, and they will secure it in a separate room.
Packing Tips
Keep any medications, valuables, and other essentials you will need in a carry-on bag.
For luggage delivery service, attach your luggage tags on each item that you will be checking with your airline.
Remember not to pack your MagicBands in your checked luggage, as they will be used to check in with Disney's Magical Express and to unlock your room when you arrive at your Disney Resort hotel.
If you have not received your MagicBand, please be prepared to present your Disney's Magical Express documents (which will be mailed separately to you) to board the DME bus. You will receive your MagicBand at your Disney Resort hotel.
Guests under 12 must be accompanied by an adult.
Car seats are not permitted inside the motorcoach but can be stowed in the luggage compartment before boarding.
Please note that only service animals (no pets) are permitted on Disney's Magical Express.
If you have not received your luggage tags, you will need to pick up your bags at the luggage carousel on your own or give the Magical Express agent your airline luggage tags.
Resort Airline Check-In Service
A separate service from Disney's Magical Express, this complimentary service allows WDW resort guests to check their luggage and receive airline boarding passes right at the Walt Disney World hotel. There is no need to check-in at the airport for your departing flight.
Guests who fly on a participating airline and stay at a select Disney Resort are automatically enrolled in the Resort Airline Check-In service when arriving at Walt Disney World via Disney's Magical Express.
You may opt to utilize this service if you are flying on a participating airline: Alaska Airlines, American Airlines, Delta Air Lines (US Domestic Flights Only), JetBlue Airways, Southwest Airlines, and United Airlines.
Your Thoughts...
Please share your thoughts in the comments or reach out on social media...We would love to hear from you.
Follow Mouse Travel Matters for Disney Parks news, the latest info and park insights, follow MTM on Twitter, Facebook, and Instagram.
You May Also Like…