Last Updated on July 28, 2020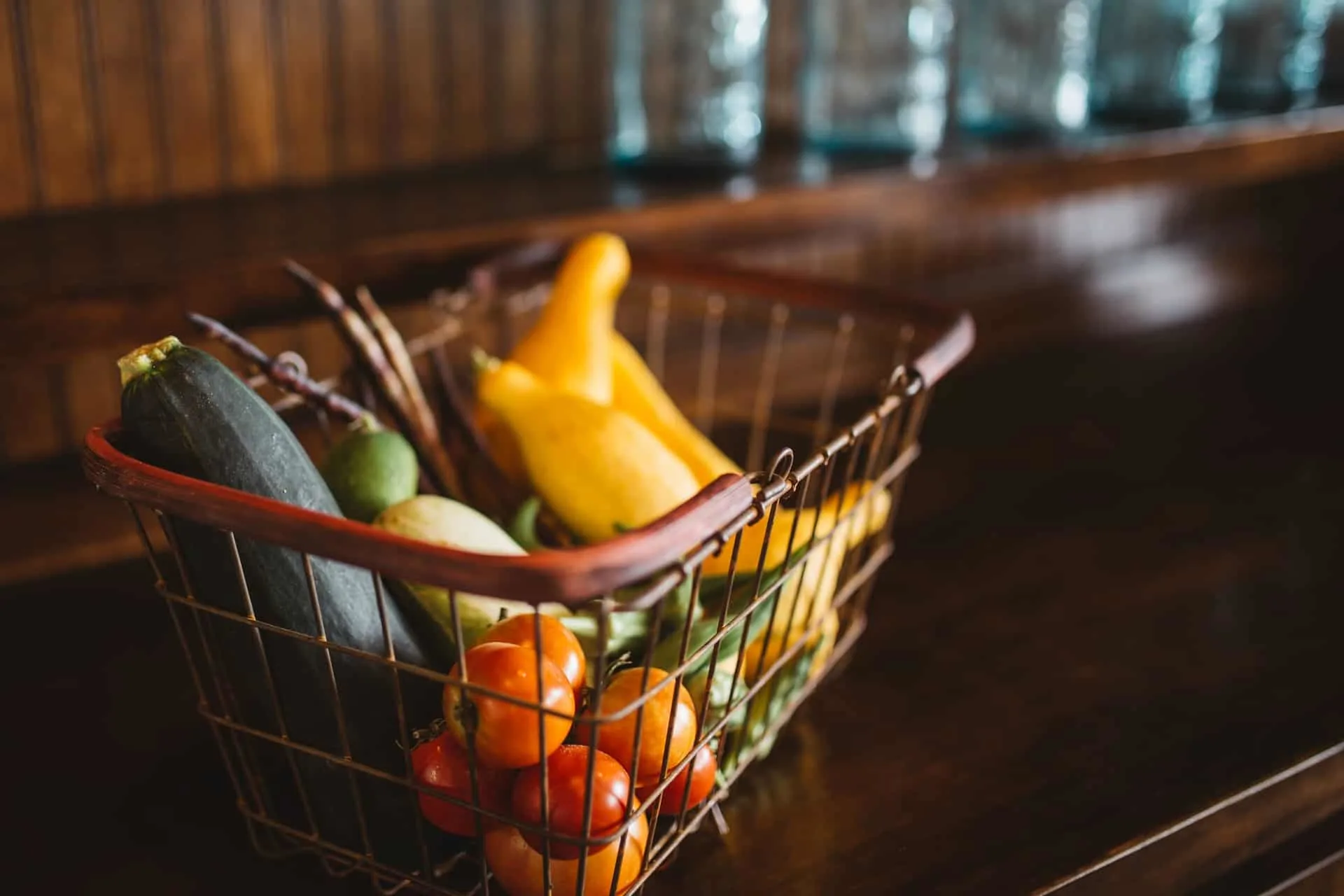 Are you heading to Disney World? Wheres the Disney supermarket for all those little morning and evening room snacks.
Groceries at Disney World – Garden Grocer vs. Amazon Prime Now
As you're probably well aware by now, Disney vacations aren't cheap. But there is one area you can cut costs without damaging the vacation experience – food.
This is a terrific way to stock up on much-needed necessities without having to make a trip to the local Wal-Mart or Publix. Further, it can be a real money saver, as you can have essentials like fresh fruit, healthy snacks, and bottled water delivered for substantially less than you would pay for those things in Disney shops and at grab and go spots.
Note: As of April 2019, Walt Disney World is charging a $6 per package handling fee for each package that is received through the front desk or delivered to your hotel room. Previously, this package fee only applied to resorts with convention centers, but it is being extended to all hotels.
This post may contain affiliate links.
To which I earn a small commission, at zero cost to you!
Find more info in our
Privacy Policy
.
Why Get Your Groceries Delivered
Convenience:
Other than the obvious "not having to do the shopping yourself", getting your groceries delivered has a number of conveniences.
Having breakfast in our room saves a lot of frustration and time.
Sometimes the more options you have, the harder it is to make a choice. Especially with children, reducing their options can reduce the stress of getting out of the hotel room and into the parks.
This also means not waiting in line for your food, or paying.
Late night snacks in the room are easy.
I personally love having a late-night snack. The kids do too. The trek from the park to the hotel is long and exhausting and one needs replenishment, especially after a long day of touring.
We use Garden Grocer as our Disney Supermarket
In order to reduce the cost of Dining at Disney, and filling the gap in service that is grocery deliveries, Garden Grocer exclusively delivers a whole host of products directly to your Disney Resort.
Their site contains more than 5,000 products, and categories range from dairy and produce to baby care and beauty needs. If you're willing to send them a copy of your valid photo ID, you can even purchase alcoholic beverages like beer and wine.
They only deliver to Disney resorts (with a few exceptions), so you must be staying on site in order to use Garden Grocer.
When you order from Garden Grocer, you choose a delivery date and time slot. If you haven't yet arrived or your room is not ready, the bell desk of your hotel will take delivery of your items. This includes cold or frozen foods that will be appropriately cold-stored. Once you are ready, you call down to bell services and someone will bring the Garden Grocer order to your room.
You will pay for the cost of groceries ($40 minimum), plus delivery fee ($14 for orders under $200, otherwise $2), and gratuity if you choose.
There are a handful of Off-site hotels that are approved for delivery;
Wyndham Bonnet Creek Resort
Wyndham Grand Orlando Resort at Bonnet Creek
Four Season Orlando at Walt Disney World
DoubleTree Suites by Hilton Orlando-Lake Buena Vista
Garden Grocer does not deliver to residential areas. This means Airbnb's, Home Away's and other similar rentals will not appear on their approved list in the near future.
Exceptions to this delivery policy at Disney Wilderness:
Campgrounds – guests must be at the campsite to take delivery in person
Cabins – if your cabin is ready Garden Grocer will deliver directly to the cabin
Yacht Club, Beach Club Resort/Villas, Boardwalk Inn/Villas, and Campground only accept deliveries after 4 pm.
Cost Savings from a 'Disney Supermarket'
Ordering far enough in advance comes with a ton of savings, so why not take advantage of that and order a few months early. You already know what you want/need.
Garden Grocer Pro Tips
Once the initial order is delivered you can replenish your order up to 3 times with no additional delivery charge.
Have you ordered from Garden Grocer before? If so, logging into your account gives you the option to copy a previous order. This feature saves time and helps you to remember the essential items you previously ordered.
If you order ahead you get an automatic discount:
15 days before 5% off
30 days before 7% off
60 days before 10% off
Do you have other questions? Garden Grocer has a frequently asked questions section that can probably answer them
Amazon Prime Now
Amazon Prime Now is a relatively new service to the Orlando area and is different than regular Amazon or Amazon Prime Pantry. As a member of Amazon Prime, you can shop more than 25,000 products that can be delivered through Amazon Prime Now for free within two hours (or one hour for an additional $7.99).
You'll set the delivery location, pick a delivery time, confirm your personal information and payment details, and enter any special delivery instructions before placing your order.
Because this is Amazon, you will have access to anything and everything that Amazon carries in their warehouse (any items available for Amazon Prime), which can potentially help with stocking up on non-Pantry items like t-shirts and colouring books for the kids. Pros and Cons of each
Garden Grocer
No membership fee
5,000+ products available
$30 charge for same day delivery
$14 delivery fee
Only available for Disney resorts
Beer and alcohol available
Advanced order savings
Amazon Prime Now
Fee of $99/year
25,000+ products available
Same day delivery included in the membership fee
No delivery fee
Available for all hotels in Orlando area
Beer and alcohol not available
Occasional promotions
Cost Comparison
Assuming you already have an Amazon Prime account (Prime accounts for other country versions do not cross into the American version, sadly. You will have to open a new account and pay a membership again), Amazon Prime Now has beaten Garden Grocer by a land slide.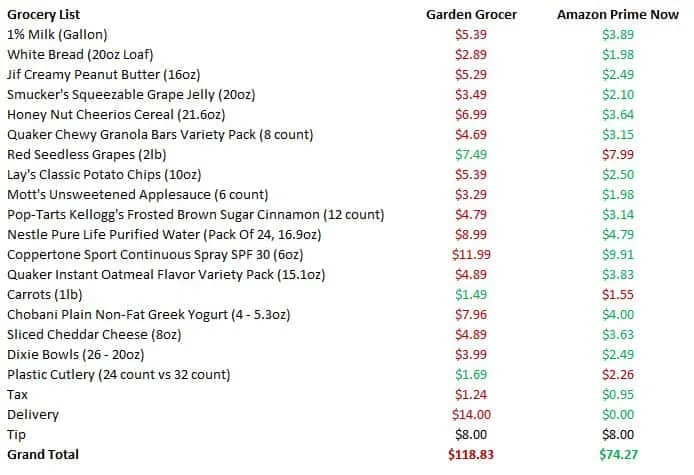 It has been mentioned that Amazon Prime has a large product base, but their Pantry product line is limited when compared to a full grocery store like Garden Grocer.
Final Thoughts
If you don't already have Amazon Prime, or have very little use of it before and after your Disney vacation, then forget it. That $99 overhead is going to eat away at all of your savings and you are limited as to what you can order.
On the other hand, if you are already a heavy Amazon Prime user, like myself, then Amazon is the way to go. You will save $45-$65 each Disney vacation. That's a lot of money at the end of the day.
Garden Grocer does have it's flaws, like that crazy delivery fee, but they make up for it in their 'purchase ahead and save' promotion. Since we can order months in advance and have it waiting for us when we get there, I can't see anyone needing the same-day delivery charge.
As a Canadian, we use our Amazon Prime constantly. A habit we picked up in Germany and their amazing Amazon reputation. But, this doesn't matter to Amazon.com because our membership doesn't cross borders. We can't use our Canadian account on the American version and therefore would be required to make another Prime Purchase.
Knowing that we aren't going to be visiting Disney twice in the same 12 month period (and even then, it takes at least 3 deliveries of the sample grocery list mentioned above before the Amazon membership fee becomes worth it), and I prefer to have my cocktails late at night while the kids are sleeping and we are talking about our day… or blogging.
The posts and pages of Mouse Travel Matters
do contain affiliate links that we earn a small commission for,
they come at no extra cost to you!
Your Thoughts...
Please share your thoughts in the comments or reach out on social media...We would love to hear from you.
Follow Mouse Travel Matters for Disney Parks news, the latest info and park insights, follow MTM on Twitter, Facebook, and Instagram.
You May Also Like…
Regal Eagle Smokehouse Review: Craft Drafts & Barbecue
Where to buy Disney Gift Cards in Canada?
Can I Upgrade Or Add an Extra Day to My Park Tickets While I'm at Disney World?
How Families can do Disney on a Dime