Last Updated on June 26, 2023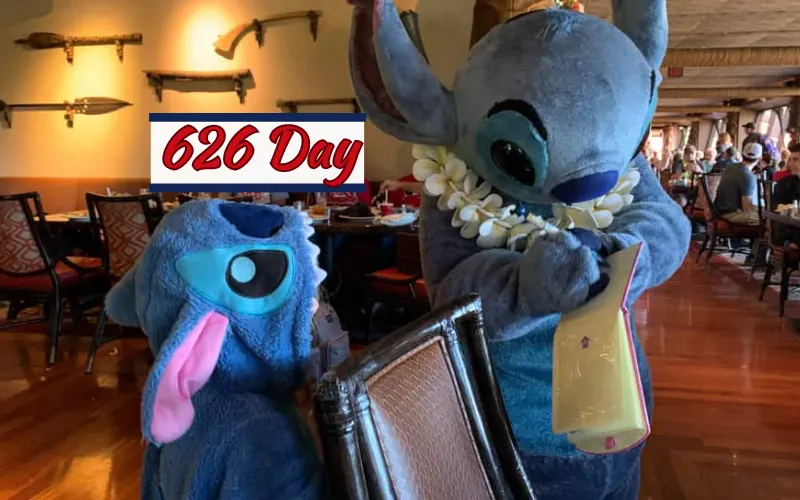 June 26 is 626 Days. A day to celebrate the beloved Disney character Stitch.
Allow me to introduce you to a beloved Disney character known as Stitch. Hailing from the enchanting world of "Lilo & Stitch," Stitch is an extraterrestrial creature with a mischievous yet endearing personality.
Created by genetic experimentation, he possesses superhuman strength, unique abilities, and an insatiable curiosity about the world around him. Despite his initial reputation as a troublemaker, Stitch ultimately finds love and acceptance in the heartwarming bond he forms with his human companion, Lilo. With his distinctive appearance, iconic blue fur, and a penchant for causing delightful chaos, Stitch has captured the hearts of Disney fans young and old, becoming an unforgettable symbol of friendship, resilience, and O'hana—meaning family.
What day is 626 day?
On June 26th, we celebrate a special day dedicated to honoring everyone's beloved blue alien, Stitch, originally known as Experiment 626. This endearing character from the Disney universe has captured the hearts of fans worldwide with his playful nature, unique personality, and heartwarming journey. Join us in paying homage to Stitch on this memorable day, as we celebrate the joy and magic he brings to our lives.
626 Abilities
Super strength.
Super intelligence/Hypercognition.
Improved hearing.
Improved sense of smell.
Highly durable.
Heat resistance/Fireproof.
Bulletproof.
Shockproof.
Your Thoughts...
Please share your thoughts in the comments or reach out on social media...We would love to hear from you.
Follow Mouse Travel Matters for Disney Parks news, the latest info and park insights, follow MTM on Twitter, Facebook, and Instagram.
You May Also Like…